Democratic Party will debate the issue; expect fireworks. Plus: Public hearings are part of civic life. Get used to it.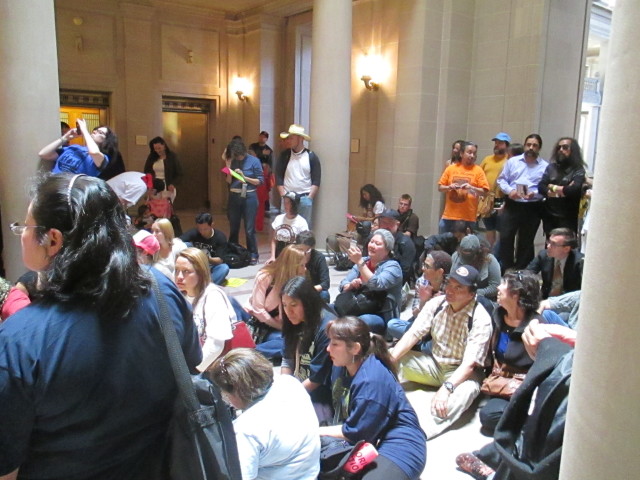 By Tim Redmond
MAY 26, 2015 – So now even that radical left-wing rag The Wall Street Journal has weighed in on the housing crisis in major US cities, mostly NY and SF, and concluded, in part, that too much luxury housing has an impact on existing rents and "is adding to the rent squeeze."
The Journal isn't exactly calling for a limit to new high-end housing, but the paper has helped identify the problem.
And it's a critical time: The proposal for a moratorium on luxury housing is heading for a huge, high-stakes showdown at the Board of Supervisors June 2. Sup. David Campos, the sponsor, convinced his colleagues that the item should be heard by a Committee of the Whole, meaning all 11 supes will hear what should be hours of testimony for and against the idea before voting on it.
In the meantime, we will get a preview of the arguments, and the organizing, Wed/27 when the proposal comes before the Democratic County Central Committee. Already, the emails out of SFBARF and GROW SF, two groups that want to build as much dense housing as possible, with no regard for the price, in the desperate hope that eventually prices will come down (we should live so long), are pumping up the DCCC meeting and urging opponents of the Campos plan to attend and speak.
And there will likely be a huge turnout from the Mission, where the often disparate groups of merchants, tenants, and community groups seem to be in remarkable agreement on this one.
In fact, there's a growing sense in the Bayview that the Mission Moratorium ought to extend to other parts of town.  So there may be some folks from that neighborhood coming out to speak.
The DCCC vote won't have any direct impact on the supes – but if the panel supports the Campos plan, it will be a big boost to the organizing efforts. And some people who so far have been able to stand on the sidelines on this one – like Assemblymembers David Chiu and Phil Ting and state Sen. Mark Leno – will have to either abstain (and look like they are ducking) or take a stand.
Also on the DCCC agenda: Early endorsements of City Attorney Dennis Herrera, District Attorney George Gascon, and Treasurer Jose Cisneros (clearly a response to the unnecessary early endorsement of the mayor) – and a 15-minute Q and A with Sheriff Ross Mirkarimi.
The meeting starts at 7 pm, 455 Golden Gate Avenue.
A word on public hearings:
Sometimes they last a long time. Sometimes, people who have to wait for hours for the chance to speak for two minutes get frustrated. (Guess what? There's an app for that now. Of course, there were always letter and email in the past, and the app doesn't allow the board members and the public to engage in any live dialogue.)
But this is a part of civic democracy, and sometimes people bring things up in testimony that the decision-makers hadn't thought of and needed to know. Sometimes, the sheer numbers for or against a measure send a message to elected officials.
I say this because when I watched the last Airbnb hearing, which was packed with people on all sides, Sup. Malia Cohen, who chaired the committee, was visibly unhappy. At one point, around 5 pm, when a couple of speakers were late coming to the podium, she said "I really want to get out of here, too!"
Now: The people who wait all afternoon to get Cohen and her colleagues to hear them are, in many cases, not getting paid. They take time off from work during the day, sometimes losing money in the process.
Cohen, on the other hand, is getting paid $108,000 a year, quite a decent salary, for the job of serving as a district supervisor. And sitting and listening to public testimony, even if it drags on, is part of the job.
When you are board president, or you chair a committee, you're supposed to encourage public input, make it as easy and comfortable as possible for your constituents to speak to you.
The Committee of the Whole hearing is going to take a while. If you don't want to listen, you should find a different job.
The Board of Supervisors Rules Committee hears a proposal Thursday/28 to expand the Sunshine Ordinance by mandating that all city elected officials keep an appointment calendar that includes information about the identities of people meeting with or attending events with those officials. The calendars, of course, would be public records.
The mayor is already required to keep a public calendar – but as I've found over and over again, the documents can be pretty useless. The mayor will be listed as attending a meeting on, say, short-term rentals, or on a future appointment to a vacant commission slot – but it won't say who else was there.
The bill by Sups. John Avalos and Eric Mar would exempt from disclosure the identities of whistleblowers or others who have a specific right or need for confidentiality. But very few lobbyists and corporate types would qualify. Certainly Ron Conway wouldn't.
The meeting's at 11am, Room 263 City Hall.
The Ethics Commission will consider an addition to the campaign and lobbyist disclosure laws Wed/27. The measure, by Commissioner Peter Keane, would require the disclosure of what's called Expenditure Lobbying, which used to fall under the city's ethics laws but was repealed in 2010.
Here's what we're talking about:
The law currently requires lobbyists who contact city officials on behalf of clients to report those contacts – and the amount they're getting paid. You can go to the Ethics website and find out, for example, how much Airbnb is spending to prevent stricter regulations on short-term rentals.
But suppose Airbnb spends $250,000 to organize its hosts and bring them to the Board meeting? No direct contact between Airbnb and city officials, so right now that doesn't need to be disclosed. And it allows for a lot of Astroturf groups to collect money from corporations and create what appear to be legit grassroots campaigns.
In the past, PG&E has spent millions on campaigns of this sort to stifle public power.
SF is the only major city in California that doesn't require the disclosure of Expenditure Lobbying activities.
It gets tricky when you try to figure out how it would apply to, say, labor unions, which do this sort of work all the time, or community-based organizations.
My thought: When 100 people show up at City Hall in union t-shirts as part of a union campaign, there's really no doubt who was behind the action. Labor and most faith-based and nonprofit groups don't tend to hide their affiliations. In fact, in 33 years of covering City Hall, I can't think of a single time when a CBO or labor group funded a lobbying effort and was anything less than 100 percent open about it; generally, these groups are proud to be involved as organizations and make a big point of telling everyone who they are and who organized the effort.
So it doesn't make much sense to have the law cover them. It's the PG&Es and Airbnbs of the world that set up what appear to be independent groups that are actually corporate funded — and that's what needs to be disclosed.
Interestingly, the Ethics Commission staff opposes the measure, which would have to go on the November ballot.
The meeting starts at 5:30 at City Hall Room 416.