Choice nightlife and dance floor affairs, July 9-12.
By Marke B. 
PARTY RADAR One of my favorite annual traditions is catching up with the great, 44-year-old Glastonbury festival via the BBC's online coverage and the UK Guardian's colorful reviews. (Glastonbury happens during Pride here every year, so all bets are off for following live).
Long before the US, Glastonbury — arguably the biggest music fest in the world –incorporated electronic music artists: Any successful rock mega-spectacle carries a rave-y vibe, anyway, especially one set in such an ancient setting, and UK electronic music has always carried an explicit note of the hippie-shamen in its cyber-DNA. And despite headliners like Lionel Richie and Kanye West (although the gloriously game crowd even made me enjoy those two), there were some stellar moments of musical bliss.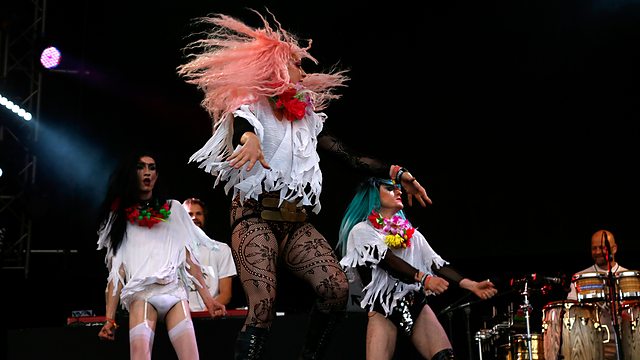 Here are a few electronic(ish) bits I really dug:
https://www.youtube.com/watch?v=Lxt9P5j8Lrk
https://www.youtube.com/watch?v=HIu3x965iGM
https://www.youtube.com/watch?v=Fo_fQ45wtCI
https://www.youtube.com/watch?v=LPOhVDiLY2E
https://www.youtube.com/watch?v=lkKNujpVjXs
https://www.youtube.com/watch?v=0WaeH8StAAM
Oh yes, and there were Patti Smith, the Waterboys, George Clinton, and new punk saviors Slaves as well. But enough dreaming across the ocean: There are tons of parties here at home to attend to:
>>>>> THURSDAY JULY 9 <<<<<
>>>NIGHTLIFE: POPSCENE A rad night of science + indie at the California Academy of Sciences, brought to us by beloved, long-running indie weekly Popscene. Performances by the Dodos (we can only hope they're placed near the Cal Academy's penguins) and Doe Eye (same , but near the stuffed gazelles). DJs Omar and Aaron Axelson rock the Academy from the aquarium up. Thu/9, 6pm-9pm, $12. Cal Academy, SF. Tickets and more info here.
>>>BALONEY: ALL MALE REVUE  Welp, if Magic Mike XXL isn't doing the trick for you — or, if this is possible, just isn't gay enough — maybe this gay all-male revue night will help you, um, rise and shine. The best part is that it's mostly amateurs in terms of exotic dancers, but pros when it comes to drag and dance: it'll have a little of that Broadway Bares razzle dazzle.  Thu/9 (show runs through Sat/11), 8pm-10pm, $20/$25. SF Oasis. Tickets and more info here. 
>>>LIGHT UP THE FLOOR: THE BEDAZZLERS  I caught DJ duo The BeDazzlers (Emily Coalson and Sergio Fedasz) at a recent powerhouse event and was blown away: house old and new blended together with aplomb and a smile — and a zazzy dollop of disco in there, too. They'll be taking over Madrone for a night of dance, dance, dance. Thu/9, 9pm, free. Madrone, SF. More info here. 
>>>>> FRIDAY JULY 10 <<<<<
>>> BARDOT A GO GO Oui, oui, oui! One of my favorite annual parties ever. Slide on those thigh high boots and get set to storm the Bastille — '60s French New Wave style! DJs Brother Grimm and the Cali Kid play swinging French pop from the likes of Serge Gainsbourg, Jacques Dutronc, and of course Brigitte Bardot for one of the cutest crowds ever — et free hairstyling, aussi. Fri/10, 9pm, $10. Rickshaw Stop, SF. Tickets and more info here. 
>>THE KNOCKOUT 10-YEAR ANNIVERSARY Three days of "DJS BANDS BOOZE DANCING & FUN!!!" are promised at this weekend-long extravaganza — from the rockin' Mission venue (now with drag shows!) that's brought us 10 years of such things already. Fri/10-Sun/12, Knockout SF. More info here. 
>>>MR. C Brit rave legend returns for a free massive throwdown brought to us by the mighty Robot Ears Burning Man camp, at Mighty. Lots o' fuzzy hugs at this one, guaranteed. Fri/10, 10pm-3am, free. Mighty, SF. More info here. 
>>>SOME THING DIVAS The weekly art-drag-stravaganza takes on the highest art form of all: divadom. You know there's gonna be a lot of fallout, ironic and not. Honey Mahogany hosts. Fri/10, 10pm-4am, $8. The Stud. SF. More info here.
>>>STIMMING Sophisticated Hamburg techno from this light-touch whiz, who has a way of reassembling basic sonic components to make you hear things in a different, spooky-inside-your-head way. Not exactly minimal, not exactly micro, but definitely something. Fri/10, 9pm-3am, $10-$20. Monarch, SF. Tickets and more info here.     
>>>DARRELL TENAGLIA Three cheers to our homegrown Pulse Generator crew for continuing to bring in phenomenal house and techno talent at affordable prices in an intimate atmosphere. This month it's Boston's Darrell Tenaglia — who boasts a collection of 2,000 house records, many of them he will share with you. With DJs Jackol and Woo.  Fri/10, 10pm, $5. Underground SF. More info here. 
>>>DANNY DAZE + DETROIT SWINDLE  Didn't want to like young DJ Danny Daze as much as I did, mostly because he seemed attached to that rapidly boring "deep house" movement, but then I saw him live at the 2012 Movement fest and fell in love — he's neatly eclectic, with a sweetheart stage persona and some ace tunes. Detroit Swindle also have some baggage (another European act copping Detroit authenticity, for one), but they're also pretty killer, showing a real love for the past and a nice reckless disregard for the present sonic conformity afflicting a lot of over-hyped DJ duos. Go dance. Fri/10, 9:30pm-3:30am, $13-$16. Public Works, SF. Tickets and more info here.  
>>>>> SATURDAY JULY 11 <<<<<
>>>CARLOS SOUFFRONT It's always a supreme treat when one of our own starts to find the international recognition he deserves. I love Carlos so much as a person and longtime techno club/acid campout regular, but there's no doubt he has one of the best ears and collections on earth (no one else is gonna throw down deep PIL cuts and still move a floor to paradise). Now even Resident Advisor is stalking him, so catch him at the wee Mercer for the one-year anniversary of the brilliant Concept party. Sat/11, 9pm, $15-$20. Mercer, SF. Tickets and more info here. 
>>>DJ MOTION POTION 20-YEAR ANNIVERSARY Aw, I remember writing about this cutie way back when he started to be a mover and shaker on the global funk and funky house scenes, launching his essential WhatdaFunk parties, and kicking open the doors for DJs to play sets at rock festivals. (This was a weird concept in the 90s!) Now he's bringing his special MoPo blend of hip hop, breakbeat, house, reggae, and rock to Public Works for a five-hour celebratory set featuring special guest DJ Zeph. Good times. Sat/11, 9pm-late, $5. Public Works, SF. Tickets and more info here.    
>>>SOUL SLAM SF: PRINCE AND MICHAEL JACKSON 10-YEAR ANNIVERSARY It may sound cliche (and indeed there are a ton of Prince vs. Michael Jackson clubs out there), but this is actually the jaaaaaam. NYC's DJ Spinna is a hip-hop and house legend, and he knows how to pop the deep cuts and live-mix the remixes. You'll never hear these legends the same way again. (Which is probably why this party has been so successful for a decade.) Sat/11, 9pm-4am, $25 advance. Mezzanine, SF. Tickets and more info here.
>>>POUND PUPPY One of our best (and sweetest) under-the-radar techno DJs, Tyrel Williams of Housepitality, plays one of our ruffest, ruggedest gay pup parties. Your tail will wag with joy! Sat/11, 9pm, $10. SF Eagle. More info here.
>>SKIN Seriously one of our best deep house parties, a spiritual home for grown folks and a fun one for the kids. Kenyan DJ DJ Mpenzi and percussionist Ibou Ngom join forces to headline, with residents DJ Cecil, Diaztek, Son of Sōn, Soul Mojo glowing in the warm-up. Sat/11, 9pm, $5-$10. BRIX, Oakland. More info here. 
>>>>> SUNDAY JULY 11 <<<<<

>>>SUMMERTIME RADNESS: PSYCHEMAGICK I absolutely adore this Birtish duo, who brought a little wittiness back into the disco edit movement — and are absolutely perfect to headline this pool party from the impeccable Lights Down Low crew. With Nancy Whang. Sun/12, noon-6pm, $20. Phoenix Hotel, SF. More info here. 
>>>JAY TRIPWIRE Swag new venue the Midway is finally hosting some parties, and could they do any better than to bring in one of the loves of my techno life, Canadian Jay Tripwire? No, they could not. Sun/12, 2pm-9pm, $10 advance. Midway, SF. More info here.
>>>DAVID HARNESS Our soulful house superstar takes the decks at the Basement (formerly beloved rave cave 222 Hyde) with fellow ace jocks Chris Orr, Mike Bee, and Roche. Sun/12, noon-8pm, $5-$10. The Basement, SF. More info here.