Here piggy, piggies: The trough overfloweth with art openings, film screenings, late-night dancing, and daylight naughtiness. Plus: Some other parties!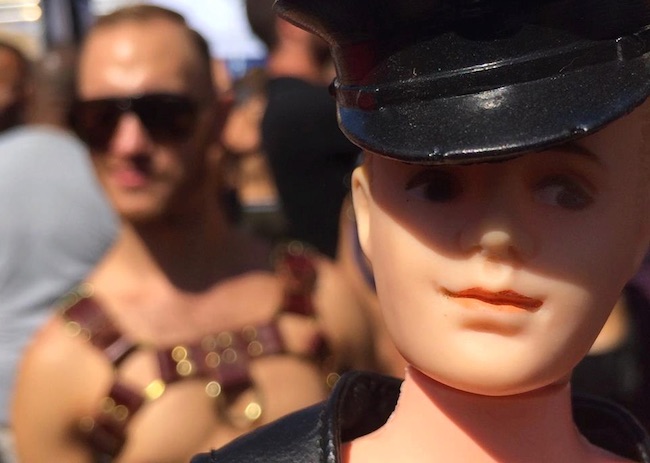 By Marke B.
PARTY RADAR OK, let's start with the GIANT SHEEP. Yes, yes, you know the Folsom Street Fair is this weekend, and there'll be lots of, er, chaps in the street. But, through the auspices of executive director and cool kid Demetri Moshayannis, Folsom has also become a music festival — Missing Persons and Ladyhawke headline this year.
It's also becoming a renowned dance party as well. This year's Deviants Dance District features one of the actually best and most beloved DJs in the world, DJ Harvey, as well as the fastest up-and-coming one, Mike Servito. It's rounded off with DC's great Bill Todd, our own fantastic Vin Sol, and one of my personal favorites of the past couple years, Mozhgan (in my recollection, it will be the first time a female DJ plays a major stage at the fair).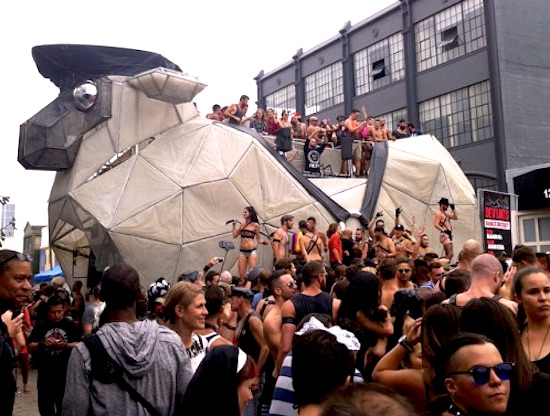 Oh, and they'll be playing on a giant sheep. For the second year, Burning Man art bus BAAAHS (Big Ass Amazingly Awesome Homosexual Sheep) will be the Deviants District Stage. It has disco balls, laser eyes, and an interior that, well, imagine the inside of a sheep, it's that. It will also have many DJs and dancers atop it.
The sheep will make other appearances throughout the weekend: Below is my quick list of parties that should be on your radar.
BONUS! For any who would like to break up their delicious, delicious floggings on the dance floor, I've compiled a wee list at the end of great non-directly-Folsom parties.
Click on party names for more info!
>>>>> THURSDAY <<<<
>>> THE TUBESTEAK CONNECTION Bus Station John's 11-year-old joy at Aunt Charlie's in the Tenderloin is the original bathhouse disco revival party — every year he kicks off Folsom with a bang.
>>> OPENING PARTY: CHIP: MY LITTLE GAYVATAR I'll be DJing this cute photo show by Bill Samios at Schatzi home decor store, 5pm-8pm in the Mission.
>>> MEN AT WORK Some cutie porn actors demonstrate fetish gear at Oasis, with music and cocktails. The Fog City Pup Pack woof it up, get fuzzy in the Fez Room.
>>>>> FRIDAY <<<<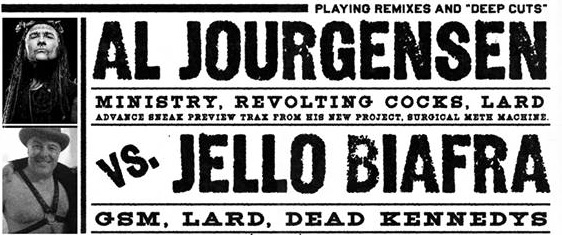 >>> BEERS, STEERS, AND QUEERS Um, Al Jourgenson — yes, that Al Jourgenson of Ministry, Revolting Cocks, etc — is teaming up with Jello Biafra to play a big gay party at the Eagle (!)
>>> FRONT 242 It's hard, industrial, and retro: there will be a ton of leather-sportin' fetishists at this concert.
>>> STEAM DOES FOLSOM Walter Gomez's bathhouse-themed monthly party at the powerhouse is a real hoot. This time DJ (and excellent paddler) Prince Wolfe takes the decks.
>>> PROSUMER Some of the absolute best house music will ring the rafters when this Berliner comes with fellow-fave DJ Murat Tepeli for the As You like It 5-year anniversary celebration. Jason Kendig of Honey opens.
>>> KINK The awesome Bulgarian acid house genius plays live with equally gifted Gui Buratto for a Lights Down Low + Blasthaus get-down.
>>> PEGASUS Fantastic gay-owned clothing store Sui Generis in the Castro hosts this awesome, casual party every year. One of my favorite people ever, Rich King, DJs.
>>> SWAGGER LIKE US PRESENTS: "FETISH" The city's biggest queer hip-hop party surely puts on the best queer hip-hop Folsom party. Special guests OND4 and Bianca Oblivion, plus hot rope demo.
>>> SEX FEST An  this amateur erotic film film fest put on by the awesome 4U magazine, which spans San Francisco and Mexico City. Super diverse and sexy shorts, steeped in philosophic turn-ons.
>>> TIARA SENSATION PAGEANT Kick off you weekend frolics with a little goofy glamour, courtesy of this beloved, long-running art-drag event at the de Young Museum. Afterparty at Some Thing: With Marti Gould Cummings.
>>>>> SATURDAY <<<<

>>> POUND PUPPY Woofy woofy woof woof. Woof? Ruff! With ace selector Carlos Souffront, cute Scooter from Toronto, and DC's Needle Exchange. Treats!
>>> DARK ROOM A kinky tribute to Miss Grace Jones (who performs at the Fox on Saturday) with a cast of thousands from our favorite dark drag club.
>>> FOLSOM PREP  Preview the sheep! BAAAHS will park across the street from the Eagle and host a huge all-day dance party with DJs Jerry Bonham, Collin Bass, and the Polyglamorous crew.
>>> DEVICE Super-rad leather industrial techno noise fetish party that plays some spectacular dark music from the vaults and beyond. DJ Tom Ass does the honors with special guests Sky and Rachel Aiello.
PRO-TIP: Hit up Mr. S. Leather on Saturday afternoon for some real fun demos and people watching, and buy some sexy gear! 

>>>>> SUNDAY <<<<
MASK4MASK from Folsom Street Events on Vimeo.
>>> DEVIANTS Incredible official afterparty for Folsom featuring Honey Soundsystem, DJ Harvey extended set, a block party out back, and tons of visual surprises. Love this one. Leave your circuit queens at home for some real music.
>>> TOP OF THE HOLE For the past 10 years, there has been a wonderfully hip and fun party above the Hole in the Wall during the Fair — so exclusive, I've never been invited! This year, they're expanding it in honor of a decade of debauchery to DNA Lounge. with a slew of fun DJs!
>>> TRAP CITY XXX So cool! The city's biggest trap club is open all day at F8 for some real deep rap and twerk. With DJs Ultraviolet, Nasty, and the hot-hot Trap City dancers. Love this.
>>> GAG! Fab and colorful queer (as opposed to just more big gay bear) shenanigans with some dazzling club loves: Chelsea Starr, Saturn Jones, Daddy Rose, DavO, PowWow, and many more.
>>> FOLSOM STREET FAIR OASIS Can't believe I'm about to let you in on one of my biggest secrets: The rooftop patio at Oasis is the best place ever to take a break, observe the mayhem, and be served extremely strong drinks by drag queen bartenders. There's DJs downstairs too.

BONUS!! Here are some parties you should check out this weekend if you want a break from the fair. i warn you, though, there will be leather everywhere, regardless:
FRIDAY:
>>>LAST NITE 2-YEAR ANNIVERSARY
>>>MARK BROOM AT DIRECT TO EARTH
>>>PEARSON SOUND AT PARAMETER
SATURDAY:
>>>OSUNLADE AT MIGHTY
>>>PEZZNER, TONE OF ARC AT MIGHTY
>>>RECONDITE, ROMAN FLUGEL, DJ TENNIS AT PUBLIC WORKS