Pro-Sanctuary-City law passes unanimously after "reactionary" alternative is tabled, 6-5, with Sup. Christensen voting to keep it alive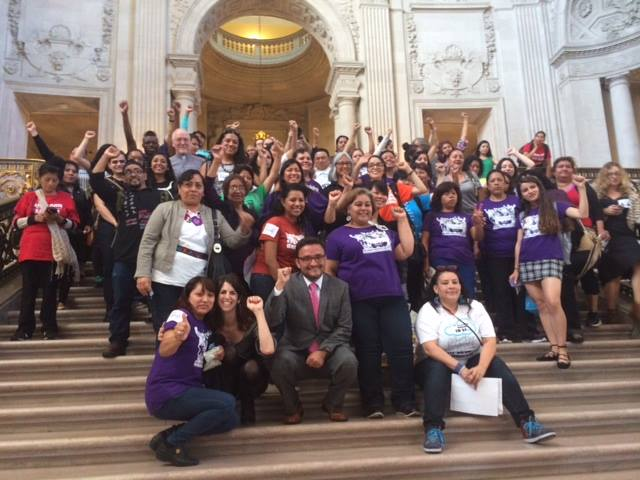 By Tim Redmond
OCTOBER 20, 2015 — The Board of Supes today staved off what could have been a terrible statement on immigration and instead passed a unanimous measure that puts the city on record as opposing the federal government's efforts to deport people through the Priority Enforcement Program.
It was, immigrant-rights groups agreed, a major victory – and while the pro-immigrant measure by Sup. David Campos passed11-0, a competing measure that community leaders called "reactionary" and "knee-jerk politics" only failed by one vote.
Among those who voted not to table the competing measure was Sup. Julie Christensen, who is locked in a tight race with Aaron Peskin in District 3, which includes Chinatown.
In other words, Christensen voted to keep alive a measure that the immigrant community in San Francisco, pretty much across the board, considered dangerous and insulting.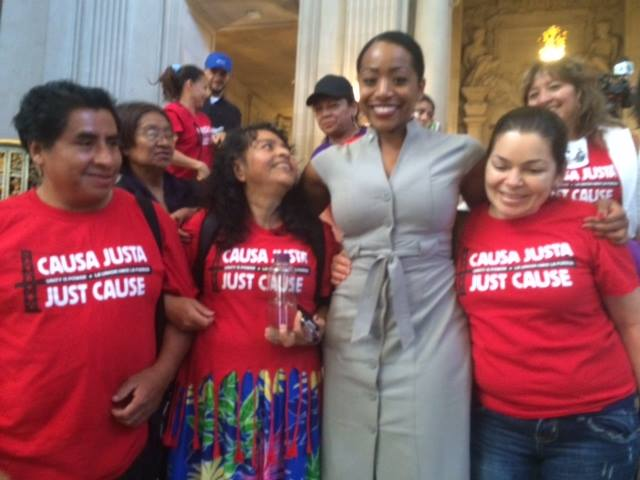 The measure by Sup. Mark Farrell had nice words about the Sanctuary City policy, but ultimately sought to have Sheriff Ross Mirkarimi rescind his policy of declining to turn over immigrants to federal authorities without a warrant.
It was a response to the tragic and senseless killing of Kate Steinle, which has whipped up anti-immigrant fervor around the country and fueled the right wing of the Republican Party.
Farrell noted that his mother was an immigrant from Germany but that his priority was public safety, and that the sheriff should have called the feds and had them pick up the alleged shooter when he was released from county jail.
"We felt it was reactionary politics," Lariza Dugan-Cuandra, executive director of the Central American Resource Center, told me. She said it would have the appearance of putting San Francisco on the side of the "hateful rhetoric" that has been whipped up in the national press.
"For a community that is dealing with Donald Trump, we felt as if it was part of the national furor against immigrants," she said.
Sup. Malia Cohen agreed. "What message are we sending to undocumented people?" she asked in a passionate speech. "If people don't trust law enforcement, no level of policing will make us safe."
She asked Farrell if he would withdraw his resolution, and then moved to table it.
That would effectively kill the measure, and, she said, allow the board to move on to other business without giving a nod to Fox News.
Story after story came out about immigrants who feared calling the police. Campos described a woman who spent ten years in an abusive relationship because she feared that she would be taken away from her daughter if Immigration and Customs Enforcement found out about her status.
Farrell said that he didn't oppose the Sanctuary City policy and that "people act as if there is a monopoly" on immigration stories. But he insisted that the sheriff should have "picked up the phone" and called ICE on the alleged killer of Steinle.
Sup. Jane Kim noted that the issue was less about immigration policy and more about the fact that a person just released from county jail was able to find a handgun loose on the waterfront – that, in other words, gun control was a more serious problem than undocumented immigrants.
But Farrell refused to back off.
The room was packed with immigration-rights advocates, who were so unhappy with the Farrell measure that they stood up and turned their backs when he introduced it.
"I don't think that was his intent, but the immigrant community saw this as something that scapegoats immigrants," Campos told me.
Sup. Scott Wiener said he didn't want to table the measure because he thought there should be a full up-or-down vote on it, and it's true that the board rarely tables resolutions.
But Cohen wanted to do more than see it defeated – she wanted to send the message that the city wouldn't even dignify this with a formal vote.
Six supervisors agreed. Five voted to keep the measure alive: Katy Tang, Wiener, London Breed, Farrell, and Christensen.
I asked Christensen why, and she hasn't responded.
That could be an issue in her immigrant-heavy district.
In the end, though, the activists were thrilled by the outcome. "It's a major victory not just for San Francisco but for cities around the county," Campos told me. He said he's in touch with Cook County (Illinois) Commissioner Chuy Garcia, who wants to push similar legislation in the Chicago area.
"If San Francisco and Cook County both reject PEP, it will send an important national message. Cities around the United States are looking to San Francisco," Campos said.
It was, Dugan-Cuandra said, "a wonderful San Francisco day."