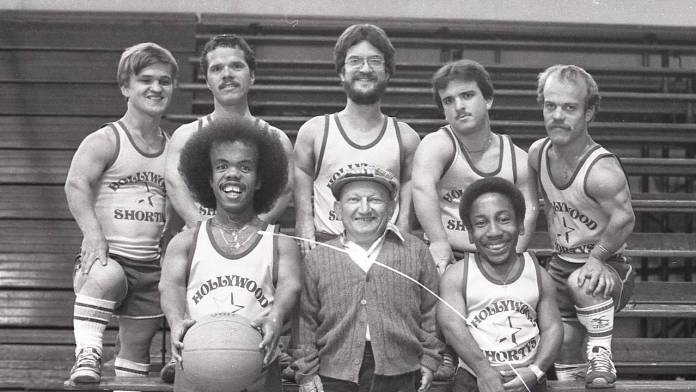 SCREEN GRABS When SF DocFest (running June 2-16 at various venues) launched 15 years ago, it didn't seem all that sure a thing. Yes, impresario Jeff Ross & co. had already experienced success with SF Indiefest, and would soon again with another offshoot, Another Hole in the Head (the horror/fantasy genre fest named after the general sentiment that San Francisco needed another film festival like it needed…).
But a large part of what distinguished those events was that they were fun, in contrast to the often "worthy," heavy-art-lifting, politically conscious tenor at many established local festivals. Weren't documentaries inherently serious? Weren't they all about pressing social issues, depressing environmental news, and chiding messages about past and/or present injustice?
Actually, other festivals had already pretty much cornered the market on programming those kinds of documentaries, and while SF DocFest didn't strenuously avoid such films, it found plenty of others to fill an alternative kind of bill. Movies about weird Americana, punk rock, true crime, subterranean fan subcultures, eccentric sports errata, and internet cult phenoms — these were not the usual lineup of Oscar-qualifying Important Themes.
https://www.youtube.com/watch?v=I_aDgPQUc64
SF DocFest 15, which opens this Thursday at the Great Star in Chinatown (a venue joining longtime primary venue the Roxie, with the Vogue also hosting a final weekend of shows), does not lack for serious-issue cinema. Among its 45 features and 50 shorts, there are meditations on the aftermath of school shootings (Midsummer in Newtown), gentrification (East LA Interchange), abortion (both Jackson and Abortion: Stories Women Tell), animal rescue teams (SMART), deforestation (Daughters of the Forest), gang violence (South Bureau Homicide), Israel-Palestine relations (The Promised Band), low-end immigrant workers (The Summer Help), the fight against GMOs (Seed: The Untold Story), and one movie humbly called The Future of Work and Death.
But feeling somehow more typical of DocFest are such titles as Frank and the Wondercat, about an 80-year-old retiree and his famous "performing" cat Pudgie Wudgie, or The Hollywood Shorties, which profiles a short-lived basketball team on the opposite end of the height scale from the Harlem Globetrotters. There are films about competitive stamp design (The Million Dollar Duck), competitive stone-skipping (Skip Stones for Fudge), hippopotamus tchotchke collectors (The Pursuit of Hippo-Ness), a man with Asperger's who can't stop hijacking NYC public transit vehicles (Off the Rails), plus the self-explanatory likes of The Two Dollar Bill Documentary, Rocky Horror Saved My Life, and The Curse of the Man Who Sees UFOs.
Balancing fun and weightier investigation are a number of Bay Area-centric documentaries, starting with Dayla Soul's opening-night premiere It Ain't Pretty, which profiles the wetsuited women who surf at SF's Ocean Beach. Leading lights like Bianca Valenti also reflect on the continuing struggle to integrate a still stubbornly male-dominated sport where women are too often omitted outright from competitions and sponsorships. Other sports docs on tap include 14 Minutes from Earth, chronicling one Google executive's top-secret, record-setting free fall from a height of 135,000 feet; and El Chivo, about an SF tech worker's conquest of the brutal Copper Canyon Ultra-Marathon run. (If you want tech history without all the taxing athleticism, there's Jason Cohen's official closing-night feature Silicon Cowboys, which recalls the period when Texas startup Compaq pried control of the personal-computer market from mighty IBM's clutches.)
Two local music docs premiere at the Great Star this Saturday night, with an all-star DJ dance party to follow. A Fat Wreck follows the quest of Fat Mike from NOFX to create a record label showcasing "the best quality punk rock that there is," one that in its 25 years to date has supported bands like Lagwagon, No Use for a Name, and Propagandhi. Between the Beats celebrates San Francisco's high status in the annals of rave culture, recalling now-legendary underground parties of the early 1990s.
A different kind of flashback is offered by Orange Sunshine, the remarkable story of how a handful of SoCal dropouts from the "rat race" became the greatest purveyors of psychedelic contraband to the Woodstock Generation. Taking place a half-century later, the excellent Los Punks: We Are All We Have profiles a very different LA underground of Latino punk bands and backyard-concert parties. Casting back even farther than Sunshine, Rick Prelinger's Lost Landscapes of Los Angeles is his latest assembly of home movies and other errata memorializing that city's faces of yesteryear.
One of the less classifiable features at DocFest this year is its Centerpiece selection on June 9. Robert Greene's Kate Plays Christine is a docu-fiction hybrid with staple Amerindie actor Kate Lyn Sheil researching her role as Christine Chubbuck, the real-life Florida TV journalist whose 1974 on-air suicide inspired Peter Finch's "Mad as hell and not gonna take it anymore" character in Network. Likewise blurring the line between nonfiction and drama is Roberto Minervini's The Other Side, whose presumably playing-themselves cast members both define and defy stereotypes of "white trash" bayou country ugly-Americanism.
Other miscellaneous highlights include two programs devoted to this year's Non-Fiction Vanguard Award winner Sean Dunne, who's accrued an online following for such DIY studies as Trump Rally, Florida Man, and his first feature Cam Girlz, about the surprisingly diverse and empowering world of self-employed female webcam sex workers. On the somber side, David Shapiro's Missing People chronicles a prestigious gallery director's lifelong obsession with her teenage brother's unsolved murder decades ago, and her near-equal fixation on the works of a late New Orleans folk artist. For some lurid, Behind the Music-like thrills, there's Bobby J. Brown's Tear the Roof Off: The Untold Story of Parliament Funkadelic, whose funk mastermind subject George Clinton is not interviewed here — though one certainly wonders how he'd respond to the many former colleagues who accuse him of everything from forgery and stealing royalties to drug dealing and physical abuse.
Last and possibly least — save in the realm of guilty-pleasure fun — there's the weirdest among a handful of "live" events on DocFest's program. Saturday, June 11, Breaking Dumb: The Movie Roast Shines a Light on 'The Principle' will have TMR's wisecracking trio riffing on the 2014 documentary whose thesis was that the sun really revolves around the Earth — several of whose participants (including some well-known scientists and narrator Kate Mulgrew) have since claimed they were misled into involvement with a movie with a "hidden" and "silly" agenda. If you've always felt like you were the center of the universe, well, finally, here is the scientific "proof" to validate that viewpoint.
SF DOCFEST
June 2-16, various venues
Most movies $12-13 (some special events $15-25)
www.sfindie.com
(415) 662-FEST