ARTS FORECAST All the talk this week will be about the San Francisco International Film Festival—check out this week's Screen Grabs film column for our preview—and I love that its dedicating a night to the incredible Stephen Parr, who left us last year, but whose Oddball Films remains the essential repository of the Bay Area's, and the world's, film knowledge. (See Mon/9 below for more.)
If you can tear yourself away from all the hullaballoo of the fest, here are some other local arts happenings you may be into. 
TUE/3-SUN/8 "NIJINSKY" "The vision of a troubled soul walking the line between genius and madness. For the first time in over a decade, guest company The National Ballet of Canada returns to the Bay Area to perform Nijinsky —a daring work of dazzling theatricality. A ground-breaking dancer and choreographer known for his erotic magnetism and gravity-defying leaps, Nijinsky both thrilled and shocked audiences in his far too-short career." Various times, $40+. War Memorial Opera House, SF. More info here.
WED/4-THU/5 BATMAN AT THE SYMPHONY Tim Burton's Batman film is a complete camp classic—and, as always, composer Danny Elfman steals the show with his idiosyncratic soundtrack. Hear that soundtrack performed live by the SF Symphony (under the baton of Sarah Hicks) as the confection-colored film is projected on a huge screen. 8pm, $50+. Davies Symphony Hall, SF. More info here.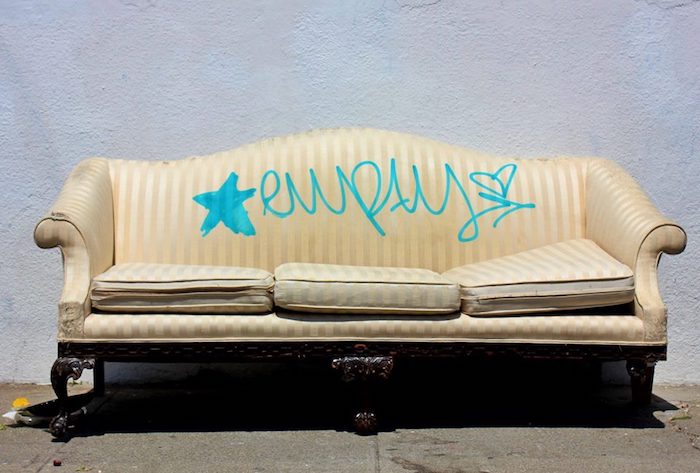 THU/5 DARWIN BELL: HEART OF THE CITY One of our absolutely best street photographers (and party-hoppers) turns the lens on the neighborhood he loves: the Tenderloin, celebrating "the iconoclastic neighborhood's perpetual state of metamorphosis." Opening 6pm-9pm, free. Tenderloing Museum, SF. More info here. 
THU/5 LITERARY DEATH MATCH AT CJM A stellar lineup of competitors and judges, as this classic— Part literary event, part comedy show, part game show—hits the Contemporary jewish Museum. 6:30pm, $15. CJM, SF. More info here. 
THU/5 "TESTIMONY" OPENING RECEPTION "As part of her Testimony project, artist Eliza Gregory introduces us to more than a dozen immigrants to San Francisco. They relate their experiences through photographic portraits, interviews touching on family history and adapting to a new culture, and selected materials such as scrapbooks and family photographs. Meet the artist and participants — from China, Germany, Guatemala, Iran, Korea, Mexico, Nepal, the Philippines, Russia and Vietnam." 6:30pm-8:30pm, $10 (includes admission to museum). Asian Art Museum, SF. More info here. 
THU/5-FRI/6 THE RESIDENTS Holy rolling eyeballs! The classic experimental outfit from the Bay comes back to perform for two nights at the Chapel. Expect high-concept hi jinx, some great tunes, and the spirit of the acid-tinged 1970s to rise again. 8pm, $35-$40. The Chapel, SF. More info here. 
FRI/6 ALEXANDER STRING QUARTET WITH NICHOLAS PHAN One of SF's most accomplished (and beloved) string quartets comes to the Community Music Center with tenor Nicholas Phan for a free concert and conversation. 6pm, free. CMC, SF. More info here. 
 FRI/6 MEKLIT ETHIO-JAZZ CELEBRATION One of our favorite musicians, singers, and all-around people, Meklit brings her exciting Ethio-Jazz sound to SFJAZZ as part of its African Diaspora series. Don't miss his incredible local talent in a large venue! 7:30pm, $25-$45. SFJAZZ. More info here. 
FRI/6-APRIL 28 "A DIFFERENT LONG STRETCH OF EARTH" "Taxidermy. Decolonization. Kink. Apocalypse. Inspired by her work at the intersection of arts nonprofits and social justice as well as her fickle and persistent love of the Old West, playwright Ulrey takes us into the contemporary American West where a group of characters wrestle with the mindsets and mythologies of our collective past and explore how they shape our ability to envision the future." Performed by the Ragged Wing Ensemble Fridays and Saturdays, 8pm, $25-$45. The Flight Deck, Oakland. More info here.  
SAT/7 "THE RED SHADES": TRANS SUPERHERO ROCK OPERA SHOWCASE A full rock opera sing-through with a seven-piece band! "The story follows a teenage trans girl, Ida, who unlocks her super powers after experiencing the traumas of small-town life in the sixties. Eventually, she runs away and joins a gang of trans superheroes squatting in the Tenderloin. They use magic collectively to defend the community against the police and other enemies of their liberation." 3:30pm-8pm, $10. El Rio, SF. More info here. 
SUN/7 DUST BOWL REVIVAL "Dustbowl Revival is a vibrant Los Angeles-based eight-piece who have been making their mark with a stellar mix of of vintage Americana sounds." Not is sure how much we want to revive the Dust Bowl, but don't miss a good night of music, also featuring the Shook Twins. 
MON/9 A CELEBRATION OF ODDBALL FILMS Last year we lost the wonderful Stephan Parr, a lynchpin of our independent film scene as proprietor of Oddball Films. "The reels in Stephen Parr's Oddball Films collection are said to number 50,000, but their impact on screens and filmmakers is exponentially greater. Elements of Parr's archive of industrials, educational films, and, yes, oddities of all kinds found their way into the hands of filmmakers near and far, from Bay Area documentarians like Jennifer Kroot to A-list Hollywood directors like Ridley Scott." As part of the SF International Film Fest, a ton of musicians performing as the Red Room Orchestra will come together to soundtrack 16mm films from the Oddball archive. 8pm, $25. Castro Theatre, SF. More info here.