PARTY RADAR This is one of those "too much of a good thing" weekends in San Francisco. If most of the nightlife fam isn't sucked into the vortex of moonlit rave wonder and glitter-soaked sleeping bags that is the Sunset Campout (Fri/27-Mon/30)—featuring a million DJs and some crazy water-floaty action—then it down on its, ahem, dancefloor celebrating "Folsom Street Fair's dirty little brother" the Up Your Alley Fair, aka Dore Alley Fair Sun/29, noon-6pm. (There are now almost as many parties built around this annual gay street fair as around Folsom itself—look for the little 🐷 below for Dore-related parties.) There's plenty of other choices for those neither inclined toward woods nor woodies, so get out there! It's "summer"! 
>> PARTIES OF NOTE <<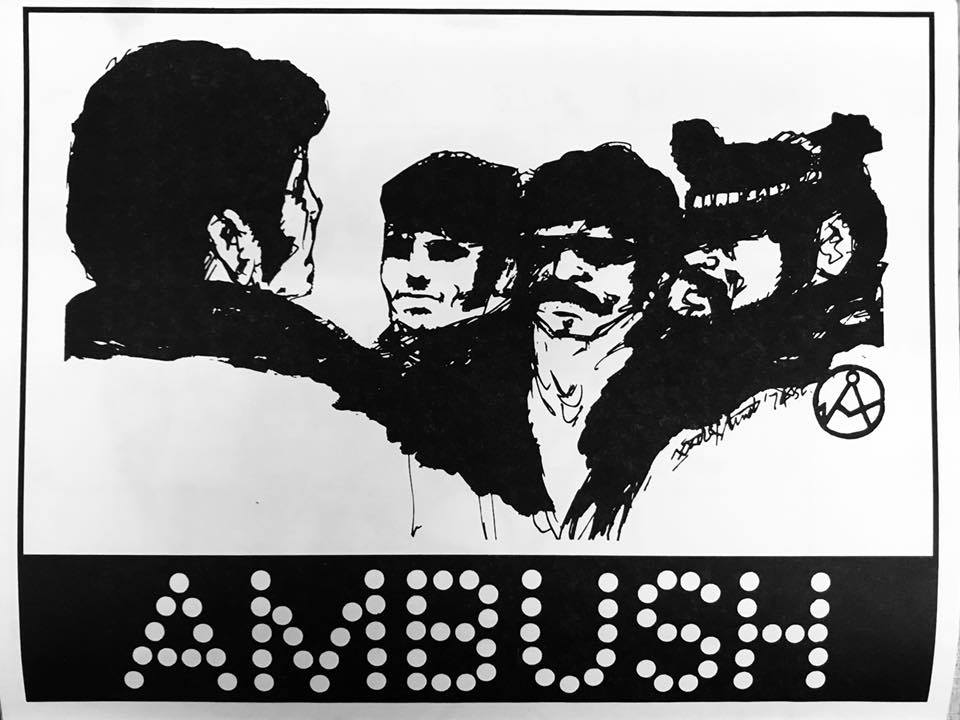 🐷 Thu/26 AMBUSH Mister Drummer 1979 is a party crew that resurrects legendary leather bars for one night only inside other nightclubs. In honor of Dore Alley Fair, it's fêting the Ambush (1973-1986) which drew leather-clad revelers to 1351 Harrison—and also honoring the "Lautrec of leather", illustrator Chuck Arnett, who provided the spot with its distinguished promo looks (see above). With DJs Mozhgan and Matthew Paul. 9pm-2am, $10. Underground SF. More info here.   
Thu/26-Sun/29 GRAY AREA FESTIVAL An action packed weekend of experimental digital wonders and fabulous music, as technology and nightlife intertwine—featuring Hundred Waters, Machine Drum, Lily Ackerman, and many more. Gray Area, SF. More info here.   
🐷 Thu/26 THE TUBESTEAK CONNECTION Every Thursday, DJ Bus Statio John transforms the charmingly rugged Aunt Charlie's Lounge in the Tenderloin into a tribute to the gay bathhouse disco cruising days of yore. Come down for a little taste of old school vibes with a new school crowd at this special Dore edition. 10m-2am, $5. Aunt Charlie's Lounge, SF.  
Thu/26 CLUB BEAUTIFUL: SKATEPARK One of the wackiest drag shows and dance parties around lands on this theme this month: "Don't cry over the loss of Warped Tour just yet. This month Club Beautiful: Skatepark celebrates the divas that inspired drag queens the world over: L7, Courtney Love, Sleater Kinney, No Doubt, Paramore. It smells like hormones and angst." OK! 10pm-1am, $10. Elbo Room, SF. More info here.
Thu/26 ENVELOP W/ PARAMOUR AND PIANO RAIN "Immersive live performances from diverse artists and DJs working with Envelop for Live, our open-source spatial audio production tool set." Sounds technical, but it's a lovely showcase for Oakland's great Piano Rain and producers Roche and Bleie as Paramour. 7:30pm, $30. Midway, SF. More info here. 
🐷 Thu/26 JUNK: DORE ALLEY EDITION An underwear contest hosted by one of my favorite queen, Dulce De Leche, with tons of "pop up" surprises no doubt (and DJ Bougie, too). 9pm-2am, $5. Powerhouse, SF. More info here. 
Fri/27 PENDER STREET STEPPERS The Canadian duo always brings the spirits down with their soulful mixes. Here, they're joined by fellow Canadian act Project Pablo at the Brouhaha party. 9:30pm-3:30am, $20 advance. Public Works loft, SF. More info here. 
Fri/27 EROL ALKAN The ravey-delight Lights Down Low party brings in the Turkish-Cypriot (via London) DJ and producer for an extended moment: "We're giving Erol Alkan full control of Audio's powerful sound system and immersive lighting, presenting his unifying and unpredictable vision of club culture for 6 hours. On a winding musical journey that has seen Alkan thrive as a producer, chameleonic remixer and radio host, from the era of seminal club 'Trash' to the present day, his spiritual home has been in the DJ booth."  10pm-3:30am, $20. Audio, SF. More info here.      
Fri/27 CLUB LONELY "Freeky Foggy Houz Music 4 Our Friends-N-Fam 4″—exactly! This sone of my favorite parties in SF, with a true underground feel and an incredible crowd. DJs Primo, Vin Sol, and Jeremy Castillo light up Club OMG's weird domed dancefloor with classics and more. 10pm-2am, $10. Club OMG, SF. More info here.   
🐷 Fri/27 UHAUL Dirty fun isn't just for dudes! This beloved (and hilariously-named) lesbian party gets naughty at the Stud with "LEATHER, LACE, WHIPS, CHAINS, DARK AREAS" and DJs Ms. Jackson and Jibbz. 10pm-3am, $15. The Stud, SF. More info here.
🐷 Fri/27 BETA The Fog City Pack, a herd o' pervy pups, brings in some great DJs for this play (in al senses) party: Clark Price from the Honcho techno crew in Pittsburgh, Brian Rojas from Atlanta's Deep South parties, Otterbots' Charley Ten and Michael Romano, and Fog City Pups Astro and Fawks. Arooooo! 10pm-4am, $40. Club Six, SF. More info here.     
Fri/27 BAUERNFIEND Record store RS94109 throws the best instore parties: This time Berlin DJ Bauernfiend team's up with owner Sohrab for a night of fun tunes and outlaw feelings. 8pm-midnight, $5. RS94109, SF. More info here.  
Fri/27 JUANITA MORE LISTENING PARTY The drag goddess celebrates the release of two of her tracks on vinyl—at a pot club, of course. There will be dancing and shenanigans, with DJ Josh Cheon, a dab bar, and lots more. Buy the record for $15 to benefit  Trans Youth – Truth Project. 6pm-9m, free. SPARC, SF. More info here.
🐷 Sat/28 LOVE HANGOVER: GAY MARVINE Afternoon dancing to killer disco edits at the bear bar? Why yes, oui oui, sí sí. Detroit's Gay Marvina pulls out all the stops for pre-Dore lust and lunges. 3pm-9pm, $5-$10. Lone Star, SF. More info here. 
Sat/28 GOLF CLAP So much love for this Detroit duo that beats a dancefloor up with energetic house sounds. If you like to bounce to bass, this is your destination. With "spacey to bassy" Brooklynite Codes. 10pm-4am, $5-$20. Halcyon, SF. More info here.
🐷 Sat/28 DEAR PERVERTS Earlier this year, the Stud received hate mail from some preacher telling us we were all going to hell or whatever—but the hilarious part was that it started out "Dear Perverts." Perfect name for a party! And a chance to showcase the best local queer techno DJ talent of SF. With Trevor Sigler, Oscar Pineda, and Siobhan Aluvalot. 10pm-4am, $5-$10. the Stud, SF. More info here.   
🐷 Sat/28 SNEAKS Folks who say classic fetishist looks are dead need to lace up their trainers and head to Sneaks, the Dore party for athletic-wear addicts that is in fact one of the best ragers of the year. True quality house and techno tunes from DC's Keenan Orr and StrikeStone! plus our own Chuck Gunn, Jr. and the Polyglamorous crew. MUST WEAR SNEAKERS. (I'll be turning out some luxury athleisure/retro health goth styles.) 10pm-6am, $50. Club Six, SF. More info here.    
🐷 Sat/29 MASTER & SERVANT Our pre-eminent practitioner of darkwave and rare synth cuts of the past and present, Josh Cheon, joins up with bondage master Mark Sade for live demos. 9pm-2am, $10. SF Eagle. More info here.   
Sat/28 A CLUB CALLED RHONDA Chicago house legend Boo Williams headlines this adored pansexual party from LA. You better not miss Rhonda! 9:30pm-3:30am, $5-$15. Monarch, SF. More info here.  
Sat/28 MNML:FUN A banging techno experience from some awesome players at this maximally fun party. Featuring Cavalier and Count + Dragon, with the MNML:FUN players.  
🐷 Sun/29 AIRTIGHT If you don't know the sexual definition of "airtight," I'm not going to go into it here—but I'm not gonna recommend you Google it at work, either. Anyhoo, this will be a dyke-centered rager ("boys we love you, but leave those circuit party vibes at the door, K?") during the daytime during and right after Dore, with a brilliant lineup: The Creatrix, gayphex twin, DJ Gag Reflex, bondage demos, and more. 2pm-9pm, $5-$8. The Stud, SF. More info here.    
🐷 Sun/29 HARD FRENCH DOES DORE ALLEY The city's cutest queer soul party rubs your face in fun, bringing in DC's Baronhawk, LA's amazing live-techno wonder Marvina7, and more for a post-fair, free-for-all fooforang sure to get your juices flowing. 6pm-midnight, $10. Oasis SF. More info here.  
🐷 Sun/29 COMPOUND The name sounds serious, but this is really a cute getaway from the hurly burly of the man-fair, up to Oasis's awesome rooftop deck for a cocktail and a look-see at all the action below. 2pm-6pm, free. Oasis SF. More info here. 
🐷 Sun/29 SUNDIES Sunday funday underwear! DJ Collin Bass pumps out the tunes at this tighty-whitey, big-and-bearish party. 9pm-2am, free. Lone Star Saloon, SF. More info here. 
🐷 Sun/29 HARDER New York's naughty dance party lands in SF for Dore Alley, with lots of queer energy to help you power into the week. DJs Mike Etc, Juan, and the awesome Eric Bloom make sure there's lots of musical twists and turns. 9pm-4am, $15-$20. The Stud, SF. More info here.