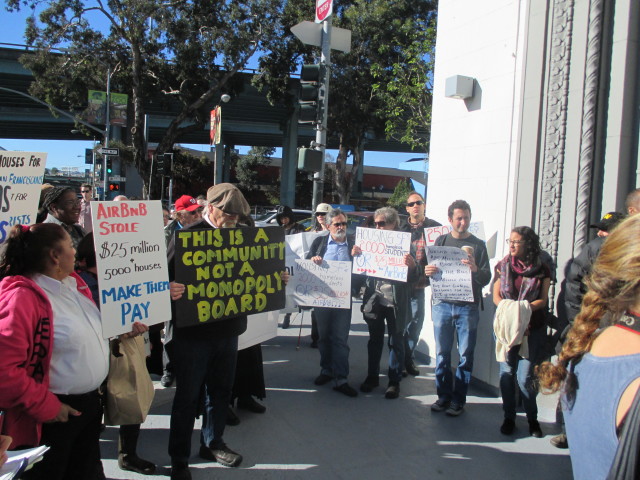 The Chron on Sunday published a full-page spread on "where SF candidates stand on the city's biggest issues." The paper, which has repeatedly reported that there any many big differences between the candidates, actually showed a few.
What the Chron hasn't done, though, is really look at the records of the three major candidates, all of whom have been in office for long enough to be able to evaluate them not just on what they are promising but on what they have done.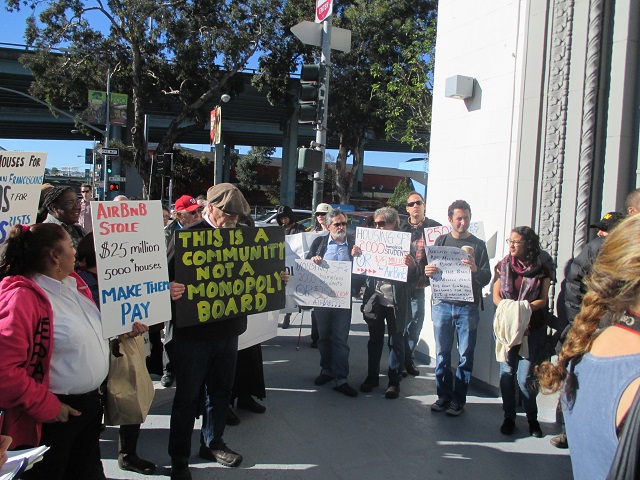 Let's take tech regulation, for example. Sup. London Breed, the Chron says, "points to her legislation capping the length of time people can rent rooms through Airbnb as evidence that she'll be tough on tech companies." Jane Kim "says tech companies should raise wages and boost benefits for contract employees …. Wants ride-hailing companies such as Uber and Lyft to pay a per-rider fee to the city." Mark Leno "want to spread the industry's wealth and jobs, particularly to long-term city residents."
Since the regulation and taxation of tech companies is, and ought to be, a major issue in this campaign, let's look at what actually happened with regulating Airbnb – since all three major candidates took public stands on the issue.
The company started in San Francisco in 2008, and by 2010 was well-funded and by 2011 had booked 1 million nights in people's homes.
In San Francisco, there were thousands of listings – and every single one of them was illegal. At that point, city law didn't allow short-term rentals, except for licensed hotels in certain zoning areas. And all of those hotels, including a few traditional bed-and-breakfast inns, paid transient-occupancy taxes to the city.
Airbnb paid no such taxes. It's entire business model (as with Uber and Lyft) was based on breaking the law. And because it was a local company, and Ron Conway, who was a close ally of Mayor Ed Lee, was an early investor, Lee's administration did nothing to crack down. Thousands of apartments were turned into hotel rooms, decimating the city's rental stock; evictions soared as landlords sought to find ways to get rid of long-term tenants, so they could make more money renting to tourists.
The issue came to a head in 2014, when then-Sup David Chiu introduced legislation written with the cooperation of Airbnb's lobbyists that would legalize short-term rentals, with very few limits that were clearly unenforceable.
This was a key time for Airbnb; all over the country, cities were looking at ways to limit the damage to their housing stock and were looking at adding regulations (or enforcing the ones on the books) to limit what the company was doing.
If San Francisco – Airbnb's home town – passed strong rules and enforced them, the company's value would go down, and the major investors, including Conway, would see their potential profits shrink.
(Remember, at some point Airbnb will go public, and Conway's early investment could make him hundreds of millions of dollars – depending on the company's value at the time.)
Every tenant organization in town opposed the Chiu bill. The Apartment Association opposed it. Labor opposed it. An extraordinary community coalition came together to demand stronger regulations.
At the board, then-Sup. David Campos pushed a series of amendments that would have given the law at least some teeth. At the time, he and other critics pointed out that there was no way to enforce the rules – since Airbnb refused to tell the city which units were on its site.
And yet, one by one, his amendments were rejected by a 6-5 vote, with Breed siding with Airbnb every time and Jane Kim siding with tighter regulations. The 6-5 majority even refused to mandate that the company, at that point worth $10 billion, pay the city $28 million in back taxes. Kim ended up voting for the bill in the end, even without the amendments.
Leno, of course, was not on the board.
As we reported at the time: 
Airbnb got what it wanted – virtually unlimited conversion of San Francisco housing stock, in every single part of town, to tourist hotel use – potentially for 365 days a year.
Then, in 2015, when it became clear that the rules weren't working, Campos proposed another change: Every Airbnb host would have to register with the city, demonstrating that they are renting out only their primary place of residents (in other words, no turning entire apartment buildings into hotels) – and Airbnb would be barred from putting any unit on its site that didn't have a permit number.
Simple, right? The platform – the giant company – would be responsible for ensuring that its users were following the city's laws.
That went down, 6-5. Voting with Airbnb: Sups. London Breed, Julie Christensen, Malia Cohen, Mark Farrell, Katy Tang, and Scott Wiener. Voting for the tight regulations: Sups. John Avalos, David Campos, Jane Kim, Eric Mar, Norman Yee.
When Campos ran for state Assembly against David Chiu in 2014, Conway and other Airbnb investors poured more than half a million dollars for a nasty superPAC attack campaign that helped Chiu win the state office. The message: Go after Airbnb, and we will go after you.
In 2015, activists put a measure on the ballot, Prop. F, that would have blocked illegal listings. State Sen. Mark Leno supported it. So did Sup. Jane Kim. Sup. London Breed did not. (CurbedSF says Breed opposed Prop. F; her name is not on any ballot argument against it. As I recall, she took no position; she clearly did not endorse or in any way support the measure.)
UPDATE: I am now informed that Breed opposed Prop. F.
When Prop. F came before the Democratic County Central Committee, the operating arm of the Democratic Party voted to oppose the measure. From the DCCC minutes:
Proposition F failed with the following vote: No 16, Yes 13, Abstain 1. The following are the votes:

No: Anderson, Arce, Cohen, Dunning, Engardio, Hsieh, Jung, McNeil, Philhour, Pimentel, Prozan, Rosenthal, Tsang, Wiener, Ma and Chiu.

Yes: Campos, DeJesus, Dorsey, Dufty, Fazio, Kelly, Levitan, Mandelman, Mar, Migden, Feinstein, Leno and Ting.
Niether Breed nor Kim was on the DCCC at that time.
By January, 2016, the data showed that Airbnb was making at least half of its revenue in San Francisco from illegal listings.
The company brought in $194 million in revenue from this city over a one-year period, and $105 million of that was illegal.
It wasn't until 2017, when the Planning Department admitted that it couldn't enforce the existing law, anda broad coalition kept forcing the issue, that the supes finally added a provision requiring Airbnb to remove any listings that weren't legally registered. Immediately, listings dropped by half.
Breed's 60-day limit was a side note to all of this. Mayor Lee vetoed her bill.
By the time SF finally cracked down, Airbnb was an international monster of a company, with so much revenue that San Francisco didn't matter as much. Conway will get his huge windfall, the damage to the local housing stock was done (the people who were evicted to make room for illegal Airbnb units are gone) – and now everyone in town wants to say they were tough on tech companies. (I'm sure David Chiu and Scott Wiener will use the same argument in future campaigns.)
But there is an actual record here.