Happy Kinky 2023! Look, I'm going to be very honest with you, as any ethical slut should: The best way to enjoy Folsom is to just throw yourself to the lusty winds of perversion and see where that tornado touches down—I've ended up Folsom partying in laundromats, beach caves, abandoned gyms, mid-sized yachts, RVs out by Candlestick Park, and even at the Folsom Street Fair itself that one time in 1999, suspended from a 50-foot crane wearing a bunny suit.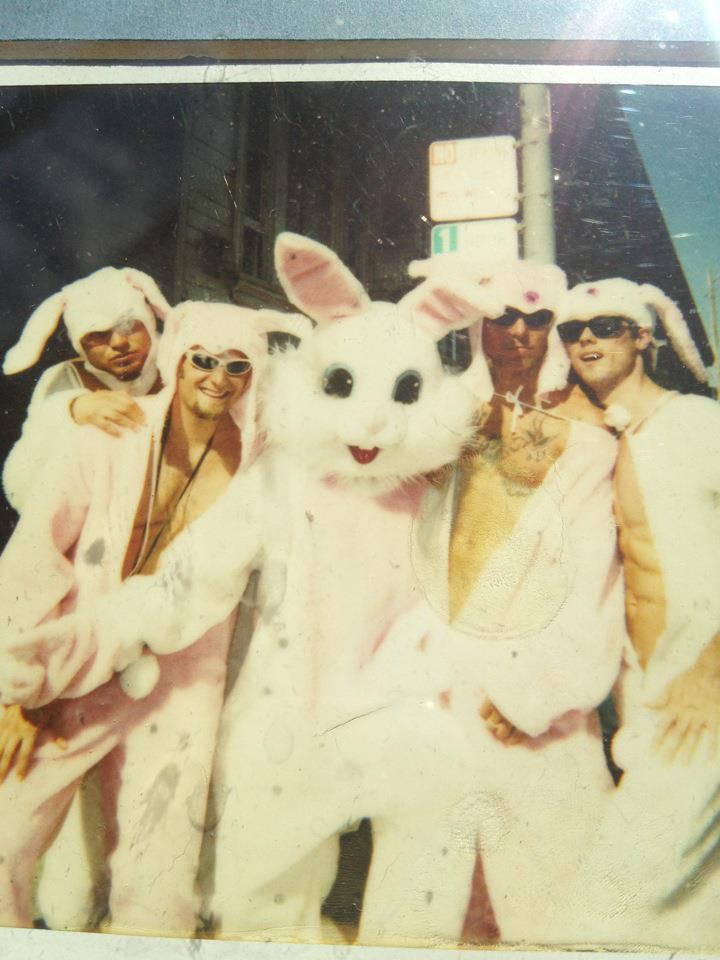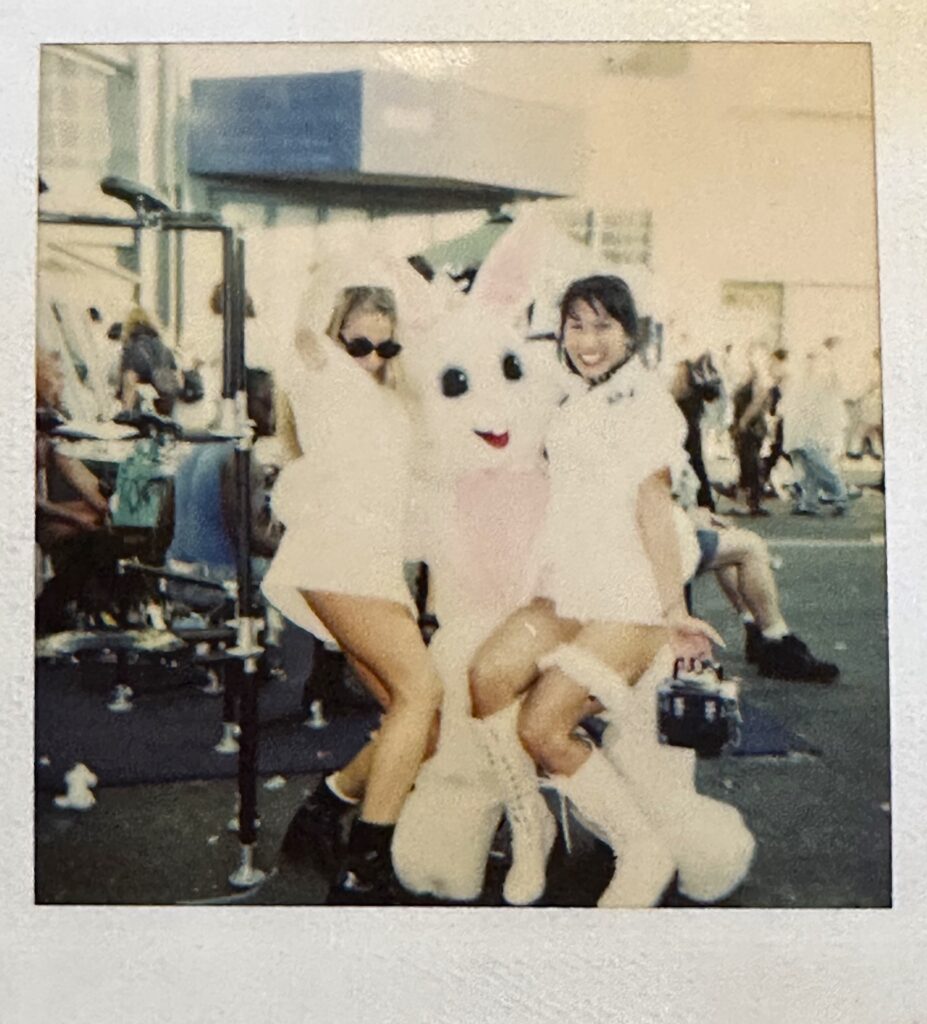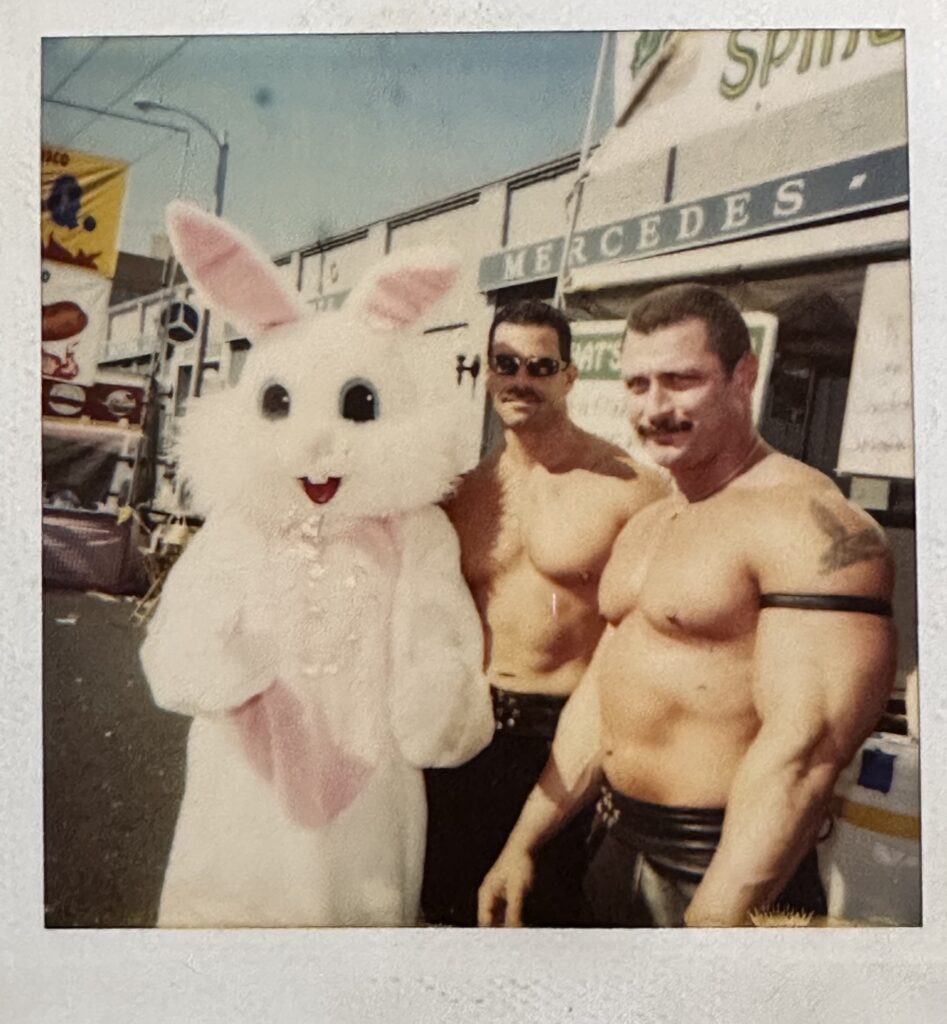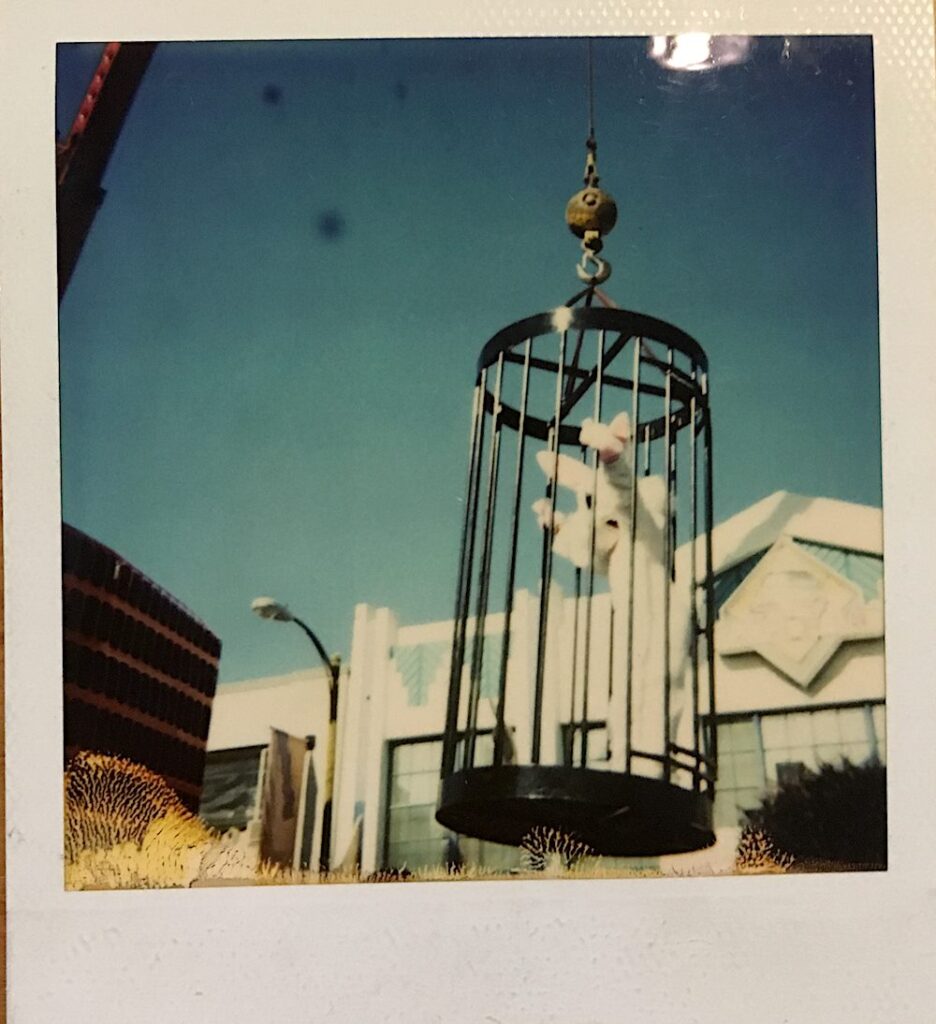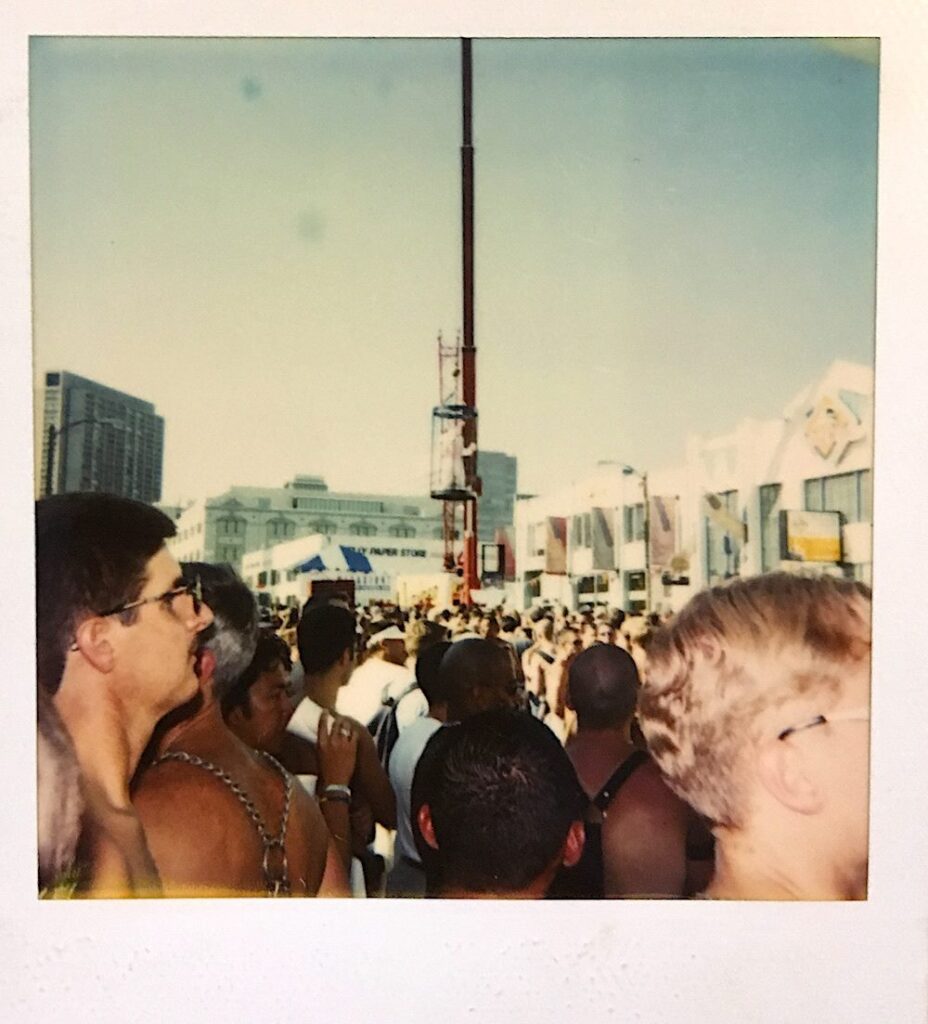 But in this day and age of parties selling out and plans needing to be made (since who knows what venues have survived the several recent apocalypses), I present to you the following delectable selections of gatherings and affairs that will guarantee a freak-flag-raising. Remember to pump up the theme music, and awroooooo.
THURSDAY 21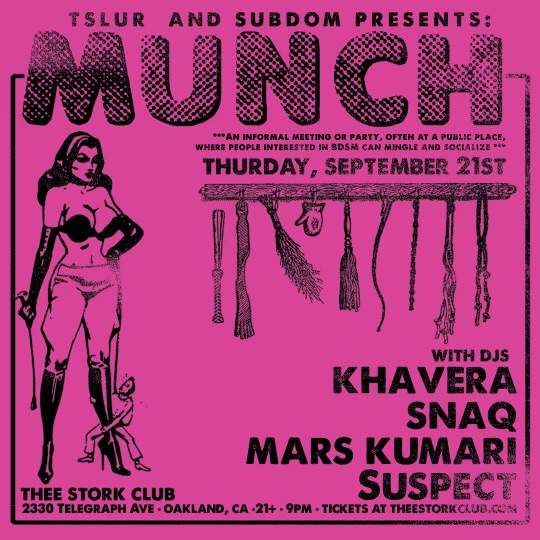 MUNCH "Munch: An informal meeting or party, often at a public place, where people interested in BDSM can mingle and socialize. Feel free to let your freak flag fly high." Let's go, Oakland! With DJs Khavera, Snaq, Mars Kumari, and Suspect. 9pm-2am, Thee Stork Club, Oakland. More info here.
THRUST X LAIR The Folsom edition of this monthly underwear party will having you dropping your drawers in delight as host Prince Wolfe welcomes the fantastic DJs Lady Blaktronika of Berlin and Miguelotooo of CDMX. 9pm-2am, Powerhouse, SF. More info here.
THU/21-SAT/23: BALONEY DOES FOLSOM We can't really describe this "all-male, part theater, part dance, part peep-show" better than the dearly departed Heklina: "It's like Magic Mike meets Mork & Mindy." Quite fun, too. 7pm, Oasis, SF. More info here.
THU/21 + SAT/23: PROVOCATEUR "Folsom, but make it fashion" is the motto of this techno and electro pop affair (yes, there is a red carpet), an "all-gender-inclusive party that celebrates creative self-expression, individuality, art, and music." The party starts on Thursday at Bergerac bar then on Saturday moves upstairs to Audio nightclub. Two parties in one! Thu at Bergerac: 9pm-2am, Sat at Audio: 2pm-8pm. More info here.
FRIDAY 22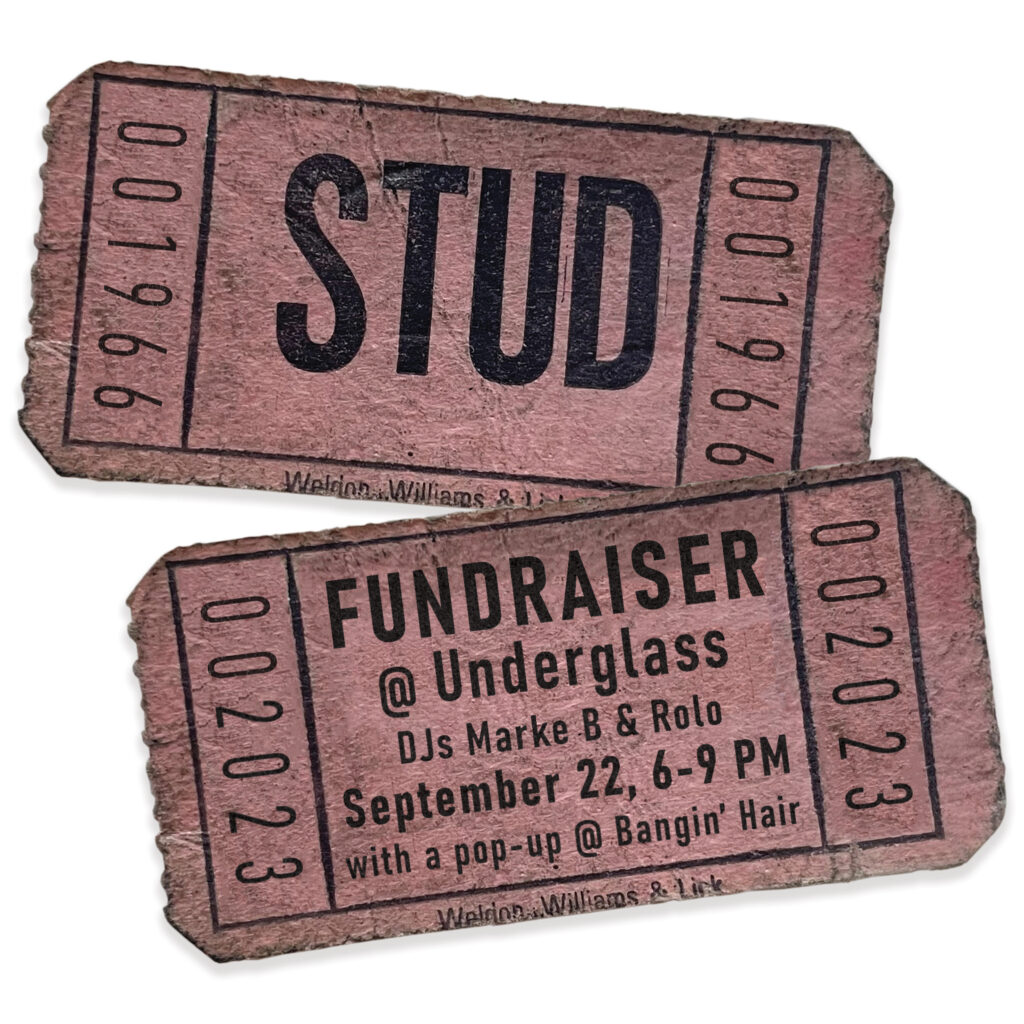 FRI/22: STUD FUNDRAISER Oh hey! I'm DJing with the fabulous Rolo at the very cute Underglass frame shop in the Castro to raise funds for the return of the legendary Stud. There's going to be a lot of sweet surprises happening, come out for a little. 6pm-9pm, Underglass, 2239 Market, SF.
FRI/22: BUMP Head immediately after the Stud fundraiser to this adorable sexy party at Driftwood bar, for some "real San Francisco" dancing, drinking, and drag, with DJs Scooter McCreight (yay!!), Haiek, Delilah at Night, and Mister Hoochiemama, hosted by Daddy Baby, Princess Panocha, and Bumper. 8pm-2am. Driftwood, SF. More info here.
FRI/22: DAD FOLSOM EDITION A "disco dose of deviance and debauchery" (with plenty of DILFs) at this favorite party, with special guest DJs MEZ (Signal, LA) and William Francis (NYC), along with residents Does Compute, Mondo Nexus, Kelly Naughton, Jesse Frank, Jumpr, & Booty Juice. 9pm-4am, F8, SF. More info here.
FRI/22: SUB MISSION Enter the rave cave below Monarch Club for some deliciously dark and house-y tunes from NYC's DJ Spun, plus hometown heroes Galen, Ken Vulsion, Cahl Sel, and Vivian Sharp whipping you into shape. 9pm-2am, Monarch, SF. More info here.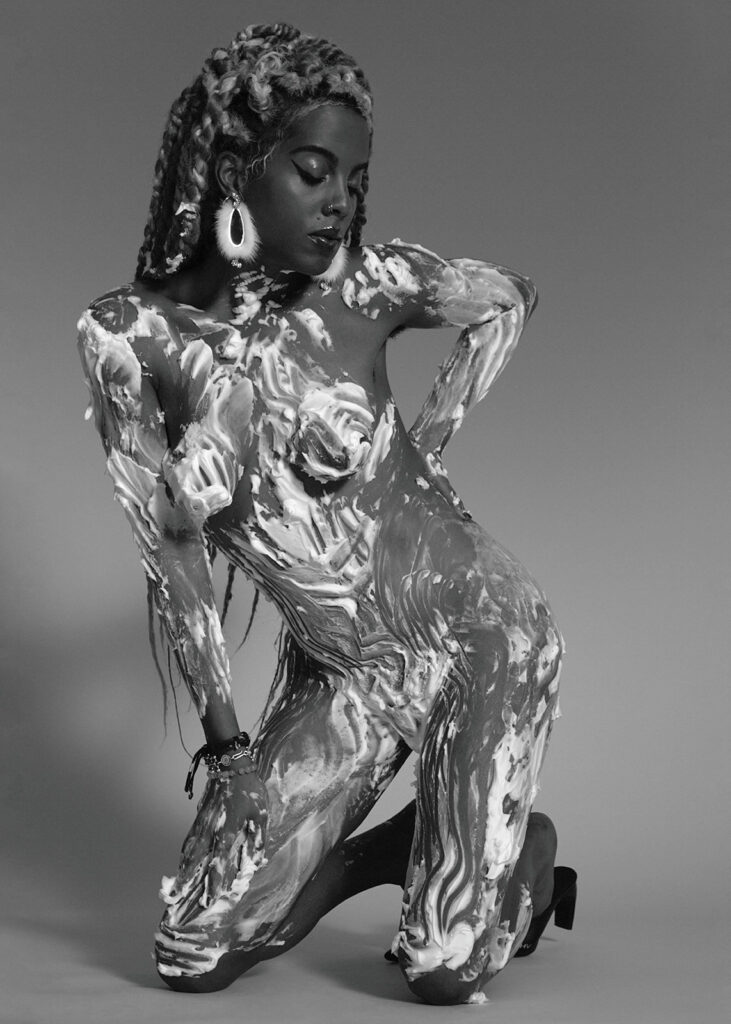 FRI/22: BOUND x FAKE x GAY FOLSOM Too-hot NYC and SF party crews combine to bring in turntable goddess Juliana Huxtable, plus Cali Rose (yay!!!), Memphy, Katie Rex, and more for a fantastic underground experience. 9pm-3am, Monument, SF. More info here.
FRI/22: HORSE MEAT DISCO AT BEARRACUDA The fabulous UK DJ crew pumps out '70s and '80s hits, embracing the gay disco revival. They'll be headlining hirsute pursuit party Bearracuda. 9pm-3am, Public Works, SF. More info here.
FRI/22: STANK x FOLSOM Put your hands in the air for kink! And then enter the Mr. S Leather "ripe pits" contest at midnight, and dance to the sounds of DJs Novail, Fawks, and Shane Thomas. 10pm-2am, Powerhouse, SF. More info here.
SATURDAY 23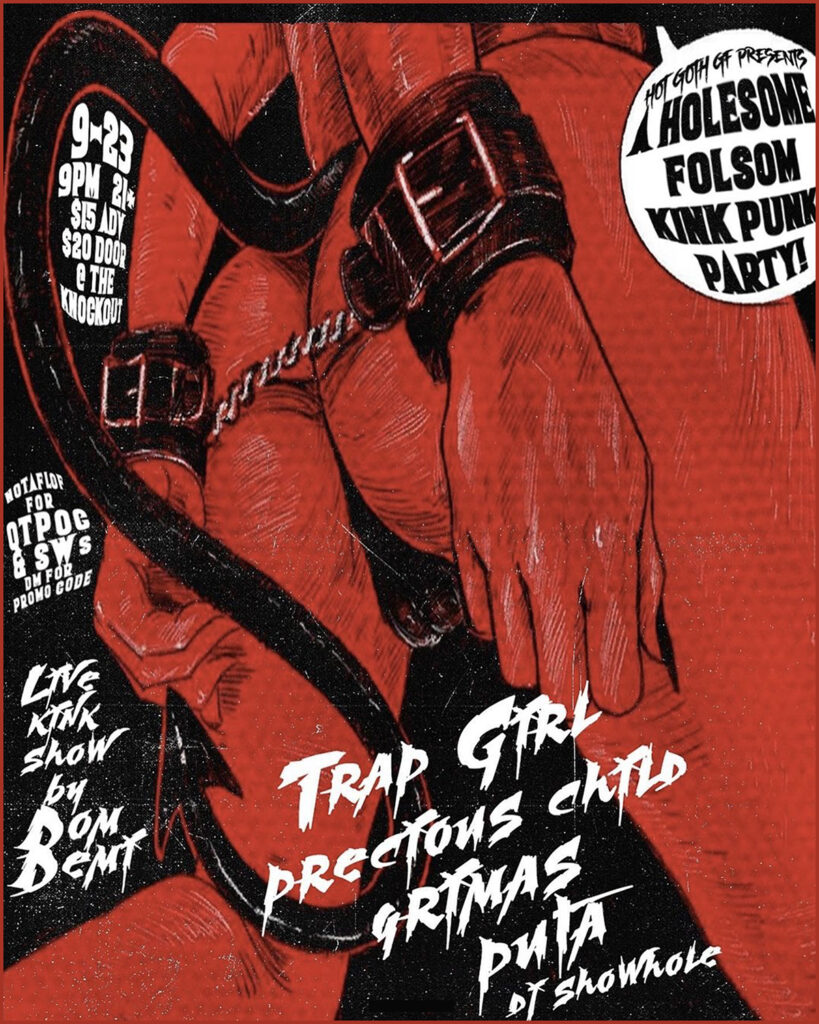 SAT/23: HOLESOME FOLSOM A kink punk party at the Knockout hosted by "Hot Goth"? Sign me up! With DJs Trap Girl, Precious Child, Grimas, P.U.T.A. and a live kink show by the dom of your wet dreams, Dom Demi. 9pm, The Knockout, SF. More info here.
SAT/23: ELECTROLUXX FOLSOM 2023 Electroluxx brings the arty (and the young 'uns) to the party, with eye-catching installations, cuddle puddle, two rooms of high energy music, and a silent outdoor disco. 9:30-4am, Public Works, SF. More info here.
SAT/23: RUMBLE BY RHONDA A Club Called Rhonda strikes again, with a wild multi-sexual dancefloor celebration featuring DJs Jennifer Loveless, A/N/L, Brown Amy, Discnogirl, and more. 9:30pm-3am, Great Northern, SF. More info here.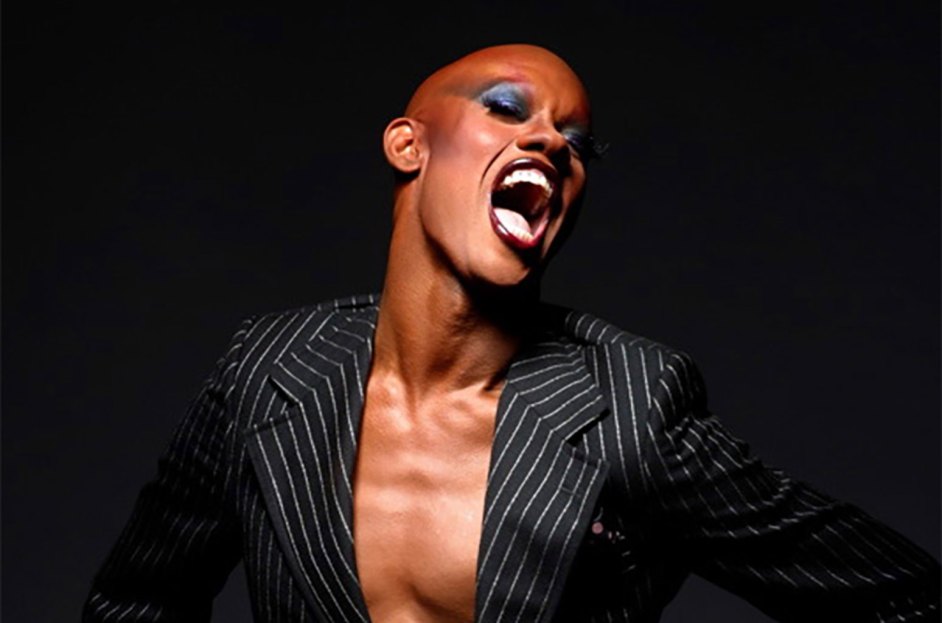 SAT/23: KEVIN AVIANCE One of the pioneers of contemporary drag and vogue culture, Kevin Aviance (his presence, his look, his music) were inescapable in the NYC club scene during the '90s. Now the legend pops into SF to host the sickening Princess drag party at Oasis. 10pm-3am, Oasis, SF. More info here.
SAT/23: BLACK & BROWN & KINKY "Kick off Folsom Saturday with a sexy and kinky QTBIPOC pre-party. Let the Men of ONYX and DJ Tiny Tim hold space and get you warmed up and cruisy before the Fair. Don't forget to tip the steamy go-go dancers! It's going to be lit AF." 5pm-9pm, Powerhouse, SF. More info here.
SAT/23: WHIP APPEAL: A BLACK KINK PARTY They are whipping it up in Oakland, too! "A safer space for Black kinksters to connect, throw ass, and enjoy ourselves before perhaps attending Folsom Street Fair the following day. We deserve a space to get free independent of the oftentimes unwelcoming and fetishistic gaze of Folsom Street Fair." 8pm-2am, White Horse, Oakland. More info here.
SAT/23: NEW BREED Polyglamorous and Pound Puppy join forces yet again to pump up this infamous double decker party, with DJs Leeon, Juana, Aunteejoan, and more. The walls literally melt! 10pm-4am, Club Six, SF. More info here.
SUNDAY 24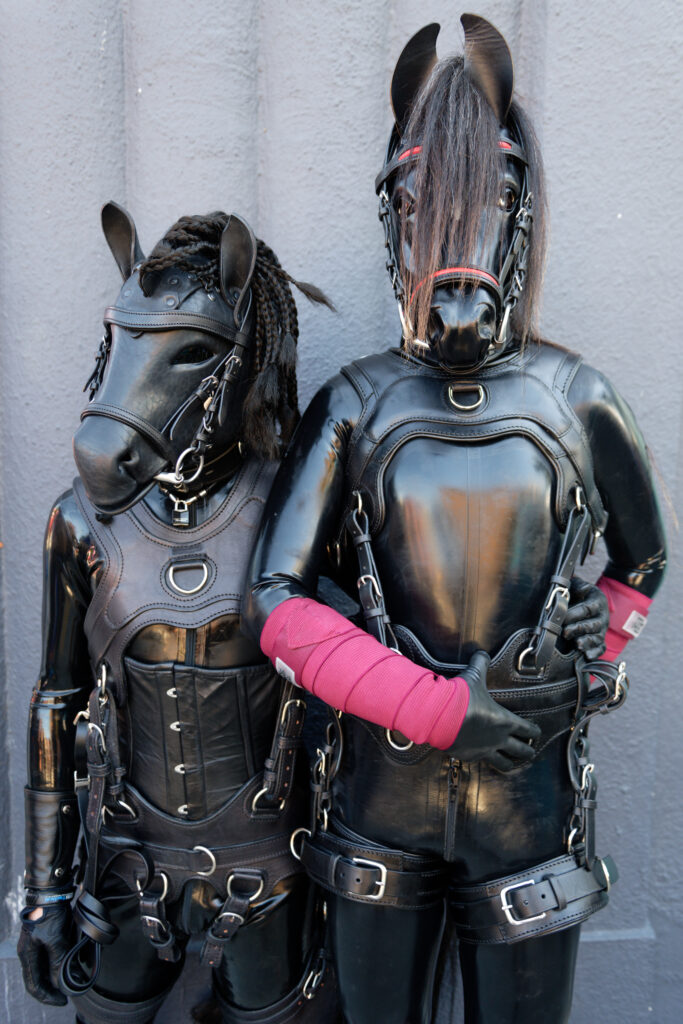 SUN/24: 40TH ANNUAL FOLSOM STREET FAIR Close your blinkered eyes and use your imagination. 11am-6pm, main gate 8th Street and Folsom, SF. More info here.
SUN/23: FOLSOM SUNDAY AT CAT CLUB I adore this all-day free party—one of my all-time favorite Folsom memories is ducking in for a drink while a DJ played Depeche Mode's "Strangelove" (naturally), and an entire troupe of leather-clad kink ladies zoomed in on roller-skates. It's that kind of fun/random vibe that makes Folsom what it is. Noon-8pm, Cat Club, SF. More info here.
SUN/24: VAMP DNA Lounge is always a favorite respite from the Folsom madness, with drinks and tunes a-plenty and a place to readjust your corset. This year they're dedicating the space to trans and queer folks who want to get down to some hip-hop, house, and even top 40. (Hey we all need a cooling splash of mainstream during a day of wild subversion.) It's free! 11am-9pm, DNA Lounge, SF. More info here.
SUN/24: GO BANG: SUNDAY FOLSOM TEA The disco crew brings back the ages-old gay club tradition of the tea dance, filling Folsom afternoon with giant cups of piping hot house and soul. Music by DJs M.Luc, Futurewife, SirQueen, Steve Fabus, Sir Ellis, Sergio Fedasz, Eddie House, Raf, and Jimmy DePre. 2pm-9pm, F8. SF. More info here.
SUN/24: QUEERLY BELOVED FOLSOM "for femmes&themmes&everyone across the non0binary": awesome new lesbian bar Mother hosts DJs YOURMUTHER and Jerry Lee along with Courtney Trouble and Siobhan Aluvalot, plus muse for the evening drag superstar Venus Superstar Bizarre. 5pm-9pm, Mother, SF. More info here.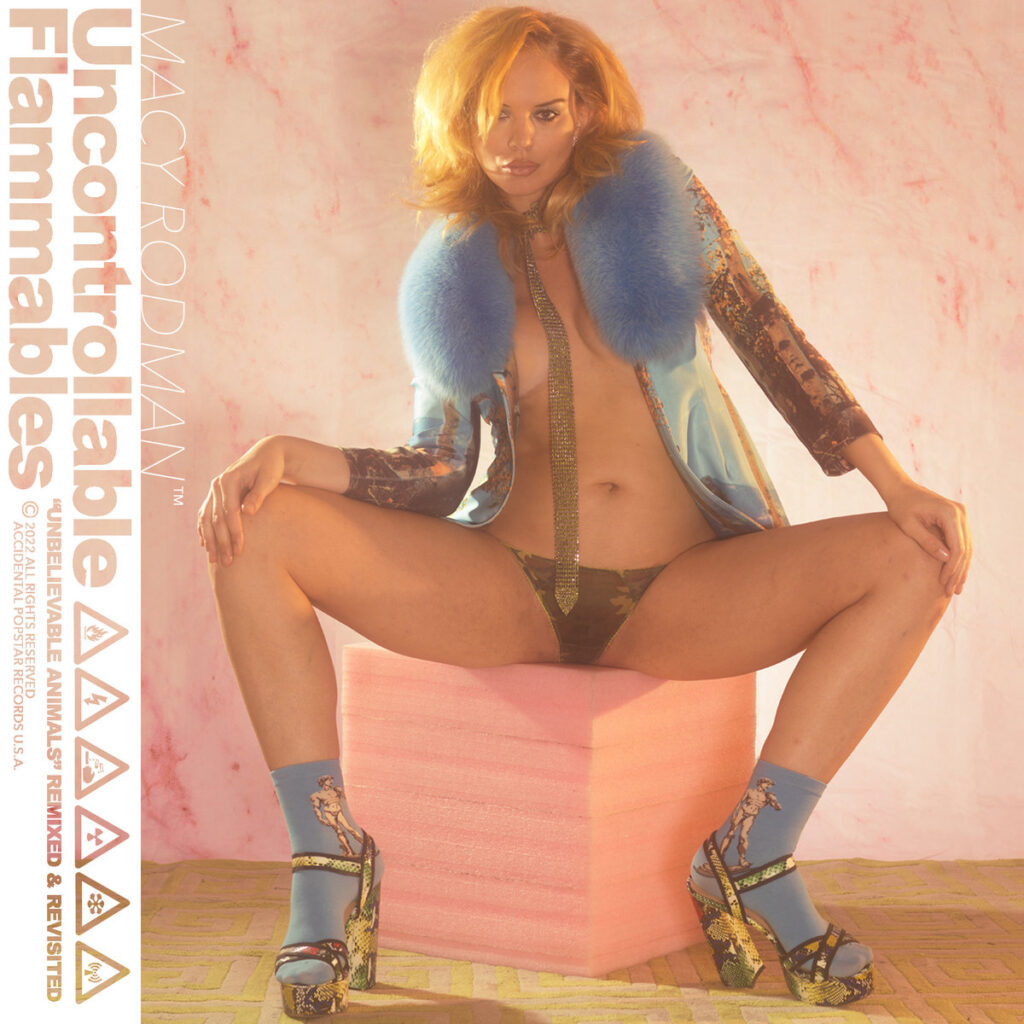 SUN/23: FORCED FEMME The biggest story of the past few years in the underground dance scene has been the absolutely gorgeous explosion of trans-femme energy, I am in awe of the talent and ferocity. This transfeminine party (all genders welcome) features "2 stages, a dungeon, pole dancers, and all the DARKSIDED VIBES you crave" with Macy Rodman, Mama Yha Yha, Precolumbian, Dualité, Edgeslayer and more. 9pm-2am, DNA Lounge, SF. More info here.
SUN/24: DEVIANTS ADULT ARCADE The official afterparty of Folsom Street Fair has seen its share of transformations over the past several years (it started out as an actual peep show!), and this incarnation looks cute: four floors of dancing and carousing—to the likes of DJs Jason Kendig, FIVE, the Fog Pack, and Beverly Chills—plus art installations, performances, and more. PLUS don't miss QT Cruising: "For the FIRST TIME EVER, a dedicated and intentional space is being provided at deviants exclusively for Trans Folks, Womxn, and Queers!" with DJs CarrieOnDisco, Adriana A, Lil Bebe Cyborg, more. 6pm-2am, Storek, SF. More info here.
SUN/24: QUEERBAIT FOLSOM Insanely excited about this one! The Squish and Fake x Gay crews team up to bring in some of the best techno DJs in the world right now for a 13-hour party, including Helena Hauff, Objekt, Call Super, D. Tiffany, Roza Terenzi, Jensen Interceptor, DJ Having Sex (appropriate!), and Kudeki. 2pm-3am, Great Northern, SF. More info here.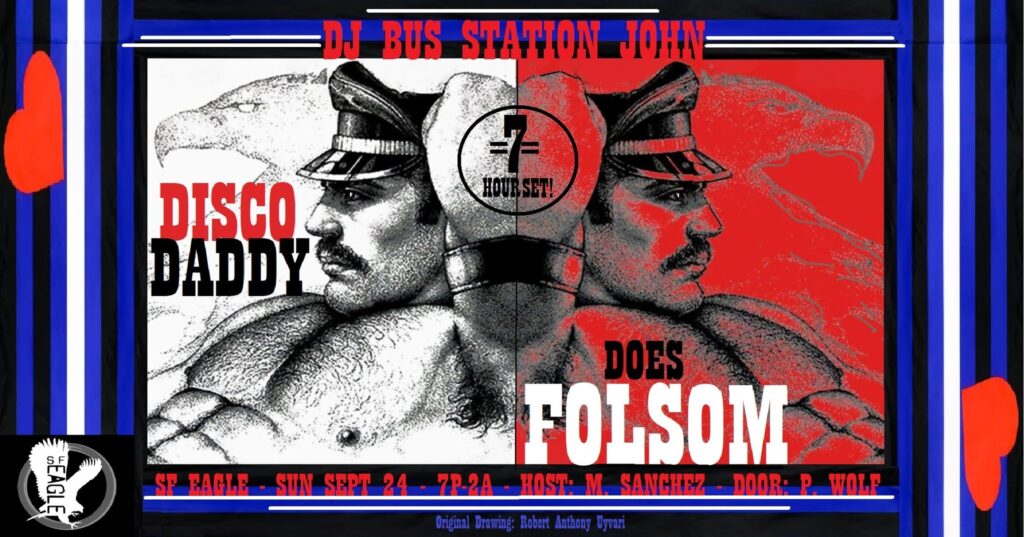 SUN/24: DISCO DADDY DOES FOLSOM The Disco Daddy himself, DJ Bus Station John, pulls an epic (and comparatively affordable!) seven-hour shift full of deep, starry cuts and ye olde realtime cruising nostalgia at the Eagle to tickle your mirror balls. Will Bearbra Streisand show up? Look out! 7pm-2am, Eagle SF. More info here.
SUN/24: POWER SNATCH "A dyke-centered queer Folsom After Party offering a more inclusive space for our FLINTA (Female, Lesbian, Intersex,Trans & Agender) community and friends" that just so happens to have a killer DJ lineup, with Shannon F from Light Asylum, Jen DM from HI Fashion, Infinite Jess, and Brown Amy. 9pm-1:30am, El Rio, SF. More info here.
SUN/24: WERD FOLSOM AFTER AFFAIR The weekly techno staple throws a little kink on deck, collabing with Club Moniker: Special guest DJ AIRALI (sisu, co-select / UK) comes through along with Club Moniker's DJ Tips, cherub420 and lllyod, plus WERD crew's WOO and Jimmy too. Perfect wrap-up. 9pm-2am, Monarch, SF. More info here.