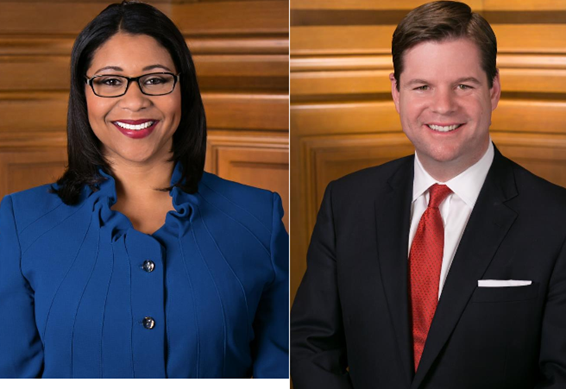 Supervisors London Breed and Mark Farrell worked with David Campos to craft a health-care bill that everyone could accept.

By Tim Redmond

JUNE 10, 2014 — The final results from the Department of Elections are still trickling in, and the race for state Assembly is getting closer. There's no doubt that Sup. David Chiu is ahead of Sup. David Campos, and will finish in first place, but the margin has gone from about 5 percent to 4.17 percent, and could be below 4 percent when all the final ballots are counted.
Which means, of course, that the November race will be hard-fought and close; a four-point lead in this low-turnout election amounts to at best a tie for Chiu.
The results show a few interesting patterns: Chiu won overwhelmingly in Chinatown, where there was heavy vote-by-mail turnout, and in the Marina, West of Twin Peaks, and Diamond Heights. Campos won overwhelmingly in the Mission and Bernal. Campos won the Castro, but not by much; Chiu won Bayview, and Campos won the Haight and the Western Addition (by a small margin.)
In some of Chiu's strongest precincts, the vote-by-mail turnout was as much as three times as high as the election-day turnout; in the precincts where Campos won, the VBM and election-day turnout was about the same. Overall, the VBM turnout was twice as high as the election-day vote. Chiu won the VBM 25,214 to 19,676; Campos won on election day, 12,015 to 9498.
In November, there's typically more election-day turnout, which could help Campos, but Chiu's campaign has clearly been effective at getting the early votes out – something Campos will also need to do in his strongholds.
Expect a lot, lot, lot of mail, appearances, handshaking, and door-to-door contact in Noe Valley, the Castro, and Potrero Hill, where the two were just a few points apart.
Mayor Ed Lee announced at the Board of Supervisors today that business and labor have come together on a deal for a new minimum-wage law. SEIU Local 1021 has been pushing for a $15 an hour minimum, and was working to collect signatures on a ballot measure for the fall. Under the deal, the plan will be amended to set the minimum at $12.25 an hour as of May 1, 2015, $13 as of July 1, 2016, $14 in July, 2017 and $15 in July, 2018. The new consensus plan will now go on the November ballot with broad citywide support.
Airbnb, not satisfied with running an operation that relies on people violating city laws against short-term rentals, has moved from the hotel business into the restaurant business.

The company is experimenting with the notion of hosted dinner parties, for pay, with Airbnb (of course) taking a cut. The problem, as SF Weekly reports, is that the Department of Public Health regulates restaurants, and you can't just start one up (however much you call it "sharing") without a permit. In other words, this is illegal.
So, of course, is running a hotel without a permit. I await an effort by Airbnb to get a supervisor to introduce legislation retroactively legalizing sharing restaurants.
Sup. Jane Kim has housing legislation that's been in the works for more than a year; it would attempt to make sure that at least 30 percent of all new housing that's built is at least somewhat affordable. This comes out of long discussions among housing activists, based on the concept that the city's own General Plan calls for 60 percent of all new housing to be below-market rate and the city's regional responsibility for affordable housing is far above what we're now producing.
At first, there was discussion of a moratorium on new market-rate housing until the city reached some affordable-housing standard; the idea was that market-rate developers, who are making a vast fortune in San Francisco, would be willing to pay up for more lower cost housing if they faced a threat of losing their gold mines. That, it turns out, violates state law, so the housing advocates moved to the idea of a "dashboard" – a way to track how close the city has come to meeting affordable housing goals – and system for slowing down the luxury condos if the BMR units were falling too far behind.
Her proposal doesn't stop market-rate housing; it just mandates that, if the ratio of housing for the rich hits more than 70 percent of all new housing, any further high-end projects would need a conditional use authorization. That's another step in the planning process.
Setting a goal of 30 percent affordable housing is only half of what the city's own planners say is needed; the Kim legislation is hardly a radical step.
But I'm now getting the impression that the mayor might be against this – because Randy Shaw at Beyond Chron is describing it as a "civil war." Shaw is a close ally of the mayor. His argument is pretty astonishing for someone in the affordable housing world. The only opponent he cites is Gabriel Metcalf of SPUR. Weird.
Sup. David Campos won a big victory today when his measure to close a loophole in the city's health-care ordinance passed with a veto-proof majority.
Campos has been talking for months about preventing employers from taking back money that was set aside for worker health costs. He convinced seven colleagues to sign on with a deal that guarantees 60 percent of the money set aside for workers can't be taken back – with that number rising to 80 percent in 2016 and 100 percent in 2017.
We're talking about 26,000 people who, even under Obamacare, don't have adequate access to health care.
Campos started off with Sups. John Avalos, Jane Kim, Eric Mar, Norman Yee, and Malia Cohen as cosponsors. On board with the amendments he added were Sups. London Breed and Mark Farrell – two supervisors who are often not on the side of Campos on economic issues. Missing from that list: Sup. David Chiu.
Campos, in other words, managed to put together a consensus plan without the board president playing a role.
In the end, the measure passed unanimously.