And why is City College moving so quickly to turn public property over to a private developer?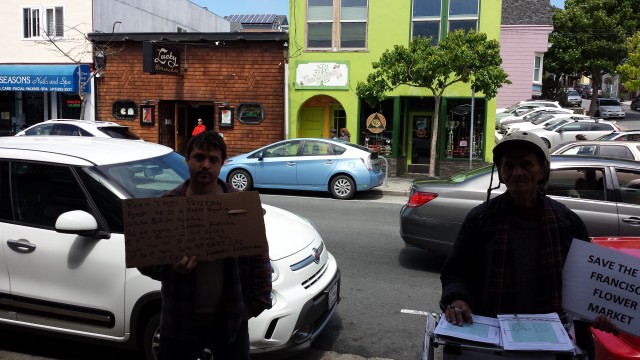 By Tim Redmond
APRIL 20, 2015 – I thought SFBARF, the group that wants to build housing everywhere, without any limits (or any apparent concern about the fact that the only private-market housing that's getting built is luxury condos and high-end rentals) was all about residential development.  But apparently at least one member of the group wants lots more office space, too – even at the expense of the SF Flower Mart.
I was outside The Good Life grocery on Cortland yesterday and a guy was gathering signatures for the initiative to save the Flower Mart. An SFBARFer showed up with a hand-lettered sign and tried to discourage people from signing the petition. (The sign says, oddly, that if the developers can't build at 6th and Brannan "they will build it here." I just don't see even Ed Lee's Planning Commission approving a giant highrise office building in Bernal Heights.)
I asked him why SFBARF cared about building offices and he said he supports "prosperity" and that he's against any new zoning limits.
Okay then.
The Planning Commission is going to take a new look at Airbnb this week – and I'm hearing lots of people say that the panel is under immense pressure from the mayor not to adopt the kind of restrictions that some planners say are needed to make any regulations enforceable.
Help us save local journalism!
Every tax-deductible donation helps us grow to cover the issues that mean the most to our community. Become a 48 Hills Hero and support the only daily progressive news source in the Bay Area.
There are three items on the Agenda for Thursday/23. One is Sup. Jane Kim's legislation that would bar any unit cleared by the Ellis Act to be used for short-term hotel rentals. Sups. David Campos, John Avalos, and Eric Mar have a bill that would mandate that Airbnb and other hosting platforms make sure that all rentals they list have the proper city permits. It would also force the hosting platforms to tell the city how many days a unit has been listed, and limit all STRs to 60 days a year.
Then, of course, there's the ordinance introduced by the mayor and Sup. Mark Farrell, which would limit STRs to 120 days a year and create a new enforcement office – but would stop far short of what's needed to make the law work.
So far, only a tiny fraction of the units that are used for STRs have bothered to register. Critics say the only way to change that is to make sure the platforms – that is, Airbnb – don't list any unit that isn't legal.
Airbnb hates that idea. The mayor, who is very close to Airbnb investor Ron Conway, won't want the Planning Commission to adopt what Avalos, Campos, and Mar have proposed.
This will be one of those telling votes that will show the city whether the commissioners are listening to their own staff (and to logic and reason) or the  power of the Mayor's Office.
And in the end, if the commission sides with Lee and Farrell, this will wind up on the ballot in November.
Tom Ammiano, the former Assemblymember who is part of the Tom and Tim Show podcast, says that a source in Sacramento told him Mayor Lee wants to delay the return of power to the elected City College Board for a while. Why? Perhaps because the special trustee, who can make decisions without Board approval, is in negotiations to lease the district's building at 33 Gough to a developer for 99 years.
That's a bit short of a formal sale, but in practical terms, it's the same thing. It means the district is ready to give up an immensely valuable piece of real estate.
The board meeting agenda for Thursday/23 calls for a closed session to discuss "real property negotiations" for the Gough St. building. Earlier agendas used the word "sale." Now it's been edited out – but let's remember, a long-term lease amounts to a transfer of public property.
If the elected board were making this decision, there would be protests, discussion – and accountability. As it is, the board won't be running things until this summer at the earliest – and I'm told this deal is on the fast track.
Board member John Rizzo told me that he thinks if the district is going to turn one of its buildings over to a developer who can make a ton of money building luxury housing or tech offices, there ought to be space set aside for City College. "Let's keep some of the space," he said. "It could be classrooms, faculty housing, or student housing. We have homeless students; this could make a huge difference."
But Rizzo and his colleagues at this point won't get to vote. The school is still under a state-appointed czar. So the least the public can do is show up and say: Slow things down. This ought to be a decision for elected officials. It's too important.
The meeting's at 3pm in MUB 140 at the Ocean Avenue campus.
The Democratic County Central Committee is being asked to give an early endorsement to Mayor Ed Lee. I get it – nobody has formally challenged the mayor yet. But the filing deadline is a couple months away, and there's still time for a candidate to emerge. An early endorsement would be one more way to discourage any possible contenders to consider entering the race.
At the same meeting, the panel will hear from Sup. Julie Christensen, who is facing a challenge from former DCCC Chair Aaron Peskin. There's no endorsement in that race on the agenda – that will come later – but it will be fascinating to see what the committee members ask her and how she responds.
It's Wednesday/22, 7pm, 450 Golden Gate.
Happy 4/20. Don't drive anywhere near the Haight Street side of Golden Gate Park – roads will be closed, traffic will be a mess, and the cops will be everywhere. If you're planning to enjoy the outdoors and the beauty of the day in that part of town, take the bus, walk, or ride a bike.