I am increasingly coming to believe that San Francisco is now a two-party city – and oddly, we are seeing that reflected in the race to determine who will run the Democratic Party.
Republicans are almost entirely irrelevant in San Francisco (the last GOP office holder, BART Board member James Fang, lost his seat two years ago. There hasn't been a Republican in any significant elected office in years). There's a modest Green Party, which at one time counted among its members Sups. Matt Gonzalez and Ross Mirkarimi. Mirkarimi later became a Democrat.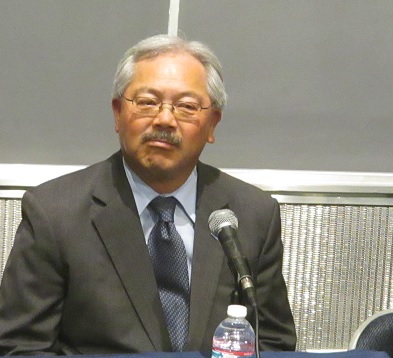 But the real two-party system right now is between the progressive party and the Ed Lee/real-estate/tech mogul party. And this city has become so deeply divided that there is no room for anyone in the middle.
I give the mayor full credit for that.
In times of severe crisis, and this city is in a severe crisis, people don't want to spend a lot of time on the nuances of political positions. They want to know – and they should know – whose side are you on?
Once upon a time there was a broad spectrum of Republicanism; there were relatively liberal Republicans and very conservative Republicans and plenty in between. That's mostly gone now. But there are still very left-leaning Democrats and very conservative Democrats, and that's the case with the two parties in San Francisco today.
Some of the people who are on the progressive Reform Slate for DCCC are very much on the left, and some are more in the center. There are some Ed Lee/real estate/tech mogul Party members who sometimes disagree with the mayor.
But overall, they are two very distinct parties – and you aren't going to see much crossover in endorsements, political activism, or political fundraising this fall.
The various groups that are endorsing candidates for DCCC, and later for supervisor and state Senate, have interviews, questionnaires, and a wide range of issue discussions, but in the end, almost all of these decisions are going to come down to that same question: Whose side are you on?
At the DCCC, the organizers of the Reform Slate had exactly two questions for the candidates: Will you vote to remove Mary Jung, a lobbyist for the Board of Realtors and an Ed Lee Party member, from her position as chair (and replace here with one of the Reformers) – and will you agree to endorse the progressive candidates for supervisor in the fall?
There are no "maybes" in this race, no "I'll support some of the candidates but not all of them," no "well, I'll give the party chair position all due consideration at the time." You're on the team, or you're not.
I don't know exactly what questions Jung asked the people she has lined up to run but I imagine, seeing the list, that it was pretty much the same: You going to keep the real-estate industry in charge of the Democratic Party, or not? You going to support the mayor's choices for supervisor, or not?
Again: I suspect people who waffled weren't selected.
We used to get all sorts of candidates at the Guardian who come in and tell us that we should endorse them because they'd vote our position "most of the time." That's fine – you want people who think for themselves in public office, not people who just follow a script.
But when it's more and more likely that the San Francisco so many of us care so much about is going to be gone in a few years, when the displacement of people and community-serving businesses and nonprofits has been unlike anything any of us have seen since the worst days of Redevelopment half a century ago, it's hard to find compromise and middle ground.
That's why there were so many 6-5 votes on the Board of Supes last year, before Aaron Peskin won and created a progressive majority. There are fewer 6-5 votes now, in part because it's an election year and Sup. London Breed, who is facing a challenge from the left, has moved away from the mayor on some issues. (We're going to see eight votes in favor of declaring a housing emergency, enough to override a mayoral veto).
But the board will be deeply divided again next year; we just don't know who will be in the majority.
Progressives are often fractious, and that's fine – we argue, we care about policy, we aren't afraid to disagree. But right now, the progressive community is pretty unified around the June and November elections.
People who call themselves "moderates" are going to find a harder and harder time in this city. It's understandable – how can you be in the center in a city under this much pressure? Do you believe things are going terribly, and need to be fundamentally changed (as, by the way, a growing number of San Franciscans believe according to a recent poll) – or do you think the current trends are even tolerable?
There's not a lot of middle ground there.
If both sides are reasonable in the legislative arena, and for the most part they are, then they can agree on lots of things that need to happen to make the city run. This is not Obama and the GOP. Lots of routine supes votes are unanimous.
But when it comes to endorsements, to the discussion of who should be running the city in the future, there are two sides.
This is, of course, a result of Mayor Lee devoting so much energy to one part of the city (tech companies that "create jobs") that he seems not to care about the rest of the people who live here. (He won't even support a declaration of emergency on homeless policy – the area where most San Franciscans are now most concerned.)
As I often say about class warfare, it's not our fault: We didn't declare the war. The one percent, the Republicans and Wall Street Democrats declared war on us. We're just fighting back so we can survive.
The left didn't create the division in this city; the mayor did that. Now people who can't stand it anymore are responding.