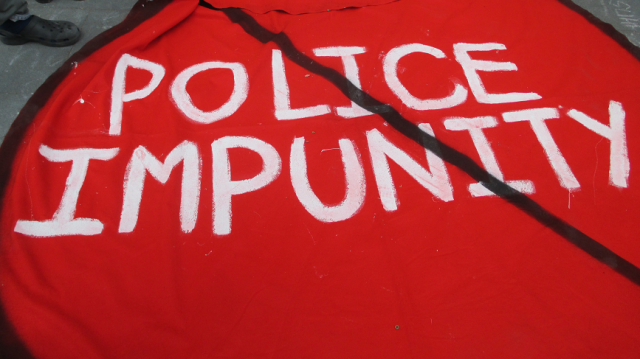 This post is part of our special coverage on the #hungerforjusticesf. Five San Francisco residents are on hunger strike outside Mission Police Station, demanding that Mayor Ed Lee fire San Francisco Police Chief Gregory P. Suhr. Over the past three years the SFPD has shot and killed four men of color; the protestors feel that the hunger strike is the only remaining option to demand an end to police impunity. Read our full coverage here.
Five hunger strikers, known as the 'Frisco Five,' marched to City Hall along with some 700 of their supporters who have been demanding that Mayor Edwin Lee fire San Francisco Police Chief Greg Suhr.
It was a loud and spirited march that shut down Mission Street and parts of Market Street as medical students from UCSF, dressed in white coats, pushed the weakened protesters in wheelchairs along the route. At times it took on the feeling of a parade; people standing at 16th and Mission cheered as the march passed.
The hunger strike has touched an angry chord in the city and the event today was bigger than the five activists; it was about years of police abuse and four recent killings of young men of color that have happened with apparent impunity.
The protesters had hoped to meet Mayor Lee — but the mayor, as is typical when he is confronted with peaceful protesters, had his office door locked and guarded by sheriff's deputies who told the crowd that the mayor "was in Bayview." A copy of the mayor's daily schedule, as released to the press, had him in City Hall all day.
When a mayoral staffer came out, Minister Christopher Muhammad made the obvious request: "The Bayview is ten minutes away," he said. "Call the mayor and tell him we are here."
But if that happened, Lee didn't respond. For more than two hours, the strikers and their supporters were at City Hall, and the mayor never showed.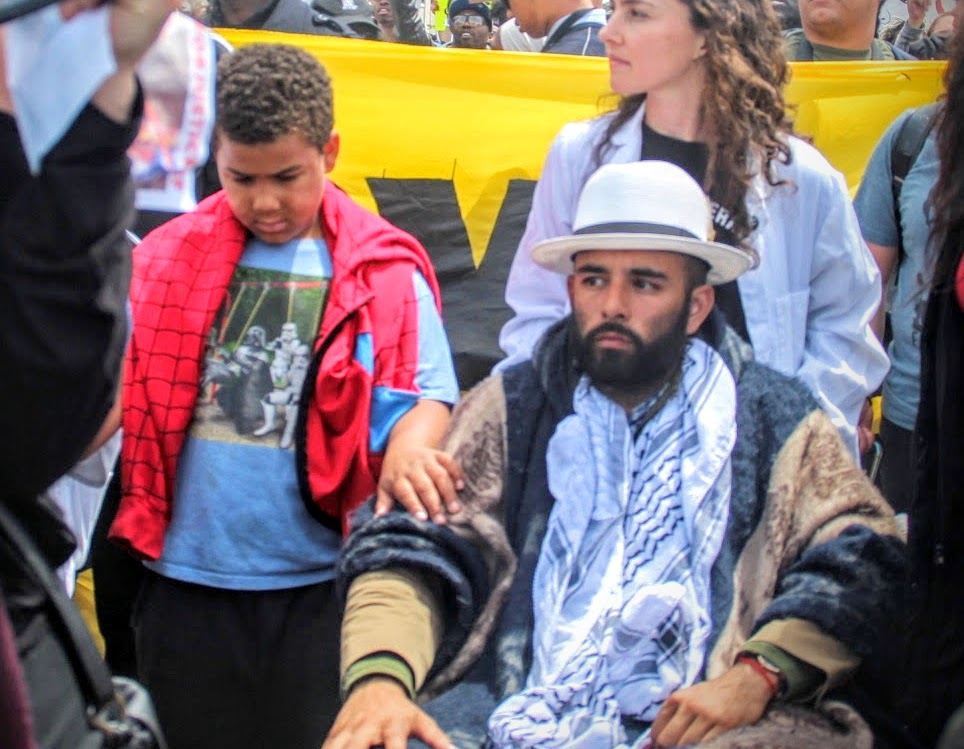 Before the march, Maria Cristina Gutierrez, at 66 the oldest of the hunger strikers and sole female, spoke to students from nearby Everett Middle School who had come down to meet with the hunger strikers. "So why are you here to see me what interests all you kids to know about this old woman here?" One of the students responded, "We are here because we want to thank you for doing this for our future." Gutierrez and fellow hunger striker Ike Pinkston broke down. "I am emotional because this is the middle school I went to, I can't believe it, I can't believe it," Pinkston said.
Cristina talks becoming a great grandmother "We are sacrificing our lives and god gave us new life" pic.twitter.com/yx81jskLYd

— Sana Saleem (@sanasaleem) May 3, 2016
At City Hall, protestors created a walkway for hunger strikers that led up to the front door. The rally met with more supporters who had been waiting to welcome the Frisco Five, holding banners as the crowd chanted "Here we come, City Hall" and "Fire Chief Suhr, now."
The hunger strikers were wheeled through the accessible side entrance to City Hall amid applause and cheers from the crowd. As they entered, police officers stood on the steps. Sellassie Blackwell, one of the hunger strikers, addressed the officers "Hey police, why don't you help us out? We are here, haven't eaten in 13 days come on man, help us out," he said.
The Frisco Five then took the elevators up to the Mayor's Office, scuffles broke out between the journalists and the protestors who were trying to keep media at a distance from the hunger strikers.
But the mayor wasn't going to meet anyone.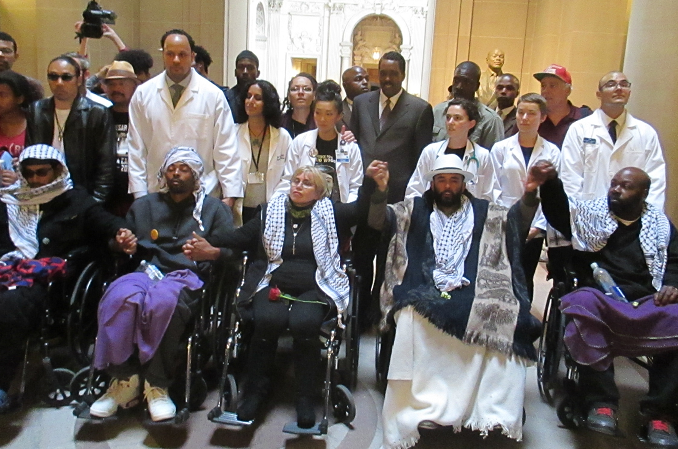 Mayoral aide Diana Oliva-Aroche made her way to address the crowd. "Thank you for coming here, I really appreciate your concerns and your struggle but Mayor Lee is in the Bayview and not at his office" she said as the crowd booed. Gutierrez then moved closer to Olivia-Aroche and addressed her.
Outside the mayor's door, chants of "where's ed lee" #hungerforjusticesf pic.twitter.com/DvUETgJFth

— Sana Saleem (@sanasaleem) May 3, 2016
"You are a woman of color right? You should be ashamed of yourself because you serve such an administration, the people that have been having our people murdered. He knew we were to come to meet him, he knows that black and brown people are being murdered and still he won't do anything," she said.
We followed Olivia-Aroche into a side office, where she addressed reporters and talked about the reforms that the mayor and the chief are trying to implement — including the "Not on My Watch" plan which encourages officers to report others who use racial slurs or excessive force.
That, we asked, assumes that the cops will turn each other in, which almost never happens. "We have a lot of hope for this program," she said.
Cristina outside the mayor's office "I think he's scared not because of us five but because of the community" pic.twitter.com/0NEWneSasg

— Sana Saleem (@sanasaleem) May 3, 2016
Then we asked her the central question, one that the mayor has never addressed: If the cops don't follow the existing rules, and get away with it, why should anyone believe that new rules will make things better? Not one officer has been disciplined in the four shootings; if there's no accountability, why bother with new policies?
The cops who shot Mario Woods were caught on video breaking the current rules. "There are investigations," she said. That was in December; how long does it take to look at a video and see that there was, at the very least, a violation of department rules?
Minister Christopher Muhammed made the point: "I know why they fire the coach when a team keeps losing," he said.
Supporters of the chief say that there's nobody better in the wings — but at a certain point, someone has to be accountable.
Inside the Board of Supervisors Chamber
Gwen Woods, mother Mario Woods, alongside Elvira and Refugio Nieto – parents of Alex Nieto – stood alongside the hunger strikers. "Our of respect for mother Woods, mother Nieto and mother Cristina, the mayor should come down and meet with them" Muhammad said.
And really, how hard would that be? It continues to astonish us that the mayor keeps his door locked and won't meet with protesters.
After waiting a while, the hunger strikers decided to enter the Board of Supervisors meeting instead. Inside the chamber of the Board of Supervisors, an exchange began between Supervisor David Campos, who represents the Mission District, and hunger striker Edwin Lindo.
— Sana Saleem (@sanasaleem) May 3, 2016
" I am a man of color myself so no one needs to explain to me what interactions with the police are like. I know it from personal experience; I grew up in South Central LA," he said. "I am going to say something which I know you won't like, the idea that you fire Chief Suhr and that solves things, I'm sorry, that's not what I believe. We need to change the entire system. It's not just about who the chief of police is, it's about how this department sees itself."
. @DavidCamposSF speaks to #Frisco5 pic.twitter.com/Fe0pt9nsrs

— Sana Saleem (@sanasaleem) May 3, 2016
Lindo responded, "David you never even came to see us, you never visited and you never asked us what we were doing." A visibly frustrated Campos said:  "I have come twice, I have been fighting for police reforms and for all the changes that are needed for all these years. The difference is this, that I'm fighting for police reform ever since I got to San Francisco. Where have you been?"
(Lindo is running for supervisor in D9. So is Campos Chief of Staff Hillary Ronen.)
Blackwell got up from his wheelchair and said: "We understand that firing the police chief will not solve the systematic issues. But it's a symbol for the people." Then he picked up on the reality of the situation: "Damn, we are not even here to talk to you people. We are here to speak to the mayor. Where is he? Where's Ed Lee?"
The fact is that the supervisors can't do anything to fire the chief; by law, they can't even call on the mayor to fire the chief, since the City Charter bars board members from interfering in the management of any department. So while the protesters made some points at the board, the only one who can do anything is the mayor. And he was hiding.
. @Sellassie asks the board of supervisors to call @mayoredlee #hungerforjusticesf pic.twitter.com/xZdl1UDk81

— Sana Saleem (@sanasaleem) May 3, 2016
At around 4:30pm, the hunger strikers were wheeled out.
The March
Earlier in the day, a crowd of some 200 supporters gathered on Valencia street, kids volunteered to make placards, musicians played their instruments as young and old supporters practiced their chants. IIyach Sato, better known as Equipto, and Lindo discussed security concerns before the march with Mission Police Station Captain Daniel Perea.
"It's your first amendment right to protest, we are just here to make sure everything works out in terms of security. We will be marching alongside and my officers will be keeping an eye out for any issues" Perea told Lindo and Sato. As Perea left to go inside the station, he shook hands with the two hunger strikers. In the past few days of the hunger strike, things have taken a turn for the better between the captain and the protestors.
#hungerforjusticesf pic.twitter.com/jnG3lpjV9l

— Sana Saleem (@sanasaleem) May 3, 2016
Equipto is really concerned about his mother's health. Gutierrez hasn't eaten for the past 13 days. A pneumonia scare a few days ago has the group really worried for her health. "I am okay, my time is over. I have lived my life but I want to make this sacrifice for my children and our children" Gutierrez said as she walked outside to meet with the supporters gathered outside the Police Station.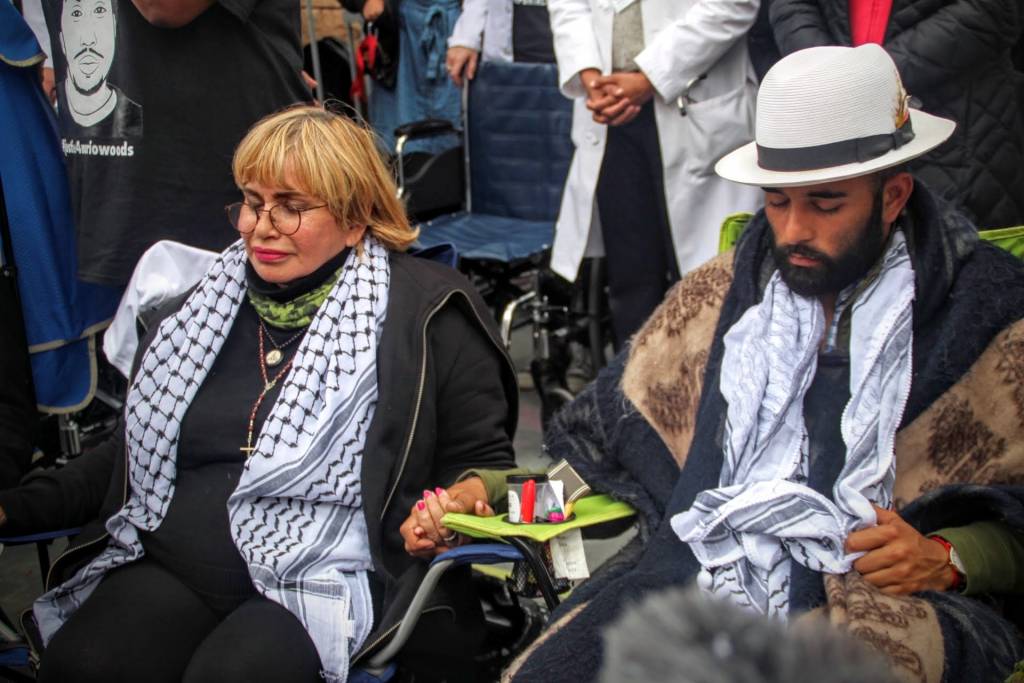 The Frisco Five have been on a hunger strike, without having solids, for almost two weeks, only relying on liquids, vitamins and broth for sustenance as they camp outside the Mission Police Station.
The fatal shooting of Luis Gongora, 45-year-old homeless man, in the Mission District further provoked community demands to fire Chief Suhr. They started their hunger striker shortly after to emphasise the urgency and demands of the community. Three of the four recent police shootings in or close to the Mission neighborhood.
The Justice For Mario Woods coalition provided wheelchairs for the Frisco Five as young medical students from UCSF joined in to walk with the protestors.
Yakira Teitel, fourth year medical student at UCSF, here to support #hungerforjusticesf pic.twitter.com/kcSaqqbzFY

— Sana Saleem (@sanasaleem) May 3, 2016

"I swear if something happens to my mother, I will make his (Mayor Ed Lee) life hell. The more the mayor makes my mother upset, the more it makes me angry," Equipto said "We are going to go there in wheelchairs because we need to preserve our energy because we know we have to keep going and continue our hunger strike until the demands are met" he said.
"We need the walkway to be clear and the streets full," said one of the volunteer organizers, as the five took a seat in front of the police station, doctors with wheelchairs stood behind them. "We will start with a blessing because this is how we do things in our community. Let's pray, pray together that their hearts are softened" Gutierrez said.
Prayer begins. Doctors stand behind #Frisco5 to move them into wheelchairs #hungerforjusticesfpic.twitter.com/Xyq9jncjXy

— Sana Saleem (@sanasaleem) May 3, 2016
Cat Brooks, co-founder of the Anti Police Terror Project, addressed a charged crowd "We have been paving the way for liberation, we have been paving the way for liberation. In the cases of Mario Woods, Luis Gongora, Alex Nieto, and Amilcar Perez Lopez who are gunned down in the name of public safety, do you feel safe?" Brooks asked, the crowd chanted "No," Brooks continued "I don't feel safe I feel like we are being terrorized by the biggest gang in California".
Gutierrez announced the birth of her first great grandchild to the crowd and dedicated the struggle to her newly born great grand daughter
Cristina dedicates her struggle to her great grand daughter #hungerforjusticesf pic.twitter.com/w3kUSxJV21

— Sana Saleem (@sanasaleem) May 3, 2016

The five hunger strikers were then put in their wheelchairs as medical students and their supervisor from the University of California at San Francisco, pushed them.
Chants of "No justice, no peace" and "Fire Chief Suhr, now" filled the streets as the crowd moved towards City Hall, a police escort walked on each side with officers on their bikes leading in the front. Protestors formed a human chain around the five wheelchairs as protesters chanted "Whose streets? Our streets!"
Human chain around #Frisco5 "Whose streets, our streets" #hungerforjusticesf pic.twitter.com/Ekdx5wSXDu

— Sana Saleem (@sanasaleem) May 3, 2016
The crowd stopped briefly at tenth of market outside Twitter Headquarters to urge tech workers to join the protest as well.
Protest at market and tenth right outside @twitter HQ #hungerforjusticesfpic.twitter.com/iUhUK4AMdh

— Sana Saleem (@sanasaleem) May 3, 2016
Market street echoed with chants of "Hands up, Don't shoot" and "SFPD KKK" as tech workers watched the crowd from their office windows and passers-by joined in.
"SFPD KKK" #hungerforjusticesfpic.twitter.com/MGLp8KzF2f

— Sana Saleem (@sanasaleem) May 3, 2016
At City Hall, protestors created a walkway for hunger strikers that led up to the front door. The rally meet with more supporters who had been waiting to welcome the Frisco Five, holding banners as the crowd chanted "Here we come, City Hall" and "Fire Chief Suhr, Now."
As the march ended, the five strikers addressed around 100 remaining supporters pledging to continue their hunger strike until the Police Chief stepped down or fired. "The time for talking is over" said Gutierrez.
"They did not respond, so there will be no more negotiation, no more talking to these people, but only a constant struggle not only by those who are not going to eat, but all of those are who are going to follow the mayor, all of you here today, you will tell him that he has to fire that chief of police," she said.
Many City Hall insiders say that Suhr is likely to retire this summer anyway. Why not make the announcement now?