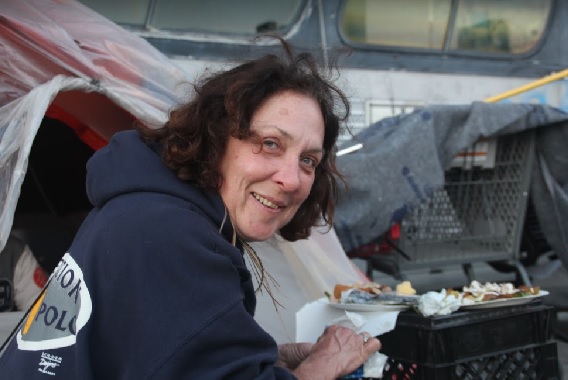 I told Audrey Cooper, the editor of the Chronicle, that 48hills would once again participate in the ongoing media series on homelessness in San Francisco. So (perhaps a bit late) I am joining in this week's effort.
I think it's a good idea for the news media in town to all get together and talk about crucial city problems, and I'm glad Cooper is pushing this and focusing attention on homelessness. So yeah, I've said I would be a part.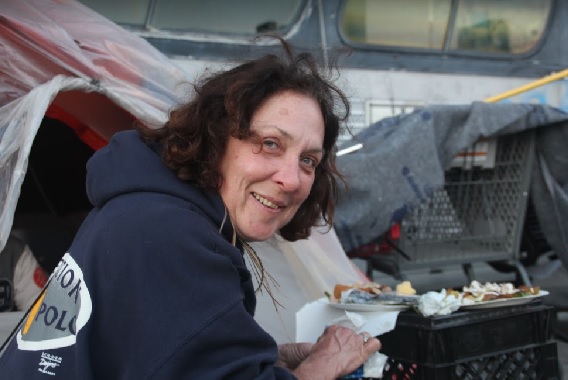 We've talked about what homeless families really face. We've talked about the root causes of homelessness. We've published stories by people who actually understand the problem, at the street level. We've talked about the media's big problem with homeless coverage.
And now I want to talk about why this problem isn't going to be "solved," despite all the media coverage, until we (and this includes the Chron's editorial page) decide that we are willing to take the only steps that might actually make a difference.
I feel as if the media is doing the same stories and making the same suggestions, over and over – and the problem isn't getting any better.
Let me start off with a story.
When I first arrived in San Francisco, in 1981, I met a woman who worked at the Haight Ashbury Switchboard, a community resource center where I also volunteered. She was disabled and living on SSI, and had a four-year-old son.
The two of them lived in a flat on Fell Street, and they constantly took in people who needed a place to crash; we called it the "Fell Inn." Her rent was $175 a month for the flat; her SSI income was about $800 a month. She also got food stamps.
She wasn't rich, but her kid had food and clothes and birthday presents and a safe, warm, secure place to come home to after (subsidized) preschool every day. There were homeless people in San Francisco back then, but not that many; at the Switchboard, we worked to help them find temporary housing, drug treatment, medical care, food stamps, welfare … and most of them were able to find actual housing.
An SRO hotel room was cheap enough that you could get $350 a month in General Assistance (welfare) and food stamps and stay inside and eat.
The last time I talked my old friend, she was living on the streets. She still got her SSI check – but housing became so expensive that there was no way someone on public assistance could afford it.
In the meantime, under Gavin Newsom, the city got rid of General Assistance and created "Care Not Cash." No matter: SRO hotels were soon way too expensive for someone on welfare.
So the first problem is simple: Public assistance for people who (for whatever reason) can't make a stable living hasn't kept up with the cost of housing. Not even close. Under Bill Clinton, welfare was radically cut. It's really hard to get on SSI without a lawyer. Federal support for affordable housing has almost vanished. So: People live in the streets. Is this any surprise?
Next: Roughly 70 percent of the people who are homeless in San Francisco today used to have a home in the city. They are homeless because they got evicted (or couldn't pay the rent).
That's a problem we can solve. But we have to fight the real-estate industry for it, and the Chron editorial page has never been in the lead on this.
Next: For every ten affordable housing units we build, we lose almost seven to displacement. Again: Something we can solve. Again: How much of the local news media is part of that solution?
Next: There are two sides to the "supply and demand" equation, and one of them is demand. San Francisco has created, by public policy, huge demand for housing, mostly by encouraging tech companies to locate here. The Peninsula has done the same. And everyone seemed to assume that by magic, the supply of housing would appear – fast enough to keep up with explosive job growth and a huge influx of people coming here from somewhere else to take high-paying jobs.
The Chron supported the Twitter Tax Break.
None of that is Audrey Cooper's fault – the editorial page is distinct from the news sections. But seriously, we will never solve the homeless problem until we do some things that the Chron (and the rest of the local news media who wring their hands about homelessness) ought to be advocating for:
Stop the eviction epidemic. Every daily newspaper that ever complains about homeless people on the streets needs to make reforming the state's tenant laws the number one priority and issue in the next governor's race and in every race for state Legislature. As long as the Ellis Act and Costa-Hawkins are on the books, landlords will evict low-income tenants so they can rent to richer people. Stop those evictions and 70 percent of the people who are now on the streets might still be in their homes.
Require developers to pay for housing. The biggest beneficiary of the Twitter tax break wasn't Twitter – it was the Shorenstein Company, which owned the building that Twitter moved into. The building was never supposed to be used for office space, and when it was converted, the city lost $25 million in impact fees (which could have paid for a lot of housing).
Growth should pay for growth. If you build an office complex for 10,000 employees, you should pay for the housing they will need.
Tax the people who create the problem. A simple levy on vacant housing in the city would create tens of thousands of new units.
Stop doing housing law backward. State Sen. Scott Wiener wants to force cities to build more housing. Instead, the state should tell cities to build less office space until there is enough housing for the new workers.
Stop worshiping the "market." Even if every zoning law were repealed and developers were allowed to demolish anything they wanted and build all the housing they could imaging in San Francisco, prices wouldn't come down and people who are living on the streets wouldn't be able to afford a place to live. That's not how modern markets work. The minute prices softened, the financiers would stop underwriting new housing in SF. There is no way the market can solve a problem that we created with bad public policy.
Pay up. Santa Clara County just passed a $950 million housing bond, with $700 million going to house existing homeless residence. San Francisco is a very rich city; we could afford twice that. How about every tech billionaire who made money by building a company in SF whose employs displaced existing residents and cause them to become homeless paid 10 percent of their exorbitant wealth to build housing for the homeless? If you just take the eight richest San Franciscans from the Forbes 2016 list, they are worth $89 billion. Most of that money is from tech.
Ten percent. $8.9 billion. That's housing for every homeless person in the city, easy. And Mark Zuckerberg will never miss a meal. There's a pledge Mayor Lee could promote.
Index public assistance of every kind to the cost of housing. Bring back GA; give people who are living on the streets enough money to pay the rent. Yeah, some of them will use it to buy drugs or alcohol, but a lot of people who are housed do the same thing. Housing First means first get people off the streets; the rest comes later.
Rethink economic development. When Mayor Lee faced a high unemployment rate early in his term, he did what so many other mayors do: He tried to attract high-paying businesses to town. What that did was bring in high-paid employees from other parts of the country, who forced out existing residents, drove up costs for everyone, and created spin-off service sector jobs that pay so little that the workers can't live here.
Imagine if he had done the opposite. Imagine if he had done a labor-pool analysis, looked at who the unemployed San Franciscans were, what skills they had, what training they needed – and worked to create living-wage jobs for them, first?
Take drug and alcohol addiction seriously, and accept modern methods. There is no "treatment on demand" in San Francisco. There are nowhere near enough critical psych beds, and there haven't been for years. A wet house and safe injection sites are obviously part of the answer, and Mayor Lee hasn't been held accountable for refusing to support those ideas.
Take seriously the "demand" side. Why, when we have a horrible housing crisis, is San Jose about to approve a plan to let Google build office space for 20,000 workers – and nowhere near the housing they will need? At what point do was ask, as David Talbot did several years ago, "How much tech can San Francisco take?"
The crisis in homelessness isn't going to be solved with new navigation centers. I support those efforts, but they will never be enough.
We need to seriously rethink our housing, economic development, and planning policies. Starting now. Or we will all be doing these same stories next year, and the year after that.
It's the price we pay for vast economic inequality and great wealth. We can fix that, too. But not the way this city is going.