"Where are the snow cones! Where are the snow cones!" The chant rose over the crowd assembled Sunday evening on the corner of Larkin and Myrtle, where queer DJ-musician, activist, artist, club kid, and Tenderloin fixture Bubbles had been brutally murdered on Saturday morning. In the past couple months, in the special, shit-stirring way Bubbles had of turning life into performance art, Bubbles had been popping up all over town to offer passersby "tranny snow cones" outside bars and on corners like this one, wiring up a loudspeaker like a carnival barker, occasionally breaking into song or catcalling cute "gingers," and filming reactions on Facebook Live.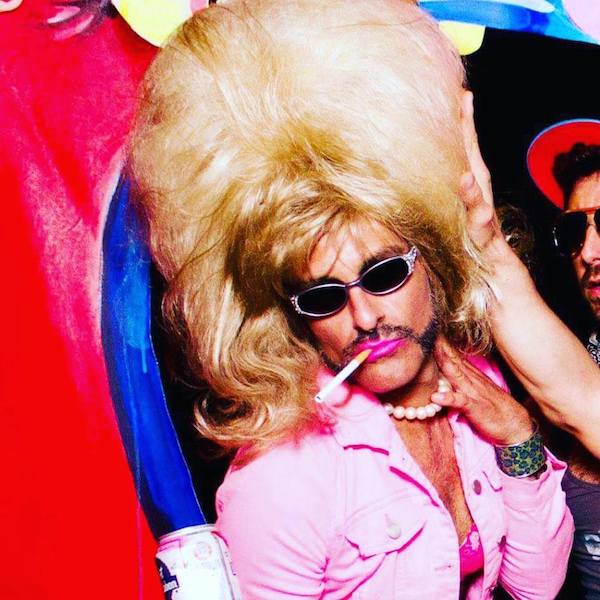 Describing Bubbles is well-nigh impossible beyond the spectacle of towering, often askew blonde wigs, abundant chest hair, bushy muttonchops, kooky sunglasses, teetering heels and endless, endless talking. Gender-nonconforming, wildly unfiltered, and unwilling to be categorized, Bubbles was a character that took over their inventor's life years ago and ended up touching a whole city. There was barely a venue Bubbles hadn't been 86ed from — sometimes incredibly unfairly, and boy, did Bubbles raise a stink — but it was usually for something spectacular, and even those kicking her out often ended up bragging about their Bubbles encounter. You couldn't help but smile when Bubbles rushed toward you at the club or on the sidewalk, like a hyperactive, hairy grandma ready to smother you with panicked attention. (I lived with Bubbles for a while in the early 2000s, and it was fun and frantic.)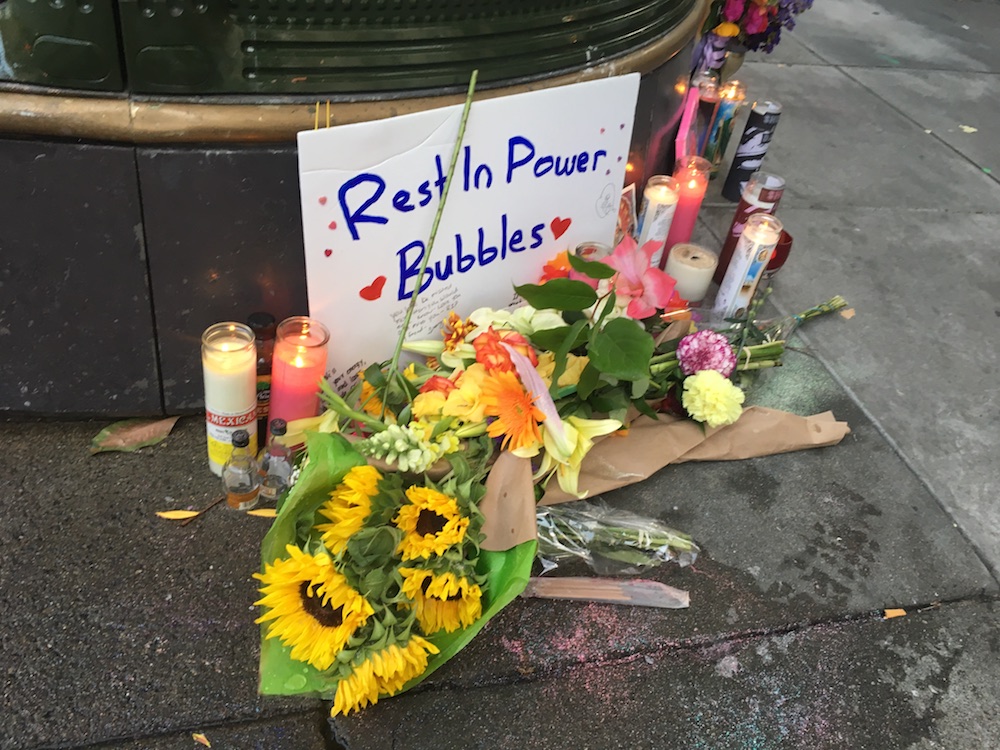 The gathering of about 150 people proved just how much Bubbles was a part of San Francisco — and also showed how much magical weirdness the city had lost. "Freaks supporting freaks!" someone yelled to applause. A who's who of characters from skater street kids to Supervisor Jane Kim, elder club owners to young drag queens showed up to pay respects. Donna Summer's "I Feel Love" and Ministry's "Effigy" fueled an impromptu dance party, and onlookers created individual art pieces to display near a candle-lit shrine. Members of the Stud collective offered a mirrorball from the 52-year-old queer club, and photocopies with Bubbles' face on them, reading "Shut Up and Dance" were distributed. A dancer poured a vial of sparkling powder out on the ground near a sign that read "Rest in Power, Bubbles." Champagne was uncorked and passed around, as a "bubbles for Bubbles" tribute.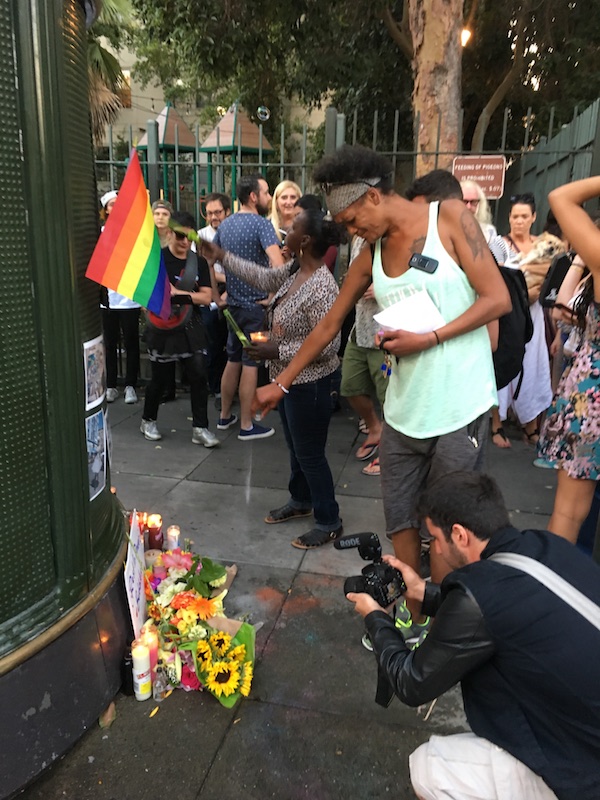 "There really isn't anyone like Bubbles in terms of someone who will test every boundary and make even the most experienced person go, 'woah!'" DJ Mysterious D of the Bootie party, who had lived near the corner for years before recently moving, told me. "This is a real San Francisco moment, and it makes me sad for all that's changed about living here."
Threaded through the sadness and celebration was anger and shock. Local activist and tenant advocate David Elliott Lewis had posted to Facebook about hearing a shooting near his home on Saturday morning. Upset that he could find nothing about it on the police scanner or in the news, Lewis doggedly pursued the story by interviewing local residents. He eventually found out that the victim was Bubbles, who had been shot five times after an altercation. Lewis's heroic reporting was invaluable, a great example of citizen journalism. The San Francisco medical examiner eventually confirmed that it was indeed Bubbles who had been killed, and Supervisor Kim said police have surveillance footage and a person of interest, yet not enough evidence yet to confirm a hate crime.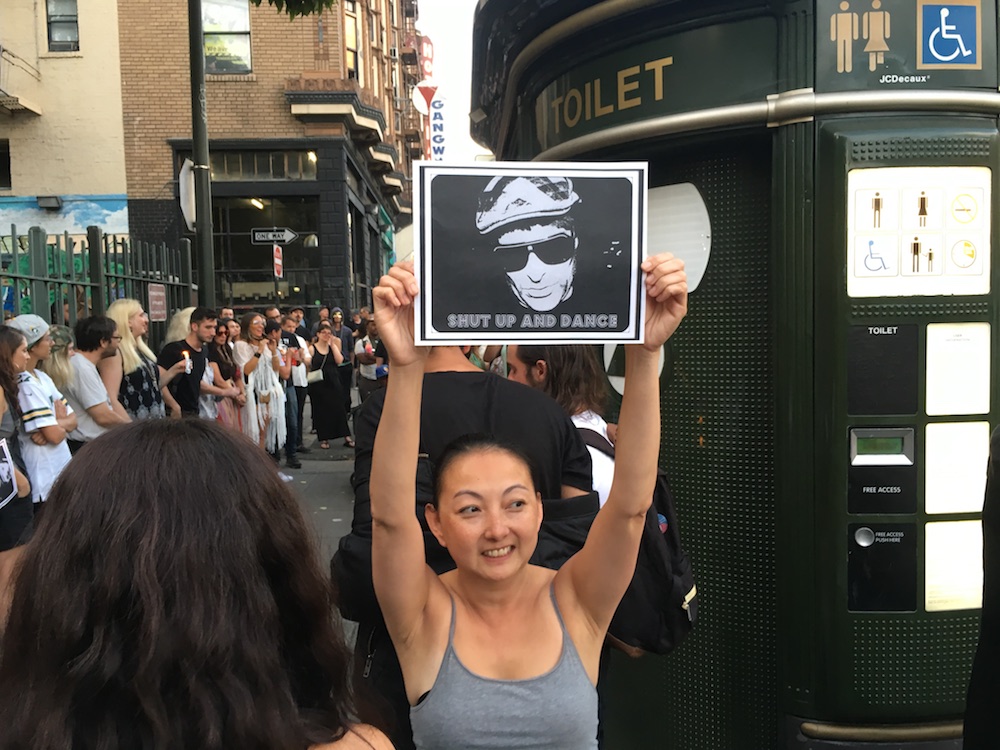 "I'm so angry that this happened, Bubbles was the sweetest person who would never hurt anyone," event promoter David Peterson, who lives in the Tenderloin, told me. "Bubbles was so wild that you could be inspired, but sometimes when you saw them on the street you would become protective, like, 'Be careful, Bubbles. We live in a scary world. And you are the only one of you we have.'"
The violent killing of a gender-nonconforming person, in a year of both skyrocketing homocide rates and violence against trans and queer people, also rocked many to the core. The sentiment that trans and queer people are not even safe in the Tenderloin — where the country's first Transgender Historical District is being established — was expressed many times.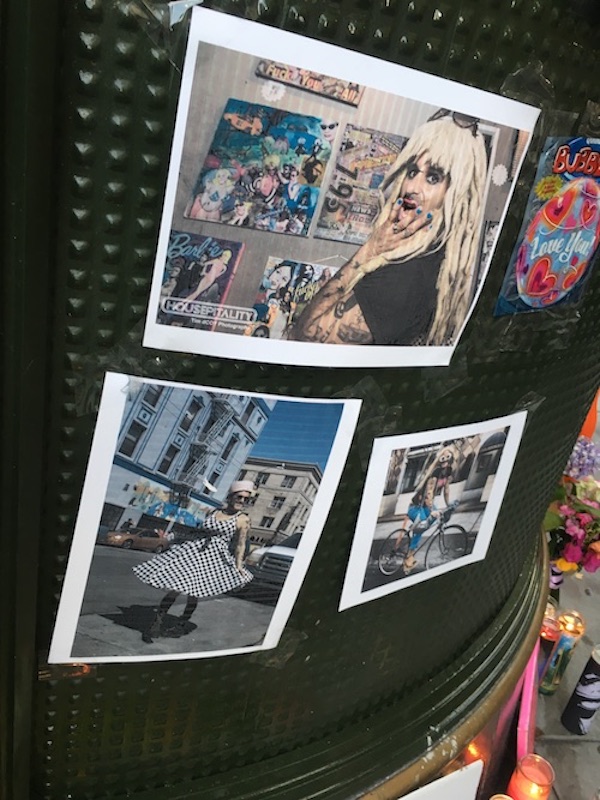 There was another burden of sadness with Bubbles' passing. The corner where Bubbles died was right outside the record store RS94109, where Bubbles would often set up turntables and DJ. Many of the people gathered there last night had also come there after the Ghost Ship tragedy last December to commiserate and grieve. For those of us dreading the approaching anniversary of that event, Bubbles' murder is even more unfathomable. The horrific loss of so many club people in nine months weighed heavy on many, as another brilliant light on the scene turned to shine on other realms. Many expressed hope that justice will be done, and this heinous hate crime will make the city realize the danger queer and trans people face every day and night. 
Farewell, Bubbles, old friend. You really tore the wig off this joint.
Update: A YouCaring campaign has been launched for Bubbles' funeral and memorial. Bubbles was planning to move to Berlin and start a new artistic life at the end of the month. A goodbye party was planned for Friday, September 29 at the Eagle. Organizers have indicated that the party will go ahead as planned. There will also be a moment of silence and vigil at the club Bubbles was most associated with, Housepitality, this Wednesday, Sept. 13. Please see upcoming installments of my weekly Party Radar column for developing news.