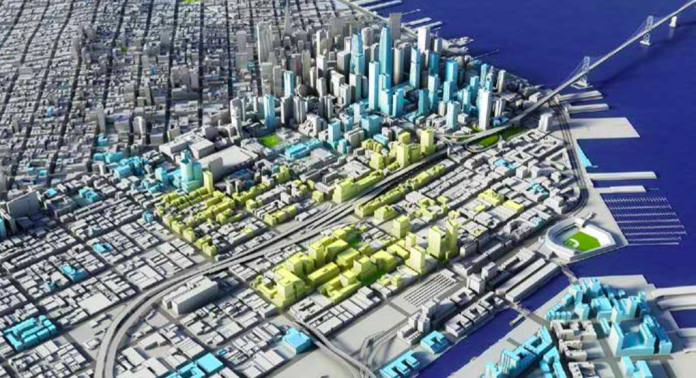 The Central Soma Plan – which will open South of Market to the equivalent of a new downtown, with office space for at least 33,000 more workers and housing for 8,300 people – comes before the supes twice this week.
On Monday/16, the Board of Supes Land Use and Transportation Committee takes up the crux of the legislation that would rezone a fairly large swath of the city.
Then, on Tuesday/17, the full board hears an appeal by several community groups who are challenging the validity of the plan' Environmental Impact Report, saying that, among other things, it grossly underestimates the impacts of adding more jobs than housing to a city that already has a severe housing shortage.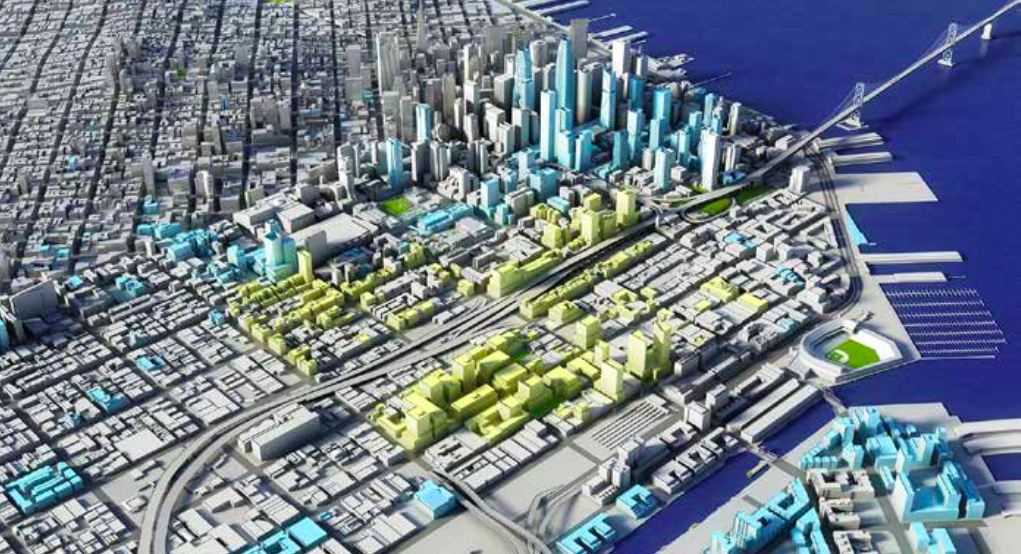 The Yerba Buena Neighborhood Consortium, one of the appellants, argues that the EIR doesn't adequately address the new growth:
New residents and workers – +9300 and +36,400, respectively, according to the EIR at IV-6 – will so increase the resident and daily population of Central SOMA that they will require substantial new services. The 2015 Initial Study improperly scoped out this issue and the EIR Responses to Comments improperly deferred it. With population increases at the scale of a new city, to keep our City livable reasonably foreseeable facilities must be studied and planned for now as part of the Plan.

Another material defect is the EIR's failure to evaluate and mitigate cumulative impacts on public services and need for recreation facilities that will be created by the growth of resident and worker population in the entire Central City of San Francisco over the same time span, including the Central Business District and adjacent neighborhoods as well as Central SOMA – thus South of Market, Central Market, the Tenderloin, and Chinatown. Up to 100,000 more residents and 50,000 more jobs may materialize. At that scale, new public services and facilities will be needed, and there has not yet been environmental review or mitigation of this cumulative scenario in any San Francisco EIR to date.
SOMCAN, the South of Market Community Action Network, argues that the EIR fails to disclose the "severity of the level of impact" of the "creation of a second Financial District," the role of Uber and Lyft in the transportation mess, and the economic impacts of displacement that's likely when there are more workers pouring into a region than there is housing for them.
Central Soma Neighbors, also part of the appeal, argues that
The Central SoMa Plan essentially creates a second Financial District South of Market, creating 63,600 new jobs, but only 14,500 new housing units. (DEIR, pp. IV-6, IV-5)1. In other words, the Plan creates 50,000 more jobs than housing units (more than four times more jobs than housing). This only exacerbates the City's jobs-housing imbalance, which will result in even greater demand for limited housing, higher housing prices, more displacement, and more gentrification. Clearly, the City should go back to the drawing board.
The number of housing units and jobs is never going to be exact; that's driven by what developers want to build. It's possible that, if demand for office space is strong enough, developers will try to push the office numbers even higher; it's possible that, if demand for high-end condos remains apparently insatiable, those number could go up, too.
All the city does in this plan is create zoning rules that allow an increase in both types of development.
The plan calls for 33 percent of the new housing to be below-market-rate, which is way higher than what planning rules now require – but well within the range of what Sup. Jane Kim, who represents the district, has negotiated with developers.
Kim, a sponsor of the plan, noted when she introduced it that
I am very proud that the Central SoMa plan sets a new standard for the City with 33 percentaffordability throughout and zero loss of any existing arts or manufacturing jobs," said Supervisor Jane Kim. "It will be the first new area plan with an eco-district that implements Vision Zero from its inception, designed with robust community benefits such as parks andrecreational open spaces for our entire city to enjoy for decades to come.
The level of development the plan allows could bring in $500 million for city services, supporters say. And if it leads to the development of 9,000 housing units, 3,000 of them would be below-market-rate, which is a big number.
The overall issue here: With the tech boom shifting Silicon Valley more and more into San Francisco, there's a shortage of office space. The prices are soaring, which makes it harder, planners say, for small businesses and startups to find affordable space.
But at the same time, we have seen the result of bringing too many high-paid jobs into the city when there's no housing for those workers – and by any analysis, this is going to make the situation worse.
Some argue that, if the cost of office space drives tech jobs back to the Peninsula, the workers will still live here. That's been true because the city has enabled it by authorizing the Google buses – and refusing to take a stand against Peninsula cities that build no housing at all.
The Land Use Committee meets Monday at 1:30pm. The appeal comes before the full board Tuesday at 3pm.
The Budget and Finance Committee meets Thursday/19at 10am to consider two tax measures that might be headed to the November ballot. Sups. Aaron Peskin, Jane Kim, Hillary Ronen, Norman Yee and Sandra Fewer want to impose a gross receipts tax on Uber and Lyft (and any other ride-share companies that bring in more than $500,000 a year) and any future companies that offer rides in driverless vehicles.
This will be the first chance for Sup. Rafael Mandelman to join what should be a six-vote majority to put this on the ballot.
Not clear how much money it would bring in (these companies won't share that data), but Uber and Lyft have done serious damage to Muni, congested the streets, and treat their drivers badly. The idea that they should pay a reasonable city tax is a no-brainer.
Then Sup. Malia Cohen wants to add a gross receipts tax on recreational cannabis. This one's a little more complicated: There's no question that this growing industry is going to make a ton of money and needs to share that with the city. The issue that new cannabis outlets are raising is that, when the price of legal bud goes too high, people go back to the black market.
But Cohen's ordinance exempts the first $500,000 in sales, so it's not going to prevent new outlets from getting started, and after that it's set at a pretty minor 1 percent, which can go up to as much as 5 percent after 2020. That means a store that sells $1 million worth of cannabis product would pay $5,000 a year to the city. Doesn't seem like an industry-killer to me.