SCREEN GRABS As the White House agitates off-and-on for war against Iran, it's a particularly poignant juncture for the first major posthumous retrospective of that country's leading cinematic talent throughout most of the last half-century. A five-month series titled Abbas Kiarostami: Life As Art opens at the Pacific Film Archive this Friday, while Saturday also brings the start of a more concentrated three-day (spread over three weeks) Roxie tribute highlighting works from his first two decades as a feature director.
Originally trained as a painter and graphic artist, the Tehran native began making movies in 1970, caught up in the initial rush of activity in Iran's own "New Wave." His debut full-length effort was 1974's The Traveler, which found many enduring artistic trademarks already in place: The emphasis on impressionistic observation over narrative contrivance, a preference for non-professional performers (esp. children), the blurring of fictive elements into documentary ones, and an air of poetical simplicity that nonetheless leaves plenty of room for interpretive ambiguity.
But he didn't begin attracting significant attention internationally until the "Koker Trilogy" of Where Is the Friend's Home? (1987), And Life Goes On (1992) and Through the Olive Trees (1994), all set in the northern village that would suffer enormously from a 1990 earthquake. These stirred great interest on the film festival circuit, while Close-Up (1990) and Taste of Cherry (1997), which won the Palme d'Or at Cannes, were proclaimed as masterpieces. After 1999's The Wind Will Carry Us, Kiarostami was awarded the San Francisco International Film Festival's lifetime-achievement Kurosawa Prize—though he handed it over to veteran actor turned No. Cal. resident Behrouz Vossoughi (to whom the festival would award a similar laurel sixteen years later) for his own formidable contributions to Iranian cinema.
As his international fame grew, Kiarostami's films frequently became even more experimental, culminating in the ravishing abstraction of 2017's 24 Frames (released the year after his death), in which his career-long obsessions with photography, time, nature, mortality and more are distilled into two dozen meticulously realized green-screen tableaux. Illness had partly forced this retreat into more reclusive forms of art-making. But before that, his problematic relationship with the Iranian government (and particularly his criticism of their censoring or imprisoning fellow filmmakers) had led him to work abroad—when the authorities allowed him to travel, that is. Thus he shot the fascinating two-character puzzle Certified Copy (2010) in Italy, with French and English actors, while 2012's Like Someone in Love was made in Japan.
In the end, before he died from cancer complications in early 2016 at age 76, Kiarostami was a citizen of the world (and master of many media) who nonetheless remained eloquent spokesman for a complex, ancient culture and troubled modern nation-state's soul. Even the most accessible of his movies are far from populist, requiring viewer patience and depth of inquiry. In addition to his variably well-known features, both the PFA and Roxie series feature rarely-seen shorts going back as far as his very first, 1970's ten-minute Bread and Alley. Abbas Kiarostami: Life as Art: Fri/2-Sat/December 21, Pacific Film Archive. (More info here.) Tribute to Abbas Kiarostami: Roxie, Sat/3-Sat/17. (More info here.)
This weekend's only major commercial opening couldn't offer a sillier contrast: It's the movie that seems to exist because apparently Dwayne Johnson and Vin Diesel can't stand each other, which has forced the Fast and the Furious franchise to fission. Thus Fast & Furious 9 (expected next May) will provide Vin but no Rock, but in the meantime we get spinoff Fast & Furious Presents: Hobbs & Shaw, which is Rock (plus Jason Statham) with no Vin. Well, the important thing is that everyone keeps making money! And timeless art, of course.
If you're in the mood for neither high-octane Hollywood action or austere Iranian metaphysical musings, there's actually some decent alternatives also available this week:
Luz
It's taken a while to get here, it's only 70 minutes long, and it was German writer-director Tilman Singer's thesis project. But don't let any of those unpromising factoids dissuade you from seeing this rigorous, inventive and flummoxing movie, which is most definitely a supernatural horror movie even as it overturns most of the expectations you might have towards such a joint.
A disheveled, androgynous young woman (Luana Velia as Luz) turns up at a police station, seemingly out of her head. Meanwhile, a psychotherapist (Jan Blurhardt) is plied with drinks in a bar by an aggressive stranger (Julia Riedler), who seems to want his professional expertise about a "friend's" case. Maybe she just wants to pick him up—or perhaps she has something much more sinister in mind. When these characters end up in the same room shortly thereafter, so Chilean Luz can be interviewed by a police detective (Nadja Stubinger) and translator (Johannes Benecke), the weirdness level soon goes off the charts.
Icily ironic and minimalist in its stylistic concision, Luz is a sleek little Pandora's Box from which all conceptual hell breaks loose, though those expecting ordinary payoff in terms of clear narrative explanations or gory mayhem may be frustrated. What you get instead, however, is something much better, not to mention rarer: A film that is giddily shocking because its ideas bend our perceptual reality into pretzel shapes. It is one audacious mindfuck that I've already seen twice, and look forward to seeing again. Highly recommended, even (if not especially) for those who think they don't like horror films because they're icky or stupid. This is neither. Roxie. More info here. 
Mike Wallace Is Here
The late Wallace was a famously "tough interviewer" not inclined to be over-awed by his famous and powerful subjects, who'd ask them point-blank about personal weaknesses, lies and (where applicable) crimes. If his friend Barbara Walters turned making interviewees cry into a melodramatic signature, Wallace made them call their lawyers. What he saw as "asking serious questions" others reviewed as "being a prick"—but then, most of the people who felt that way were very prickly themselves.
This excellent documentary by Avi Belkin portrays the late broadcaster (who died seven years ago at age 93) locking horns with everyone from Barbra Streisand to Bill O'Reilly to Ayatollah Khomeini, always seeking to get at some uncomfortable truth. Moving from radio to early television, he bolted at the first opportunity from frivolous entertainment gigs to trailblaze unusually hard-hitting interview programs. They eventually led to CBS News and 60 Minutes, a programming longshot when launched in 1968 that turned into the standard-bearer for investigative journalism on TV, its profile particularly raised by being an active player in exposure of the Watergate scandal.
While not exhaustive (allegations of sexual harassment are omitted here), and light on probing the private life he admits he had little time or patience for, this documentary nonetheless presents a strong portrait of a driven, competitive, sometimes cranky man whose integrity nonetheless is hard to question—a species that's endangered in today's severely compromised, under-threat media landscape. Embarcadero, Albany Twin. More info here. 
The Queen
This newly restored 1968 documentary was an eye-opener for audiences half a century ago, and it's well-crafted enough to survive as more than just a valuable historical memento now. Frank Simon's feature chronicles the path to the 1967 Miss All-America Camp Beauty Contest at NYC's Town Hall—an extravaganza of cross-dressing camp in which about two dozen contestants from all over the country compete for a rhinestone crown. It's an elaborate affair with celebrity judges, a live band, production numbers, and a guest appearance by Warhol "superstar" Mario Montez. (Andy himself is seen in the audience, which is clad as formally as if attending an opera gala.)
Presiding over it all is Jack Dorowshow aka "Flawless Sabrina," at 24 already a veteran organizer and promoter of such affairs whose  "bar mitzvah mother thing" generally manages to keep the variously fragile and volatile personalities involved from spinning out of collective control. Nevertheless, the climactic announcement of a winner triggers a major meltdown from one contestant (Crystal LaBeija, later founder of a still-extent drag ball "family" featured in Paris Is Burning) who angrily denounces the whole shebang as rigged.
The Queen premiered at the '68 Cannes Festival that was notoriously curtailed by political unrest. It got a rave New York Times review and was a significant (if controversial) popular success by the era's documentary standards. While many naive viewers may have come away with the mistaken impression that it represented typical "homosexual life," as opposed to just one particularly "flamboyant" aspect, at this late remove it's hard not to be impressed by the degree of self-confidence manifested by many onscreen subjects. They may have been marginalized and worse, but their brassy individuality is unapologetic, and feels very much like the match that might trigger the explosion of Stonewall and "Gay Lib" within two years of this pageant's jokey spectacle. Opera Plaza, Shattuck Cinemas.
A Woman's Torment
On consecutive evenings next week the Alamo Drafthouse is serving up two vintage exploitation ultra-obscurities, in restored prints struck by the American Genre Film Archive and Vinegar Syndrome. 1977's A Woman's Torment is the R-rated cut of a movie that was also made in a XXX version by Roberta Findlay, who worked both sides of that fence as a director/producer/writer/actress/editor/et al. for two prolific decades. Up to this point, she'd made films primarily in conjunction with equally multi-hat-wearing husband Michael Findlay, scoring a huge hit by repurposing footage from a shelved 1971 feature as Snuff (1975). But just as they seemed poised to enter the mainstream, he was killed in a freak helicopter accident.
She retreated for the most part into the smaller milieu of porn production, though Torment straddled (ahem) both worlds. As porn, it struck some (including the inimitable Al Goldstein) as "a hard-core Psycho," an unusually serious and narrative-driven mix of graphic sex and violence. As an "R," however, with most of the sex removed, it's just a terrible would-be thriller whose acting is, well, worthy of porn. (Watching these not-very-attractive people act is painful enough—you'll be glad you don't have to see them fucking, too.) Karen (Tara Chung) is a twitchy nutcase taken in by in-law relatives. They let her go alone to their beach house, where she flings herself at the occasional stray visitor before killing them, because why not. She's craaaazy!!!
Imagine "Doris Wishman's Repulsion," and you've got the basic idea. It is truly terrible, but there are some laughs to be had. As is often the case when porn folk make a "regular movie," characters do and say things that suggest somehow the people involved this production have no idea how ordinary people behave. Much of the dialogue feels (badly) improvised, but surely the following post-coital marital spat was scripted. Wife: "You never touch me!" Husband: "But I just made love to you!" "Wrong my friend—you just masturbated inside of me!"  Tues/6, Alamo Drafthouse. More info here.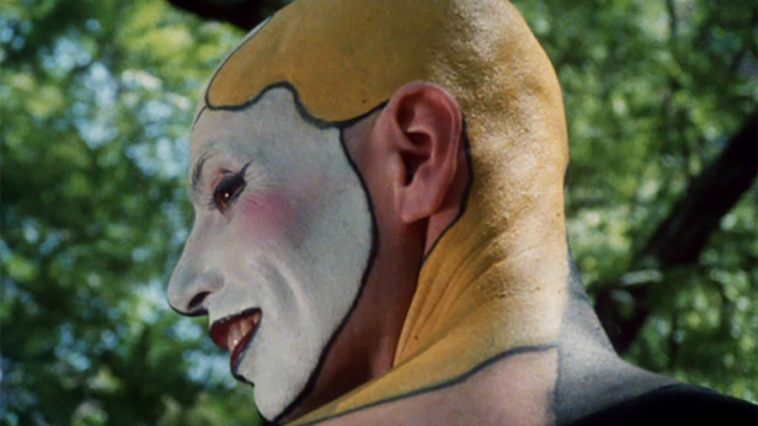 Murderous Intent
The other Alamo Drafthouse rediscovery is this 1985 curio, which is a particular kind of farrago—the movie assembled out of pieces of two or more unfinished features to create something that is at least marketably full-length, if most likely completely incoherent. There have been a few minor camp classics of that ilk, including They Saved Hitler's Brain, Night Train to Terror, and the mid-60s sexploitation cheapie Satan's Bed, which starred a pre-John Yoko Ono.
Jamaican-born director Len Anthony apparently began several indie projects in NYC, but was unable to finish them, ultimately tossing the footage together into this weird conglomeration in which a former academic and blocked writer being supported by his exasperated former student-turned-wife has various fantasies. They involve Alvin Ailey-like modern dance interludes, a mime, a homicidal Rastafarian alter ego, a "punk" band, samurai vengeance, and other elements that make no sense whatsoever. (Except in that—you guessed it—the ending reveals "It was all a dream.")
It's a well-shot whatsit that's part downtown indie club-scenester dive, part quasi-horror exploitation. Anthony did subsequently complete a couple unrelated features, but this Bill Gunn meets Susan Seidelman meets direct-to-video thriller mess is probably more memorable, precisely because it is such a Rube Goldbergian construct. Wed/7, Alamo Drafthouse. More info here.