SCREEN GRABS For those not hustling out to the week's big commercial opening, Stephen King-derived "evil clown" horror sequel It Chapter Two, there's a great deal else happening this week film-wise. Serious new dramas we weren't able to get to in advance are Gavin Hood's Official Secrets, a fact-based tale of international political skullduggery with Keira Knightley as a British whistleblower; and Chanya Button's Vita & Virginia, with Gemma Arterton and Elizabeth Debicki as the Bloomsbury literary luminaries Sackville-West and Woolf. The first has gotten mixed early reviews, the second rather unfavorable ones.
The Pacific Film Archive's autumn calendar is kicking off with continuations of two large-scale series that started earlier in the year, Abbas Kiarostami: Life as Art (resuming this Sun/8, running through Nov. 24), and View Finders: Women Cinematographers (Thurs/5 through Nov. 21). The second installment of the latter contains several documentaries amongst features highlighting the work of d.p.'s including Ellen Kuras, Iris Ng and Joan Churchill. More info here.
Several new documentaries are opening at local theaters, all of them focusing on stellar creative individuals. We previewed the one about singer Linda Ronstadt (see below), but there's also Stanley Nelson's Miles Davis: Birth of the Cool, a portrait of the jazz master at the Roxie; Jamie Catto's Becoming Nobody, about Harvard prof turned psychedelic guru turned Buddhist sage Ram Dass nee Dr. Richard Alpert (also at the Roxie, as well as the Elmwood and Rafael); and (at Opera Plaza) Stephen Wilkes' Jay Myself, which follows photographer-artist Jay Maisel as he undergoes the arduous process of leaving his vast Manhattan home (a former Bowery bank) after nearly half a century. Forced out by property taxes, he's compelled to pack up 36,000 square feet crammed with a compulsive collector's esoterica, en route logging what is (at $55 million) the largest private real estate sale in the city's history.
Meanwhile the Mechanics Institute's Film Lit program is dedicated this month to the American films of recent PFA retrospective subject Fritz Lang. It kicks off this Friday with the first Hollywood film by this expat director who'd fled Nazi Germany. The 1936 Fury is a forceful indictment (esp. for normally milquetoast studio MGM) of vigilantism and mob violence in which Spencer Tracy is an innocent man mistaken for a kidnapper, and nearly lynched by the residents of a small town more eager to satisfy its vengeful bloodlust than wait out the tedious process of legal justice. Subsequent films in the series are You and Me, a seldom-revived 1938 drama with Sylvia Sidney and George Raft as ill-starred ex-criminal lovers, and music by Kurt Weill; plus two of Lang's solid later noirs, the Zola-derived Human Desire (1954) and serial killer thriller While the City Sleeps (1956). More info here.
Backing up its ever-provocative marquee messages with some onscreen political messaging, the Grand Lake in Oakland is hosting the 9-11 Truth Film Festival next Wed.—yes, September 11. Billed as "Deconstructing a Myth With Truth," this 15th annual event promises to address WTC "truther" theories, other "false flag" conspiracies, miscellaneous "deep state deceptions" and more in a program of films and live speakers. If all that sounds a little too woo-woo for your taste, keep in mind: What could be more bizarrely improbable than our escalating current national political reality?  Info: More info here.
If semi-truth is sufficiently stranger than fiction for you, there's always the Castro's current week-long run of Tarantino's revisionist history Once Upon a Time…In Hollywood. Over the weekend, it will share the screen with two movies of special related relevance: 1967's Valley of the Dolls, the famously bad (but very popular) adaptation of Jacqueline Susann's trashy bestseller that gave Sharon Tate her big break (albeit via her worst performance). That's playing Sat/7 at noon; on Sunday, it's the comparatively little-known 1969 Model Shop, French director Jacques Demy's only American film. Starring 2001's Gary Lockwood and A Man and A Woman's Anouk Aimee as star-crossed almost-lovers, it's a mixed bag, but has acquired a reputation in recent years for being one of the best representations of Los Angeles life and geography in the period when Once Upon a Time… is set. More info here.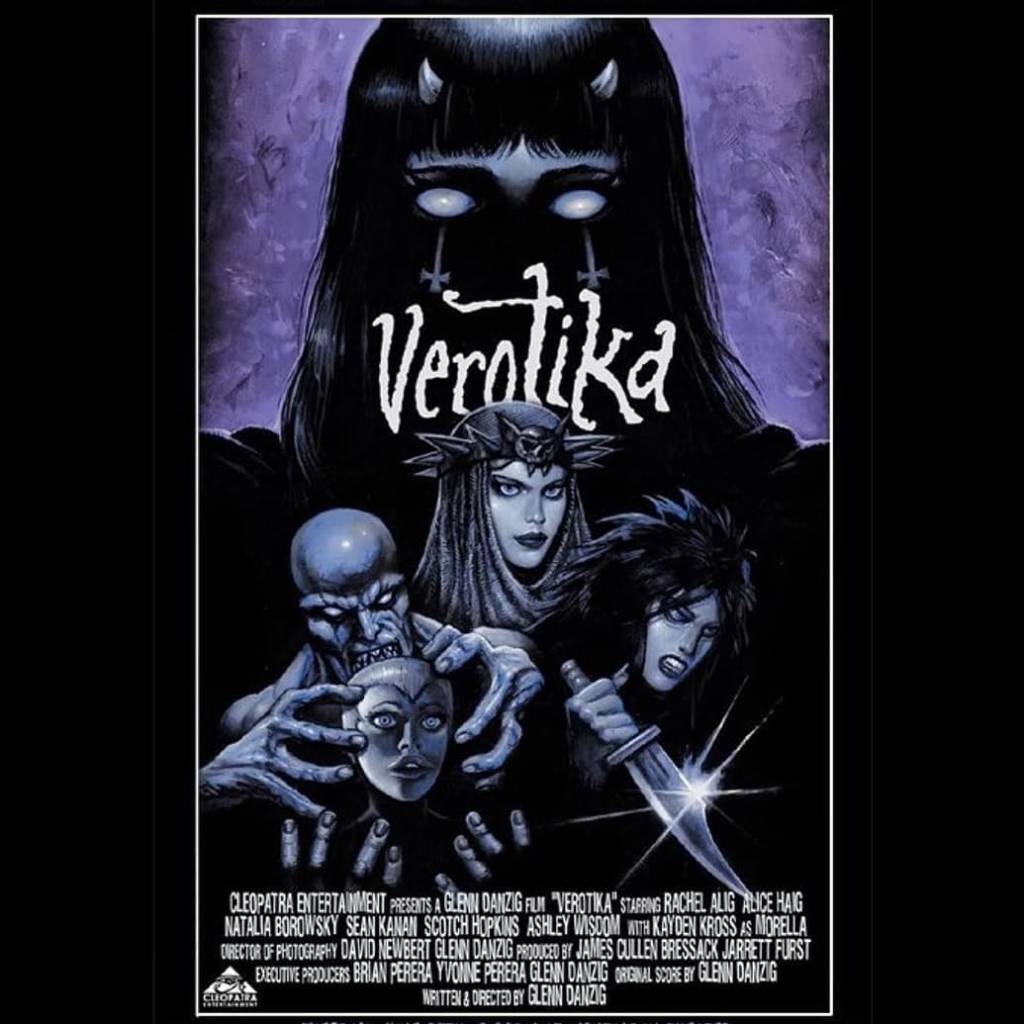 Nothing this week promises to be wiggier, however, than another Castro event. No longer hunky but plenty crusty, the inimitable Glenn Danzig of The Misfits (and, of course, Danzig) will arrive next Tuesday to host a single screening of his feature directorial debut. When it premiered at the genre festival Cinepocalypse last June, horror omnibus Verotika immediately set the internet on fire, with lucky witnesses comparing it to the likes of Ed Wood Jr.'s beloved "worst movie ever" Plan 9 From Outer Space as well as Tommy Wiseau's latterday campsterpiece The Room.
For his part, Mr. Danzig appeared to have been somewhat nonplussed that his purportedly T&A-crammed, gory and incoherent effort provoked laughter—a whole lot—where he meant it to be scary, or sexy, or whatever. But to his credit, the rock god appears to be going with the flow, taking the film on the road to fans and enjoying their reactions, even if they're not the reactions he intended. If conflicting duties didn't call me elsewhere, I'd be at this screening in a heartbeat. It just might be the greatest thing since Yma Sumac last hit town, apparently oblivious to a set-long wardrobe malfunction, forever yelling at her poor pickup band while still managing to run the gamut (more or less) of eight singing octaves. That was an unforgettable night's entertainment, and we suspect Verotika will be another. Tues/10, Castro. More info here.
You can slide gently into that promised insanity by attending Saturday's family-friendly Alamo Drafthouse screening of a true classic: The 5,000 Fingers of Dr. T, the only movie Dr. Seuss ever wrote as a big-screen original. This musical fantasy set in a subterranean Hell of enforced piano lessons—every child's nightmare!—was a commercial flop in 1953, but has since been appreciated as one of the great cinematic dives into inspired absurdism. Co-presented by Media Meltdown, it's offered as the main attraction of an all-you-can-eat "cereal party." So sleep in late and have breakfast at high noon, with or without any available children. Sat/7, Alamo Drafthouse. More info here.
Elsewhere, all opening Friday unless otherwise noted:
Our Time
Carlos Reygadas is one of those directors who is considered world-class, yet so "challenging" that his films (starting with Japon in 2002) generally get a threadbare release anywhere outside the festival circuit. He's a true arthouse auteur, making films that are austere, poetical, slow, maddening, striking, discomfiting, distinctive and pretentious—qualities just as present in his less-acclaimed features (Battle in Heaven, Post Tenebras Lux) as they are in celebrated ones like 2007's Silent Night and this latest. Actually, those last two films have a lot in common, in both deal with the seismic impact of marital infidelity on a couple with children living a comfortable rural life.
However, in Night the protagonists a family of Mennonite farmers, where here they are far more "worldly": Juan (Reygadas) and Esther (Natalia Lopez) live on a deluxe ranch raising fighting bulls, frequently running to Mexico City for one thing or another. They have three children, servants, ranch-hands, and a certain fame, not just as ranchers but because Juan is highly regarded poet. But the increasing focus of this shared, privileged life is on something seemingly superfluous to all these things: Theirs is an "open" marriage, although in practice that only really seems to apply to Esther, who it is understood needs other "outlets." But her current affair with American horse trainer Phil (Phil Burgers) seems to be triggering atypical levels of obsession and secrecy. And as much as Juan seems to be excited by her trysts (to which he's an occasional voyeur), this emotional infidelity is driving him mad, and driving them apart.
These characters exasperate each other, and the viewer to an extent; the director casting himself and his real-life spouse adds an additional layer of ambiguity. (We can't help but wonder, are they really like this?) As usual with Reygadas, we only piece together the details about these fictive livers over the long haul of a narrative fairly random in what it chooses to focus on—mostly details of everyday existence, with some seemingly arbitrary major digressions. Three hours long, Our Time is odd yet instinctive and organic, intimate yet sometimes mysteriously monumental. It's a fascinating work that is worth the work you have to put into watching it. Alamo Drafthouse. More info here. 
Linda Ronstadt: The Sound of My Voice
Raised on an Arizona ranch in a musically inclined family of Mexican/European heritage, Ronstadt arrived an ambitious 18-year-old veteran performer in mid-60s Los Angeles, just in time for the dawn of the folk-rock revolution. But her remarkable stylistic range would only become apparently in the 1970s, when she became rock's most successful female star with a series of hit singles and albums that suggested there was no popular genre she couldn't make her own. Nonetheless growing bored, in the 80s she expanded her repertoire to encompass Gilbert & Sullivan, opera, Tin Pan Alley standards, traditional canciones, and more terrain well outside the Top 40 realm—while still logging commercial triumphs.
Forced into retirement by Parkinson's a decade ago, Ronstadt narrates her own story in this documentary portrait by SF-based Oscar winners Rob Epstein and Jeffrey Friedman (The Celluloid Closet). At times it feels a little too "authorized" to be fully revealing, as when the filmmakers let their subject wheedle out of an old controversy by offering a feeble excuse in an old TV interview clip. (Asked why she played Sun City at the height of Apartheid, she basically shrugs "Well, there's racism everywhere"—which hardly justifies accepting a lucrative gig at a venue that specifically barred non-white patrons, under a government defined by racist policies.)
Still, there's plenty to enjoy in the bounteous performance footage culled from over four decades, as well as insights from such colleagues as Emmylou Harris, Ry Cooder, Don Henley, JD Souther, Jackson Browne, David Geffen, Bonnie Raitt, Karla Bonoff, Peter Asher, Aaron Neville and Dolly Parton. The latter half-jokingly calls Ronstadt "Such a perfectionist…a pain in the ass, really." But it's a point well taken here that despite any "chick singer" bias she had to deal with at times, Linda Ronstadt was always very firmly in charge of her career and her material, as well as that magnificently versatile vocal instrument. Embarcadero, California Theatre.
Tigers Are Not Afraid
Issa Lopez's Mexican feature arrives with hearty endorsements from Guillermo del Toro, Stephen King and Neil Gaiman. Indeed, it will probably mightily impress those who loved del Toro's "dark fairy tales" Pan's Labyrinth and The Shape of Water, two beautifully crafted films that mixed serious adult themes with fantasy genre elements. On the other hand, if you experienced those movies' fantastical aspects as a kind of fanboy sugarcoating of unpleasant real-world topics like fascism and authoritarianism, you may—like me—wonder what all the fuss is about.
10-year-old Estrella (Paola Lara) is a sheltered "good girl" forced to grow up fast when her single mother disappears—no doubt yet another kidnapped and/or murdered victim of the drug-cartel gangsters that rule their poor Mexico City neighborhood. Left alone and starving, she stumbles upon a group of homeless street kids led by Shine (Juan Ramon Lopez). It is his theft of a local crime kingpin's cellphone and gun that sets even worse trouble in motion here, unalleviated by that man's death—which gets attributed to Estrella.
There's a lot of elaborate CGI in this tortured fantasy allegory of the toll of drug violence on children, with grief and danger taking ghostly physical forms from invasive rivers of blood to various menacing creatures. Tigers (whose titular inspirational catchphrase is repeated way too often) is at once an impressive leap of the imagination, and an often pretentiously silly one whose saccharine score (by Vince Pope) underlines its essential humorlessness. For the viewer who mostly goes to superhero movies these days, it will probably be an eye-opener, and as close as they'll ever get to Los Olvidados or Pixote. Me, I'll stick with those latter films, and take my neo-realist brutalism straight-up. Alamo Drafthouse. More info here.