If you spent any time in the headquarters of the campaigns for Chesa Boudin or Dean Preston, if you spent any time on the streets with the volunteers, if you stopped by their election-night parties, then you'd have noticed:
The two candidates won on the ground. These were grassroots efforts, in both cases up against big money that went to mail and TV ads.
And the people who made it happen, to a great extent, were young, diverse, excited about progressive change – and the future of San Francisco politics.
It's really exciting.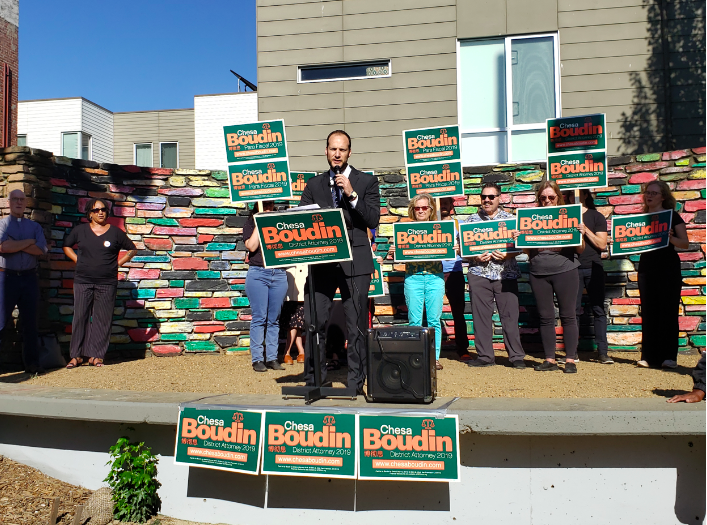 I couldn't reach Boudin on Saturday night, when it was clear he was winning; he was out of town, visiting his father in prison. But he sent me this statement:
When we started this campaign, we believed that the people of San
Francisco wanted a different vision of justice. We believed they
valued second chances for those who have made mistakes, prized
compassion over punishment, and wanted equal justice for all,
regardless of race, gender, sexual orientation, and citizenship.  We
were right. In voting for this campaign, the residents of San
Francisco have demanded radical change and rejected calls to go back
to the tough-on-crime era that did not make us safer and destroyed the
lives of thousands of San Franciscans.

There can be no justice when we utilize prison and jail as the
solution to all of our problems. We must think differently. We will
think differently. I am so humbled by the groundswell of support we've
received from all parts of the city, from people of all races and of
all classes, throughout the campaign and with your votes. I promise
you that we will not waiver as we work to make sure that San Francisco
treats everyone with the human dignity that we all deserve. Thank you,
and onward.
Preston won, it's worth noting, with the ranked-choice voting system. He was narrowly ahead in the first-place votes, but the second choices of two minor candidates took him to a clear victory. Boudin got enough first-place votes that the RCV didn't matter, even though the supporters of the two lowest-ranking candidates, Leif Dautch and Nancy Tung, were slightly favorable to Suzy Loftus.

Would Preston or Boudin have won in a December runoff, with far lower turnout – and all of the power of the Breed Administration, the police, the real-estate industry and other interests pushing to block the two progressives?
I don't know. Jane Kim won the primary over Scott Wiener for state Senate. Then Wiener's team launched a nasty campaign of negative ads and cranked up the big money, and Kim lost the general.
Worth thinking about.
We have not yet heard a statement from the Mayor's Office. But the results are a clear defeat for Mayor London Breed, and suggest that she is going to have to work with the progressives – instead of trying to use sleazy tactics to undermine them– if she is going to get anything done.
People who generally believe that the big tech companies should be regulated and taxed, that that office developers should pay for the costs of the housing impacts that they create, that the city can play a much larger role in providing mental-health services, that the criminal-justice system is totally broken … they are now in the majority at City Hall, and they clearly have the support of the voters.
And yet: The mayor does not seem yet to have gotten the message. On Thursday/14, the Rules Committee will consider the mayor's poison-pill mental health measure. The committee can't block the proposal – the mayor has the authority to put anything on the ballot with just her signature.
But the committee will be able to discuss the problem with two competing measures that will (perhaps intentionally on the mayor's part) confuse the votes.
As Sups. Matt Haney and Hillary Ronen, who have worked for a year to craft an effective proposal on mental-health services, said after the mayor put her plan on the ballot:
We have been working with nurses, psychiatrists, front-line mental health workers and conservators on drafting Mental Health SF for more than a year now. And we are proud that this collaboration has resulted in decisive legislation rooted in common sense that will fix our broken system and get people with mental illness off the streets and into care.

We've repeatedly asked the Mayor's Office to engage with us and to move forward with shared legislation to address the mental health crisis. But the repeated walking away from the table and unexpected announcements from the Mayor and DPH are frustrating, and the people of San Francisco are fed up with it.

We are glad to see that the Mayor is finally prioritizing mental health reform. Unfortunately, rather than join us on Mental Health SF, the Mayor is creating confusion by putting forth a dueling ballot measure that does only a fraction of what Mental Health SF will do.

While the Mayor's initiative puts forward a much-needed expansion of our struggling mental health system—which we wholeheartedly support— it just doesn't go far enough. This initiative is the same incremental set of policies that DPH and the Mayor announced three weeks ago as "Heal our City," now repackaged as a poison pill legislation they are calling "Urgent Care SF."

What makes Mental Health SF so effective is that it will hold City Hall accountable and make sure that city departments are enacting structural changes that will stop mentally ill people from being abandoned on our street— the Mayor's initiative just gives more money to the same people who have already failed us.

There are significant differences between our two ballot initiatives:

First, the Mayor's initiative only serves severely mentally ill people who are already on the street.

Mental Health SF also address the crisis on our streets by getting people with mental illness out of homelessness and into care, but it goes even further. Mental Health SF stops the cycle of new people slipping into homelessness, by providing services to the severely mentally ill who don't have insurance before they become homeless. Serving the mentally ill becomes even more difficult once they are on the street, and Mental Health SF stops this cycle.

Second, the Mayor's initiative is mostly focused on spending more money on the same programs that have more often than not failed to keep people with mental illness off the street.

Mental Health SF, however, creates oversight to prevent overspending and uses solid data to determine where money should be allocated. Mental Health SF creates an implementation working group that will study where we're spending too much money and where we need to reinvest. We need an expansion of our mental health system, but we also need oversight and common sense. Mental Health SF does both.

Third, the Mayor is relying on the same bureaucrats at DPH who have been mismanaging this department and failing at addressing the crisis on our streets for years to regulate themselves.

Mental Health SF was drafted with front-line workers, nurses, psychiatrists, mental health experts, and with direct input from the service providers who work with people who are suffering on the streets.

We once again offer to sit down with the Mayor to work out a compromise and address any concerns she may have with our initiative. We would be happy to work together to create one ballot initiative that truly addresses the problems in the Department of Public Health.

But the Mayor's stalling and political gamesmanship is not going to do anything to solve the crisis on our streets. Big problems need big solutions, and that's unfortunately not what's being offered here."
Sup. Aaron Peskin is taking direct aim at commercial landlords who are holding property off the market. It's a growing problem in the neighborhoods – instead of leasing out space, the owners are presumably waiting for even more gentrification to drive up prices even more.
Peskin wants to place a measure on the March ballot that would impose
An excise tax on persons keeping ground floor commercial space in neighborhood commercial districts or neighborhood commercial transit districts vacant, to fund assistance to small businesses.
The Budget and Finance Committee will consider that measure Wednesday/13 at 10am.