This week's openings personify the movies' appeal as armchair travel, encompassing cinematic detours to Ireland, Israel, Poland, China (twice), American backroads and various African nations, plus a tribute to sheer creative wanderlust (see East Meets West, below).
Should none of the above destinations appeal, there's always another trip to Neverland, this time courtesy of Wendy—a new Peter Pan spin that's the first film from Benh Zeitlin since his debut feature Beasts of the Southern Wild. Early reviews have been divided between enthusiasm, and concern that it's a little too Beast-y in frenetic style while too little concerned with J.M. Barrie's story.
Other commercial openings we did not see in advance include Burden, a fact-inspired drama about the Ku Klux Klan that was well-received at Sundance in 2018 but has taken its time getting to theaters; Gavin O'Connor's The Way Back, with Ben Affleck as an alcoholic former basketball star seeking redemption through a college coaching gig; and Onward, a new Pixar animation fantasy-adventure with Tom Holland and Chris Pratt voicing brother elves.
For something more aptly reflecting our current reality—in which many people are less outward-bound than slaves to their "devices"—there's SF Cinematheque's program I Hate the Internet. Promising "Techno-Dystopian Malaise and Visions of Rebellion," its centerpiece is Zach Blas' Contra-Internet: Jubilee 2033, a playful "remake" of Derek Jarman's original punk phantasmagoria Jubilee now re-set in a near-future Silicon Valley. Riffing on similar themes are additional works by Jesse McLean, Mike Hoolboom and Peter Burr, plus James Duesing's 1990 computer animation Maxwell's Demon. Thurs/12, YBCA. More info here.
There's a lot going on this week, so we'll try to be brief (all films opening Fri/6 unless otherwise noted). And don't miss an awesome slate of film revivals that we've pointed out this week as well.
Corpus Christi
A relative underdog amongst last month's otherwise pretty high-profile international feature Oscar nominees, and the only one that hadn't yet gotten a real U.S. release, Jan Komasa's Polish drama probably won't be seen by as many people as Pain and Glory or Les Miserables, let alone Parasite. It is worthy of their company, though.
Daniel (Bartosz Bielenia) looks like every other violent skinhead type at the boys' juvenile detention center where he's lived for some time—even if he's disappointed to learn from the priest that no one with his felony record would be accepted to seminary school. Instead, he's released to work in a small town's lumber mill. Yet en route he half-jokingly passes himself off as a young cleric, a ruse that snowballs when the local vicar falls ill and he's drafted to fill in. To everyone's surprise, probably including his own, his spontaneous, common-sensical, boat-rocking approach to priestly duties turns out to be just what this community needs as it recovers from a recent tragedy. But of course "Father Tomasz's" past is going to catch up with him sooner or later.
Working from an excellent script by Mateusz Pacewicz, Komasa has made a movie whose crowd-pleasing and inspirational elements never feel formulaic. (Please, O heavenly powers, do not let Hollywood remake this film, because the story could so easily curdle into schmaltz.) It's hard to believe the claim that Corpus Christi is "inspired by real events," but the fiction onscreen has its own emotional truth, as well as considerable dynamism, compassion, and sardonic humor. Opera Plaza, Shattuck Cinemas. More info here.
African Film Festival 2020
The Pacific Film Archive's annual survey of film and video work from Africa begins this Fri/4 with Rosine Mbakam's Belgium-Cameroon coproduction Chez Jolie Coiffure, a documentary about a Brussels salon for West African emigres' hair-styling needs. The two-month program then encompasses works new and old, fictive and non- from Mali (Souleymane Cisse's 1978 Baara, 1982 The Wind and 1987 Brightness, with the director in person), Tunisia (Mahmoud Ben Mahoud's recent drama Fatwa) and Rwanda (Joel Karekezi's survival tale The Mercy of the Jungle). There's also Mbakam's prior The Two Faces of a Bamileke Woman, and a May 3 program of "African Short Films: Women's Stories" that further encompasses films from Nigeria and Congo. Wed/4-Fri/May 8, BAMPFA. More info here.
Not part of this series, but of related interest, is a screening this Fri/6 of actor Djimon Hounsou's 2018 documentary directorial effort In Search of Voodoo: Roots to Heaven. It looks at traditional religious practices in his native West Africa, a topic that will also be discussed by a live panel on "Spiritual Reclamation as a Revolutionary Act." More info here.
International Ocean Film Festival
If a mere continent doesn't cover enough cinematic terrain for you, you can eschew terra firma entirely for this annual spotlight on our globe's watery majority. Now in its 17th year, the festival programs with an eye on inspiring audiences of all ages to "become better ocean stewards, and help protect our oceans."
In addition to shorts from around the world, panel discussions, and a student filmmaking competition, there will be feature and mid-length movies from Canada, South Korea, France, the U.K., and more. Subjects include a whole program devoted to whales, plus extinction issues, pollution, tide pools, sharks, octopi, shrinking glaciers, et al. Screenings between Thurs/12 and Sun/15 are scattered between SF (Roxie Theater, Cowell Theater at Fort Mason) and the Smith Rafael Film Center in Marin. More info here.
Incitement
Though highly controversial at the time, the brokering of the Oslo Accords represented a high point in the quest for peace between Israelis and Palestinians that has never been approached in the quarter-century since. The 1995 assassination of Israeli Prime Minister Yitzhak Rabin was arguably the turning point from which those hopes began to disintegrate; they now feel more remote than ever.
Though the Accords earned him the Nobel Peace Prize and much international praise, it also got him branded a "traitor" by many who thought he was accommodating terrorists and betraying Jews. Among the right-wing extremists particularly incensed by Rabin's diplomacy was his assassin, law student Yigal Amir. Portrayed here with convincing fervency by Yehuda Nahari Halevi, his path to that murderous act—which plan he kept secret from his family and all but a couple co-conspirators—is dramatized in this film from Israeli-American director Yaron Zilberman (A Late Quartet). It's a very compelling mix of smoothly integrated staged sequences and archival news footage, portraying the rising tensions as violent acts on both sides attempted to derail the peace process.
We don't entirely grasp where Amir's radicalization comes from, but it's clearly been influenced by the more inflammatory rhetoric of some rabbis, as well as exacerbated by his own personal frustrations (notably the stymied courtship of a skittish settler played by World War Z's Daniella Kertesz). A sort of docudrama Taxi Driver, with a terrific central performance, Incitement is a strong portrait of fanaticism that doesn't provide easy answers, or point any simplistic blame. Opera Plaza, Shattuck Cinemas. More info here. 
Extra Ordinary
Injecting a little much-needed levity into this week's fairly heavyweight bill of filmic fare is this supernatural comedy in which Irish comedienne Maeve Higgins plays a driving instructor who's spent her life trying to ignore her psychic gifts. When a fellow village dweller needs help with a domestic haunting, however, she's reluctantly pulled into it.
This very Gaelic Ghostbusters also features Saturday Night Live's Will Forte as a washed-up former pop star whose attempts to revive his career wade heavily into the realm of black magic. Writer-directors Mike Ahern and Enda Loughman's first feature is unevenly inspired, but it embraces its own silliness sufficient to be likable even when it's not terribly funny—though it usually is funny, indeed. Alamo Drafthouse, New Parkway. More info here.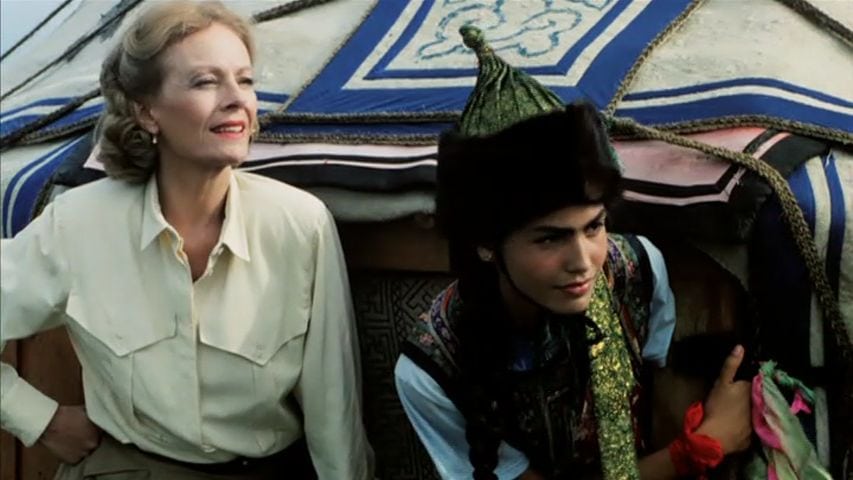 East Meets West: The Films of Ulrike Ottinger
BAMPFA follows its retrospective from a year ago with this second installment focused largely on the Western German filmmaker's later documentary work. It embraces globetrotting topics from the Jewish expat community of 1930s Shanghai to an epic far-north exploration (A Journey to the Bering Sea), as well as sojourns to Japan, Mongolia, Vienna, and fall-of-the-wall-era Berlin.
There's also room for a couple more of her narrative features, including the Ukraine-set farce Twelve Chairs (which Mel Brooks also filmed) and 1989's Johanna d'Arc of Mongolia, one of the all-time-great movies about travel (and one of few from a distinctly feminist perspective). For the length of the series, there will be a simultaneous exhibition of Ottinger's photography at Berkeley Art Museum's Matrix gallery. Sun/8-Sun/June 28, BAMPFA. More info here.
Two Views of China: In the Rear-View Mirror, and As Prodigal Daughter
Two movies opening local theatrical runs this Friday offer different perspectives on that nation's shifting, ever-larger role in geopolitics. Originally commissioned by the World Expo, Zhangke Jia's I Wish I Knew transcends simple city-symphony celebration in its complex view of recent Shanghai history—primarily through the viewpoints of principal interviewees (including Taiwanese cinema master Hsiao-Hsien Hou) who lived it in various ways, including for many the brutal turbulence of the Cultural Revolution. There are also illustrative clips from a wide array of Chinese-cinema classics.
Elegantly shot, leisurely and wistful, this 2010 documentary is making its Bay Area commercial debut in a new director's cut that restores some previously government-censored material. You may be familiar with Jia's work from his acclaimed Ash is Purest White, an unconventional fictive gangster saga that played U.S. theaters last year. Roxie. More info here. 
More lighthearted, as well as focused on the present-tense, is Emily Ting's U.S.-China coproduction Go Back To China. Sasha Li (Anna Akana) is a spoiled aspiring fashion designer in L.A. forced to obey the titular command when the manufacturing-tycoon father who's barely been in her life (Richard Ng) pulls the financial plug. She'll have to come work with him in Shenzhen, or learn to support herself—something she is not exactly experienced in. Her initial culture shock and dismay at factory toil inevitably turns into a learning experience.
If this seriocomic story sounds familiar, it may be because you saw Ting act it out herself: Her 2008 documentary Family Inc., which premiered at CAAM, charted a stormy apprenticeship at the filmmaker's actual, much-married father's Hong Kong toy factory. This fictionalized art imitates that real life in portraying tangled family ties, and precarious export business interests roiled by international financial currents. 4-Star. More info here. 
The Jesus Rolls
The Big Lebowski is not one of my favorite Coen Brothers movies, and John Turturro's Jesus is probably my least-favorite character in it. However, I understand the appeal of both. Somebody who apparently doesn't is Turturro, who wrote and directed this terrible quasi-sequel which is also a vague remake of Bertrand Blier's 1974 Going Places—making for two much-loved movies whose memory this one takes a dump on.
It opens with Jesus released from prison, joining up with buddy Bobby Cannavale, getting joined by hairdresser Audrey Tatou, then the threesome having adventures of the most strainedly wacky kind involving figures played by Jon Hamm, J.B. Smoove, Susan Sarandon, Christopher Walken, Tim Blake Nelson, Sonia Braga (as Turturro's mother—please note she's just seven years his senior), and Pete Davidson.
"How could a movie with this cast and pedigree totally miss?," you might be asking. You'll find out. I know there's not much point in telling Lebowski fans to avoid at all costs—some of life's big disappointments can only be truly accepted via bitter first-hand experience. Roxie. More info here.