From the first frames of Sugar High Glitter City, with their Lisa Frank-style credits and starry shot of Simone de la Getto (founder of Harlem Shake Burlesque) licking a rainbow pinwheel lollipop, it's clear that the viewer is about to embark on a truly San Franciscan, pornographic Sapphic extravaganza.
Small wonder that Pink and White Productions' SF PornFilmFestival (August 16-27 at Brava Theater, SF) selected the 2001 film for its opening virtual showcase. From its lavish celebration of fists and phalluses from along the butch-femme continuum to its brutal takedown of drug prohibition and policing, director Shar Rednour and Jack Strano's ensemble lesbian porn still seems fresh to modern-day audiences.
"It's the future. Sugar's outlawed," purrs butch dyke photographer Honey Lee Cotrell's opening narration, setting up a corruption-strung skin flick that recalls Mexico City gay porn production house Mecos Films' 2010 opus Corrupción Mexicana. "No place knew the score more than Glitter City, Caneville, Sweet Town. An underworld of sugar pimps and candy hoes, filled with cane-addicted dykes peddling their own flesh to keep the sweet trip going."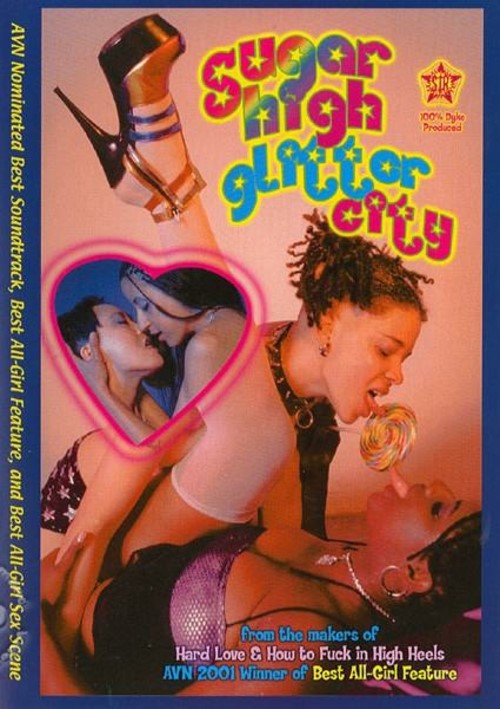 Cue the candy heart bralettes, face-fucking with ring pops—and of course, the sugar-high double entendres ("my own personal ho-ho," de la Getto coos to her scene partner Salt Taffy, mid-coitus.)
"Again, we were about to be homeless—and dirty money and dirty deeds and subverting the paradigm can make fun stories," write Rednour and Strano, the latter a trans musician and who both ran the iconic, queer women-focused S.I.R. Productions, in an email interview with 48hills. Turns out, Sugar High Glitter City was made in a frenzy fueled by the couple's looming eviction, and their rage over the dastardly dealings of a Floridian public official.
Perhaps this subtext of unchanging inequity could staunch your flow, but SHGC is at its smutty core a heartwarming ode to a queer city in flux. Dearly departed local venues like the Lexington Club—also the site of the afterparty for the film's original Frameline screening at nearby Victoria Theatre—and The Stud (which appears as de la Getto's madam character's "Puss Puss Glitter Palace") were used for sex scenes. Still-kicking community stalwarts like Anne Sprinkle and Good Vibrations are thanked in the film's acknowledgments. And even Strano and Rednour will tell you that you've got to look forward, even when it comes to queer lust life.
"Golden ages are just bigger cages," they tell us. Isn't that the sweet, sweet truth?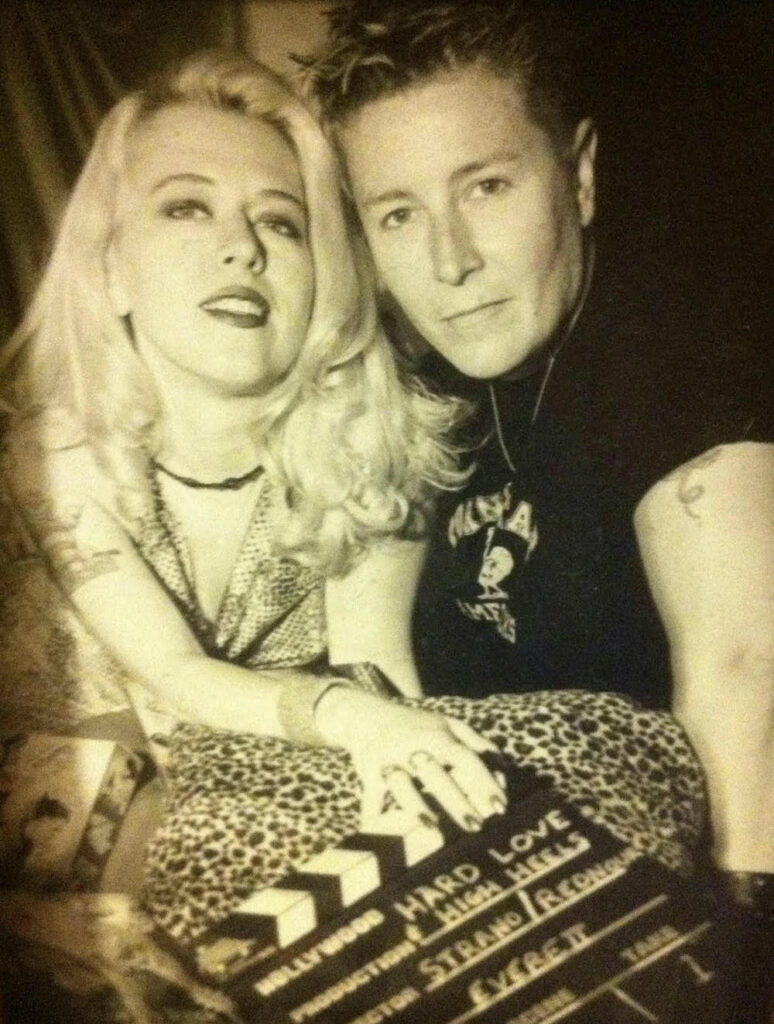 48HILLS You two cofounded S.I.R. Productions, a lesbian erotica production house that made some pretty iconic films, like 1998's Bend Over Boyfriend and 2000's Hard Love and How to Fuck in Heels, which won the AVN for Best All-Female Feature Film. Where do you see Sugar High Glitter City's place in that impressive body of work?
JACK STRANO AND SHAR REDNOUR We created Bend Over Boyfriend because we have always believed the world will rest a little easier on its axis if more men were penetrated by their partners and experienced different types of orgasms. Shar and I knew we wanted to make another queer flick after we won [the AVN] for Hard Love and How to Fuck In High Heels, so it just made sense. Shar started writing the amazing script on the way home from Las Vegas.
Sugar High Glitter City was our love letter to San Francisco, because at the time we were getting evicted during the first dot com boom. Our old funky, drafty loft run by other bohemian artistic queers (Dan Nicoletta, Kent Taylor, Carol Queen, Robert Lawrence, etc.) was getting sold, so it was bittersweet. It was where the Fatted Calf Charcuterie is now, on Fell Street. The 1989 earthquake had helped knock down the old freeway so the neighborhood, where you previously had to step over used hypodermic needles, was becoming super-bougie. We were about to become homeless because no one would rent to two dykes and a pit bull. So, instead of paying rent, we made some sexy art to immortalize the blood, sweat, and tears, the heartbreak, and pure joy of an era we lived and loved in.
Infamous butch dyke photographer Honey Lee Cottrell narrates the story and appears onscreen in front of the Lexington Bar. We shot scenes inside The Stud and other locales, and with folx who are no longer with us. We knew the robber barons were coming, just like every other wave of pirates that has hit this little peninsula, so we purposefully shot scenes in certain places around the city.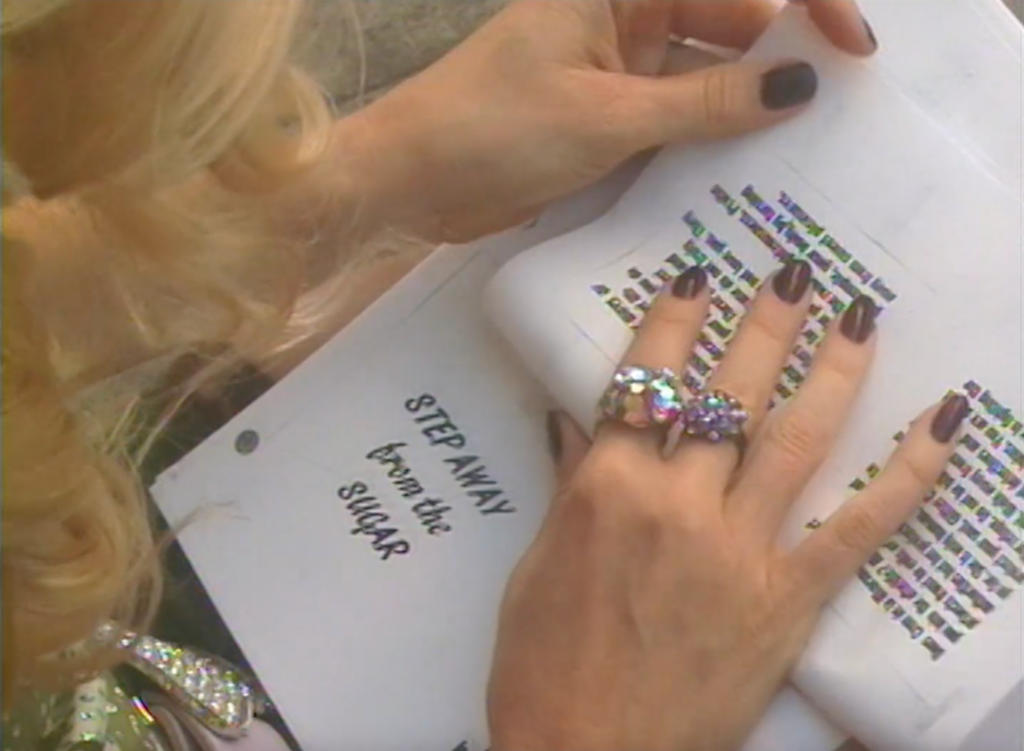 48HILLS I'm a drug writer, and I'm struck by the use of sugar (a totally legal and socially accepted psychoactive substance) as the addictive high that motivates most of the characters in the film. I'm wondering if the commentary on prohibition was a major part of choosing to produce this script, and if there were any events taking place in the community at the time that made it seem like an important theme?
JACK STRANO AND SHAR REDNOUR Again, we were about to be homeless—and dirty money and dirty deeds and subverting the paradigm can make fun stories. Most importantly, during that time, Bush v. Gore had happened. A few chads ending up deciding that Iraqi civilians died, if you pull back the lens a bit in retrospect. Shar was obsessed with the fact that Florida Secretary of State Katherine Harris, who was overseeing the election recount and deciding the country's president, worked for Bush's brother and governor of Florida Jeb—and her connection to Florida-Cuba sugar kings. We have always fought for the decriminalization of sex work and the legalization of cannabis, which has been used to facilitate the mass incarceration of Black bodies for the profit of the private prison-industrial complex and pipeline. You picked up on the randomness of sugar, and that was our point: why does the patriarchy get to pick what is legal?
Here was the United States with Al Gore refusing to ride on Bill Clinton's coattails because of a blow job, and we had Bush Jr. ready to unleash Dick Cheney on the world. Florida, Cuba, rum, sugar plantations run by overlords and the love of money—and all of it exploded into a glittery bomb of constant desires and pure fantasy. Irony and satire and sexy silliness. Prohibition just added fuel to the fire.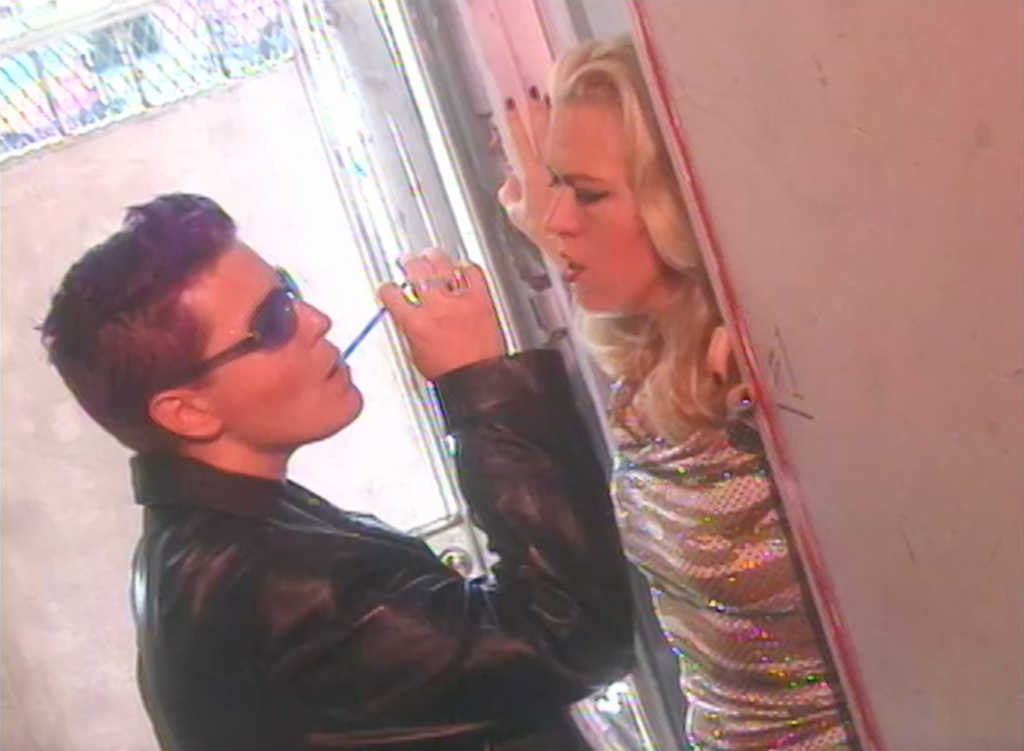 48HILLS Shar's character Reverend Honey Dew's lust interest named Blue and played by you. Do you guys have any standout memories from being on camera on the set that day?
JACK STRANO AND SHAR REDNOUR Good girl, bad cop—instead of a donut, it's a pixie stick. One the set that day, we knew we wanted to film something in our doorway of our old place—again to remember what it all used to look like. That door has seen the likes of Sylvester walking through it, and the events and film shoots that have happened in that space are amazing memories. A few of our rent parties in our loft that are still legendary, LOL. Some have been committed to film photography, including by the brilliant photographer Phyllis Christopher. We wanted to be silly and fun and in character, but also share some of our real-life chemistry. Of course Jack wanted to kiss Shar onscreen! I do think that we had to hire someone to be on dog/babysitting patrol because our dog Lucie kept wanting to be with us for the shot, and was creating a bit of a distraction.
48HILLS The screener looks like a screengrab from a DVD, and has one of those amazing special feature menus. Will you be screening its bloopers at SF PornFilmFestival?
JIZ LEE [PINK AND WHITE PRODUCTIONS MARKETING DIRECTOR] We plan to screen just the movie itself for the opening film screening, however there will be a "Re/Play" period (August 20-27) when audiences can re-watch or catch any film they may have missed during the festival, and we will offer the extras during that time.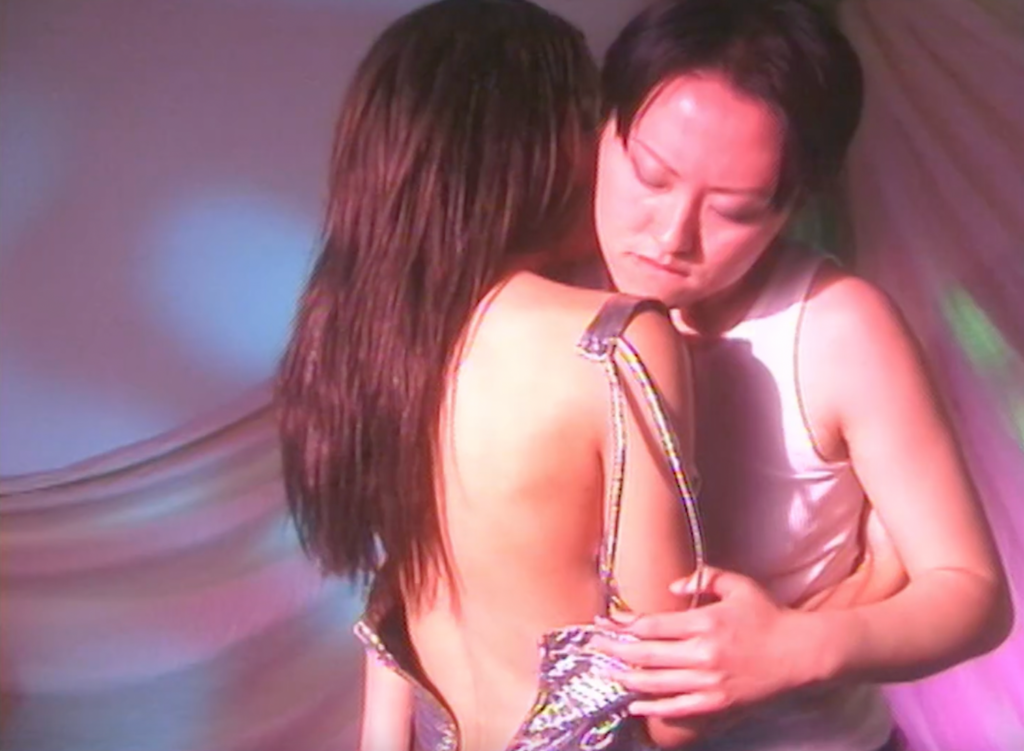 48HILLS I want to know more about this soundtrack! Some of the tracks—credited to artists like Elitrea & Kali, P. Boss, Bitch and Animal, Tektonic Shift, and Kassy Katastrophe—seem to be original compositions. Jack, you were the music supervisor of them film, can you tell me about the process behind the sounds of Sugar High Glitter City?
JACK STRANO I am a musician and songwriter, music is very important to me. I was very lucky to have some kick-ass musician pals who contributed tracks and samples, and I had some great tracks from my old band The Hail Marys to choose from. Phyllis Christopher was onset one day doing some photos and holding the B-roll camera for footage. The pinball machine scene is me having Phyllis stay on camera and film the performance while a Hail Marys track pounds away. It was a great scene and great vibe and driven by music. We were nominated for Best Soundtrack at the AVNs that year, but we lost to Snoop Dogg ['s Doggystyle].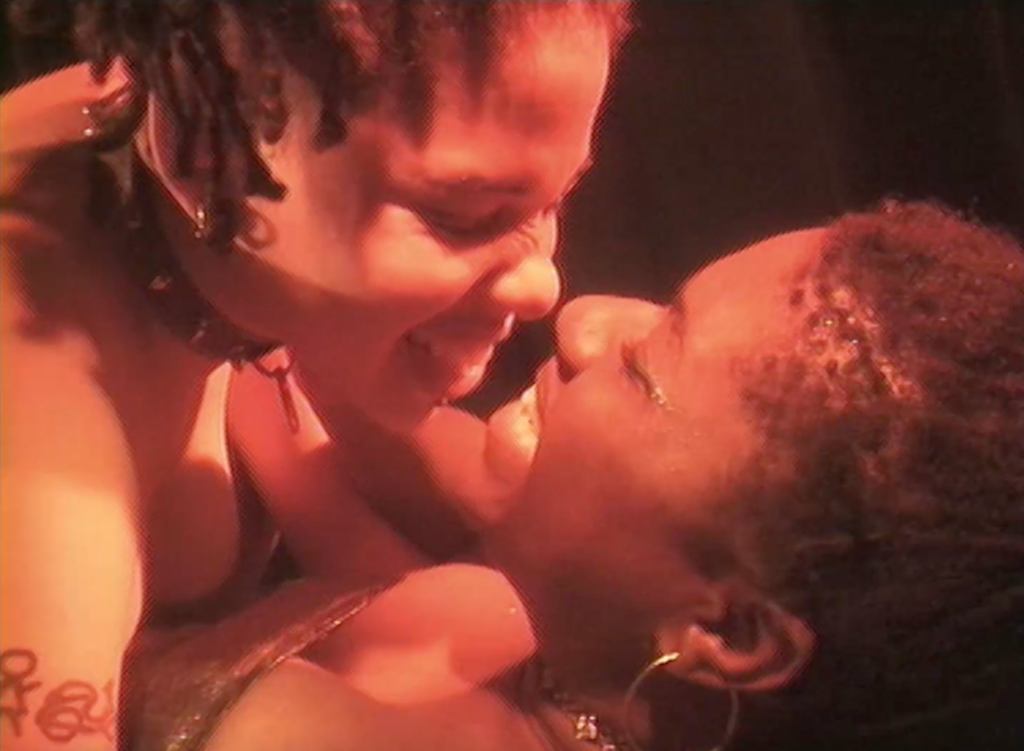 48HILLS Have we passed the golden age of queer porn? And/or, what current projects get you hot and bothered?
JACK STRANO AND SHAR REDNOUR Golden ages are just bigger cages. We love that technology has advanced so content creation is faster and easier to create and distribute/share. We went from using a Betacam and Avid Studio editing software to a 3-chip camera and Final Cut, then it was straight to digital, and now content creators can just use their phones. A lot of mediums that had industries built up around them, and rich men running them, have seen some of their "golden age" empire crumbling a bit. We proudly and happily handed the torch over to Shine Houston and Pink and White Productions.
SUGAR HIGH GLITTER CITY screens in a virtual program at the SF Porn Film Festival on August 17, 7pm. Festival runs August 16-27. Various San Francisco venues. More info and tickets here.