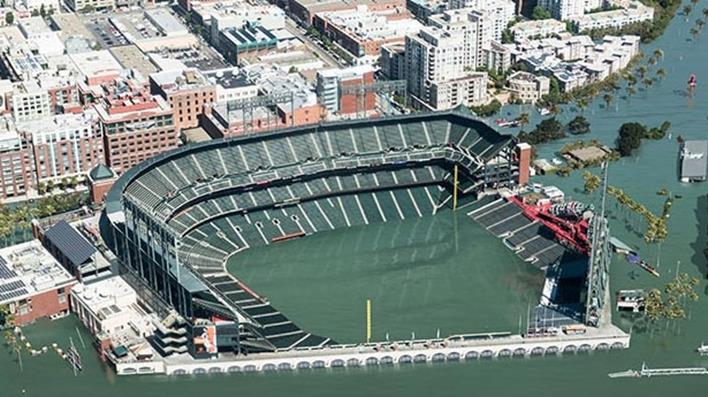 Maybe we could have Olympic swimming at the ballpark.

By Tim Redmond

MAY 15, 2014 — The news about the Antarctic glaciers is all over the world. There's a new set of pictures out that shows what San Francisco would look like with the mid-range estimates of sea-level rise. I wonder why this isn't part of every city planning discussion, particularly around the waterfront.
But you also have to wonder: What is the city that once prided itself on environmental leadership doing?
Well, the Board of Supervisors voted unanimously this week to study ways to join Marin Clean Energy, a program that has been successful in offering consumers higher levels of renewable energy than anything Pacific Gas and Electric Co. can even begin to consider. I asked Mayor Lee what he thought about that idea, and he was remarkably uninterested.
"I will take a look at that," he told reporters outside the board meeting. But he kept coming back to whether the project would create new jobs.
Well, CleanPowerSF, which he summarily shot down, would have done that; the idea was to generate enough revenue to start creating locally owned renewable energy sources. The main opposition was PG&E.
So how, the mayor was asked, can the city meet the ambitious clean-energy and climate-change goals adopted by former Mayor Gavin Newsom without either CleanPowerSF or another similar option? "CleanPowerSF had no connection to green jobs," the mayor said.
Wait: Newsom set as city policy to reach 100 percent clean power by 2020. Is Lee backing away from that? "We try to accomplish all the goals," he said. "I would like to get us off fossil fuels … alternative energy approaches should create green jobs."
So, he was pressed, has your relationship with PG&E had anything to do with your opposition to CleanPowerSF?
"My relationship with PG&E is like any other company in the city," he said. "I value them as a local corporation."
Yes, PG&E is a local corporation. It's also done very little to meet even the state's weak renewable energy goals. And there's no way the city is going to get to a renewable future if PG&E is controlling the energy agenda. That's not even a debatable question.
Still, the mayor has nothing critical to say about PG&E, no suggestions for meeting his predecessor's goals. I can suggest a lot of jobs that will be coming to San Francisco if we stay on this path: We'll need swimming instructors.
By the way: When Assemblymember Tom Ammiano started his efforts to reform Prop. 13, one of his big allies was the mayor of Los Angeles. Now that the bill has strong support, Ammiano told me he still hasn't heard from the mayor of San Francisco. What, Ed Lee doesn't support Prop. 13 reform? His press office hasn't gotten back to me.
I wasn't at the Sharing Economy event yesterday, so I'm glad my former colleague Steve Jones went and saw Ron Conway and David Chiu have a love-fest over Chiu's Airbnb legislation. Conway insisted that the Chiu bill, which would legalize Airbnb's model in San Francisco with some restrictions, had national implications:
"This legislation by David Chiu is crucial, legislation the whole country will be watching," Conway said. "David Chiu needs your help. This would not pass if it came to a vote today."
And Chiu, of course, took the chance to go after progressives in the city who are fighting the displacement caused by an influx of tech workers at a time when the city lacks the housing to handle more than 20,000 new arrivals, many of whom make more money that the people who were already here. He's turned that into a "war on tech workers:"
"They are calling for a war on you, even though they don't realize you are addressing our income inequality," Chiu said.
That's one of the more astonishing statements I've read in years: the tech workers are "addressing our income inequality?" Um, no, they're not. The way to address income inequality is through taxation and investment in things like housing and education. The same tech folks who Chiu is lauding are attacking Campos for opposing the Twitter tax break – a deal that even some of the beneficiaries now admit they didn't, and don't, really need.
And Chiu's legislation would not require Airbnb to pay its back taxes to the city.
There are other ways of looking at the Sharing Economy, too: Kevin Roose, writing in New York Magazine, notes that a lot of the popularity of these new economic models are based on desperation, on the sluggishness of the existing economy, on the fact that (as I am repeatedly told) many San Franciscans have to rent out rooms in their homes through Airbnb just to cover the rent or mortgage:
A huge precondition for the sharing economy has been a depressed labor market, in which lots of people are trying to fill holes in their income by monetizing their stuff and their labor in creative ways. In many cases, people join the sharing economy because they've recently lost a full-time job and are piecing together income from several part-time gigs to replace it. In a few cases, it's because the pricing structure of the sharing economy made their old jobs less profitable. (Like full-time taxi drivers who have switched to Lyft or Uber.) In almost every case, what compels people to open up their homes and cars to complete strangers is money, not trust.
…
A narrative about labor-market weakness isn't as uplifting as one about strangers learning to trust enough other with the help of ride-sharing apps. But it's a necessary piece of the puzzle. Tools that help people trust in the kindness of strangers might be the thing pushing hesitant sharing-economy participants over the threshold to adoption. But what's getting them to the threshold in the first place is a damaged economy, and harmful public policy that has forced millions of people to look to odd jobs for sustenance.
But of course, we all love disruption. As long as we're young and healthy and don't have kids to worry about.