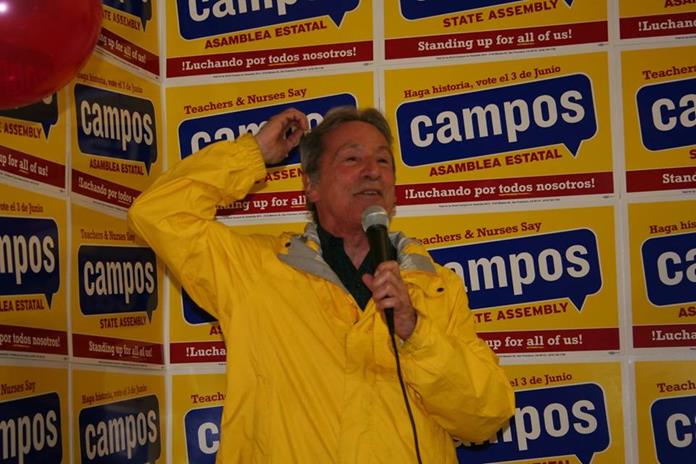 Tom Ammiano has pretty much everyone behind his tax-refrom bill – except Ed Lee.

By Tim Redmond

The mayor of Los Angeles, Gil Garcetti, is endorsing Assemblymember Tom Ammiano's bill to reform Prop. 13. The mayor of Oakland, Jean, Quan, called Ammiano to express her support and is lobbying for the bill. It's likely other big-city mayors up and down the state will do the same thing.
The unusual coalition that got behind the bill was enough to make lead-story, front-page news in the Chronicle. There are business groups supporting it, taxpayer groups supporting it, tax-reform groups supporting it … it's hard to remember when such a diverse coalition has come together around a Prop. 13-related bill.
And yet, still no word from San Francisco Mayor Ed Lee.
He's been approached, Ammiano told me. Several emissaries have talked to him about the bill. And the most I can get, from his press secretary, Christine Falvey, is that "the mayor has not taken a position on the bill."
Seriously? "I mean, there are productive discussions with the Republican mayor of San Diego to support this," Ammiano told me. "I don't see what the issue is with the mayor of San Francisco."
We are not prone to wild speculation here at 48hills, but this is bizarre and there's only one possibility that I can think of. The poster boy for this change is one Michael Dell, a darling of Silicon Valley, who used the loophole Ammiano wants to close to avoid paying property taxes on a hotel in Santa Monica. Dell is pals with Marc Benioff, who hangs with the mayor and his ally Ron Conway. Is there some sort of tech-bro thing going on here?
Are the local tech billionaires showing solidarity by not supporting what the LA Times suggested we should call "Michael's Law?" If that's the case, then it would be clear why the mayor, who seems to do whatever the tech industry wants, would be so hesitant.
The California Chamber of Commerce is supporting the Ammiano Bill. So is the California Business Roundtable. But Carlos Acala, Ammiano's press aide, told me that there's been little word from the tech community one way or the other.
Of course, a lot of what tech does these days is buy and sell companies, some of which have property, and this could amount to some higher taxes – but really, in the scope of things, it wouldn't be a huge impact.
Maybe I'm out of my mind. I emailed Conway to see if he has an issue with the bill; maybe he'll tell me, but so far he hasn't. Maybe the mayor just thinks the current situation is fine, and big investors should be able to cheat cities out of money through a loophole even the Howard Jarvis Taxpayers Association thinks is a problem. Maybe he doesn't care one way or the other.
I dunno. Somebody offer me a better idea.
In the meantime, the bill just clear Assembly appropriations, and the SF delegation is all behind it, so Ammiano doesn't really need Lee's support. But still. Seriously.
Meanwhile, just so we know how our tech lords feel about the rest of us, Facebook will be paying no federal income taxes at all for 2012 and instead will get a tax "refund" of almost half a billion dollars. Translation: You, me, and the rest of the working stiffs who make up the American taxpayer are subsidizing a company that had more than $1 billion in profits. Apple, of course, cheats the US government out of billions every year. I suppose we should be glad Twitter only got a modest multi-million-dollar tax break.
The campaign finance documents are in for Yes and No on Prop. B, and the real news here is that the No side has decided to mount a campaign.
For much of the spring, it appeared as if the big players on the waterfront – the Warriors, the Giants, and Forest City – were all going to take a pass. The thing was way ahead in the polls; they all knew they would need voter approval for their megaprojects anyway. Then the Warriors found a better site, and didn't need to worry about Prop. B anyway.
Now the documents show that the real-estate industry is putting up the money for phone-banking and probably some last-minute direct mail. The committee has raised more than $70,000, most of it from eight groups that have financial interests in future development. The California Association of Realtors gave $20,000, the Building Owners and Managers Association gave $10,000, the Chamber of Commerce gave $10,000, the Laborer's Union gave $10,000 … you get the point.
If the polls showed this was hopeless, the real-estate money might not be flooding in.
Like so many campaigns, the No on B folks have a message that's long on spin. The phone-bankers are telling people that the measure would allow developers to avoid environmental review for big projects. Actually, that's not part of the measure, which is pretty simple (read it here). It says the city can't allow any development that would increase height limits on Port property unless the voters have approved it. That's it.
Now: A developer could do what Simon Snellgrove tried to do with 8 Washington, and simply put the entire project on the ballot. If that were done before the city had done any environmental review, and if that initiative included exemptions from affordable housing rules and other city levies, it might allow a bad project to happen outside of the normal process. That would be dangerous. And that measure would almost certainly lose.
What's more likely is that developers will try (as C.W. Nevius argues here) to cut backroom deals with the backers of Prop. B, leaving the likes of Art Agnos and Jon Golinger as the real powers over the waterfront. The thing is, that's now how it works on the San Francisco left. Agnos can cut all the deals he wants — he cut one with the Giants, and one for Mission Bay, when he was mayor, and progressives disagreed with him, and voted them down. Now he's not even mayor. If he cuts a bad deal, it's not as if the famously fractious local environmental and land-use movement is all going line up like ducks and blindly do what he says. For better or for worse, nobody has that sort of clout on the left right now, and I'm not sure anyone ever did.
There are too many activist groups, none of whom trust anyone in authority, for that sort of thing to work.
If the developers do spend a lot of time on community outreach, and offer the affordable housing, environmental, bicycle, Muni, and other advocates a project that makes sense, then it's going to have a chance at the ballot.