Great local art openings and happenings April 14-20, from poignant reflections to junk food love affairs.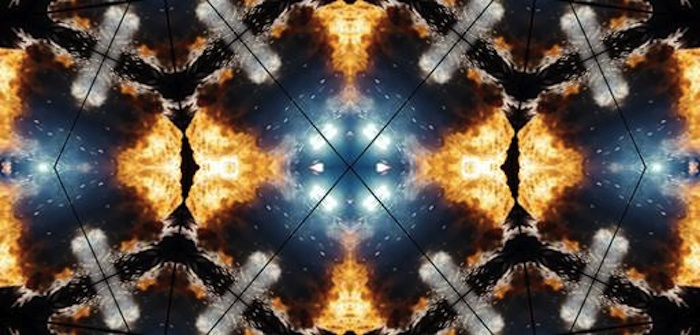 By Marke B. 
ART LOOKS There's so much going on in the Bay Area visual art, performance, and general-awesome-stuff scene, that I'm starting this occasional column to help bring more of it to your attention. Plus. Lobot Gallery and Studio 17 need our help. Get out there and support local artists! (You might even get some wine out of it.)
>>SANAZ MAZINANI, THRESHOLD, OPENING THU/16
The Iranian-born local artist uses fractured mirror-like installations and kaleidoscopic video sampling to provoke questions about how we experience the representation of violence and war in popular culture. Her latest video, Threshold, "mirrors, couples and multiplies explosive sequences from 11 Hollywood action movies, creating dazzling kaleidoscopic patterns. It is shown in an elaborately fabricated installation that draws on geometries of Islamic architectural ornamentation, corresponding to the shapes and contours presented on-screen. The walls are lined with mirrored laser-cut panels inspired by architectural details observed during the artist's visits to her birthplace of Iran. Visitors will hear a music composition created by Toronto-based multi-disciplinary artist, Mani Mazinani, produced in response to the video work."
Threshold is on view at the Asian Art Museum through May 3. For Thursday's special program and reception, Mazinani has invited contemporary dancer Bobbi Jene Smith to respond to the installation with live movement.
Thu/16, 6pm-9pm, Free with museum admission ($5 after 5pm). More information here. 
>>CITIZEN KINO, "THE BITMAKER'S AFTERLIFE," THU/16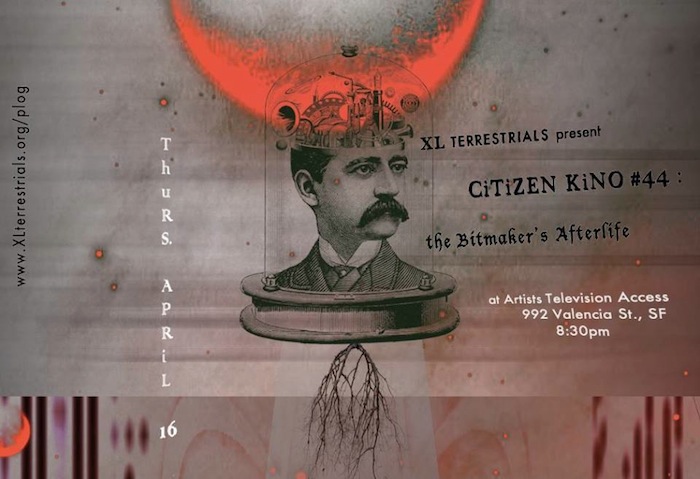 Coming to us from Berlin, this very popular nomadic event series (now on its 44th installment) is "is a hybrid of film, internet, theater, hacker culture, happening and public forum." It's also poignantly speculative (in the good sense of the word) about the Web-made works we're living in. "Each program is an interactive and tactical media performance, a live mix cinema, with variable outcomes. Media clips, video, film arts and animations are collected as a flexible playlist to navigate current situations, to analyze various topics, and to inspire collective engagement and debates."
Join the CiTiZEN KiNO crew to "explore a landscape shaped by Neo-Liberal and Neo-Libertarian Gentrification, Silicon Valley's Technotopian pre-Occupations, and the endgame of The Anthropocene, that slightly awkward concept that we have now departed from the natural world, and are entering the 100% corporate agro-male-dominated Epoch, which replicates a disembodied user-progeny of Zuckerborgs, Googleplexed, Amazonbrood and i-Wombs." Sounds pretty rad.
Thu/16, 8:30pm, Artists Television Access. More information here. 
>>HUMAN RIGHTS COMMISSION, "LIVING IN AN UNFINISHED AMERICA," ONGOING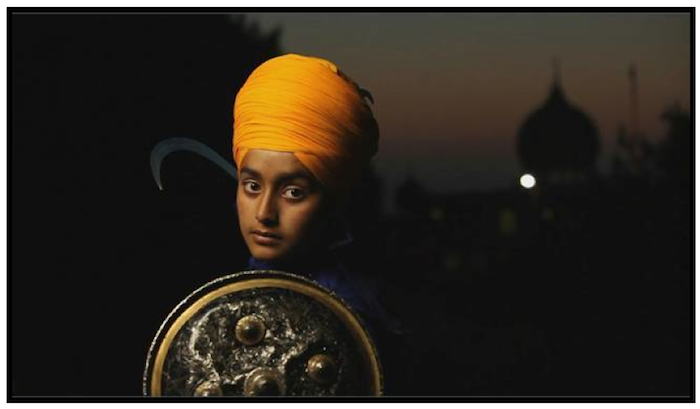 This latest Photovoice show (and book) from the Human Rights Commission at City Hall highlights "Shared Experiences of Discrimination and Resilience by Arab, Muslim, and Sikh Americans." A moving series of portraits and photos both poignant and mundane, artistic and seemingly random, each picture is captioned with a story from a person who has felt a sense of heightened alertness about who they are in post-9/11 America.
"This project brings together ten participants from diverse communities and shares their personal storiesabout Islamophobiaandanti-Arab prejudice. The participants come from a wide range of backgrounds (age, race/ethnicity, religion, and language), but here they demonstrate what they share? resilience, strength, and a sense of common values.
"This project provides a forum for community participants to examine their lives and communicate their reflections through photographic images and narrative. Together, they serve to document challenges they have faced and the strengths they have drawn upon in their day-to-day lives. From the novice camera user to the more experienced photographer, all participants were able to use photography as a tool for both individual and collective expression.
Ongoing, San Francisco City Hall. More info here.  
>>YBCA, "YOUNG ARTIST LABORATORY, VOLUME 1: EMERGENT (ECO)NOMY," FRI/17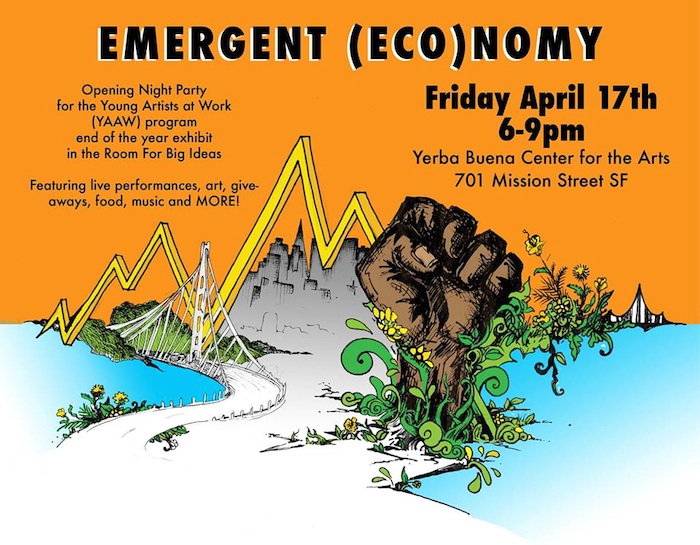 I love the spirit, support, and diversity of YBCA's great Young Artists at Work program, and this time it's cooked up something really timely and special:
"Yerba Buena Center for the Arts' Young Artists at Work Program presents the first ever Young Artist Laboratory, Emergent (Eco)nomy , a youth-created performance installation and exhibition that looks critically at how various social justice issues are connected to the economy of consumption and begins to theorize strategies for intervention, change, and liberation.
"The visionary local youth Artist-Activists of the Young Artists at Work program have spent the past year examining and discovering how the structure of 'economy,' defined as a system of trade and consumption by agents or individuals, systematically intersects with the most important issues of our time."
Opening party Fri/17, 6pm-9pm. YBCA, SF. More info here.
>>COMFORT & JOY, "QUEERICULUM," SAT/18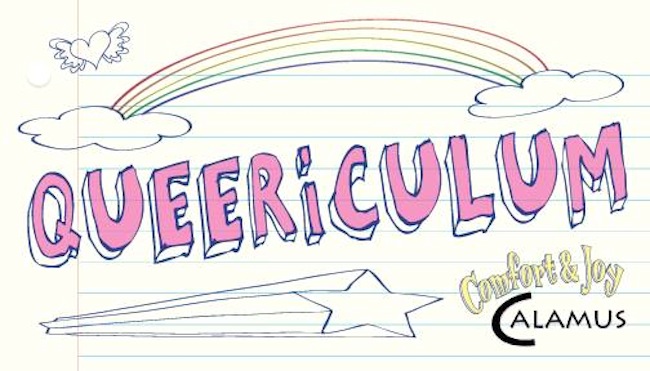 Every year, our very own pagan Radical Faeries from the Comfort and Joy organization put on a grand, all-day seminar designed to pass on knowledge and support in a way that only Radical Faeries can. This time their teaming up with the Calamus and DiddDeep orgs to feature:
– A fun, educational, homocentric urban retreat
– A day of academic, physical, artistic, sex-positive, community building playshops
– Afternoon craft party
– An optional communal dinner with talented performances
– Fresh Touch afterparty (at a different venue)
And yes, there is a class called "Tickle your Spirit Pussy." Here's the wonder of San Francisco, in a glittering nutshell.
Sat/18, 11am. $25. 548 Fillmore, SF. More info here.
>> STUDIO 17, OPEN STUDIOS FUNDRAISER, FRI/17-SUN/19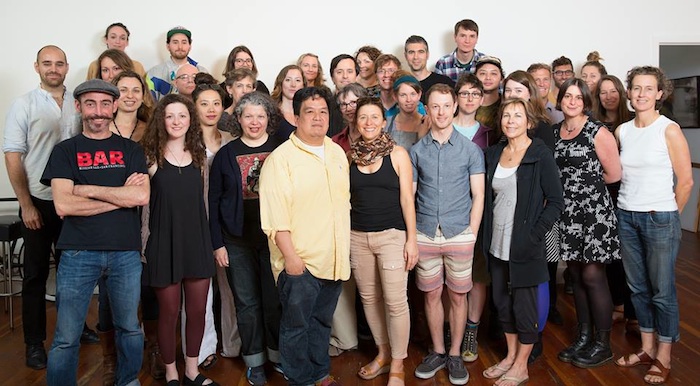 "We are 70 plus artists at Studio 17, and we are facing imminent Displacement in June of 2015. San Francisco is our home and we, like so many people who have lived and worked here for years and years, do not want to be pushed out. We would like to consider ourselves as an intrical part of the fabric of this town. Artists studio spaces have been here for 12 years and we have enjoyed occupying this beautiful space on the 4th floor above Thrift Town at the corner of 17th and Mission. We are looking for ways to maintain our community and to have enough time to relocate."
One of those strategies is to hold a grand open studios event, wherein all the artists ell money to help figure it all out. Smart!
Fri/17 opening reception, 6pm-9pm. Sat/18-Sun/19, open studios noon-6pm. Studio 17, SF. More info here.
>>LOBOT GALLERY, "(HOPEFULLY) NOT OUR LAST SHOW EVER!!!,"  SAT/18
Oh noes! There goes another one? Looks like even West Oakland is really feeling the pinch. "As one of the oldest and largest spaces of its kind to survive in the Bay Area, LoBot is increasingly facing financial pressure commensurate with the local real estate market. Please help us fundraise and save our space by coming out to what we hope will not be our last show ever!"
Artists included in a community art sale to help raise funds: Alison Kreitzberg, Amy Berkowitz, Ari Bird, Beja Alisheva, Brianna Tadeo, Danielle O'Malley, Jeffrey Cheung, Katie Wheeler-Dubin, Kiyomi Tanouye, Laurel Maha, Maren Preston, Max Nordie, Rachel Edelstein, Raphael Villet, Riley Pile, Robin Weinert, Ryan L. Rocha, Soph T., Whitney Romberg and more. Musical performers: Religious Girls, Meat Market, Wizard Apprentice, Pink Slime, Spit Tips.
Sat/18, 2pm-6pm, Lobot Gallery. More info here. 
>>CHLOE GRIFFIN, EDGEWISE: A PICTURE OF COOKIE MUELLER, MON/20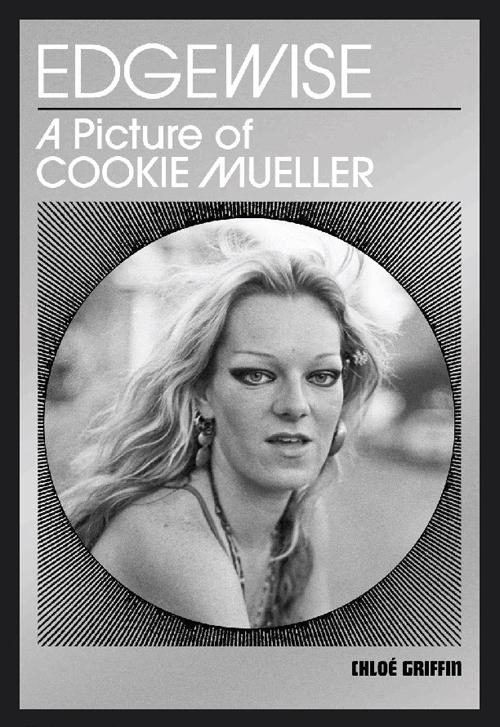 Cookie Mueller, a great writer probably most famous for her roles in John Waters films and association with Andy Warhol, was a true  hero and my spirit animal. A new book by Chloe Griffin looks at her life and situates her in the counterculture:
"Cookie Mueller was a firecracker, a cult figure, a wild child, a writer, a go-go dancer, a mother and a queer icon. A child of suburban 1950s Maryland, she made her name as an actress in John Waters's films, including Pink Flamingos and Female Trouble, and then as an art critic for Details magazine and a columnist for the East Village Eye, gaining a reputation as a writer of hilarious stories and a maven of New York's downtown art world. Although she died from AIDS in 1989, Cookie's notoriety and impact have grown in recent years. She has become a counter-culture icon."
Come to the book party, put on with Green Arcade bookstore at Hayes Valley's MAC Clothing Store, and get cookies and cocktails! Plus, a reading.
Mon/20, 7pm, Modern Appeal Clothing. More info here.
>>BLAKE CEDRIC, "LIFE IN THE FAST FOOD LANE," MON/20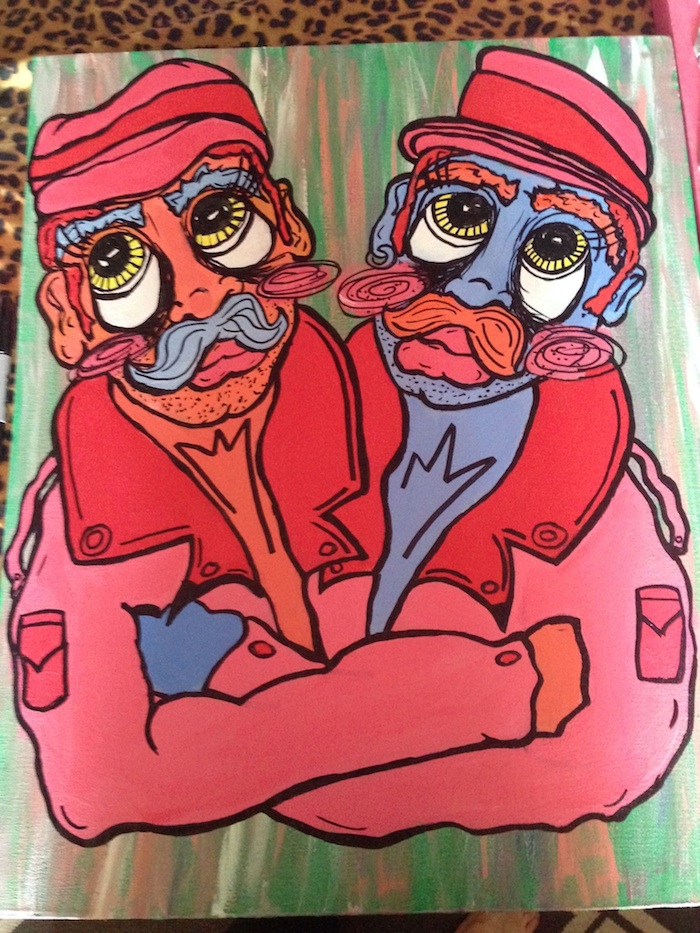 Lively nightclub mainstay Blake Cedric has a few well-defined obsessions, fast food definitely among them. (The opening date of his new show, 4/20, holds some clue to another.) I can't wait to see how he expresses his mystical relationship to junk food in his art — and of course there's a party afterward. Here's his description: "A 420 multi-sensory experience through time, space, and beyond, dude. Cedrics of Hollywood presents a magical night of whimsical tomfoolery and cream puff madness. Welcome to a world where the rivers are made of queso dip and the mountains are made of peanut butter Cap'n Crunch. Hello Kitty is the president and the national anthem is "soak up the sun" by our first lady Sheryl Crow. A world where it's ok if you don't have a car and you wanna walk thru the drive thru, and you'll never get yelled at for bringing your own Tupperware to Sizzler.
"You'll never have to pay .25 cents for an extra side of ranch and its always free cone day at Ben & Jerry's."
Mon/20, art show and auction 7pm -9pm, then a "4/20 rave," 9pm-2am. Underground SF. More information here.