Bay Area Brew Fest, L7, Erykah Badu, Ukrainian Festival, Ballet Flamenco, Red Hots Burlesque, Marc & the Casuals, and more essential events.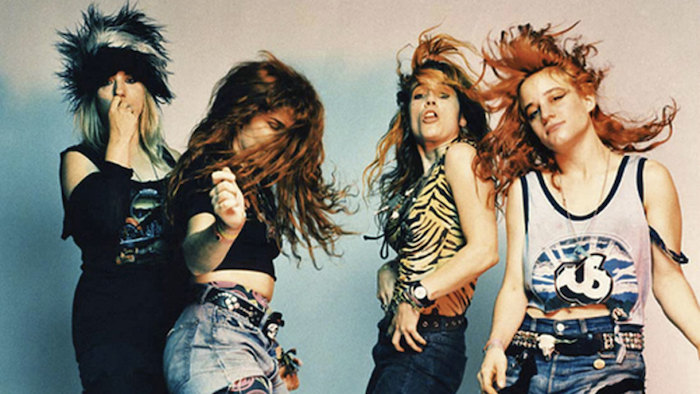 By Marke B.
BIG WEEK Fantastic art, of course, doesn't always take up wall-space in the galleries. We're a city of murals and street art, after all,  despite the tide of gentrification often sweeping the sources of those away.
From renegade yarn bombs and weirdo sidewalk stencils to Clarion Alley's technicolor splashes and Andy Goldsworthy's stealth takeover of the Presidio, there's still an endless array of expression everywhere you look.
If you can drag your eyes away from the wannabe-chic boutiques, artisan snack shops, and high-end taquerias on Valencia Street, you may even bear witness to "The Unsilenced Future Woman of Tomorrow":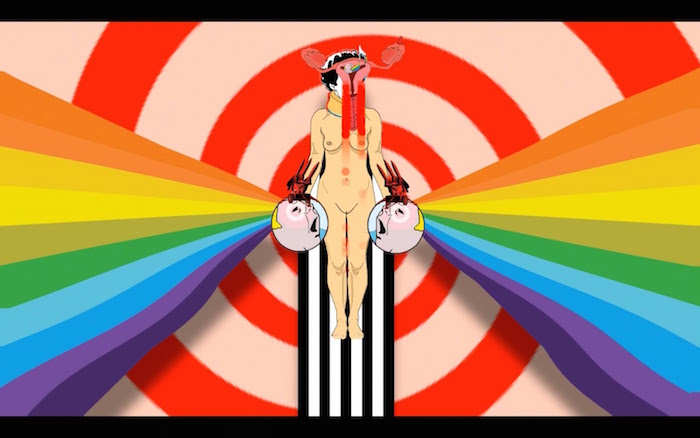 A hypnotic, rainbow-flowing, ever-evolving four-minute "ginanimation" meant to "stimulate sexually-forward people" and project womanhood into an unfettered future, the exhibit, but wonderful artist Katie Bush,  is visible outside at nighttime in the right window of the Artist's Television Access building, rightly called the Right Window gallery.
The piece is up through August 31, a rare outdoor animation that takes on heady themes while dazzling the eye. Go see it, and see what other bright pockets of art you come across along the way.
Oh! And here's "Burning Man: the Musical":
Don't ask. Let's just bid everyone headed to Black Rock City a fond adieu. The city is ours!

>>>>> WEDNESDAY, AUGUST 26 <<<<<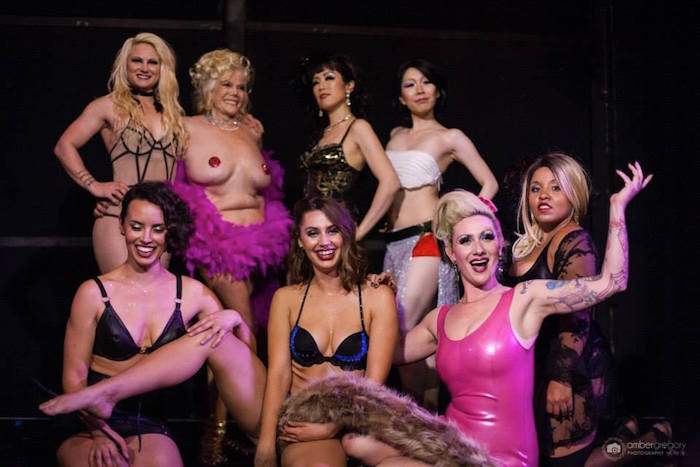 >>> RED HOTS BURLESQUE Hearing rave reviews from this weekly titillation hoedown from one of our most beloved burlesque troops — fantastic acrobatics, old-time skits, eye-popping costumes, and of course a striptease that will have you standing at attention. Grab your ostrich feather boa and check it out. Wednesdays, 7pm-10pm, $10-$20. Beatbox, SF. Tickets and more info here. 
>>> MSTRKRFT Rave! Rave like the wind! One of the classic late-00's hardcore electro act is back from Toronto, trailing sharp glamor, abrasive filters, great t-shirts, and lots of pre-EDM crashes and swooshes. if you don't know what any of that means, think loud, bananas, heavy-metal-electronic. With MPHD and Eli Glad. Wed/26, 9pm, $25. Mezzanine, SF. Tickets and more info here.
>>>>> THURSDAY, AUGUST 27 <<<<<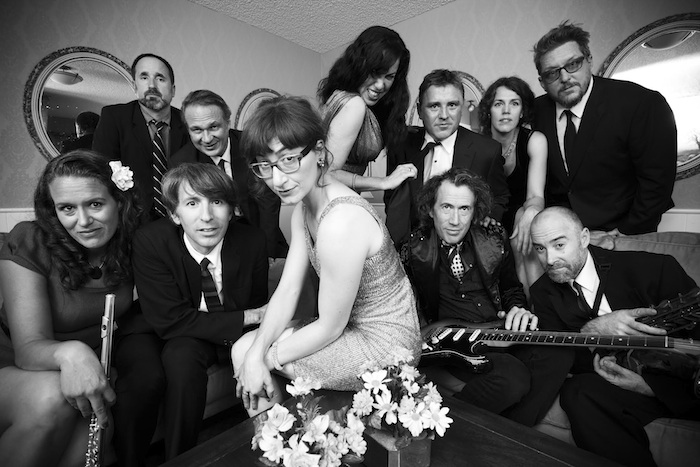 >>> MARC & THE CASUALS After the uplifting triumph of their grand Springtime Soul Revue, the jazzy live ensemble is back at the Chapel to pack 'em to the rafters with sweet tunes and sweat-busting classic soul sounds. Special opening guests the Donkeys plus Jason Morgan, Adrianne A DeLanda, Greg Loiacono, RonKat Spearman and more keep things lively. Thu/27, 8pm, $18-$20. The Chapel, SF. Tickets and more info here.
>>> ALTERED REALITIES: INSIDE THE MIND'S EYE "A night of 16mm films from a variety of genres including animation, documentary and scare films that document and induce alternate states of consciousness. From past life hypnotherapy to a 60s LSD trip to the melting mind of a schizophrenic; this is one night that will have you out of your mind." Wowzers. Thu/27, 8pm, $20. Oddball Films, SF. More info here. 
>>> NORTH BEACH BRASS BAND Big band sound from these talented players, with a bit of funky soul and sassy jazz. Featuring band leader Ed Ivey and his nine-piece lineup of sax, trumpet, trombone, tuba, drums, piano and guitar, with Glide Church's Emma Jean Foster on vocals. Superb! Thu/27, 7pm, $15. Biscuits & Blues, SF. Tickets and more info here. 
>>"IDEASTHESIA" This sounds pretty intriguing, in a fragrant sense:"In this special pop-up exhibition, San Francisco artist Owen Brown explores the complexity of perception with a multisensory installation that combines interactive visual projections with fragrances by local perfume maker MIKMOI and a daily sound collage by poet Emily Wolahan." Thu/27, 5pm-8pm, free. SOMArts, SF. More info here.


>>>>> FRIDAY, AUGUST 28 <<<<<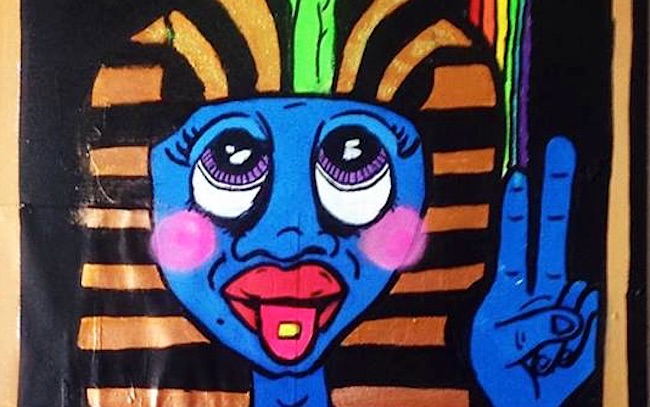 >>> "MS. FORTUNES: NEW WORKS BY BLAKE CEDRIC" Cult artist and omnipresent club denizen Blake Cedric takes on the occult in his latest show and party, which brings his awesome stoner/fast food aesthetic to the Tarot deck. It is, of course, an all-evening dance affair, with DJs Primo, Ms. Pop, and Siobhan Aluvalot. Fri/28, 7pm, free. Underground SF. More info here. 
>>> L7 The legendary all-female punk band from the '80s (who were a bit unfairly lumped in with Seattle's grunge movement, but it at least brought them a huge audience) still thrash like nobody's business. You know there's gonna be some classic SF rockers in the crowd for this one. Fri/28, 8pm, $27.50-$30. Regency Ballroom, SF. Tickets and more info here. 
>>> JAZZ VOICES OF POETRY Incredible singers Clairdee and Nicolas Beard will bring their jazz vocal skills to bear on the works of contemporary and classic poets, for an evening of creative cross-pollination. Fri/28, 7:30pm, $20. Community Music Center, SF. Tickets and more info here. 
>>>>> SATURDAY, AUGUST 29 <<<<<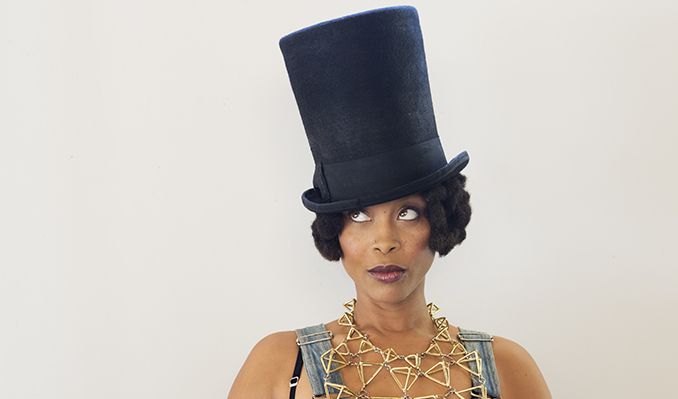 >>> ERYKAH BADU You better watch out when Ms. Badu is in town! All kinds of musical voodoo and cosmic vibes will be emanating from the Warfield, as the queen of the nu-soul movement takes over the stage with regal humor and all around great sounds. Sat/29, 7pm, $57.50. The Warfield, SF. Tickets and more info here. 
>>> BAY AREA BREW FEST This one will attract thousands, but with enormous venue Pier 70 on its side, they year's Brew fest might not be such a tight squeeze (and hopefully the amateur level will be lower than at Fort Mason.)  Tons of tastings, entertainment, food, etc. Sat/29, 1pm, $40. Pier 70, SF. Tickets and more info here. 
>>CAROLINA LUGO & CAROLÉ ACUÑA'S BALLET FLAMENCO Freaks for flamenco (present!) rejoice: Mother-daught team Carolina Lugo and Carolé Acuña bring their fiery, sensual Ballet Flamenco to Peña Pachamama for a 10-week residency, with a full company of dancers and singers. If you've never caught Flamenco fever (or you just need a good dose of sunny Spanish passion), here's your chance. Sat/29, 6pm, $16-$21. Peña Pachamama, SF. Tickets and more info here. 
>>>>> SUNDAY, AUGUST 30 <<<<<
>>> THE CROWD For me, not much tops a silent movie on a Sunday evening (or a Saturday morning, for that matter). So how about one of the greatest, if not the greatest, ever made? King Vidor's The Crowd is a modernist masterpiece that took its cues from the European avant-garde while showing America in all its abstract and practical glory. There isn't much of a plot, per se, more an overwhelming accumulation of fantastic scenes that somehow keep you riveted. Plus: You get the mighty Bruce Loeb on the Mighty Wurlitzer as live musical accompaniment! heaven. Sun/30, 7pm, $10-$12. Castro Theater, SF. Tickets and more info here. 
>>> UKRAINIAN DANCE FESTIVAL The Golden Gate Park Band is one of SF's true treasures — now more than 100 years old, and sometimes a wee bit shaky on the notes, it nevertheless delights the crowd at the Golden Gate Park bandshell every Sunday. This Sunday in particular will be especially colorful — it's Ukranian Day! Music, dancing, and martial arts demonstrations are promised in a celebration of all things Ukraine. Sun/30, 1pm, free. Golden Gate Park Bandshell, SF. More info here. 
>>> SHAKESPEARE IN THE PARK: ROMEO AND JULIET Wherefore art Romeo? He's all up in the Presidio with his bae, Juliet — as the SF Shakespeare Festival brings its lively production (the first of the play since 1992) to the parade grounds. "While the doomed lovers will always be remembered for their romantic devotion, this tale of five young lives needlessly wasted could have come straight from today's Twitter or Facebook feeds." Could you imagine Shakespeare's Instagram? Sun/30 (also Sat/29), 2pm, free. Presidio Main Post Parade Grounds Lawn, SF. More info here.
>>>>> MONDAY, AUGUST 31 <<<<<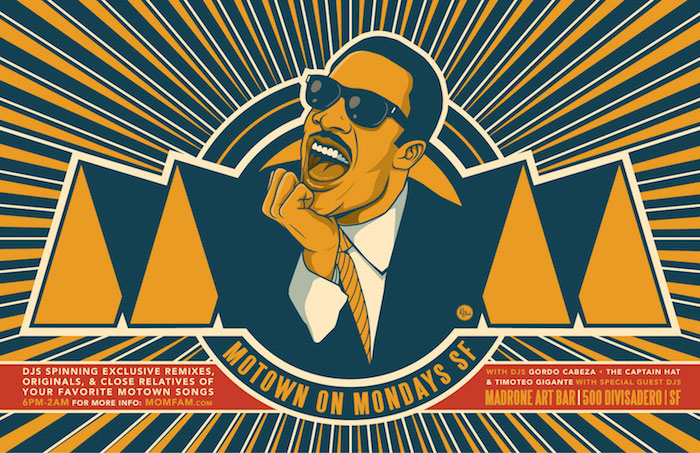 >>> MOTOWN ON MONDAYS One of the absolute best weekly parties in the city — very chill and very dance-y. (And so successful it's now spawned Motown on Mondays nights nationwide.) Get down to Motown sounds from DJs Gordo Cabeza, Timoteo Gigante, The Captain, and weekly guests. Mon/31 and every Monday, 6pm-2am, $3 after 9pm. Madrone Art Bar, SF. More info here. 
>>> ROBINSON AND UNA JEFFERS: A LIFE IN LETTERS One of California's most influential poets, an excellent delineator of the state's rugged outlines and native spirit, Robinson Jeffers also shared his feelings in a passionate letters to his wife, Una. Jeffers scholar James Karman will provide an engaging overview of the 1,000 page edition of these letters, and talk about both of their creative lives. Mon/31, 5-7pm, free. Book Club of California, SF. More info here. 
>>>>> TUESDAY, SEPTEMBER 1 <<<<<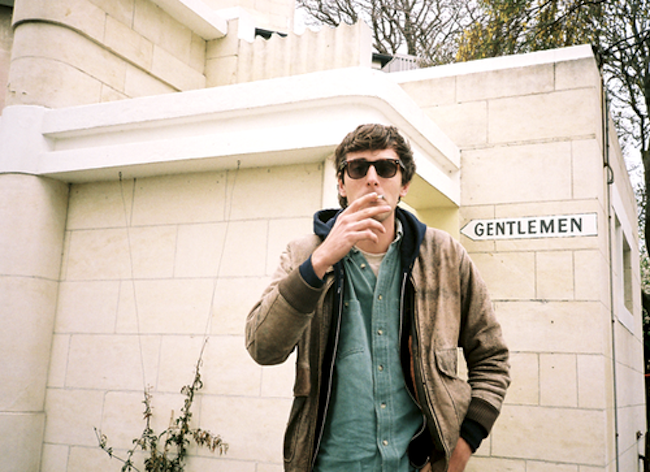 >>> DUCKTAILS The abstractly goofy, emotionally intelligent lo-fi band that captvated people in the early 2010s is more and more a solo entity, with leader Matt Mondanile aiming for more ecstatic pop these days. Easy-going, but still stirring up some troubled waters. Tue/1, 8pm, $15. the Chapel, SF. Tickets and more info here.
>>> FREE MUSEUM DAY Hey residents! Come explore the de Young, Contemporary Jewish Museum, Cartoon Art Museum, Legion of Honor, YBCA, and more — here's a list of museum free days, most of them on Tuesday.