VisionSF seeks to bring volunteers out for the key housing measure on the November ballot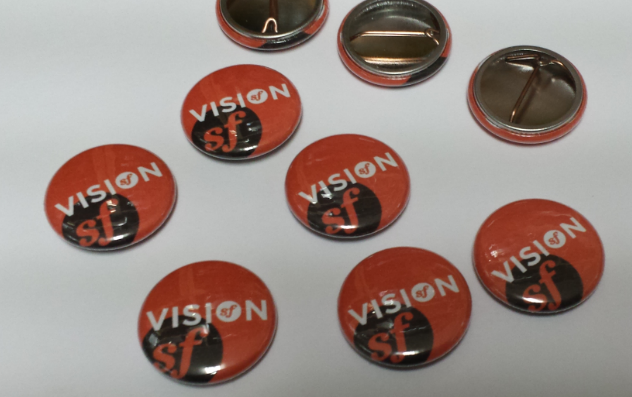 By Tim Redmond
OCTOBER 3, 2015 – A new political group with roots in both arts and activism launches Saturday afternoon with a rally at Brava Theater on 24th Street aimed at getting volunteers for five November ballot initiatives that seek to change the city's housing policies.
VisionSF was founded by a group of San Franciscans, led by author David Talbot, who were frustrated by the direction the city is going. From the group's opening statement:
We are San Franciscans who don't always agree on politics – but we are deeply concerned about the future of our city.

The San Francisco we love, the city and community we helped build over many decades, is being destroyed. The creative and diverse people who have made this one of the world's great cities are being driven out by a housing crisis created by the worst city planning decisions we have ever seen. City Hall is increasingly dominated by a small number of very rich people who seem to have no connection to the heart of the city. The city has been handed over to forces of uncontrolled greed and expansion that have little or no concern for the city's demographic mix or its world-renowned aesthetic beauty and cultural heritage.
The group's steering committee includes Talbot, former City Attorney Louise Renne, former Supervisor Christina Olague, housing activist Calvin Welch, writer and community activist Julie Levak-Madding, of VanishingSF, and Gordon Chinn, former director of the Chinatown Community Development Center.
The event Saturday is designed to get people involved in the initiatives that Olague says collectively represent a step toward solving the housing and displacement crisis.
"We are often accused of opposing things, but progressives want to promote a better vision for the city," she told me.
It's not just speeches and politics; the event will feature music and video and comedy. Among the speakers and presenters:
Former Assemblymember (and comedian) Tom Ammiano; Sara Shortt, director of the Housing Rights Committee; Sup David Campos; and activist Cleve Jones.
Entertainment will include singer-songwriter Thomas Heyman, the Pangea Futbol Club,
and comedian Mike Evans. Filmmakers Joe Talbot and Jimmie Fails will preview "The Last Black Man in San Francisco," and Christina Pelosi will show a trailer from her sister Alexandra's documentary "San Francisco 2.0"
But the main idea is to generate energy for the fall election, particularly for Props. A, F, I, J and K.
Here's the rundown on what those are:
Proposition A is a $310 million housing bond that has pretty much universal support at City Hall. It would provide money to rebuild dilapidated public housing and to construct new units at all levels of affordability. Nobody thinks this is the entire answer to the crisis, but it's the first housing bond in some 20 years and it's hard to find anyone who thinks it isn't long overdue. The way the bond is set up, it won't raise property taxes.
Proposition F would increase regulations on short-term Airbnb-style rentals. It would fill the gaping holes in the existing law, written by former Sup. David Chiu with the help of Airbnb's lobbyists. The current law limits the number of nights a unit can be rented and mandates that only the owner of a place (or a tenant) can rent out his or her own space – in other words, a landlord can't buy a building, evict all the tenants, and turn it entirely into an Airbnb hotel. But even the City Planning Department admits there's no way to enforce that law. The rules require every owner to register his or her unit – but of the 6,000 or so places on the Airbnb market every night, only about 10 percent bothered to register. So there's no way to track whether the hosts are following the law.
Prop. F would bar hosting platforms like Airbnb and VRBO from listing any units that don't have city registration numbers. That means the platforms – in the case of Airbnb, a multibillion-dollar company – would have to take some responsibility for making sure that they and their hosts are following the law.
Proposition I would put an 18-month moratorium on new market-rate housing in the Mission District and would block any project that demolishes light-industrial space, currently known by planners as Production, Distribution, and Repair (or PDR). It would also mandate that the Planning Commission and the Board of Supervisors come up with a Neighborhood Stabilization Plan to prevent further displacement in a part of town that has been ravaged by the tech boom.
It's not unusual for the city to designate certain neighborhoods for a temporary moratorium, and the supes voted 7-4 in favor of this plan. But that type of zoning control requires eight votes, to the proposal fell short – and community activists managed to gather enough signatures in a very short period of time to put it on the ballot.
Proposition J is an effort to preserve and save small businesses and nonprofits that have been around for decades – many of which are now facing displacement as landlords seek to rent space to higher-end users that serve the new technorati. Prop. J would give modest grants to small business that have been in San Francisco for more than 30 years and would give landlords a subsidy if they give long-term leases to those businesses and nonprofits.
Proposition K is a measure that would make affordable housing a priority when the city decides what to do with surplus land. San Francisco owns a lot of property, and some of it is underused. The measure ensures that any land the city isn't using gets set aside for what right now is the absolute number one need: Housing for the people who work in this city.
The event starts at 2:30.