Market based "solutions" to our housing affordability crisis come and go like spring fashions; only the crisis persists.
Eight years ago, it was removing maximum density requirements from newly rezoned areas of the Soma, Mission, Castro and Dogpatch, which was to result in thousands of "affordable units." Four years ago, it was "CEQA reform," ending the supposed strangle-hold environmental regulations had on holding back production of market rate housing. Three years ago is was deregulating "in-law" units — allowing "10,000" new units to be added, which would dramatically reduce housing costs (except that they were allowed to be Airbnb units which kept their prices high). This year it's the mayor's "density bonus" plan, which confers additional density for additional "affordability."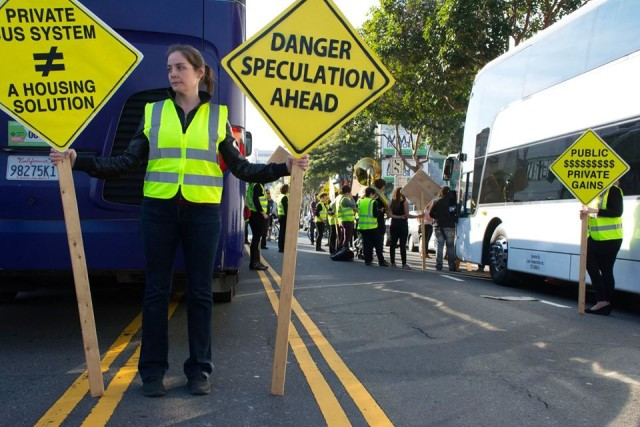 Yet, this time around the density bonus proposal has been transformed by a broad coalition into a measure which, if passed, which offers a real opportunity at producing thousands of homes able to be afforded by current San Francisco residents.
On Tuesday/17, San Franciscans for Community Planning (SFCP), a coalition of neighborhood, affordable housing and tenant organizations and allied labor, neighborhood merchant, faith and community groups will call for the passage of the "Density Done Right" legislation introduced by Supervisors Aaron Peskin and Eric Mar.
The measure takes on the twin poles of increased density and decreased regulation (except for increased density regulation!) that lies at the heart of neoliberal market-based housing policy adopted by both the Obama and Brown administrations. While never mentioned in polite liberal company, this is also the urban development policy embraced by Donald Trump, who has partnered with Democratic politicians in New York to help to produce the densest and expensive housing market in the US, with San Francisco second in density and sometimes first in housing costs.
The Lee Adminstration Proposal: Density and Displacement
It should be no surprise that the Ed Lee administration, embracing fully the Trumpian notion of market-driven density, followed the same approach late last year.
The mayor's program, initially named the Affordable Housing Density Program (renamed after it came under withering attack to the more PR friendly "Affordable Housing Bonus Program) sought to give developers an additional two floors of development along with the removal of minimum unit size, off-street parking requirements, and public hearings if they agreed to meet the existing 12% inclusionary requirement plus an additional 18% of the new units being offered at 120% (if rental) to 140% (if ownership) of Area Median Income (AMI). The program would allow this "density bonus" on some 31,000 parcels in San Francisco, centered on neighborhood commercial districts.
Some 64% of the parcels were in neighborhoods where African American, Asian and Latino households formed the majority of current residents. No Planning Commission public hearing would take place on individual projects taking advantage of this program and the Commission itself would not be allowed to modify a project's size, density nor height but only its "design." Up to a half a block would be allowed to be "consolidated" into a single project.
Essentially what the Lee administration was proposing was a market-rate development program remarkably similar to the early 1960's "urban renewal" programs of the now defunct Redevelopment Agency. Only worse.
Like "redevelopment," Lee's AHDP would have conferred upon private developers "value" derived by governmental fiat, hurting many but profiting a few. It, like early-style redevelopment, placed no meaningful obstacles to demolition and displacement of existing homes and businesses. Indeed, by allowing any demolished rent-controlled apartment to be counted as part of the 18% of the "bonus affordable" units it actually targeted the oldest rent-controlled buildings, since many of the new below-market-rate units would be more expensive than the long-time rent-controlled units demolished.
Neighborhood serving retail businesses along the shopping streets at the heart of the AHDP would face displacement, with no restrictions or requirements placed on the developers of the new projects to keep them in the new projects at the same commercial rents.
But most sobering (and reminiscent of the Redevelopment Era) was the targeting of the AHDP: The Western Addition, Chinatown, Bayview, the Excelsior and the Richmond — neighborhoods that had major and often majority communities of color. The affordability levels of the "density bonus" units — 120-140% of AMI — meant that these residents would be priced out of the supposed "affordable" units.
According to census data the average Asian household in San Francisco earns about 70% AMI, Latinos, about 60% of AMI and African Americans about 30%. Application of the AHDP in 64% of the neighborhoods it was being proposed for would have meant the massive displacement of populations of color as existing housing was demolished for new housing wildly unaffordable to current residents.
Novel Community Response: Affrodable Desnity without Displacement
Mayors Lee's proposal was not well received, even by his Planning Commission. In a series of hearing before the Commission from October, 2015 to February, 2016 an improbable coalition not only opposed to the proposal but offered a counter proposal. Including affordable housing advocates and developers, tenant organizations, neighborhood and community groups, district merchants and environmentalists, SFCP proposed how "density could be done right."
Laying out a series of amendments to Lee's proposal, the coalition proposed banning demolitions of residential and commercial buildings; limiting the density bonus to some 215 "vacant soft sites" that could, according to the panning department to accommodate an additional 15,000 new homes and hundreds of new businesses; requiring that the projects be 100% affordable, limiting the density units to two floors only if the units were affordable to a neighborhood median income in the area in which they were located; and requiring a full approval process and public hearing before the Planning Commission. At a marathon ten-hour hearing February 25, the Planning Commission refused to adopt the staff recommendation of Lee's AHDP and instead made a series of recommendations to the Board of Supervisors consistent with SFCP proposed amendments.
The Peskin and Mar legislation in turn implements those recommendations.
City voters passed a $310 million affordable housing bond last November (it could have been far more but for Ed Lee's opposition to increasing the amount). At least $120 million of that money could be used for this "Density Done Right" program. Moreover, some $190 million of a prior-year seismic revenue bond could be re-allocated by the voters for this program, meaning that by the end of the year as much as $310 million could be available.
Given the historic leveraging of local affordable housing funds with foundation, state and federal funds at better than 2 to 1, significant direct public investment is available to produce thousands of homes able to be afforded by current San Francisco residents — no "trickle down" nor "magic of the market place" needed.
When you consider the increased number of below-market-rate units that will be authorized if Prop. C passes this June, progressives in San Francisco have placed before the city a plan that will provide increased housing affordability for a wide range of middle and lower income residents, a total of several thousands of units — without displacing our neighbors or destroying our shopping streets and neighborhoods. San Franciscans have shown time and again their willingness to pay for, make room for, and approve housing that meets the needs of San Franciscans. It's time for the private sector to join the effort – and for the leaders in Room 200 to fully understand what city they are in.
Supporters of the density-without-displacement plan will hold a rally and press event Tuesday morning at 11:30 on the steps of City Hall.