This November, the nation will face the possibility of electing a ruthless real estate developer whose rhetoric is filled with reactionary outbursts, misogyny, racism, and xenophobia.
But here we always had the myth to fall back on that "we are in San Francisco," a liberal bubble that marches to our own tune no matter what the national mood. We take pride in our storied history of protest and radical acceptance.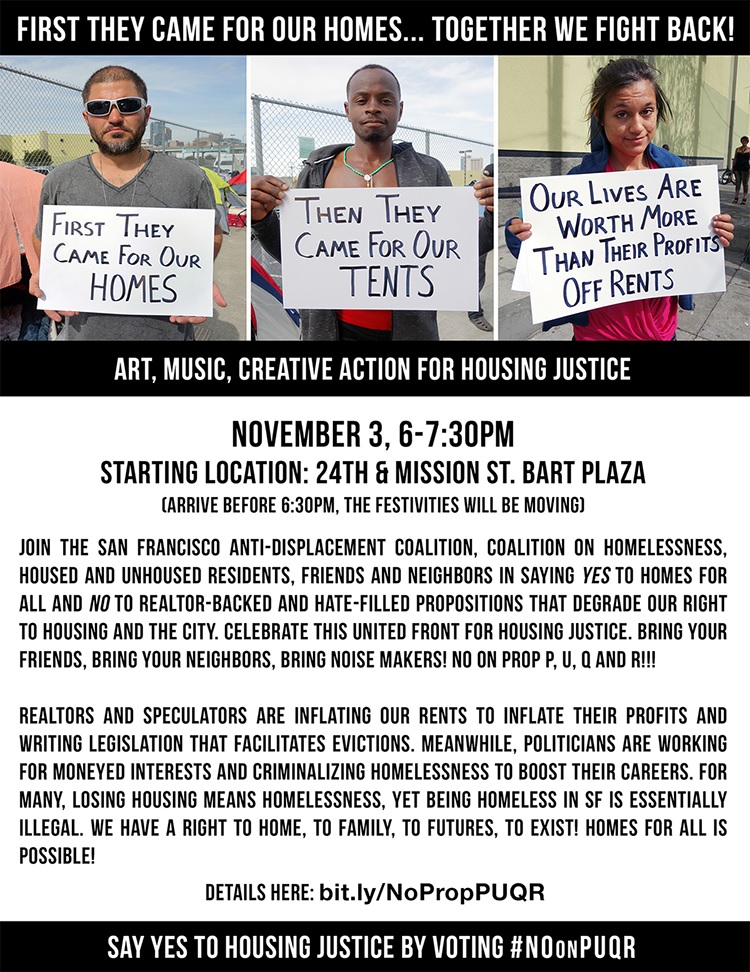 Of course, we know it's more complicated than that, and, in truth, we are no more immune than the rest of the nation to the sneaking chill of bigotry. Only a few years ago, San Franciscans passed Sit-Lie, a measure to criminalize homeless people simply for being on the streets.
Today, four more bad-smelling policies that would make Trump proud are before local voters. In these measures, we face similar attacks against those who are different, who are more vulnerable, and who are poor and working class. And we are also given false solutions that promise to provide more for some by taking away from others.
Props Q and R –criminalizing poverty
Propositions Q and R take the heart of Donald's hate-filled rhetoric and try to implement it in San Francisco. The mean-spirited Prop Q would confiscate people's tents. Even its name, "Housing Not Tents," reeks of deception, as it would provide not a single penny for housing nor require housing for anyone forcibly removed from an encampment, offering only the measly single night in a shelter. San Francisco-style fear mongering is much slicker, but no less obvious.  Today's politicians use clever language that stirs visuals of an animated tent with ferocious teeth, raping and pillaging pedestrians. This vitriol is a central component of the "Trump" tactic of fear mongering meant to drive conservatives to the polls – and it's taking place right here in San Francisco. They type of anti-homeless propaganda leveled in Prop Q creates the conditions that result in increased hate crimes against homeless people, and worse, get in the way of forging real solutions to the housing crisis that is slowly killing so many forced to remain on the streets.    
Prop R is another measure with a misleading title, "Neighborhood Policing," which would actually take police out of neighborhood stations and create homeless policing units. Homeless people received more than 27,000 citations last year for being poor, and we spent $20.7 million enforcing the 23 anti-homeless laws on the books in San Francisco. The Budget and Legislative Analyst suggests this was a futile waste of money. Prop R sets this bad practice in stone.
Much like Donald's bombastic claims, these measures appear to be largely politically-motivated, an attempt to forward political careers without providing any real solutions. At a time when the national debate is filled with reactionary rhetoric, San Francisco cannot afford to take the low road. Harvey Milk, who as a Castro activist fought to repeal the sit-lie laws that existed in his day, would be horrified at the prospect of our city of open arms turning in on itself like this.
Props P and U – developer giveaways that divide San Franciscans
Following a similar pattern of divisiveness, Propositions P and U come directly from the SF Realtor's Association, with a war chest of more than a million dollars paid for by the state and national Realtor's associations. They are developer and real estate giveaways that Donald would love, and will hurt everyday San Franciscans.
Proposition P claims it will "lower the costs" of building affordable housing, but it could end up killing the kind of affordable housing for which San Francisco has paved the way on a national scale: services-enriched supportive housing for homeless individuals and families, housing for transitional-aged youth, and housing for people with disabilities or for victims of domestic violence. While in most cases the city already receives three or more proposals for each new project, in the case of hard-to-build projects such as those for the homeless, or in communities where specific language or cultural competencies are critical, there may be less than three qualified proposals. Prop P would not allow affordable projects to move forward unless three proposals are received, and would force the city to accept the "best-value" proposal regardless of quality, service program, experience, or cultural competency.   
In reality, Prop P fits with Donald's model of neo-liberal privatization: paving the way for big out-of-town private developers to build shoddy projects on precious public land, with no accountability to the communities in which they build or who they are meant to serve.
Proposition U cynically tries to undo SF's affordable housing gains while giving developers and Realtors huge windfall profits.  This past June, voters overwhelmingly supported expanding the requirements for mixed-income communities with Prop C, called inclusionary housing, by requiring private developers to include homes affordable to middle-income as well as low-income San Franciscans. The Realtors' Prop U would remove all the low-income units, and only allow units for people earning up to $80,000 (110% of median). The Realtors claim this creates more affordable housing for middle-class families, but Prop U really robs Peter to pay Paul, taking housing options away from the city's families who are most at risk without creating a single additional affordable housing unit. And more insidiously, Proposition U would also apply retroactively to almost 1,000 existing affordable homes, allowing landlords to double the rents on vacated units and setting the stage for evictions. This is the kind of divisive measure that we should not stand for, pitting middle-income against working-class families.
These attacks on inclusionary laws are not tangential to Trump's candidacy. In fact, last summer, one of the principal enemies of inclusionary housing, LA-based real estate developer Geoffrey Palmer, emerged as Donald Trump's single largest donor (since eclipsed). Palmer is notorious in the Bay Area because of his lawsuit which hamstrung cities from enacting stronger inclusionary policies.
You gotta give 'em hope, said Harvey…
While we must fight back against those attacks that seek to divide San Franciscans and promote hate and fear, we must also redouble our efforts towards the only solution to the housing crisis: preserve and produce real affordable housing.  The progressive vision is one of hope, in contrast to the bitterness of the Realtors and others cribbing from Trump's playbook. This November's crowded slate has a number of innovative propositions that truly seek to expand housing options for low- and middle-income residents, including:
Prop C, the Housing Preservation Bond, which will provide loans to make safety upgrades to apartments and preserve them for all existing tenants, low-income and middle-income, as permanently affordable housing.
Props J & K, a 1/2 cent increase to the sales tax (still below many Bay Area cities) and set-aside to dedicate funding for homeless housing and services and equitable transportation improvements.
Prop M, the Sunshine for Housing ordinance, which creates transparency and public oversight for the city's housing and development decisions.
Prop S, which will reinstate hotel tax allocations for cultural arts funding and funds for ending family homelessness.
This November is a chance to prove that San Francisco is still a City for All, no matter what the national mood. Say no to Trumpifying San Francisco, and vote NO on Props P, Q, R, and U.