San Francisco sent the white supremacists packing today.
Joey Gibson cancelled his rally at Crissy Field, saying he was afraid of violence (after the police made it clear that they would not allow any weapons and would search everyone at the lone entrance to the park).
Then he said he would hold a press conference at Alamo Square at 2pm — but the cops closed and fenced that park off, and by 11:30, hundreds and hundreds of protesters were showing up.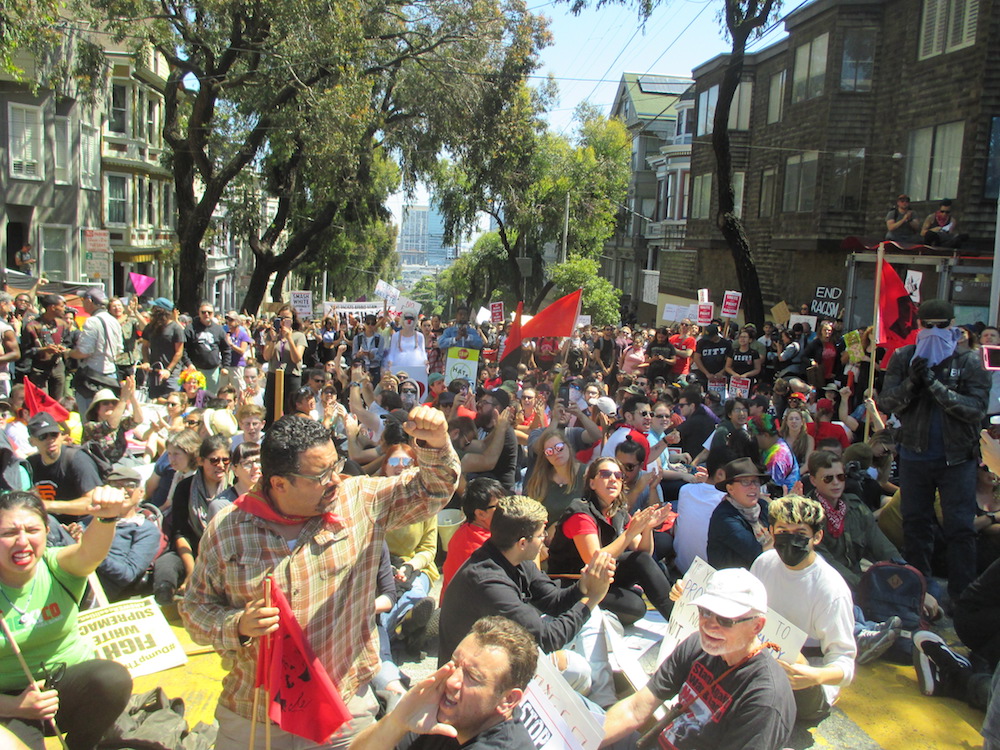 The impromptu rally, called on Facebook and organized in part by Mission activist and City College professor Benjamin Bac Sierra, soon attracted a huge crowd, at least 5,000 by my count and possibly many more.
"This is amazing," Bac Sierra told me as we watched the throngs of people go by. "This is historic."
The crowd marched peacefully through the Mission, with music and chants. "We are celebrating victory," Bac Sierra said.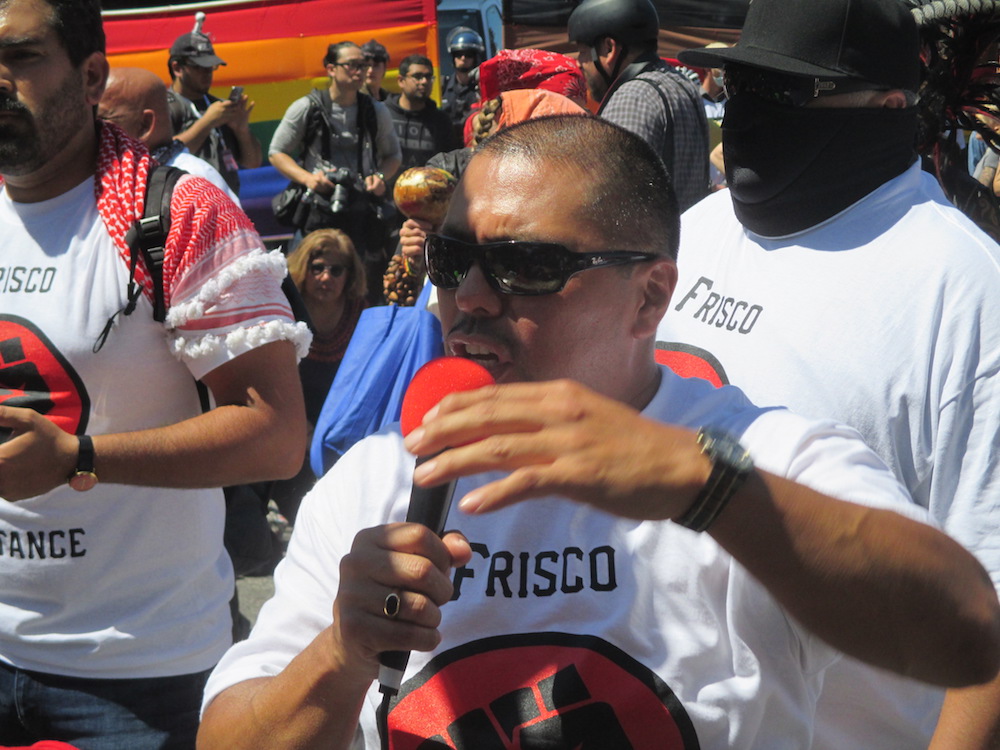 And indeed, it appeared that — with no violence or threats of violence — activists in San Francisco convinced the white supremacists that this was not a good place to hold a rally. Gibson tried to livestream a press conference, but hardly anyone watched it, and his colleague, Kyle Chapman, who has been charged with beating protesters with a lead-loaded cane, seemed to get the message.
According to the Mercury News, Chapman said that
I think the best game plan moving forward is for us to take a break on rallies in liberal enclaves like Berkeley and San Francisco … and focus on rallies where we have a definite chance of a win.
A "No Marxism" rally is still planned for Berkeley tomorrow.
Several of the speakers at Alamo Square noted that city officials have tried to keep protesters from confronting the far right. In Boston, the mayor urged everyone to stay away from a white supremacist rally — but 40,000 showed up anyway, and forced the neo-Nazis to leave.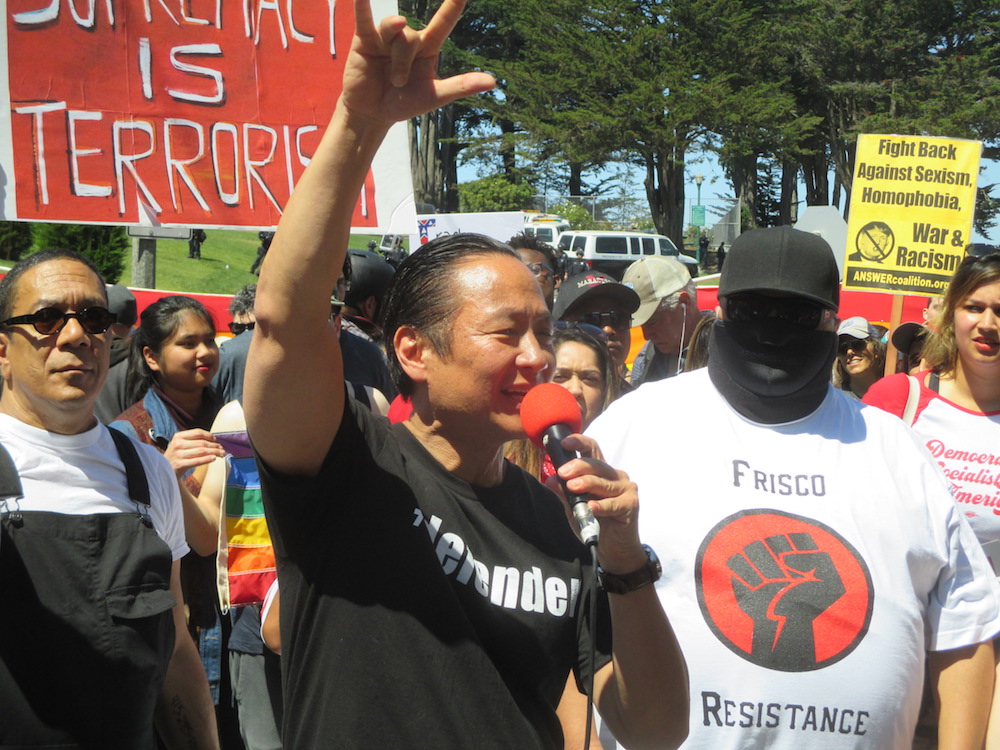 In San Francisco, Mayor Ed Lee tried to keep people away from Crissy Field, going so far as to cut off most Muni service to the area. Paul Rose, a Muni spokesperson, told me that
Safety will always be our top priority and this transportation plan was developed to keep Muni riders and transit staff as safe as possible.
But I heard endless complaints from people who said they wanted to show up to challenge Gibson's crew but were frustrated that they wouldn't be able to get there.
At first, the official line was to keep people from Alamo Square, too: Cops fenced off the entire park and surrounded it, and at one point early on tried to declare the rally an unlawful assembly.
But people kept showing up anyway, and eventually the police brass decided to back down. They closed off the surrounding streets, opened up the intersection of Hayes and Steiner, and allowed the throng to fill Hayes all the way down the hill to Fillmore.
Around 12:30, Bac Sierra announced that the rally would move through the Mission to 24th St, and as I stood by the side of the road, marchers kept coming. More and more seemed to arrive by the minute. As soon as one wave seemed to be thinning out, another would arrive.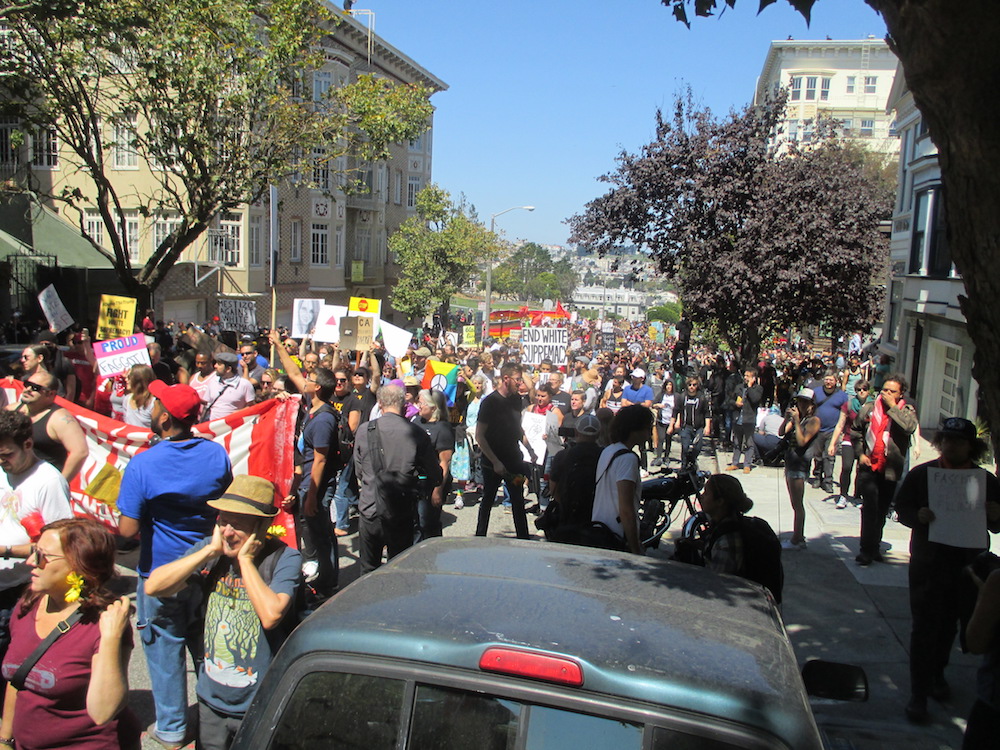 I don't think I've ever seen this many people in a march that was organized in just a few hours.
By 2pm, we were hearing that Gibson had moved his show to Pacifica.
The mayor held an official anti-hate rally at City Hall, which was fairly well attended, as was a rally organized by Cleve Jones and Juanita Moore in the Castro that drew several thousand. Jones is using the neo-Nazi rallies to raise money for local anti-fascist causes. So is the Jewish Bar Association of San Francisco, which even had an airplane flying overhead with a banner announcing that the "adopt a Nazi, not really" campaign has already raised $130,000.
Tomorrow, Berkeley.
UPDATE: Late in the day, Gibson and a few others showed up at Crissy Field. There was no rally. A few protesters challenged the alt-right, but Gibson never got the media or the confrontation that he apparently wanted.
MEANWHILE IN THE CASTRO (Update from Marke B):
A very colorful crowd gathered at a peace rally and march led by drag queen Juanita More and Cleve Jones. Hundreds showed up with an array of humorous and poignant signs and t-shirts (and kites, and wagons….)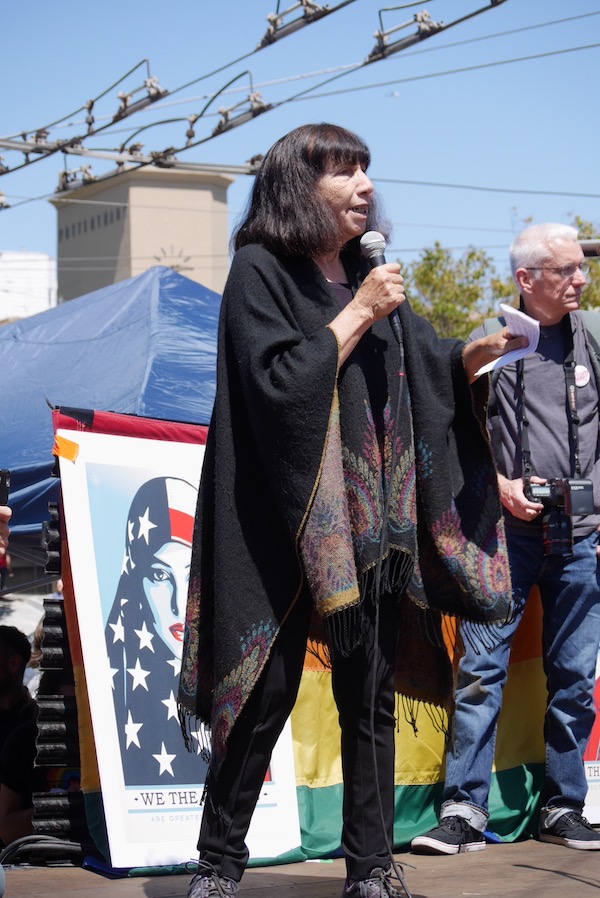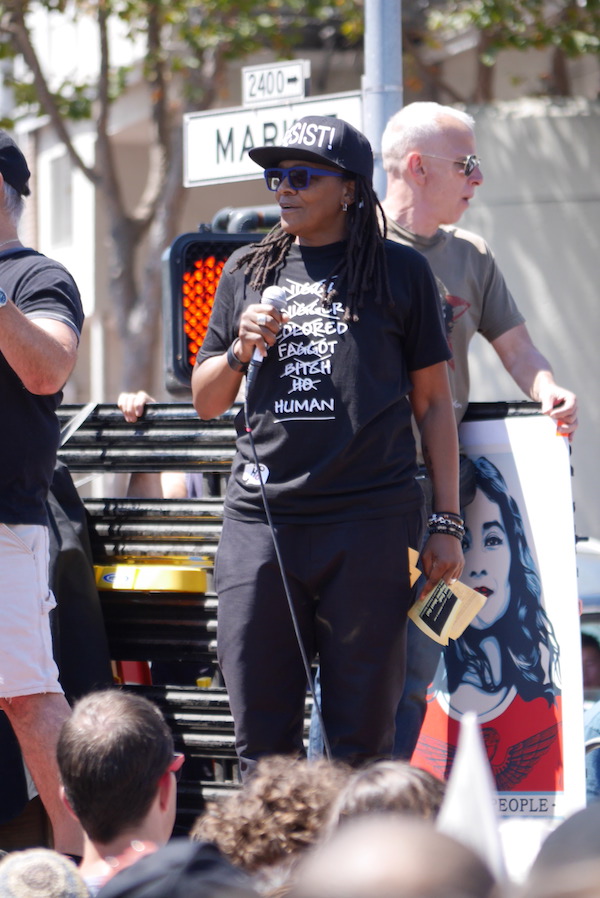 Speakers included Melba Maldonado ("I wear a wool scarf today to remind myself of the heat that the victims of Joe Arpaio suffered") and Alex U. Inn ("Women are losing more and more control of their bodies every day.")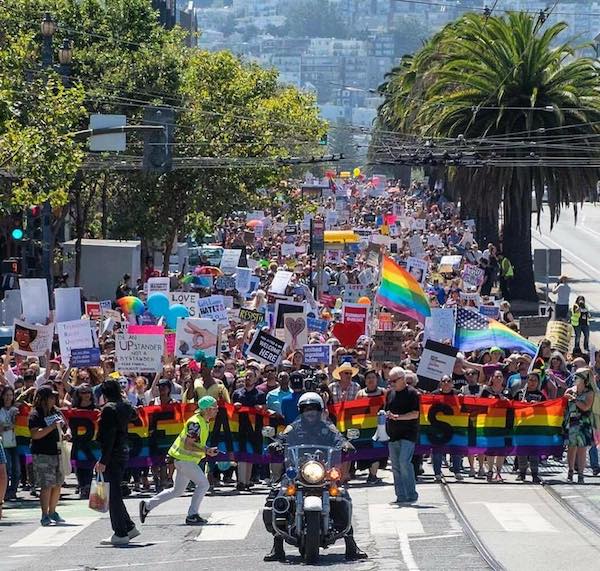 After an hour of speakers and music, the rlly then marched to Civic Center for what turned into a vibrant dance party.