PARTY RADAR For the love of all that's unholy, I am lighting 666 witchy candles that no one steps out on Halloween dressed as a sexy zombie Tamale Lady. (Instead, let's honor her spirit at the Day of the Dead Festival of Altars, November 2 in the Mission, and a special celebration of her life at the SF Eagle, also November 2.) 
That said—and also please no one dress up as drunk-ass Brett Kavanaugh, either, we get it, it's gross—here are 17-plus can't-miss parties to show off your ghoulie goods. First, though, make sure you take a dip into Peaches Christ's "Terror Vault" or go see some true horror classics at the Castro Theatre to get you in the mood. And then let's rave to the grave.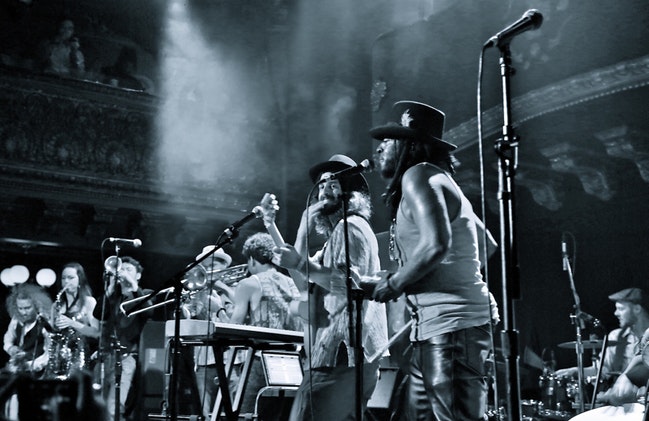 FREE TICKET GIVEAWAY Just in: I've got two pairs of tickets to give away to see Afrolicious live with Smoked Out Soul on Halloween night, Wed/31! To enter: Send an email to marke@48hills.org with your goofiest Halloween joke and your real name. I'll pick two winners (each will get a pair of tickets) at random on Fri/26 night. Ghoul luck! 
HALLOWEEN AFFAIRS OF NOTE
THU/25 CREATURES OF THE NIGHTLIFE The Cal Academy of Science's weekly mixer takes a sinister twist as the creatures of our drag underworld emerge to tingle a few spines. With LA's Boulet Brothers, DJ Omar, haunted pinball machines from the Pacific Pinball Museum, a dark carnival of animal curiosities, and a "haunted tour of the night sky" in the planetarium. 6pm, $18-$22. Cal Academy, SF. More info here. 
THU/25 TECHNOTIHUACAN Halloween will forever be intertwined with Día de los Muertos here in SF, and of course that means Latinx nightlife wonders galore. This huge art show and party "combines live DJing and Video Art remixing into a living, digital mural exploring the intersectional story of Latinx contemporary life. These videos, a mix of original creations and curated works, will be synced with techno/cumbia/quebradita/salsa music remixes that aim to respond to and support the digital visuals." Hell, yes. 6pm-9pm, donation requested. SOMArts, SF. More info here. 
FRI/26 LIFEBOAT HALLOWEEN Howdy, sailor! Headliners and purveyors of sparkling hip-hop and psychedelic house Krafty Kuts, Psychemagik, Fort Knox Five, along with dozens of others, will be baying at the moon—from a boat on the Bay. 9pm, $75. Pier 3, SF. More info here.    
FRI/26 NEGLECTED MURDERESSES "Within, we are delighted to bring you the 3rd Annual "Very Gorey Halloween", featuring the return of Edward Gorey's "Neglected Murderesses", an immersive evening of costumes, characters, music, dancing in two rooms all night, and illuminated pop-up theatre to die for." Featuring Gorey performances by LadyBEAST, Fou Fou HA, Rose Harden, and a host of neglected killers. 9pm-3am, $45. Cat Club, SF. More info here. 
FRI/26 STEREO ARGENTO I absolutely adore this splatterific drag night, "with themes paying homage to different horror genres and directors, while also creating original and horrifying theatre experiences. Inspired by the Glamorous Gore that is filmmaker Dario Argento's work, Stereo Argento creates community for all the San Francisco's creeps to witness disgusting art installations, curated film projections, Italo Disco and QUEER ART!" With Galaxy Radio DJs and tons of bloody queens. 10pm-3am, $10. The Stud, SF. More info here.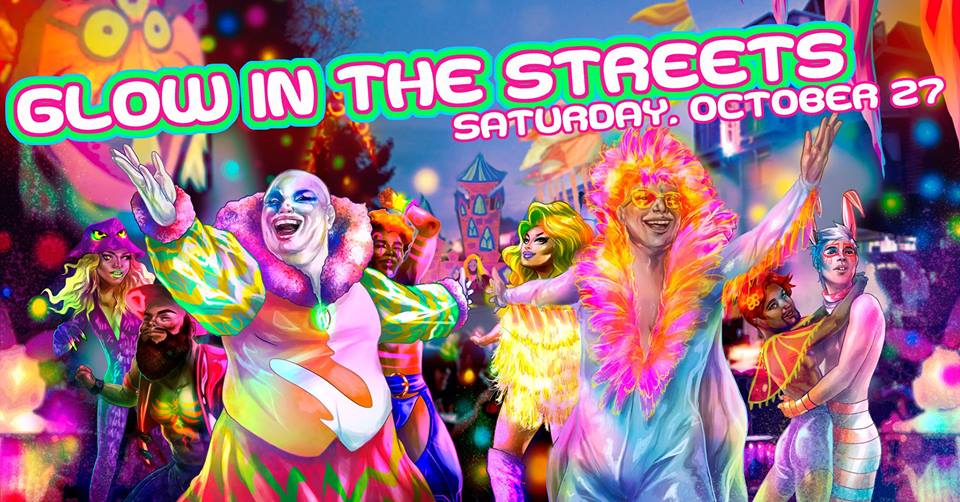 SAT/27 GLOW IN THE STREETS Despite various crackdowns, Halloween in the Castro continues to be a unkillable tradition, even if a mere ghost of itself. This block party from Burning Man camp Comfort and Joy will fill the evening with neon light and music. 4pm-9:30pm, $10-$20 donation requested. Market between Noe and Beaver. More info here.   
SAT/27 NEKROMANTIX + HELLBILLIES Rock out with your spook out to goth-a-billy bands Nekromantix, Oakland's Hellbillys, SF's own Lolly Gaggers and Black Coffin at 924 Gilman with all the creepy kiddies. 7pm, $20. 934 Gilman, Berkeley. More info here. 
SAT/27 CREATURE XXI This incredible monthly party is filling the El Rio patio with a pumpkin full of gender-blending, post-human insanity. Music by the incredible Ariel Zetina (CHI / Discwoman) and Bianca Oblivion (LA), and tons of eye-popping-out durational drag shows and installations. 9pm-2am, $10-$15. El Rio, SF. More info here.
SAT/27 POUND PUPPY: SCREAMWORKS A scruffy queer dance party at which to "bury your bone"—and then dig it up again along with that weird dead cat from Pet Sematary. Guest DJs Masha (Dig Deeper, LA) , and Elexos Park (Vague Terrain) drench the transformed Stud in bloody and guts goodness. 9pm-4am, $10. The Stud, SF. More info here.
SAT/27 HORROR STORY: ORIGINAL SIN Chicago house legend DJ Heather kicks the spirits into high gear with fellow deck-masters Jim Hopkins b2b Paul Goodyear, James Cerne, CarrieOnDisco, and loads more at this all-night rave. "Taste the forbidden fruit of our sinister sounds. Polyglamorous and Mystopia bring you a dance party of Biblical proportions in celebration of All Hallows Eve." 10pm-4:30am, $15-$60. 550 Barneveld, SF. More info here.    
SAT/27 HALLOWEEN: A PARTY This frightfest from undead drag legends Heklina and Peaches Christ, now at Heklina's club Oasis, has been a favorite for ages. Stunning performances by Taco Zamora, Raya Light, Meredeath, Hollow Eve, and a bodybag's worth more, plus a pretty crazy costume contest and tunes from this years Halloween MVP DJ Omar. 10pm-3am, $20. Oasis, SF. More info here.  
SAT/27 DUSK TO DAWN OK, here's my HUMONGOUS PARTY Halloween recommendation. I love rave legend DJ Dan so much, that dancing all night to him at the Midway will be a frightful pleasure. This is an Opel and Vau de Vire party, so there'll be plenty of Burning Man-style vaudeville, overhead swooping performers, striped tights, and twirling neon. Beetlejuicy! 5pm-4am, $28-$35. The Midway, SF. More info here.  
SUN/28 SUNSET HALLOWEEN BOAT PARTY More costumes on a boat with amazing music! Legendary Sunset crew DJs Galen and Solar join forces with the techno kids from the Sunday Werd parties (you know there will be a cool after affair) and Sunset's patented amazing guest DJ to be announced (it is always someone outstanding). Anyway, I always gush about Sunset parties because I love them so much. Enough to die for. 5pm-11pm, $10-$80. Pier 3, SF. More info here.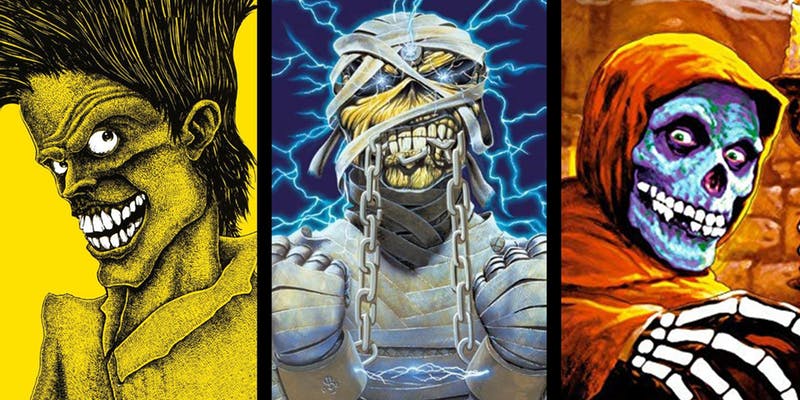 WED/31 8TH ANNUAL HALLOWEEN HELLRAISER Look, if we can no longer have the actual Cramps perform here on Halloween—an ancient San Francisco tradition—then we can certainly have the Cramp-Ons, an uproarious Cramps tribute band, perform along with Misfits tribute band AstroZombies, and British heavy metal fêters Union Jack and the Rippers. OK, typing all that out just made me really want to rocket from my crypt and go to this. 9pm, $8. Elbo Room, SF. More info here.  
WED/31 HONEY SOUNDSYSTEM HALLOWEEN On the eve of their first Asian tour, homegrown heroes the Honey boys come to scare the stuffing out of you at the Stud, Frankentsteining with the Kosmetik techno crew to bring in special guests Violet (Lisbon, PT) and Photonz. 9pm-3am, $15-$20. Then Stud, SF. More info here. 
WED/31 AFROLICIOUS HALLOWEEN Hell yeah, live Latin beats and Afro-funk grooves with one of the best full bands in the city, Afrolicious, plus the wonderful Smoked Out Soul ensemble. You might just dance your limbs off at this one. That's OK, borrow someone else's! And see the top of this article for how to win free tickets. 7:30pm, $15-$20. The Independent, SF. More info here.  
WED/31 ALL HALLOW'S EVE "If there was ever a holiday created just for DNA Lounge that holiday is Halloween, and this is our seventeenth spoooooky year throwing this party! We're bringing you a double-sized Halloween madhouse in all four rooms!" With the gorgeous Hubby Hubba Revue burlesque and like one million fun DJs. 9pm, $13-$30, 18+. DNA Lounge, SF. More info here. 
FRI/2 LOSING MY EDGE: DANCE TIL YOU'RE DEAD Sounds like a real scream, and oh boy we really will be the walking dead after two full weekends of partying in the afterlife-nightlife: "Face Painting, aerial performances, and music from your favorite indie bands: LCD Soundsystem, Hot Chip, Franz Ferdinand, MGMT, Cut Copy, Yeah Yeah Yeahs, Bloc Party and MORE!" 9:30pm-3am, $7-$13. Great Northern, SF. More info here.