It's no joke that the film crowding out all others this week is Todd Phillips' Joker, with Joaquin Phoenix drawing bets as a likely Oscar winner for his reportedly incendiary turn in this origin story for the Batman villain. It's reported to be closer to Taxi Driver than to your average FX-laden Marvel/DC extravaganza. It's also duly cited fears around violent movies inciting violence—although that probably has more to do with conservatives once again trying to take the heat off the gun lobby in the wake of yet another mass-shooting wave.
It did not screen far enough in advance for deadline, but we'll see it anyway, despite the fact that nearly every year there's a trumpeted "superhero movie for people who don't like superhero movies" which generally turns out to simply be a slightly-better-than-usual superhero movie that nonetheless seems like Citizen Kane to people who only go to superhero movies.
Two other mainstream openings of note also premiered at the Venice and/or Toronto Film Festivals last month, but unlike Joker did not reap much critical acclaim. Steven Soderbergh's The Laundromat has an incredible cast including Meryl Streep, Gary Oldman, Antonio Banderas, Matthias Schoenaerts, James Cromwell, Will Forte, Jeffrey Wright and Sharon Stone. But this fact-inspired tale of corporate malfeasance and coverups was poorly received at those events.
Ditto TV writer-producer Noah Hawley's big-screen directorial debut Lucy in the Sky, which only braved Toronto. Natalie Portman plays an astronaut whose return to Earth is a letdown in ways more than simply gravitational; others the cast include Jon Hamm, Dan Stevens, Ellen Burstyn, comedian Tig Notaro, Zazie Beetz, and erstwhile local stage actor Colman Domingo.
Elsewhere (all films and events opening this Friday unless otherwise specified):
The Week in Film Festivals
Attracting the lion's share of stars and attention for the next eleven days will be the Mill Valley Film Festival, which we've separately previewed here. But this being the Bay Area, it can hardly be the only such event taking place this week.
There's the Japan Film Festival of San Francisco, whose 7th annual edition runs nearly as long (Fri/4-Sun/13) as MVFF. It opens at New People Cinema with Every Day a Good Day, a seriocomedy about the endless subtleties of the traditional tea ceremony. The closing night selection is Tetsu Maeda's A Banana? At This Time Of Night?, an unlikely comedy of muscular dystrophy and the stubborn pursuit of love. Other highlights include time-loop fantasy 3 Foot Ball & Souls, Sundance prizewinner We Are Little Zombies, anime Cencoroll Connect, a Ryuichi Sakamoto concert film, offbeat religious whimsy Jesus, several documentaries, and more. More info here.  
If that sounds too sober for your taste, head over to (but maybe don't drive back from) The Drunken Film Festival, whose second year in Oakland basically provides an excuse to hang out in bars while avoiding annoying conservation—because you'll be busy watching movies! Taking place at nine different local venues (not all of them bars, but all serving alcoholic libations) over nine days from Fri/4 to Sat/12, it offers an equal number of diverse shorts programs. Their content ranges from local to international, from animation to documentary and experimental to narrative. There will be juried prizes in various categories; we can't tell you whether the judges are encouraged to imbibe, or banned from doing so. All screenings are free. The drinks, needless to say, are not. More info here. 
The Week in Documentaries
There's a boatload of nonfiction features opening this Friday, pretty much covering all the bases of interest from political to fanboy to travelogue. None of the above is Jim Allison: Breakthrough (at Landmark Cinemas), which profiles the Texas scientist who rattled the research mainstream by innovating potential cancer-cure approaches, driven by his family's own medical history. Another personality portrait with a larger framework is The Woman Who Loves Giraffes (at the Roxie and Elmwood). Its subject is the still-active Anne Dagg, whose pioneering research in animal behavior within an overwhelmingly male-dominated field predated even the more famous Jane Goodall's work. More info here.
At the Opera Plaza and Shattuck, Midnight Traveler is Hassan Fazili's verite chronicle of his own young family's cross-national flight from their native Afghanistan after the Taliban puts a price on his head for prior cinematic whistle-blowing. Their odyssey through refugee camps, rough terrain, dealing with smugglers, et al. should probably be seen by those who think U.S. asylum seekers are a bunch of lazy freeloaders, fibbers and criminals. More info here.
The perils are more in the realm of the creative and otherworldly in Memory: The Origins of Alien, in which surviving participants (though not Ridley Scott or Sigourney Weaver) discuss the combination of accident and synchronicity which made that 1979 film not just a franchise-starter, but a huge influence on most science-fiction storytelling since. At the time, I was actually disappointed: Alien's advance advertising was so intriguingly mysterious that it seemed a letdown the movie turned out to be a very well-made but fundamentally familiar "monster on the loose" opus. Still, its peripheral ideas (many from writer Dan O'Bannon and creature designer H.R. Giger) were unusually sophisticated for the genre, and their genesis is amply detailed here. Memory (one of many original titles before Alien was settled on) opens at the Roxie. More info here. 
Je t'aime moi non plus: Serge Gainsbourg's softcore homophile wigout
Rejected for release in the UK, while no one even tried to step up to the distribution plate in the US, this notorious 1976 feature by French singer-songwriter turned firsttime writer-director Serge Gainsbourg has been more discussed than seen in the decades since. The censors might have no serious issues with it now—when it's finally gotten restored and released here—but it remains a true WTF?! experience.
Warhol Factory icon Joe Dallesandro plays a gay ten-wheel-truck garbage hauler whose Italian ex-con lover (Hugues Quester) carries around a plastic bag like a security blanket. Then he meets truck-stop waitress Johnny (Gainsbourg spouse Jane Birkin), who's androgynous in more than just name. So much so, in fact, that our hero suddenly finds he needs to fuck her—albeit in the rear, of course, because he's gay. (This very bizarre heterosexual notion of how gay men would think was also memorably demonstrated in a more recent French movie, Gaspar Noe's Irreversible.) The film's running gag consists of their coitus constantly being interruptus because her yelling keeps getting them thrown out of squalid love motels.
Yes, it's a 90-minute arty minimalist road movie set in some weird half-Eurotrash, half-Tom of Finland notion of the "redneck" American West…in which the principal plot tension derives from the heroine not liking anal sex but having it constantly anyway because, well, l'amour. Birkin and Gainsbourg had a huge hit with the duet of the same name that he'd written (originally for Bardot) a decade earlier, possibly pop music's first instance of unquestionable orgasmic moaning. This is an even weirder belated cash-in movie of a Top 40 hit than Canadian singer Terry Jacks' 1986 environmental spy thriller Seasons in the Sun, made twelve years after he charted with Jacques Brel's musical suicide note. That movie, you can skip (if you can even find it).
But now that you can find Je t'aime, it is duly worth a look, at least for fans of bizarre cinematic curios. I mean, it's got Gerard Depardieu as mysterious gay dude dressed all in white on a white horse (with an apparent horse-sized appendage in his pants, he informs us), the same year he played a peasant hero for Bertolucci (1900), a dominatrix's lover (Schroeder's Maitresse), a man who cuts off his penis with an electric carving knife (Ferreri's The Last Woman), and both a boxer and his killer (Techine's Barocco). Seriously, the 70s were a better time. Roxie. More info here.
First Love
Takashi Miike didn't start directing features until he was past 30, and he's not quite 60 still—yet this is his 103rd movie. (No, we're not talking porn here.) He's worked in just about every conceivable genre and style, even if he remains identified with the kind of gonzo extremes of films like 2001's crime melodrama Ichi the Killer. This latest is vaguely in the same vein, with a lot of over-the-top violence delivered amidst a generally droll context of escalating absurdity. But if sometimes his projects are excessive in one way or another (often delighting, then exhausting the viewer), First Love is perfectly controlled—even in its excesses.
A rail-thin boxer with an inoperable brain tumor (Masataka Kubota) and a ditzy prostitute/captive (Sakurako Konishi), who hallucinates when she doesn't do drugs, find themselves in the middle of Japanese yakuza vs. Chinese triad warfare during one chaotic night's preposterous course. Various police and bystanders occasionally also caught in the crossfire.
Perhaps the biggest amongst many deadpan jokes here is that our seemingly doomed would-be lovers are almost incidental to the giant pileup of criminal mayhem they can't seem to outrun. (In fact, you could argue that the story's real leads are Shota Sometani and Becky Rabone as two gangsterland habitues as gleefully lethal as the nominal protagonists are "nice.") With its long, inspired bullet (and sword, and fist) ballet climax in a hardware store, but plenty of other highlights, this is blood-soaked action comedy is a high point from a director whose insanely prolific career has had no shortage of them. Embarcadero. More info here.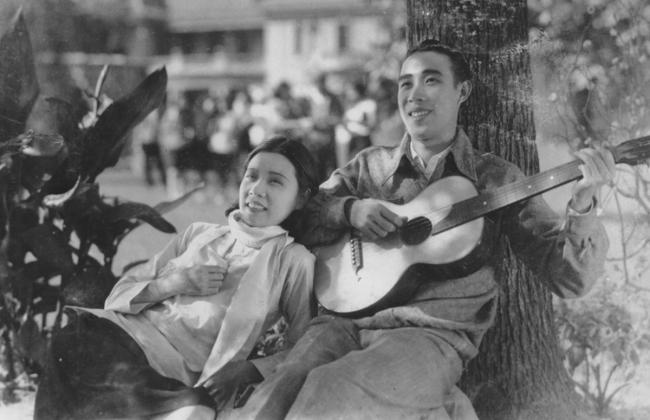 Zheng Junli: From Shanghai's Golden Age to the Cultural Revolution
Zheng Junli became one of China's biggest movie stars during that industry's late silent era (which extended well into the 1930s), starting when he was barely 20. Later he moved into wartime documentary work, then after WW2 began directing narrative features—starting with 1947's The Spring River Flows East (co-directed with Cai Chusheng, who'd made some of his most successful earlier acting vehicles), a sprawling three-hour "Chinese Gone With the Wind" considered one of the nation's great celluloid achievements.
His subsequent solo efforts behind the camera were diverse, accomplished and ambitious. But despite the high esteem in which Zheng Junli had been held for nearly four decades, he became just another victim of the Cultural Revolution's arbitrary political witch hunt in 1967. He died in prison two years later, aged just 57. This PFA retrospective offers ten features encompassing both starring roles for other directors (as early as 1932's Struggling) and several directorial efforts, as late as 1961's The Spring Comes to the Withered Tree. They should offer a memorable overview of a major talent as yet little-appreciated outside China itself. Zheng's son Dali will speak before the series' three opening-week programs. Thurs/3-Sat/Nov. 16, Pacific Film Archive. More info here.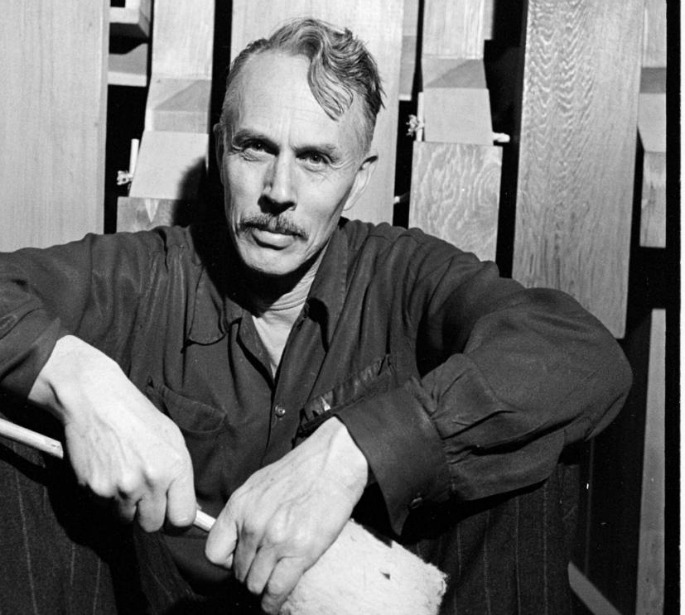 Harry Partch and other musical rebels at Other Cinema
Oakland-born Partch was a challenging iconoclast even in the adventuresome context of 20th-century avant-garde music, inventing his own instruments and devising his own tonal scale to suit them. If you think someone like Laurie Anderson is a true original, you'd probably be startled to discover that Partch was similarly mixing music, spoken word, and other multimedia elements as early as the 1930s. A sometime hobo, mercurial personality and frequent railer against the institutions that (occasionally) supported him, he nonetheless finally enjoyed some wider recognition in the hippie era, when he was championed by fellow "far out" artists like Frank Zappa.
Stephen Pouliot's 1974 half-hour The Dreamer That Remains: A Portrait of Harry Partch is the best surviving celluloid record of this remarkable man, released in the year of his death at age 73. It will be shown in a 16mm print amidst a music-themed Other Cinema program also featuring films and videos by or about Iggy Pop, The Residents, Sonic Youth, Tribe 8, Wesley Willis, Sun Ra, the Sex Pistols, and more. Sat/5, Artists Television Access. More info here. 
Satanis, The Devil's Mass
Another Bay Arean of cultural note half a century ago was Anton LaVey, the former circus worker and carny turned lounge musician and SFPD photographer who founded the Church of Satan in 1966. A canny self-promoter, his many public forums included this grindhouse-style documentary, in which he doesn't provide much intel on the church's philosophies. As a result, it comes off as a sort of glorified gathering place for swingers, preaching hedonism and self-fulfillment rather than any "evil" that might be associated with Satan, an entity it's not clear LaVey particularly "believes in."
Luridly lit scenes of church "rites" featuring the requisite amount of female nudity (plus a whip, and a snake) needed to appeal to the pre-porn "adult" theaters where Ray Laurent's 1970 feature was most likely to have originally played. Otherwise, this is mostly a compendium of talking heads, with LaVey, his parishioners, neighbors, a Catholic priest and a couple Mormon missionaries offering pretty much the perspectives you'd expect—though no one here is gullible enough to act "shocked." They all seem hep to LaVey as a showman above all, proving SF was a pretty jaded town even then. You'll never see this movie looking better than in the American Genre Film Archive restoration being shown at the Alamo Drafthouse. Wed/9. More info here.