For Best of the Bay 2020 (see the annual Readers' Poll winners here), we asked voters to submit stories of inspiration, resilience, and strength, highlighting places and people who helped us get through this year, or who took interesting or extraordinary measures to make it through. We got some wonderful tributes and tales of businesses and organizations pivoting to survive. Below is a selection that celebrates the Bay—and stay tuned for the return of our famous Editors' Picks, coming soon!
COACH STILL IN THE GAME
I nominate Coach Mark Moore from FullGrip Barbell in South San Francisco. He has been battling with Chronic Lyme Disease for a little over 10 years. He has good days and very bad dark days. But no matter how bad the days can be, I help him get dressed and out of bed…..he still manages to get to the gym for his athletes. He says "I have to be there for my athletes." Even if it means he coaches from his wheelchair. He's unselfish, courageous and somehow blocks all the pain he's feeling so he can help someone else who is going through daily struggles of life. He has them smiling, laughing and distressing in those couple of hours while their there in his gym. He puts his needs aside. He wears more then one hat as a Coach. He's a brother, mentor, friend….someone that everyone can confide in and turn to when your day isn't going well. When you walk into his gym….you'll be sure to be greeted by his big smile and charismatic personality. —Cat, South San Francisco
AN ACTIVIST GONE TOO SOON
I'm sharing this on behalf of my friend who recently lost her son Amado Khaya. He was a Filipino-South African activist from Oakland, who passed away on August 4 at the age of 22, two years after he moved to the Philippines from the United States to pursue his advocacy of human rights with indigenous communities in Mindoro. In his short but powerful life, he reactivated the Black Student Union at his high school with the birth of Black Lives Matter in response to the 2012 killing of Trayvon Martin. After graduating, Amado became involved with the Black Lives Matter Movement. In 2017, Amado Canham was part of a coalition of Laney College students, faculty, and community members that fought to stop the Oakland A's stadium megadevelopment at Laney College. He was an integral part of winning the campaign—working with his fellow student organizers, speaking passionately at rallies, board meetings, and in interviews, and working for College 4 All.
The weeks after his passing Senator Kamala Harris wrote his mother, Dr Robyn M. Rodriguez; a professor and chair of the Dept of Asian American Studies at UC Davis, a letter of condolence. Assembly Member Rob Bonta adjourned in Amado's memory, and a mural was installed in downtown Oakland (in front of Gabriella Cafe,) in his honor by world-renowned artist collective Trust Your Struggle. Amado continues to inspire the people in his community, and sharing his story with your readers would amplify his story and legacy, and continue to inspire others to life a life in purpose, for the people. For more information about Amado's life and legacy, read this testimony from his parents. —Paloma, Oakland
THERE FOR FURRY FRIENDS
Rocket Dog Rescue was born right here on the streets of San Francisco. The tiny group of volunteers dedicated to saving the lives of animals forgotten and left behind would sit, rain or shine, at the corner of Castro and 18th hoping to, and succeeding, in finding sweet homes for the just rescued animals. Fast forward: 19 years strong. This (still entirely volunteer-run) organization has never wavered. They are often the first to run into emergencies, saving animals from the fire zones and bringing van loads of supplies to displaced people, helping people hit hard during the COVID pandemic care for their animals, covering vet bills, bringing food and supplies. The group comes from a harm reduction mindset, hearts wide open, in it together. Every. Single. Day. —Pali, Bernal Heights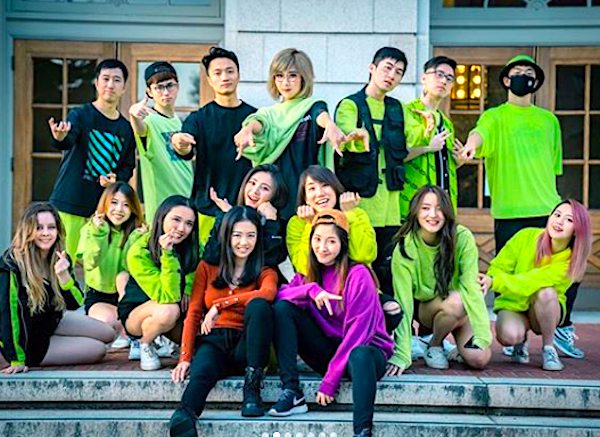 CONNECTING COUNTRIES AND DANCERS
Enjoy Dance Studio taught classes in seven cities across the Bay Area before COVID. When everything originally shut down, they asked dancers to post videos of themselves dancing in a group chat, and for every video, they would donate a mask to Wuhan. During this two week period, and when things got worse here in the US, they took that momentum to begin online classes, connecting 283 dance students with teachers in many styles all over the world, and created a space for students to share their work and get feedback and encouragement! In total, over 500 videos have been posted in the group chat since March. —Elizabeth, Rincon Hill
FEEDING A COMMUNITY IN DIRE NEED
I live in an affordable housing unit one block from the Salesforce Tower. I feel like I speak for everyone in my community in saying a huge thank you to the San Francisco Food Bank. Every Tuesday afternoon they show up with a huge variety of fresh fruits and vegatables, plus maybe eggs one week, a frozen chicken, cereal, bread, etc. I think you get the picture. The staff in my building has made it a safe and healthy place to live under the SF and CDC guidelines. Thank you to everyone making our life and home the best it can be at this point in the Pandemic. —Jane, East Cut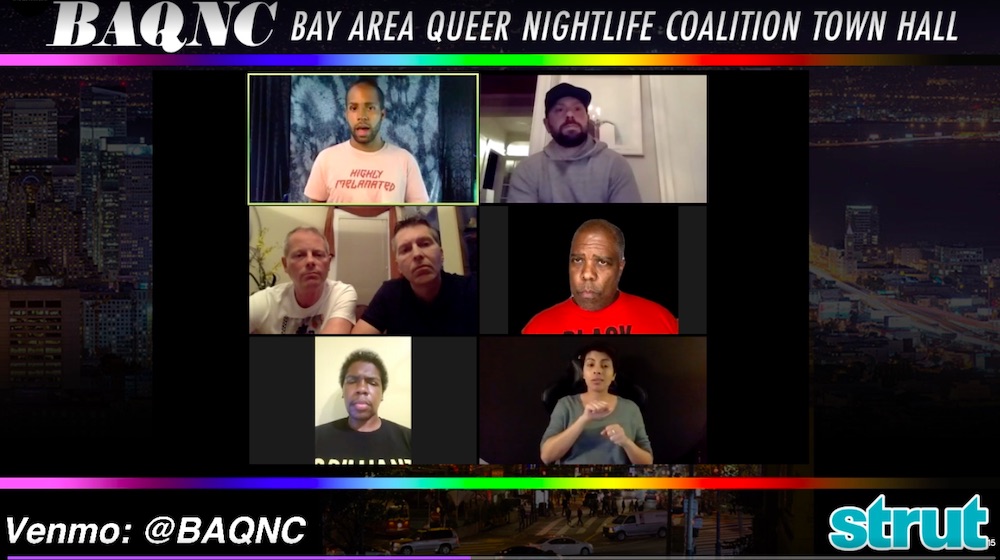 NECESSARY CONVERSATIONS ABOUT NIGHTLIFE
The newly formed Bay Area Queer Nightlife Coalition is opening up long overdue conversations about racism and misogyny in Bay Area queer nightlife venues. The BAQNC was started by a group of BIPOC drag performers who saw an opportunity to address some issues that have been a difficult part of our overlapping queer communities. Based on the results of a survey of queer nightlife patrons, they organized a town-hall style discussion (over Zoom) in which representatives from the management of local venues spoke directly with community members about the impact of their decisions and policies. The group is planning more events, deciding the scope of their mission as an organization, and considering becoming a permanent nonprofit. —Ned, Mission/Castro
COMMUNITY YOGA STUDIO ENDURES
Mission Yoga opened in the heart of SF in 2001 and has been providing tools for the physical, mental and spiritual health and well-being of our community ever since. The building where Mission Yoga was located sold three times and their rent has quadrupled in that time. Their current landlord is expecting them to pay full rent during the pandemic despite the lack of clients. Plus, they are increasing the rent in 2021 expecting ground floor, Valencia street, pre-COVID rents for a run-down second floor Mission Street location, post-COVID. Even as several yoga studios around the city close, the New Mission Yoga has found a new home across at the same intersection, on the ground floor, for less rent and will be able to offer the same great classes. There's still much work to be done, but there is a hope that the New Mission Yoga will survive to provide awesome classes to the community on the other side of this pandemic. —Steve23, Mission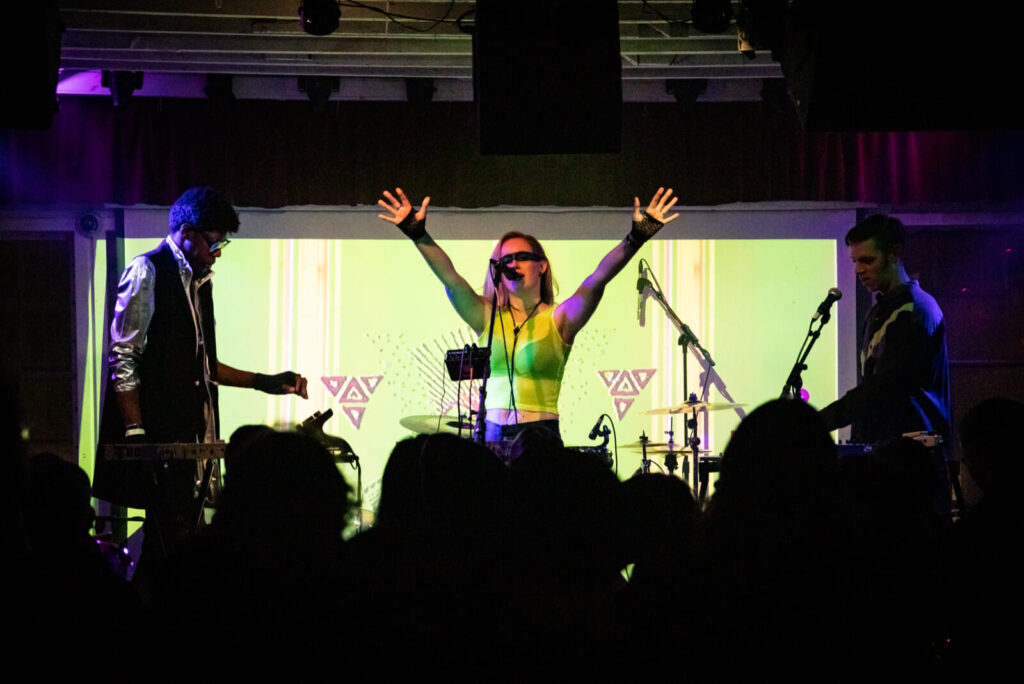 A STELLAR MUSICAL BEACON
When Remi of local band Vice Reine told me last year that she'd be booking a monthly at DNA Lounge starting in 2020, I was over the moon. Our ragtag music community spanning a range of synth, electro, wave, and dance had found a home—called StarCrash. Before StarCrash had a name, there was something special happening. Packed into spots like Amnesia, Rickshaw Stop, Bottom of the Hill, Elbo Room, and Hemlock Tavern among others, we kept going to one another's events as the circle grew into other cities through DIY tours or relocation. Mutual support and encouragement unites this inclusive group of sound-makers, along with an openness to experimentation and inspiration. Sadly, Covid hit after only two live events, but StarCrash returned in virtual form on DNA's Website. In its current incarnation, StarCrash is a mixture of delightfully strange music videos and pre-taped performances, interspersed with odd signals from another time. The chat is every bit as affectionate as a real life concert and has truly become a neon beacon in the midst of the apocalypse. The next event is a 10/29 Halloween show. It's donation-based with the bulk of the money supporting the venue. —Leanne, SoMa
KEEPING THE MIC RED HOT
I am writing about the Riptide's Monday Night Open Mic. Soon after the pandemic caused everyone to shut down, Charlie, the Riptide's Open Mic host, moved his event online. Zoom, while great for meetings, is not optimized for live music, yet Charlie researched the ways to make Zoom work for music and taught all the musicians interested in participating how to change their Zoom settings so that they sound their best. Charlie has not only managed to preserve the community he had built at the in-person event, but he has expanded it! Musicians from around the Bay Area, and often from around the country, are able to participate now when showing up in SF would have been prohibitive. And friends and family are also able to tune in and enjoy live music from wherever it is they live. An open mic may sound small in the grand scheme of things, but being able to have a community to play with and live music to listen to is hugely important to maintaining mental health during these difficult times. —Cara, Outer Sunset/Parkside
VISITING THE OLD HAUNTS—ONLINE
In 1998, I co-created the San Francisco Ghost Hunt, the city's first haunted history walking tour which has been a yearly tradition for tourists and locals alike. I took over ownership of the Ghost Hunt back in 2016. I run it, on my own, nine months out of the year, five to seven nights a week. This has been my main source of income after years of struggle. But, in February my sales died, and requests for cancellations arrived in my inbox. I gave my last tour on March 11, refunded all the guests I had left, and closed my business (hopefully temporarily). Being a magician, I began offer online magic shows to make ends meet. But could I give a "tour" from home? Will people want to see that? Will audiences find it fascinating and creepy? The answer is, yes. I am now offering the San Francisco Ghost Hunt: Virtual Fireside Stories where I invite guests into my place via Zoom and tell them about the city's most notorious haunted places; add some music, an accompanying slide show, and even some spooky interactive magic. The response has been great! The San Francisco Ghost Hunt lives again! —Christian, Lower Pacific Heights/Japantown
HAVING ESSENTIAL WORKERS' BACKS
I am the owner of SF Custom Chiropractic, and I would like to first say that at our office we welcome all people regardless of gender, ethnicity/race, faith, age, background or sexual orientation. We believe everyone should be treated equal and shouldn't be in pain or discomfort. Due to this economic downturn our business definitely is down around 40% but fortunately for us, we have been deemed essential during these COVID times. We have been treating many nurses, and frontline workers from both UCSF and Kaiser hospitals for their neck and back pain. With more people working from home in less then perfect ergonomic workstations there has been an increase in neck and back pain. Not to mention the high levels of stress from what is going on in this world. Under supervision of our chiropractic doctors we have been able to give massages to patients. In fact since spas and gyms were closed down many therapists were out of work so we have increased our team size by hiring 4 new massage therapist. I didn't lay anyone off and kept everyone on payroll this whole time. —Adam, Mission Bay