We're keeping it moving pictures with part two of Jesse Hawthorne Ficks' picks from this year's Sundance Film Festival! See part one of this list of stand-out flicks here.
The World to Come (Mona Fastvold, USA)
Mona Fastvold's revisionist 1850s era Western (adapted from a Jim Shepard short story) does a beautiful job exploring the timeless struggle of women denied autonomy. Kathryn Waterston is yet again devastating as a grieving individual looking for some sort of solace. Vanessa Kirby piggybacks her tour de force performance in Kornél Mundruczó's Pieces of a Woman (2020) with a nuanced role, searching for a way out of an abusive relationship. Even with some unnecessary narration that oftentimes overly articulates André Chemetoff 's illuminating cinematography, the film fits nicely into the recent cluster of picturesque period pieces that includes Céline Sciamma's Portrait of a Lady on Fire, Francis Lee's Ammonite, and Kantemir Balagov's Beanpole. A theatrical release for The World to Come will happen through Bleecker Street Media on February 12th followed by a VOD release on March 2nd.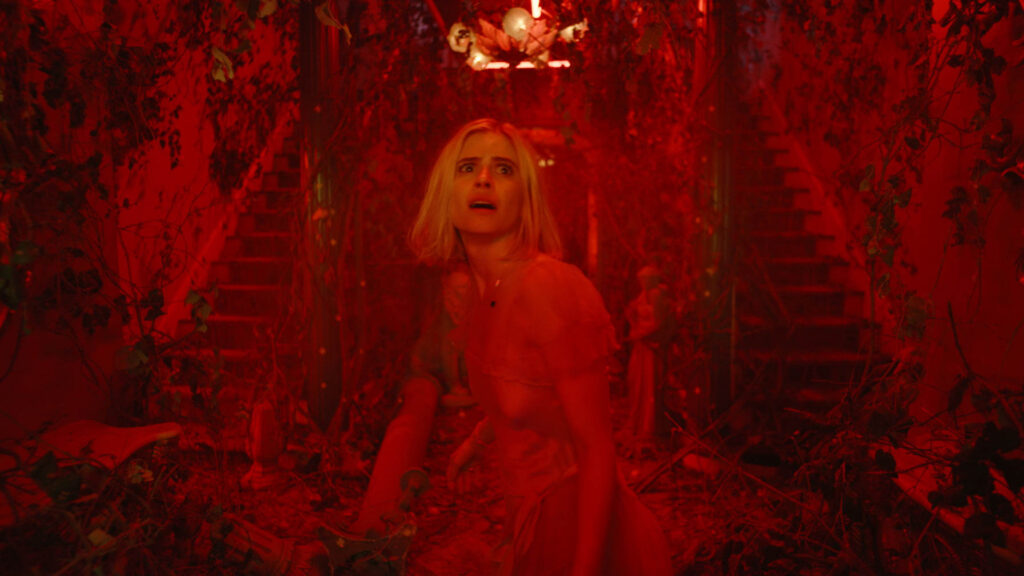 The Blazing World (Carlson Young, USA)
The directorial debut by actor Carlson Young (from the Scream TV series) has the same kind of audacious creativity and uncompromising fervor that David Robert Mitchell achieved with his joyously jumbled 2019 film Under the Silver Lake. Originally conceived as a short film and inspired by Young's own dreams, this eye-popping, feature-length realization jumps through time and space. It feels like an amalgamation of both Richard E. Kelly's Donnie Darko (2001) & Dario Argento's Phenomena (1985) combined with Lewis Carroll's 1865 novel Alice's Adventure in Wonderland. Upon research, Margaret Cavendish's 1666 sci-fi novel The Description of a New World, Called The Blazing-World is clearly Young's direct reference—perhaps one could better digest the film's relentless twists by reading the book. Throw in a jaw-dropping production design by Rodney F. Becker, who legendarily helmed Richard Linklater's time-capsuled sets for Boyhood (2014), and some truly eerie performances by Udo Kier, Dermot Mulroney, and French singer Soko—as well as a powerhouse synth score by Isom Innis (keyboardist from the Indie rock band Foster the People)—and you've got a cult classic in the making.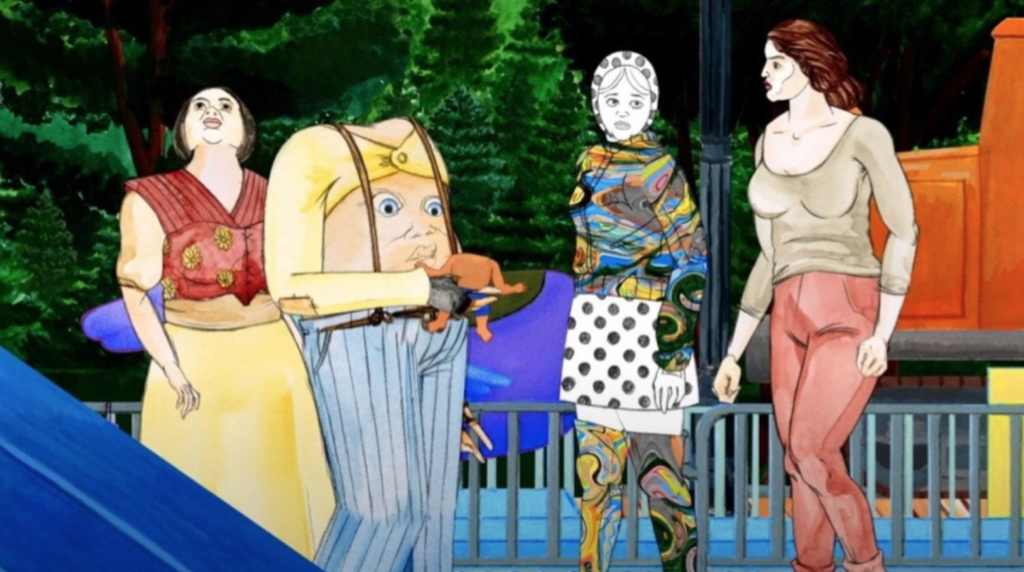 Cryptozoo (Dash Shaw, USA)
Director Dash Shaw and animation director Jane Samborski have created one of my favorite films of Sundance 2021, which also won the fest's NEXT Innovator Award. This exceptional, experimental 1960s adventure follows a gang of three who are attempting to protect "cryptids" from the misuse and mistreatment by the US government. Tapping into the allegorical world of freaks and geeks, the psychedelic nature of this unique "limited" animation makes one want to re-watch the film as soon as it ends. Mesmerizing backgrounds were often just as fascinating as the addictively adorable characters, and it was a treat to be swept up in the voices by Lake Bell, Michael Cera, and the illustrious Grace Zabriskie of Twin Peaks. I have to admit that Emily Davis stole the show with her manifestation of Pliny, whose chest-bearing face made me melt more than anything else all festival long. Quite simply, I didn't want to leave this mystical world, and simply cannot wait for its Magnolia Pictures release later this year.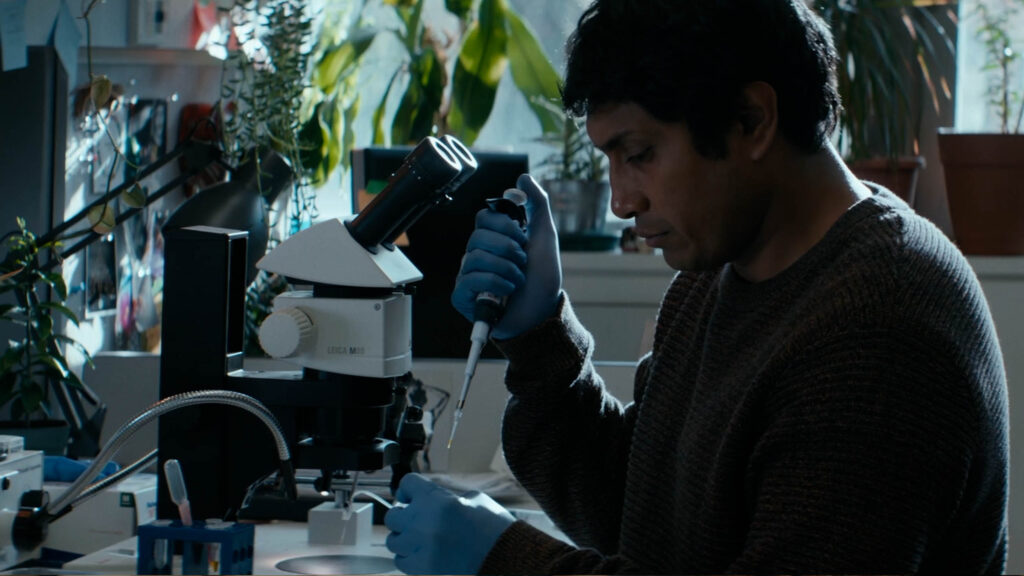 Son of Monarchs (Alexis Gambis, Mexico-US)
Sundance's Alfred P. Sloan Prize is awarded each year to a feature film that "focuses on science or technology as a theme, or depicts a scientist, engineer, or mathematician as a major character." Previous winners have been Shane Carruth for Primer (2004), Andrew Bujalski for Computer Chess (2013), and Chiwetel Ejiofor for The Boy Who Harnessed the Wind (2019). This year's recipient was Alexis Gambis' extraordinary drama, which captures the wonder and beauty of the thousands of monarch butterflies that cultivate in the forests of Michoacan. This subtle sci-fi stand-out profoundly explores cultural identity issues, and the contradictions of leaving one's birthplace. Tenoch Huerta Mejía's superb embodiment of Mendel, an immigrant biologist whose return home causes inner conflict, was easily one of the best performances at this year's festival. The semi-autobiographical film was one of the most unique movies I saw, and should be sought out all costs. Son of Monarchs is currently seeking distribution.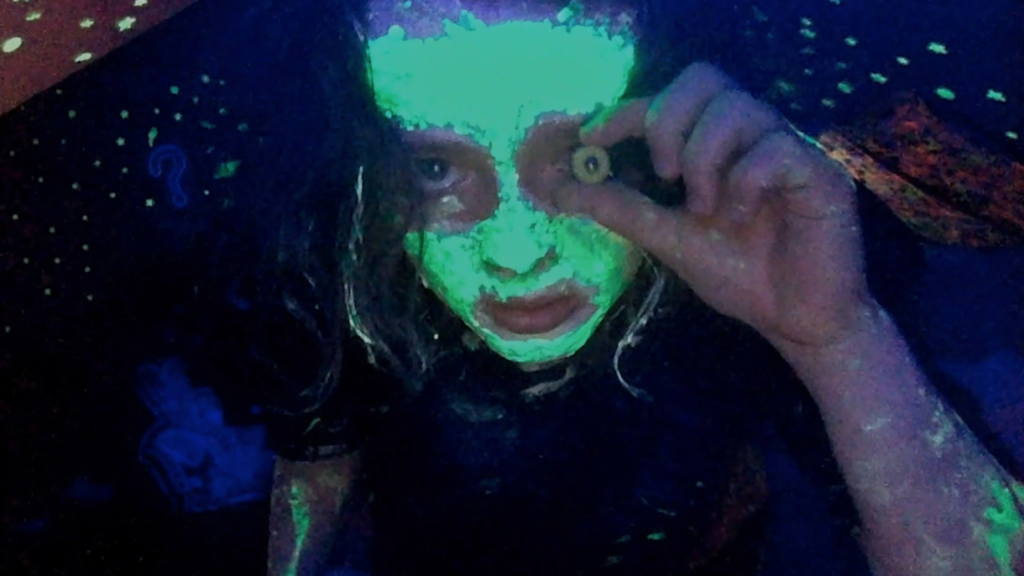 We're All Going to the World's Fair (Jane Schoenbrun, USA)
Another of my favorite films of the festival was this eerily earnest portrait of a disassociated teenager looking for life's answers from "the internet's scariest horror video game." Main character Casey grew up on Oren Peli's Paranormal Activity films, and director Jane Schoenbrun (who also wrote and edited the film) perfectly mirrors many of that franchise's low-budget, minimal techniques, effectively adding to the excruciatingly creepiness of this whole affair. Newcomer Anna Cobb is a downright superstar with her unnerving and unadulterated performance, including a jaw-dropping sequence of her singing "Love in Winter" by Fredrick Cuevas (who records under the name FRDRK.) Schoenbrun has hinted that she may need to distribute the film DIY-style, but please keep your eyes glued to Reddit threads so you don't miss this special little ditty. It would be like the world missing out on Miranda July's Me, You and Everyone We Know (2005) just because distributors couldn't hear its distinctive new voice.
A Glitch in the Matrix (Rodney Ascher, USA)
Originally finding his way into the Sundance circuit with his terrifying short film The S From Hell (2010), Rodney Ascher has since carved out an entirely unique genre of cinematic essay filmmaking. His debut feature was the outrageous documentary Room 237 (2012), which gave obsessive fans of Stanley Kubrick's The Shining more than enough time and space to pontificate on their wildest theories and often expose their very own psychoses. In 2015, he presented an unnerving look at folks suffering from sleep paralysis in The Nightmare (2015), re-enacting many of their strange tales in a 1990s-low-budget-X-Files-esque manner. Now he's back and for some, this might be his most enjoyable excursion yet.
A Glitch in the Matrix takes a deep dive into the question "Are we living in a simulation?" This journey begins with a breathtaking 1970s interview with Philip K. Dick, who first posed the question (and definitively answered it for a group of unsuspecting audience members.) Ascher follows that up with a series of fascinating testimonies, supported by countless scenes from a myriad of sci-fi films, as well as with an array of philosophical and scientific explanations. By allowing his interviewees to be heard loud and clear, Ascher does an astounding job at proving what a profound effect that the Wachowski's The Matrix trilogy has had on most of the world for the past two decades. Whether the content is something the director or audience member ends up believing in or not, I look forward to all the conversations A Glitch in the Matrix will instigate. The film will be available online via Magnolia Pictures on February 5.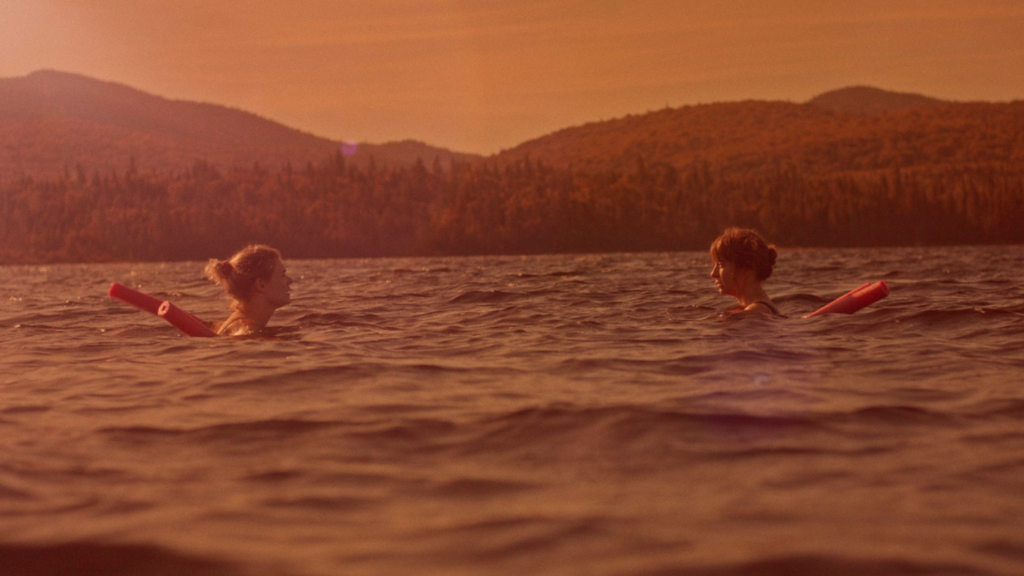 Violation (Madeleine Sims-Fewer, Dusty Mancinellim, Canada)
Since Violation had already premiered at the Toronto International Film Festival, I was genuinely surprised that there wasn't more buzz around it as an absolutely uncompromising horror film. The directorial debut for both Madeleine Sims-Fewer (who plays the lead) and Dusty Mancinellim will be aligned alongside similar Sundance stunners like Jennifer Kent's The Nightingale (2018) and Coralie Fargeat's Revenge (2017.) I have to admit that I found myself exclaiming, out loud, more than once (all alone!) during the film's duration. Figuring out a way to subvert the controversial exploitation genre is almost an impossible feat, the pursuit of which dates back to Abel Ferrara's still-surprisingly profound Ms. 45 (1981). Please note; trigger warning for anyone who might casually wade into this mind-melting exploration of sexual consent—Madeleine Sim Fewer's gutteral performance alone should be remembered in cinematic horror history for years to come. Its cinematic style is perfectly attuned to A24's "elevated horror" (see: Ari Aster and Robert Eggers.) Violation is not for everyone. But for those interested, Shudder has picked up the film and will be releasing it on its streaming platform in March.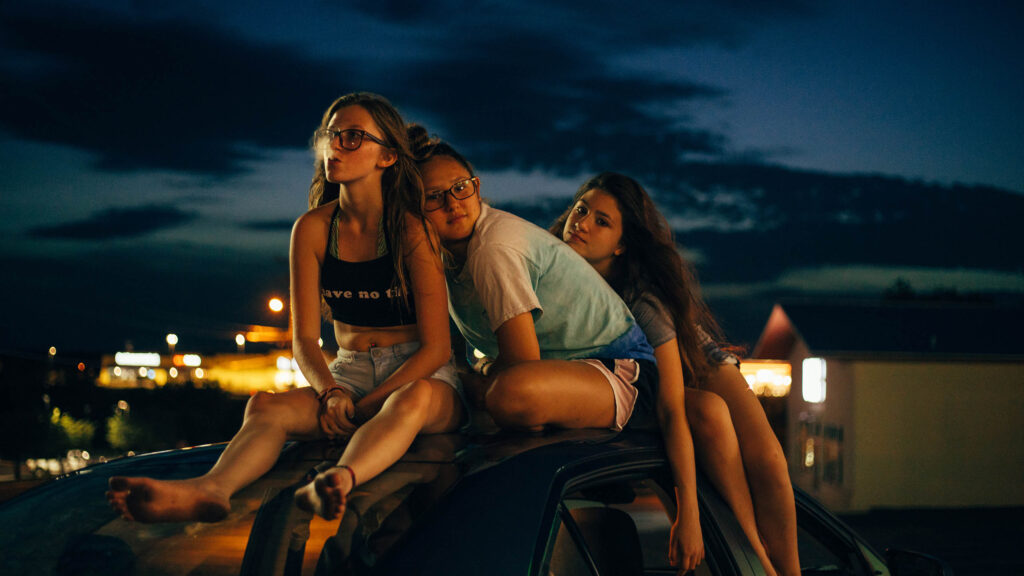 Cusp (Parker Hill, Isabel Bethencourt, USA)
This observational documentary takes a refreshingly unsentimental look at a trio of teenage girls growing up in a small, unspecified Texas military town. Filmmakers Parker Hill and Isabel Bethencourt manage to capture uncensored contemporary conversations with such ease that one may initially feel uncomfortable by how casual these young women are speaking about issues such as sexual assault and child abuse. And yet, that unguarded interaction with their current partners, struggling parents, or on their socials, is exactly what separated this enthralling excursion from others of its kind. Although it won the US Documentary Special Jury Award for Emerging Filmmaker(s), Cusp is currently seeking distribution.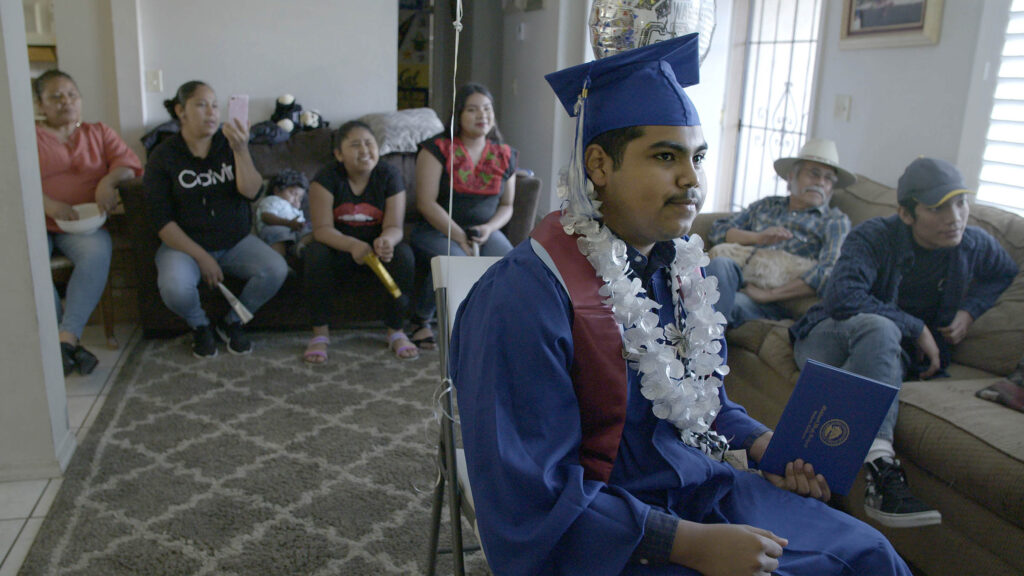 Homeroom (Peter Nicks, USA)
A truly heart-wrenching look at Oakland High School's class of 2020 that follows them through this most recent, turbulent year. Director Peter Nicks, whose previous film The Force (2017) won Sundance's Directing Award for its work exploring the embattled Oakland police department, has yet again constructed a complex film around present-day Bay Area issues. Homeroom uses a cinéma vérité approach to immerse viewers in the students' pandemic transitions. They wrestle with the importance of BLM protests, even as they attempt to graduate while under lockdown. Truly inspiring and uncomfortably relatable, this film should stay relevant for quite some time. Winner of Sundance's Jonathan Oppenheim Editing Award, Homeroom is currently seeking distribution.

Try Harder! (Debbie Lum, USA)
Debbie Lum's sublimely sentimental spin on the Bay Area high senior experience presents a vastly different reality than that of Peter Nicks' Homeroom. Following five seniors at the prestigious Lowell High School in San Francisco, the film captures some truly contentious situations regarding parenting expectations that should inspire many discussions to come. Much like Steve James' Oscar-winning Hoop Dreams (1994), Lum has made a film that genuinely taps into the intense drive to succeed, no matter what the cost. Most interestingly, Try Harder! bravely exposes a double-edged sword when it comes to race and higher education—perhaps this is one of the reasons that it is bafflingly still seeking distribution.

Flee (Jonas Poher Rasmussen, Denmark-France-Sweden-Norway)
Directed by Kenneth Ladekjær, this exceptionally inventive account of a disturbingly true story won the World Cinema Documentary Grand Jury Prize. I dare say that this stunning endeavor has the power to change its audience's perceptions of the world. The story of Afghan refugee Amin Nawabi (a pseudonym for the story's main character) is told through a seemingly never-ending series of life-threatening escapes, with inspired and experimental hand-drawn animation. Incorporating archival footage, relevant pop culture references, and a reveal that makes things all the more complex, Flee was bought by Neon for near $1 million, and that distribution company will partner with Participant Media on its US distribution. Supposedly, actors Riz Ahmed and Nikolaj Coster-Waldau (who are executive producers of the film) will dub voices for an English-language version.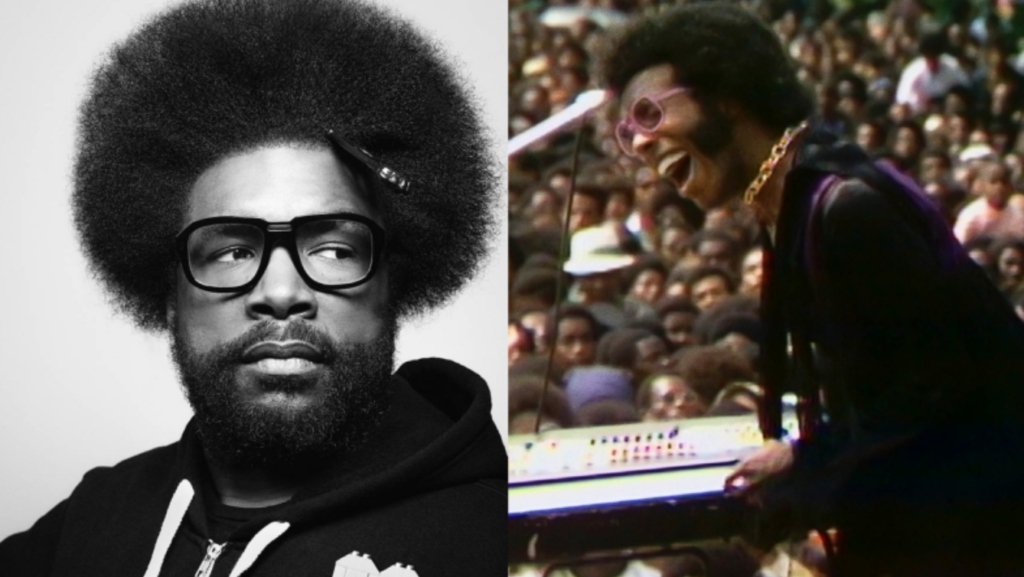 Summer Of Soul (…Or, When The Revolution Could Not Be Televised) (Ahmir "Questlove" Thompson, USA)
As the liner notes state, "In 1969, during the same summer as Woodstock, a different music festival took place 100 miles away. More than 300,000 people attended the summer concert series known as the Harlem Cultural Festival. It was filmed, but after that summer, the footage sat in a basement for 50 years. It has never been seen. Until now."

Questlove's hypnotic documentary is a downright master class in the racial inequalities that were boiling to the surface of the late '60s. It doesn't just showcase some truly legendary live performances by Stevie Wonder, Gladys Knight and the Pips, Nina Simone, B.B. King, David Ruffin (of The Temptations), The 5th Dimension, Sly and the Family Stone, and a life-changing duet by Mahalia Jackson and Mavis Staples; it gives context to historical social issues that led up to that point, and are still relevant today. Winner of both top documentary awards, the Grand Jury Prize and the Audience Award, the film was just acquired by Searchlight Pictures, while Hulu acquired its streaming rights. It gets my highest possible recommendation.

Jesse Hawthorne Ficks is the Film History Coordinator at the Academy of Art University in San Francisco, teaches Contemporary Cinema at Chapman University and curates/hosts the MiDNiTES FOR MANiACS series in the Bay Area. He is also a member of the San Francisco Critics Circle.