Last Thursday, on a call with city health officials, the mood seemed jubilant as guidelines were laid out for moving into the "yellow tier" of pandemic precautions. We aren't there yet—we'll need to stay this low in terms of key health indicators for another few days to meet the state's criteria—but more than 70% of San Francisco residents over 16 have received at least one vaccine shot, and it looks highly likely that we will take another step back to "normality" by May 7. [UPDATE: We have entered the yellow tier today.]
What does that mean? Among many other welcome changes, bars without food can open at 25% and live outdoor events can host up to 67%. Indoor live events with food can open up to 50%, as can movie theaters. And the libraries are already reopening at 50%. (The Chron has a good rundown chart here.) Some venues have already been able to open at smaller capacities, but this will increase their chances of economic survival.
Still no dancing, but I'll take it. And of course, everyone shouldn't just jump right into things without feeling comfortable—I'm still not used to having the option of not wearing a mask when I'm walking down the street socially distanced. Eep!
But it's also OK to dip your toes in, and I can't tell you the delicious feelings that flooded me as I finally dug into a classic meal inside a restaurant on Sunday night. It took some courage and a very special meal, but Hunky Beau and I made our very first indoor meal outside our home count: We dove into a big bowl of cioppino and several glasses of chianti at Gigi's Sotto Mare in North Beach—yes, still the best damn cioppino in SF, as we called it in 2010's Best of the Bay. (I am willing to entertain alternative opinions and free samples to try to change my mind. But it will be tough.)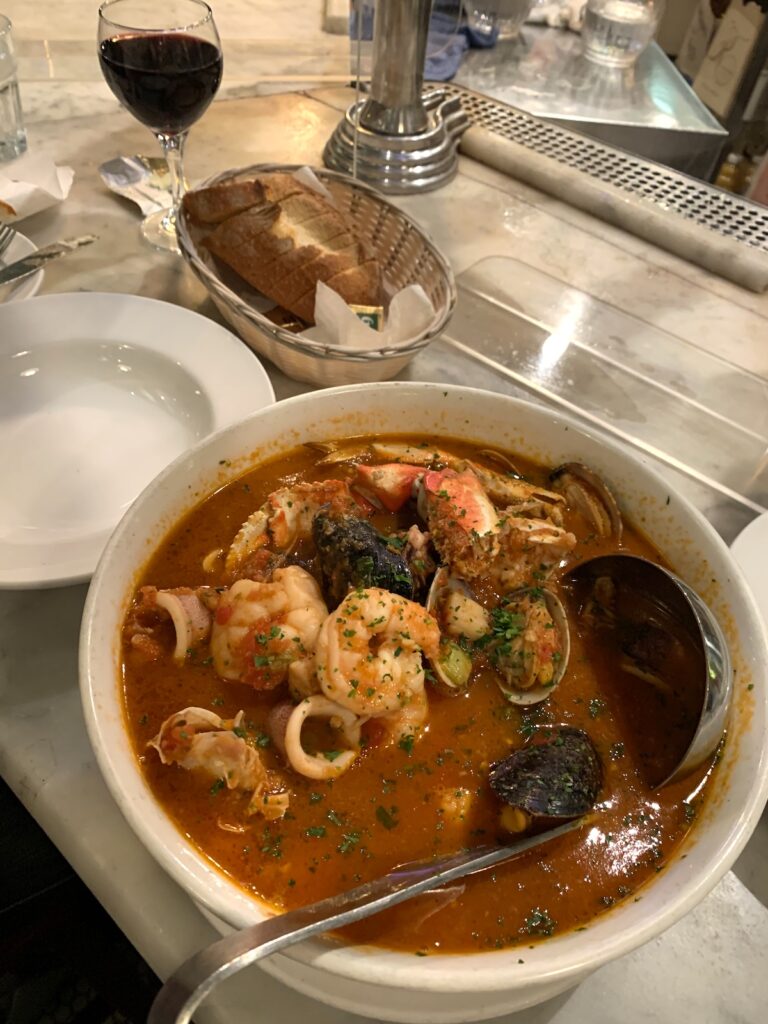 If there's one thing I've become over the past 14 months, besides pleasantly pandemically plump, it's a gourmet chef, or at least a competent one. What else was there to do? But the pleasure of friendly bantering (behind plexiglass shields, masked, and distanced) with a kitchen and waitstaff above a slight restaurant din (25% capacity) brought me a bit to tears—as I'm sure everything will, from finally hearing someone play a guitar in a concert hall to singing along to "I Will Survive" on a dancefloor…. someday.
We even went for brown butter with honeycomb gelato afterwards from Lush on Columbus, and sat admiring the gauzy stars (and a trio of drones) above Washington Square Park. Romantic!
What else brought me to tears—seeing a live show! (OK it was lipsynched, but still.) A glamorous classic drag show on a sidewalk on Polk Street sent chills running up my still-limber-if-disused spine. The wonderfully seasoned gals of the "3 Queens Are We" pop-up show are performing outside the Cinch bar on Friday evenings, and the (seated, masked, socially distanced) show is a hoot. Plus there's this incredible element of old-school San Francisco—the Polk feels more like its scrappy self since the tech exodus, and the sight of smiling immigrant families navigating around spirited Cher and Barbra impersonators is one of my all-time favorite things.
I can't wait for many more adventures—perhaps we'll bump into each other soon?
UPCOMING EVENTS
We're mixing it up below with a few online and in-person events, which will be indicated. Be sure to check out our weekly art reviews by Genevieve Quick and Good Taste food and drink column by Tamara Palmer for more inspirational options. We are helping you reconnect with Bay Area culture!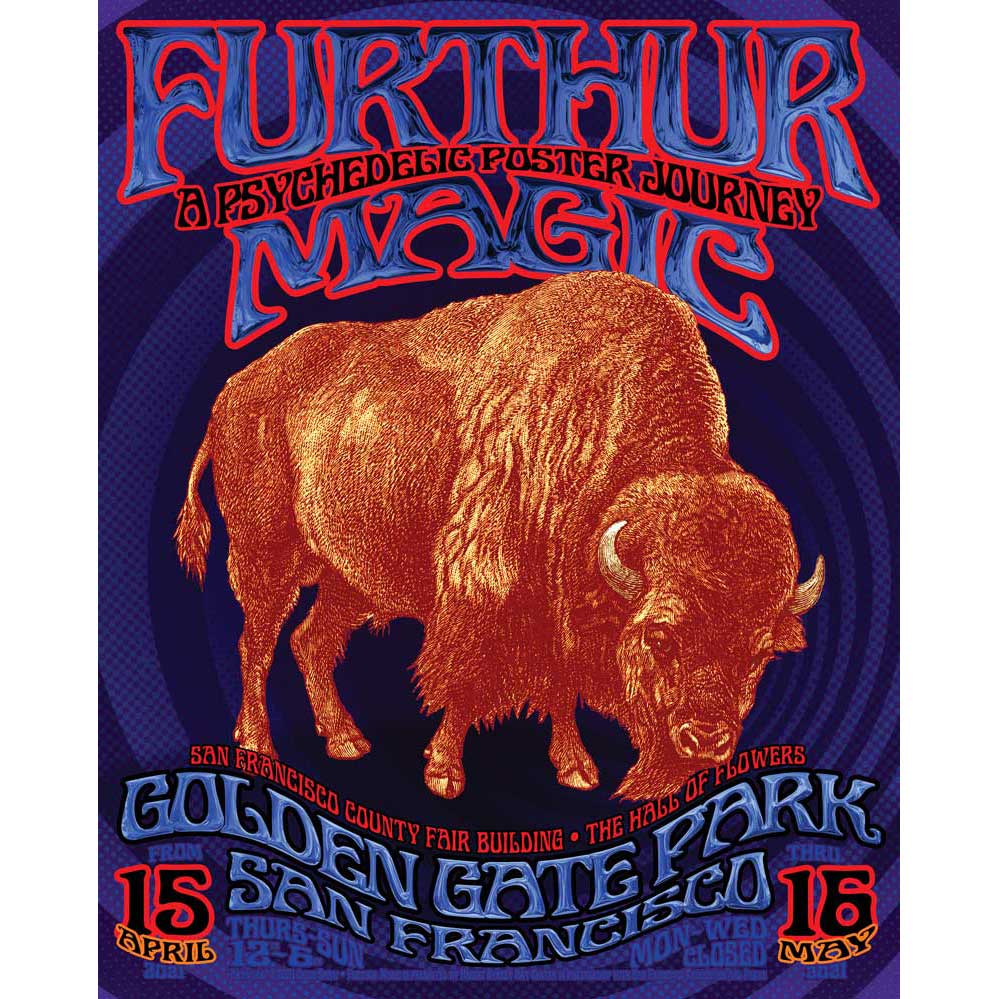 THROUGH MAY 16 FURTHER MAGIC: A PSYCHEDELIC POSTER JOURNEY (In-person) Now that I'm a bit more ambulatory, I can't wait to check out this in-person Thu-Sun weekly print show (11am-5pm) at the Golden Gate Park Conservatory of Flowers from the folks at Haight Street Art Center. It's just the ticket to reignite our love for SF's wild and vivid history. "In celebration of the 150th anniversary of Golden Gate Park, this exhibition explores psychedelic poster art of the 1960s, especially in the Haight, psychedelic events in Golden Gate Park, and the ongoing legacy of the psychedelic events and styles pioneered in both places." More info here.
THROUGH MAY 23 SOWING AGENCY: SEEDING THE FUTURE FOR ENVIRONMENTAL JUSTICE EXHIBITION (In-person) I love this artistic combination of social and environmental justice. SOMArts Cultural Center pairs with the Asian American Women Artists Association, the Asian Art Museum, and local AAPI organizations for a fascinating art show aiming to "activating our Asian Pacific Islander communities to engage in the issues of today's climate crisis." Ticketed, timed entry required. More info here.
FRIDAYS THROUGH SUMMER THE NIGHT MARKET (In-person) Remember shopping? Support local indie designers and vendors while enjoying live music and food trucks every Friday at new outdoor marketplace District Six (formerly SoMa StrEat Food Park). I can't wait to browse and drink! 5pm-9pm, more info here.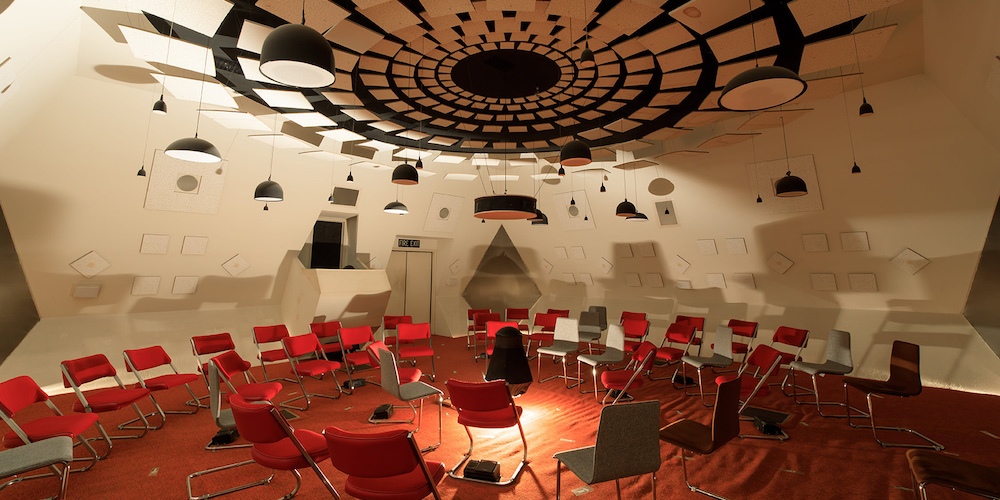 THU/6-JULY 31 THE AUDIUM: SOUND HOUR (In-person) Wow wow wow—this should probably have been my lead! Incredible SF head-trip tradition The Audium is back with a new surround-sound program called Sound Hour to blow your mind and tickle your ears. It's taking reservations for up to 10 people for twice-daily shows. The latest "will offer San Francisco sonic well-being in a new world. This curated, immersive sound environment will promote calm and wellness during these trying times. Come relax in a safe space away from the noise of our new reality. Experience sound scenes that jump off the walls. Spring from the loud clatter of the Tenderloin to a remote Baker Beach cave. A familiar afternoon in the Sunset District gives away to an ecstatic celebration in the Mission. Hear birds flitter above, while children laugh and play below. Electronic melodies bump up against each other and burst." Masks and distancing required. More info here.
THU/6 CAL PERFORMANCES AT HOME: BANG ON A CAN ALL-STARS (Online) Absolutely stellar contemporary music ensemble comes through (your screen). The performance? "Steel Hammer, an acclaimed oratorio by Bang on a Can's co-founder, Pulitzer Prize winner Julia Wolfe—that mines the sounds and stories of Appalachia. Wolfe creates a musical amalgamation of every version of the folktale of "John Henry" that she could get her hands on—more than 200!—and weaves these often contradictory stories into an expansive allegory about the human cost of industrialization." 7pm, available on-demand through August 4. More info here.
FRI/7 QUEERIOSITY CORNER: THE MAYOR OF CASTRO STREET (Online) The GLBT Historical Society Museum and Archives presents this online showcase of Harvey Milk's lighter moments, with legendary photographer Danny Nicoletta. This event is part of a new quarterly showcase called Queeriosity Corner, looking in-depth at the Society's more interesting holdings. Don't miss a look at Milk's famous barber chair from his camera shop on Castro! 6pm-7:30pm, more info here.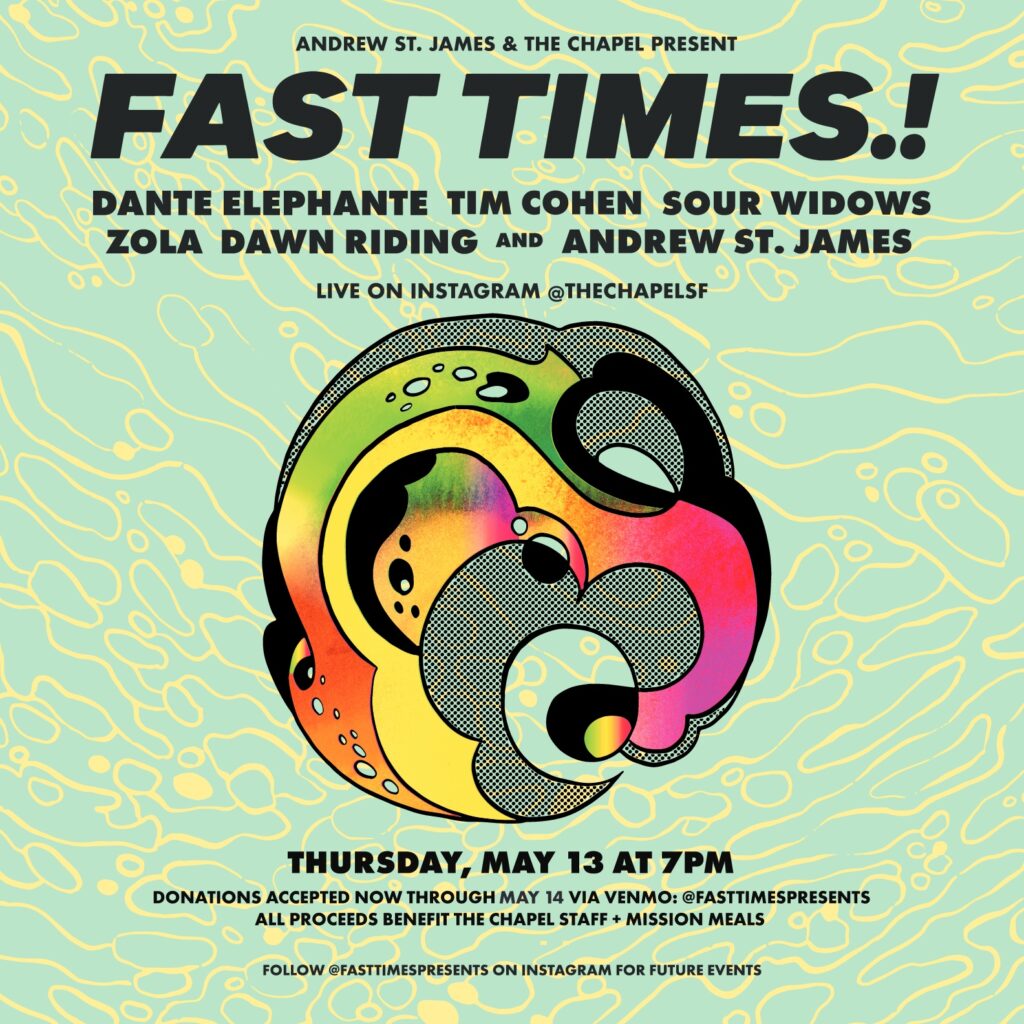 THU/13 FAST TIMES (Online) We don't really have live music shows back yet, as in full concerts, but indie musician Andrew St. James and promotional partner Ashley Graham have been doing terrific work putting together fantastic local virtual lineups benefiting Mission Meals Coalition and the staff of The Chapel. (St. James spent much of the pandemic delivering free concerts door-to-door to raise spirits, he's that type of guy!) This one is killer: Dante Elephante, Sour Widows (whose great new record we just reviewed), Dawn Riding, and more. You watch on the Chapel's Instagram page and donate via Venmo—easy, peasy, musical and charitable. 7pm, watch here.
THROUGH MAY 31 RAWDANCE PRESENTS "COLLECTED BREATH" (In-personish) If you want to be entertained outside but aren't ready to be around people or enter a venue space—well, look up! This "Midnight Artist Collaboration with Jim Campbell's Studio" from one of our most innovative dance companies is taking over that giant projection screen the top of the Salesforce Tower every night from midnight to 1am through the month of May. I am going to read this as a wonderful, symbolic prediction that the arts are reclaiming the city from tech, not to mention a wishful premonition about what to do with all the abandoned office space downtown … More info here.