While the rich and their acolytes celebrated at Davies Hall, the fun was outside on the streets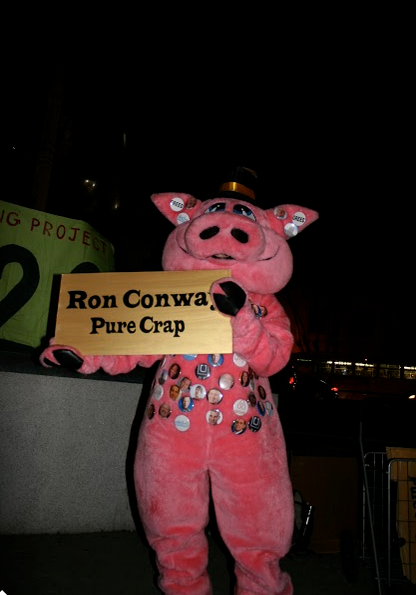 By Calindra Revier
February 6, 2015 – As the local tech industry was celebrating its gala "Crunchie Awards" inside the Louise M. Davies Symphony Hall, a mockery style protest titled the 'Crappy Awards' was taking place on the sidewalk.
Thirteen awards were given out to the mock versions of influential 'Techies' in the industry, among them the "There goes the Neighborhood Award" to Jean-Paul Greze from Dropbox for his involvement in a highly publicized interaction between neighborhood kids and the Dropbox soccer team involving public space rules. Another was the "Evictions Profiteers of the Year" award, which was given out to the mock "Danny Haber" and "Alan Gutman," for finding opportunity in the wake of a devastating Soma fire.
There was music, chanting, stand up directed at influential tech companies and people dressed as pigs holding signs that said things like, "Ron Conway is Pure Crap," and "Gentrify this." Candice Roberts sung a song she wrote titled "It's not my city anymore," which can readily be found on YouTube.

Erin McElroy, an organizer from the Anti-Eviction mapping project, had this to say "I think that when you're protesting evictions day in and day out, it's helpful to have a protest that is also, I would say lively and joking. I think its uplifting for people who are just so down-trodden by what's been going on.
"It's horrific the different acts that are so egregious that these people are responsible for in these corporations."
The mock version of billionaire Ron Conway, played by Joe Wicht, hosted the Crappy Awards wearing a fitting white short bob wig and made jokes like "I don't know exactly why we're standing here, I didn't pay for this building. Let's start this awards ceremony…"
Wicht, who works for a large non-profit, said "I'm shocked from what I've seen in the past six years. Right now were in front of a place where they're giving out self-congratulatory awards tonight. Patting themselves on the back and giving themselves more influence to keep doing what they've been doing up until this point. It's not acceptable.
"The city is not for sale. The city is not for sale," he said.
Inside the Crunchie Awards, the mood was light. Comedian T.J. Miller prepared for his role as Master of Ceremonies and did a quick pre-award show interview that was projected onto a massive screen on stage.
Quint Boyle, designer and creator of Private Sensei, an application that connects Japanese students with English teachers, stood in the back of the symphony hall "It's nice to be in a room full of maybe like $500 billion," he said.
Another protest was going on directly outside the entrance of the hall – the SF Taxi Workers Alliance was protesting Uber and Lyft. The drivers combined forces with those left from the crappy awards to chant, "How do you spell displacement?…G..O..O….G..L..E, How do you spell displacement?…A.I.R……B.N.B."
Here, directly from the press release, are the 2015 Crappy Awards:
Eviction Profiteers Of The Year Award: Negev LLC: Danny Haber and Alon Gutman
To find opportunity in disruption and even disaster, it takes a special entrepreneurial spirit. When a fire displaces tenants of a South of Market SRO, that spells OPPORTUNITY! For taking on a burnt out hotel on Folsom Street, slicing up the units — and then recruiting credulous young techsters to pay tripled rents.
There goes the Neighborhood Award:  Jean-Paul Greze of Dropbox
The judges were torn between the nominees this year: Phil Ginsburg of the Dept. of Recreation and Parks, the Fisher Family of Plastic Fields Foundation, or the techie soccer players from Dropbox and AirBnb. However the judges agreed that it was his "Doucheboxness" that  transformed a simple scrimmage into a beacon for the world to see and got one of the quickest legislative u-turns ever achieved.
Labor Fairness Award – Uber
Uber and Lyft's drivers are private contractors. To grant their employees rights under California Labor laws, an issue that's currently in the courts, "would cost the companies a lot of money." We know that is really tough for Uber with its recently reported $40 billion valuation. Keep 'em desperate! If they act up, "ban their ass," as the Human Resources Director recently put it to a driver.
Gold Pocket Napoleon Complex Award : David Chiu
Democracy is a fragile thing. David Chiu has a golden future ahead of him with his gold lined pockets. Kaching!
Federated Gold Nugget Award:  David Plouffe of Uber
David Plouffe has left his post in the Obama Camp for a top position at transportation disruptor Uber. So when the next underpaid, hammer-wielding price-gouging loon takes it out on you, don't expect protection
Gold Digger Award : David Owen and AirBnb
There is gold in policy making. From Board of Supes chief of staff, to Platinum Advisors Lobby Group to full time at AirBnb, David works in the Sharing Economy sector of government gifting. Housing is the new gold nugget, and David is digging it out of the hills of San Francisco.
McMansion Award /Best 100 Yard Dash: Google Employee Jack Halprin
Supersize It! Tearing out the walls of two apartments to make his own private Idaho right on Guerrero Street, was full of space but still feeling hungry. Housing bulimic Halprin has an empty place inside of himself where his heart should be, and he supersizes to try to conquer his emptiness. Recently chased home at dawn from his Google Bus Stop, he gets recognition for the Best 100 Yard Dash.
Urban Regression Award: Y-Combinator
For turning a sophisticated and mature city into a frat house. Thank you Y-Combinator for adding weight to the big Big Bubble Fart.
The What's in the Past is the Past Award : Snapchat's CEO and founder Evan Spiegel
The world caught a glimpse into Evan's soul in some leaked emails from his recent college days. He told his frat brothers to "have some girl put your large kappa sigma dick down her throat." His edgy worldview didn't put a damper on his success though. He was rewarded with a healthy round of funding and Snapchat is now worth $10 billion dollars.
 Fair Housing Law Disruptor Award : Chez JJ Digerati Dorm
At Chez JJ Outer Mission you can sleep on a bunk bed in a room with three other people for $929. For $1568 you get your own room. Your ChezJJ "captain" will screen all applicants to ensure you only live with the coolest and the hippest. Should be called the LOGANS RUN award. But if you get that reference you are too old!
Give Away the Streets Award – Ed Reiskin and the MTA
You've heard of "take back the streets"? This is not that. After granting special privileges to streets and bus stops for a few years with a recognized "handshake agreement" that allowed the lumbering Google Bus to become a troubling symbol of the Venture Takeover of the city, Reiskin was not embarrassed when caught. " An environmental review will doom the project." he told the news, "And the unregulated, ad hoc experience that we have right now with these shuttle buses would more or less continue." No parking enforcement was possible.
Get Out of the Way Award : Travis Allen
A Republican from Huntington Beach, CA, Allen is proud to represent the first community in the nation to repeal a plastic bag ban. With his largest campaign donation coming from the Association of Realtors, San Franciscans know that he is looking out for the community. His newest bill, AB61 seeks legalization of "shuttle" buses across the state and would grant them the right to block municipal buses and school buses without regard to local regulation. Like an Ellis Act for public buses.
AirB and E Award : Brian Chesky
This is the award for the man who fits into so many of the other Crappy categories. A member of the Y-Combinator fraternity, a driving force for so many of the eviction profiteers and housing gluttons we honor, a disruptor of rules and regulations extraordinaire, with Gold Davids and Mayor AirBnLee on his team, this Crappie honors Chesky and his gold gazillion wealth for breaking and entering our community, and making off with so many of our homes.