Choice nightlife and dance floor affairs, July 2-4. Plus: the annual "We Survived Pride" prize list!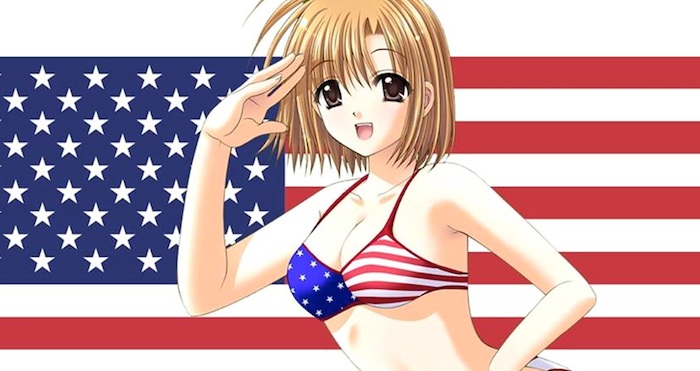 By Marke B. 
PARTY RADAR My annual Pride prize list! Most stamina: Miss Rahni –from high-class drag to outdoor go-go dancing, she was at 1000 events, including the 10-hour drag performance marathon Some Thing party. Most looks: Krylon Superstar — 100 fierce and fancy-free looks in 100 hours, including at the record release party for his act Double Duchess. Best accessories: Golden laurel crowns, neon butterflies, filthy wedding dresses left over from the anti-Prop 8 celebrations two years ago, humans dressed as dogs, all the jewelry from Juanita More's annual glamour-drenched Pride party. Best single look: Performance artist Fauxnique slowly rolling down the stairs at City Hall, unravelling yards upon yards of gorgeous fabric.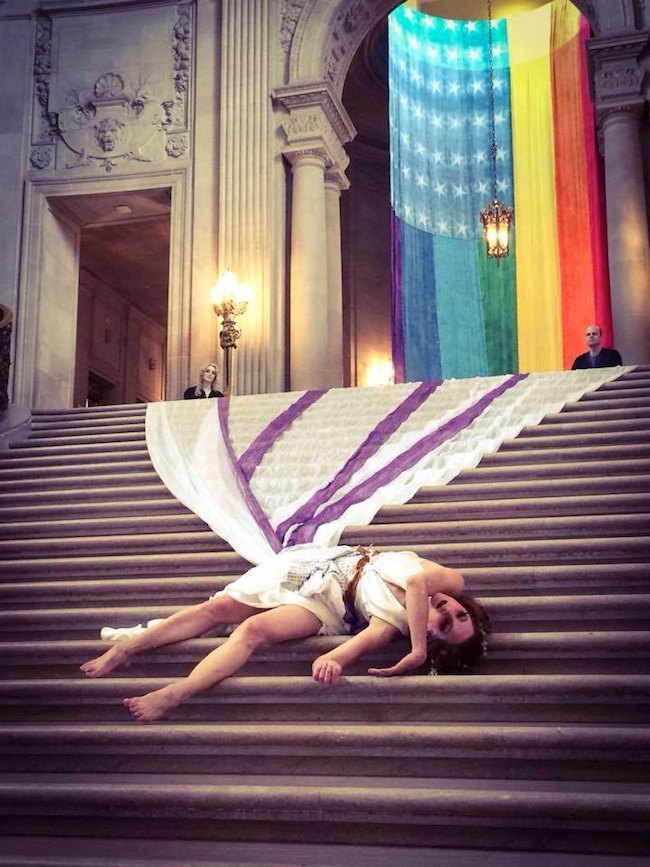 Best overall moment: The Dyke March breaches the 18th street barriers and floods onto its original route to "Take Back the Dyke." Best moment runner up: When activists hijacked the rainbow flagpole to raise a QITPOC resistance flag. Best ecstatically surreal moment: Extra Action Marching Band crashing onto the dance floor at Sunday's massive daytime Hard French party at Mezzanine.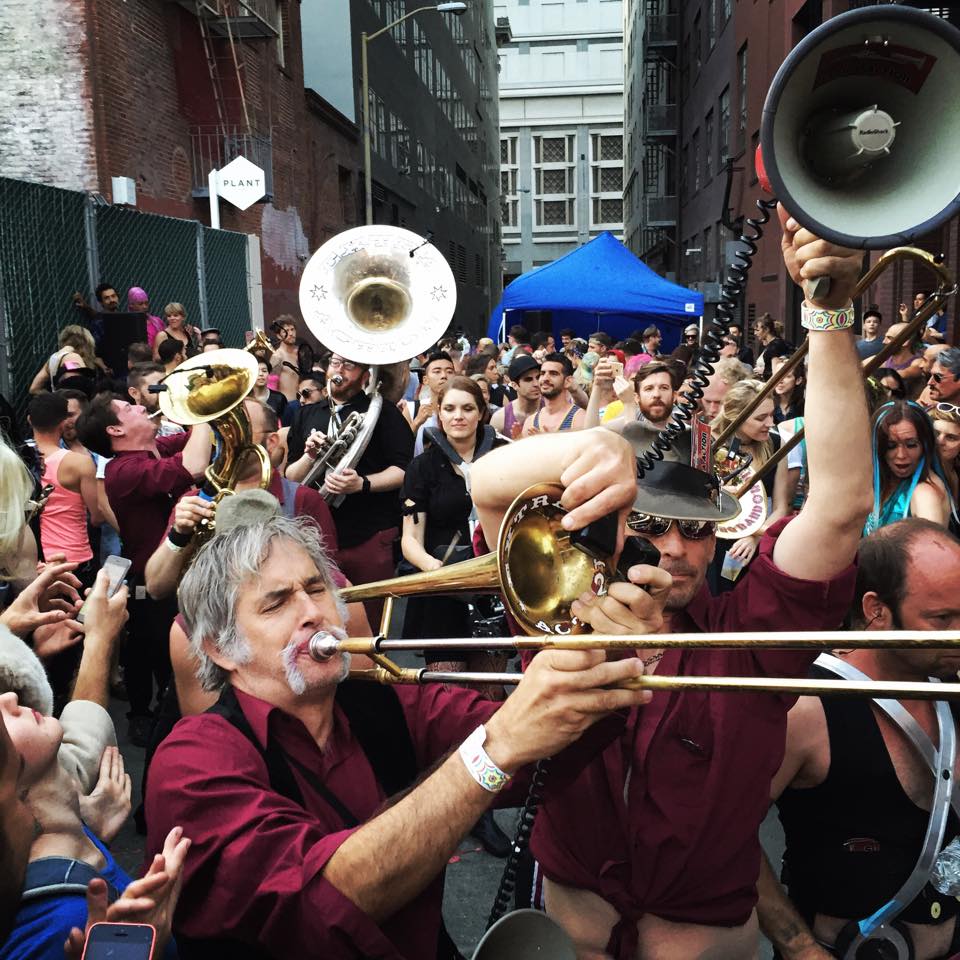 Best emotional musical moment: DJ Bus Station John climaxing his outdoor Pink Party set with 10 delirious minutes of Sylvester, and watching 70-year-olds and 17-year-olds alike jumping for joy. Most heard voice: Maya Angelou's inaugural poem for Clinton "On the Pulse of Morning," which I heard sampled in at least four DJ sets. (Including that of Miami's DJ Mystic Bill who with drag queen Noel Leon leading the Pride main stage in a good ol' fashioned house diva anthem bounce-a-thon — watch for some extra magic around the 3:30 mark). The rock, the river, the tree … indeed.
Best personal (non) memory: Closing out the Horsemeat Disco party on the Mighty dance floor at 4am, and still not managing to get home until 8am, whoooops. Most tired: People still complaining about too many young straight people celebrating Pride. Get with it grandpa and go dance with a few. Yes, you may need to hold their hair while they puke, but who held yours? Best overall: Black women taking it over! From Laverne Cox's surprise appearance at the Trans March and ESG's mind-blowing performance at Hard French to DJ Minx at Honey Soundsystem, rappers Siya and Njena Redd Foxx at House of Babes, and DJs Ultra Nate and Lisa Moody at the Mighty Real Pool Party, it was a joy to see so many fantastically talented women of color being celebrated and celebrating.
Oh and btw, and if we love the Supreme Court so much, why don't we marry it.
https://www.youtube.com/watch?v=Bs81piYG2G8
And the absolute cherry on top of all this? Tonight! Our very own hometown drag princess/monster Monistat will be featured on ABC's Celebrity Wife Swap — possibly becoming the first prime time network TV drag queen ever! (If you don't count "Bosom Buddies.") You can watch it tonight, or catch up with it online at ABC Go.
OK who's ready for another long weekend! Let's Party:

>>>>> THURSDAY  JULY 2<<<<<
>>>AFROLICIOUS One of the best global funk parties returns, with this residency at the Chapel. Afrolicious is a live band and party crew, fronted by Pleasuremaker and Señor Oz. If you miss their weekly parties at Elbo Room, or just want to dance-dance-dance, hit 'em up. Thu/2, 9pm, $18-$20. The Chapel, SF. Tickets and more info here. 
>>>DEPARTURE Incredible house DJ Ruben Mancias has moved back to town after a long absence — and is setting up shop again at the End Up with this weekly party. Will it help the End Up return to its glory days? This week features Chicago legend DJ Heather, with support from Ruben, Scott Diaz, Jay-J, and Teejay Walton. Thu/2, 9pm, $10. The EndUp, SF. More info here. 
>>> NIGHTLIFE The weekly Nightlife parties at Cal Academy of Sciences are essential — and this week they're turning the whole darn place into a giant beer garden, why not. Who wouldn't want to down a brew or two with the penguins? Andy Cabic of Vetiver and Luiza Sa-Davis of CSS provide some sweet, foamy indie rock tunes. Beer samples, demonstrations, talks, and more. Thu/2, 6pm-9pm, $12. Cal Academy, SF. Tickets and more info here. 
>>>THE TUBESTEAK CONNECTION For 11(!) years, every Thursday, DJ Bus Station John has made Aunt Charlie's Lounge in the Tenderloin the disco center of the universe, schooling the children on the man-on-man sexiness of yore. Come dancing. Thu/2, 10pm-2pm, $5. Aunt Charlie's Lounge, SF. More info here.
>>>>> FRIDAY, JULY 3 <<<<<

>>>THE BLACK MADONNA One of the biggest breakouts of the past couple years — but a longtime force on the Chicago house scene — Marea Stamper, aka the Black Madonna brings an impeccable ear, ace skills, and some major fun vibes to her gigs. She'll be at the As You Like It party with Joe Bickle, Secret Studio, and more. Fri/3, 9:30pm, $15. Monarch, SF. Tickets and more info here. 
>>>ANDREW W.K. PIZZA PARTY "Andrew W.K.'s true will is to create feelings of pure joy, true fun, total love, endless freedom, and infinite possibility" — and also a big, glorious mess. You know this party'e gonna get a little punk rock with extra cheese, when the super-energetic performer hits the box for a DJ set. And free pizza 10pm-11pm. With DJs Primo, Trill Team 6, Hard French, and tons more. Fri/3, 10pm-3am, $20. 1015 Folsom, SF. Tickets and more info here. 
>>>FELIX DA HOUSECAT Maybe he can't always get into super-club Berghain, but the freaky Chicagoan can still tear a room apart with some good ol' future funk. Fri/3, 10pm-4am, $15. Temple, SF. Tickets and more info.
>>>POLYGLAMOROUS Honestly one of the best gay parties in the city, with two rooms full of mind-expanding and just plain fun music, a little Burner-Faerie vibe mixed in with the half-naked mens, and an underground feel. This month's "Filth of July" installment features a Pound Puppy takeover, with DJs Taco Tuesday and Kevin O'Connor. Fri/3, 9pm-3am, $7-$10. SF Oasis.Tickets and more info here. 
>>>HOLDING SPACE One of my favorite house DJs in the Bay, has a rest-sounding new project with a whooooole bunch of other soulful Bay players. Check it all out at this special gig, from The People crew. Fri/3, 9pm-3am, $20 (free before 11:30pm with RSVP here.) Mighty, SF.
>>>NORTH AMERICAN SCUM The actually quite brilliant LCD Soundsystem cover band extravaganza we've all been waiting for, courtesy of the pop scene crew. It's 18+! (Were 18-year-olds even around for LCD Soundsystem?) Fri/3, 9pm, $10. Rickshaw Stop, SF.  Tickets and more info here.
>>>>> SATURDAY <<<<<
>>>RØDHÅD Fireworks for your eardrums! Powerful, banging Berlin Viking techno from this, yes, redhead, that will rip the shirt right off you.  With Honey Soundsystem, on the great Audio sound system. Sat/4, 9pm-3:30am, $25. Audio, SF. More info here. 
>>>HARD FRENCH Your chance to see the hard-working yet always glamorous Miss Rahni in action, as she drag-salutes the Fourth at this old school soul patio party with co-hostess Dulce de Leche. Sat/4, 2pm-8pm, $10. El Rio, SF. More info here. 
>>>THE GATHERING PRESENTS: DOC MARTIN One of SF's most classic rave crews brings in one of the West Coasts most beloved techno DJ for a night of no-holds-barred fun. With DJs Tony and Leathal. Sat/4, 9:30pm-3am, $10-$20. Monarch, SF. More info here. 
>>>GO BANG! Awesome Philly boy Jimmy DePre takes the decks of my favorite monthly disco extravaganza. This one oughta light up your sparkler! Sat/4, 9pm-3am, $10. There Stud, SF. More info here. 
>>>INDEPENDENT WOMAN Punk-rock patriotic drag performances and killer tunes from all over the map by DJs Ambrosia Salad and Primo. Plus free hot dogs. Ay-yi-yi!  Sat/4, 9pm, $5. The Knockout, SF. More info here.
>>>KEN VULSION, TYREL WILLIAMS, BOB FIVE, AND THE VINYL DREAM ALL-STARS Nope, not a Southern soul traveling revue, but several of our finest techno intellectuals giving us something to go Fourth and dance to. Sat/4, 9pm-late, Free with RSVP here or $5. F8, SF. 
>>>CLAPTONE "In a now long forgotten world, many generations ago, a bird like shape emerged from wooded darkness, floating and fluttering, drifting and dreaming. Backlit by a bright glow of iridescent light, the undecipherable form wore a dazzling golden mask. Its long beak swooped down like an inverted horn and since then, people have referred to the mythical being simply as Claptone." I'm just gonna leave it at that for this singular Berlin house character. Because freedom. Sat/4, 9pm-3:30am, $15. Public Works, SF. Tickets and more info here.