Panel sides with tech-money oligarchs across the board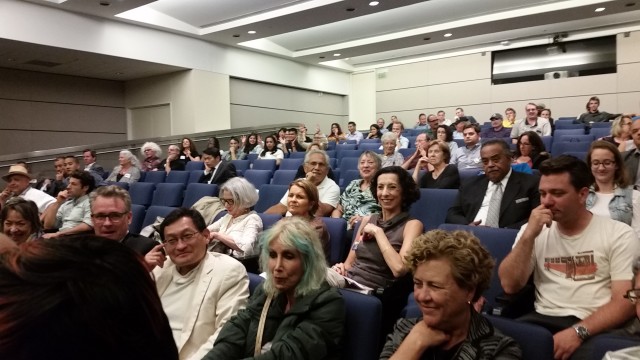 By Tim Redmond
AUGUST 13, 2015 — It's tempting to just say the San Francisco Democratic Party has made itself irrelevant by becoming a shill for corporate interests. The problem is that the party, through the Democratic County Central Committee, can also be a slush fund for big money: Now that the DCCC has endorsed Sup. Julie Christensen and opposed the Airbnb initiative, Ron Conway and his pals can put huge gobs of cash into the party's slate card promoting Conway's candidates. He's already using other sources to dump money into D3.
Maybe we should call it the Democratic County Conway Committee.
That's certainly the way it's looking after the party snubbed its former chair, Aaron Peskin, and rejected reasonable controls on short-term rentals and displacement protections for the Mission – in all three cases siding with the developers, Mayor Ed Lee, and Conway, who is a major investor in Airbnb.
My correspondents at the meeting tell me that there was discussion about the various merits of the two District Three candidates, but the real issue isn't about Peskin or Christensen's personality or connections to individuals on the panel.
Alix Rosenthal, for example, said that Peskin had first recruited her to be on the DCCC but that Christensen is "doing a fine job."
Indeed, if you see it that way: Christensen is doing a fine job for the mayor, and has been on the conservative side of every one of a long list of 6-5 votes that have gone against the progressives.
And that's what this race is really about: The D3 election will determine whether tenant advocates, environmentalists, the progressive labor movement, police-accountability advocates and so many other groups that have made up the San Francisco left will have that crucial sixth vote to pass legislation and to block the Conway/Lee/corporate agenda.
So by a vote of 15-11, the party went with the choice of the tech oligarchy.
Peskin was never going to get the nod. The best he was hoping for was a "no endorsement." It might have been closer if some of the elected officials who are members of the DCCC (and were leaning, I'm told, toward Peskin) hadn't either ducked the meeting entirely or voted "abstain."
Here's the breakdown:
Voting for a No Endorsement: David Campos, Petra DeJesus, Matt Dorsey, Hene Kelly, Meagan Levitan, Rafael Mandelman, Eric Mar, Carole Migden, Fiona Ma, Mark Leno, Phil Ting.
Voting for Christensen: Kat Anderson, Joshua Arce, Malia Cohen, Bevan Dufty, Zoe Dunning, Joel Engardio, Tom Hsieh, Mary Jung, Trevor McNeil, Marjan Philhour, Leah Pimentel, Rebecca Prozan, Alix Rosenthal, Francis Tsang, Scott Wiener.
Abstaining: Bill Fazio, Dianne Feinstein, Kamala Harris, David Chiu.
Not bothering to show up or send a proxy: Nancy Pelosi and Jackie Speier.
(BTW: These people are elected officials. Please: Vote one way or vote the other, but abstaining or not showing up is weak.)
The vote on the Airbnb measure was very similar, and while I don't think the DCCC vote in D3 will be that influential – how much can you mail to one district, and how much will one mailer matter in a small area where there are already two very active and well-funded campaigns getting out their message? – the citywide Democratic Party slate card could play a larger role.
Of course, both sides on the Airbnb initiative, which is going to be on the ballot at Prop. F, will have ample money. And Airbnb starts off well behind.
But the vote was another clear reflection of where the local Democratic Party is today: In the pockets of the powerful.
Here's the breakdown. Voting to support limits on short-term rentals: Campos, DeJesus, Dorsey, Dufty, Migden, Mandelman, Fazio, Kelly, Levitan, Mar, Feinstein, Leno, Ting.
Voting with Airbnb: Arce, Tsang, Cohen, Dunning, Pimentel, Prozan, Rosenthal, Wiener, Philhour, Hsieh, Jung, McNeil, Engardio, Ma, Chiu.
Ducking: Harris. Missing: Pelosi and Speier.
Lest we forget that the DCCC is a nest of corporate conflicts, let me list a few. Mary Jung is a lobbyist for the Board of Realtors. Rebecca Prozan is a lobbyist for Google. Tom Hsieh is getting paid by Airbnb and its allies to work on the No on F campaign.
This is not the Democratic Party that sides with the people against corporate power. Just in case you were wondering.
Additional reporting and photo by Noah Arroyo