It's the week before Labor Day, and the fall campaigns are moving into high speed, and I look around at the state of San Francisco politics, and I think back on more than 32 years I've spent watching this mess, and there's something that keeps me awake at night, and it goes like this:
What happens if the progressive lose control of the Board of Supes this fall – which will happen if Jane Kim wins and the left doesn't go six-for-six in the district contests – and then around about February or so, Mayor Ed Lee decides that he's had enough and announces he's stepping down?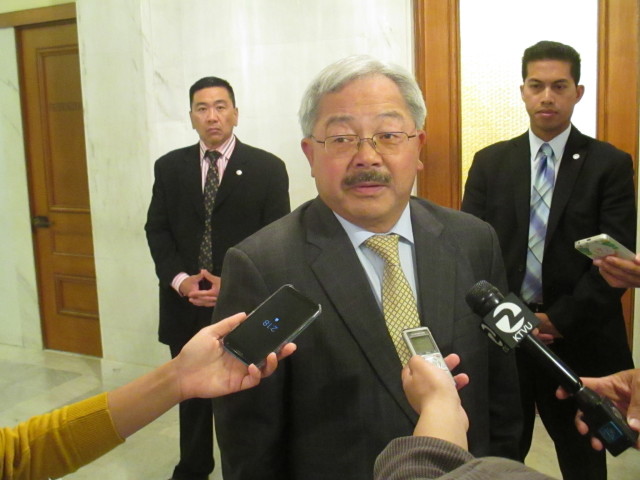 He can't be having fun – everywhere he goes in public he gets booed, his approval rating is as low as any mayor I have ever experienced, and he can't even put his name on a single ballot measure or endorse a single candidate because he's political poison.
If the allies of the tech and real-estate industry control the board in January, Lee's pals, like Willie Brown and Ron Conway, won't try to talk him out of leaving early. He's done his job – and he can retire in peace, with the people who support him knowing that his replacement will have the same political stands.
The board majority will appoint someone else who answers to the same masters. Not only that: An appointed incumbent, with more than two years left on the term, will have plenty of time to become entrenched with the big money, and to create a situation where he or she is really hard to beat in 2019. So we're stuck for another six years, at least, with another Ed Lee.
This is why I am boggled that everyone who opposes the mayor's agenda isn't working to win in every district, including D5 and D11 (where the DCCC Reform Slate was unable to endorse either Dean Preston or Kimberly Alvarenga).
It's not just the board that's in the balance this fall. It's the future of the city.
Sup. Jane Kim, who is running for state Senate, will appear Tuesday/30 at a forum discussing housing — along with former LA Mayor (and possible candidate for governor) Antonio Vallaraigosa, CSU Trustee and BART Board candidate Lateefa Simon, and author David Talbot. It's at the Mission High School Auditorium, and is free; 630pm to 8:30pm. There's an RSVP link on the campaign website, but the place is huge and there should be plenty of room.
Pretty much everyone who's going to Burning Man has left town or is leaving right now, but the rest of us might want to ponder what has become of the "radical" arts festival, which now features TED talks – and one of the speakers is Chip Conley, head of Global Hospitality and Strategy at Airbnb.
Yes, the rogue hotelization company that is damaging cities, driving evictions, forcing up housing prices – and now suing San Francisco for daring to mandate that it follows the law.
But Airbnb is apparently welcome at Burning Man, where Conley will speak on the following topic:
In the digital age, a provocative divergence is taking place. Power is shifting ten years younger at the same time as life expectancy is shifting ten years older – creating an interesting sociological environment for those over 50. In this talk, I'm going to address what it means to be a "modern elder" in the 21st century and the blessing that this unique opportunity offers for an intergenerational transfer of wisdom.
And how's that working out for the "modern elders" who are losing their homes while another provocative divergence takes place – money goes more and more to the top 1 percent?
Or is that not on the Burning Man agenda?
The Supes get back to work after Labor Day, and one of the things we can expect is another attempt to increase the regulations on Airbnb, a move that might include both a tighter limit on the number of days a host can operate a hotel room and a private right of action allowing a group like, say, the Tenants Union to file legal action when the city fails to do so.
I know that the TU has a long list of places that are operating illegally. There have been complaints to the city. Very little has happened.
The big company, of course, complained when this was on the ballot that "neighbors will sue neighbors." But I guess it's okay for Airbnb to sue the city where it was founded and is based.
Any new regs will need eight votes, since Mayor Lee will almost certainly veto anything the board passes. That leads to some interesting election-season calculus: Could London Breed, who has voted against effective short-term rental legislation in the past, do the same thing when she's facing a challenge from tenant lawyer Dean Preston?
Here's what infuriates me about this Airbnb lawsuit: The city has the right to eliminate all short-term rentals, to essentially put Airbnb out business in this town. The only reason Airbnb is able to operate at all legally is that the supes passed a bill allowing some people to violate the law against rentals of less than 30 days if they follow some very clear and specific rules.
Those rules can't be enforced, it's clear, unless Airbnb refuses to list illegal units. The site doesn't want to do that, of course, since it would wipe out a lot of its revenue – and would give other cities the same idea.
So why don't the supes just say: Fine. Sue us. We will repeal the law that you don't like, and simply say that all of your rentals are illegal and begin aggressively enforcing the law.
You follow the rules or you don't get to play the game at all. Seems reasonable to me.
I hope everyone read the recent New York Times expose on how Washington think tanks are becoming corporate shills. The main example: Lennar Corporation.
WASHINGTON — As Lennar Corporation, one of the nation's largest home builders, pushed ahead with an $8 billion plan to revitalize a barren swath of San Francisco, it found a trusted voice to vouch for its work: the Brookings Institution, the most prestigious think tank in the world.

"This can become a productive, mutually beneficial relationship," Bruce Katz, a Brookings vice president, wrote to Lennar in July 2010. The ultimate benefit for Brookings: $400,000 in donations from Lennar's different divisions.

The think tank began to aggressively promote the project, San Francisco's biggest redevelopment effort since its recovery from the 1906 earthquake, and later offered to help Lennar, a publicly traded company, "engage with national media to develop stories that highlight Lennar's innovative approach."

And Brookings went further. It named Kofi Bonner, the Lennar executive in charge of the San Francisco development, as a senior fellow — an enviable credential he used to advance the company's efforts.
This, of course, is the same Lennar Corp. that is sponsoring Prop. O. which would exempt as much as 5 million square feet of office space from the city's annual cap on office development.
Let's put that in perspective. At one worker per 250 square feet, the Lennar plan could add as many as 20,000 new workers to a city that has a world-class housing crisis. Will Lennar be building 20,000 new housing units, plus schools and roads and buses, for all of those workers?
It never seems to happen that way.
But I bet Brookings will be telling us what a great idea this project is.