PARTY RADAR Woah Nellie, we've got  full dance card this weekend, so let's pull up out heatwave-drenched culottes and dive right in: 
ELECTRIC DREAMS This weekend sees he sprawling, incredible San Francisco Electronic Music Festival, which will provide more zaps, pyews, hoots, and bleeeeeuuuuuuuurrrrrrgs than you can shake a diode at. Fri/8-Sun/10, you can see local heroes like the legendary Suzanne Ciani, Dax Pierson, and Las Sucias, plus many more at the Brava Theatre. More info here.  
SASSY IN THE SUNSHINE On Sat/9, a host of wild and wonderful entertainers and community movers and shakers will descend on Golden Gate Park's Music Concourse Bandshell for the wondrous annual FREE BYOQ (Bring Your Own Queer) daytime cultural festival and dance party, noon-6pm. Seriously the lineup is bananas! Why is this kind of gathering so important right now? Festival founder Rebeka Rodriguez tells me: "The urgency to queer up public space is important, now more than ever. It's necessary to disrupt the notion that queers need to normalize to participate in society. It's critical that we gather in public spaces and make all kinds of queerness visible — especially in today's national climate." BYOQ helper Kevin Seaman aka LOL McFiercen adds: "Queer artists (like so many other communities) have been hit hard by the Bay's rising cost of living and rampant gentrification, forcing so many out of the region they love. BYOQ features queer artists doing what they do best, and pays artists for their artistic contributions!" Can't really argue with that, so come out! More info here.   
BAY BAES This Sun/10 also sees the ever-awesome Oakland Pride — a chill, family-style antidote to SF's overwhelming, corporate-branding bonanza. (I do miss the days when it was just a fun picnic, but am eager to see the parade and festival this year.) Of course there will be neato, Pride-associated parties, like a Swagger Like Us special edition on Friday, and this one on Sunday night from the New koo-koo-beautiful World Dysorder crews called Pride RIOT. The other side of the Bay does Pride right. More info here. 
Need a car to get there? Rent one in your neighborhood on Getaround. Sign up today, and enjoy $50 off your first trip: http://get.co/48h. [Sponsored]
THURSDAY, SEPTEMBER 7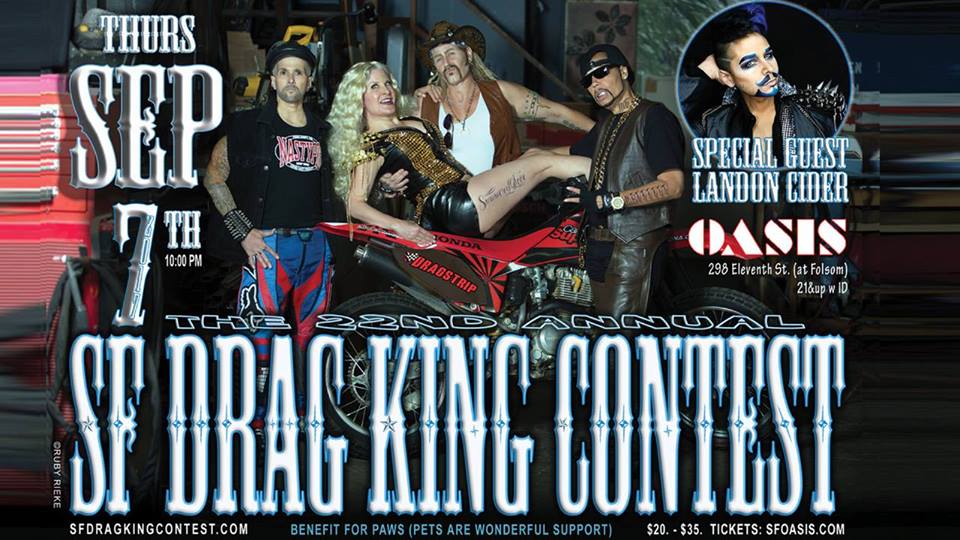 SF Drag King Contest It's back for the 22nd year! One of my favorite annual events brings drag kings from all over California to compete for the crown. With MCs Sister Roma and Fudgie Frottage, plus Special Guest Landon Cider, Star of SoCal's Drag King Explosion and the King who was banned by RuPaul's Drag Race. Benefit for Pets Are Wonderful Suport. Thu/7, 10pm, $20-$35. Oasis, SF. Tickets and more info here.
PUFF A monthly queer cannabis happy hour featuring live music, burlesque wonders, and comedian Tom Ammiano? Put it in your peace pipe! Thu/7, 7pm-10pm, $5-$10. The Stud, SF. More info here. 
NEW PHONE WHO DIS Text Me Records presents a showcase of it's fabulously idiosyncratic roster, including SISTERS, Harriet Brown, and Horrible/Adorable. Thu/7, 8pm-1am, $12. Cafe Du Nord, SF. Tickets and more info here. 
FRIDAY, SEPTEMBER 8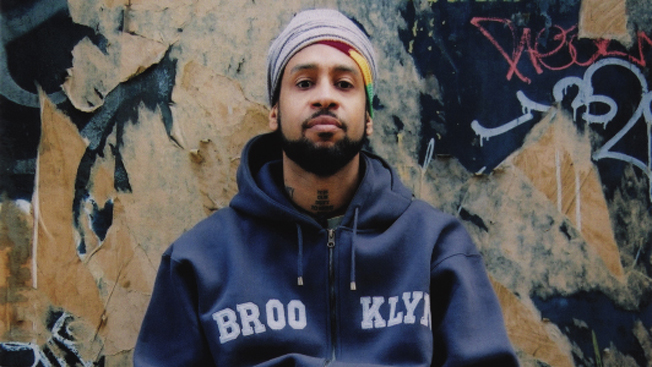 DUB MISSION 21-YEAR ANNIVERSARY One of SF's longest running parties (and for sure our longest running reggae/dub party) is turning an astounding 21 years old (and getting ready to say goodbye to its home base, Elbo Room). This blowout, featuring Dr. Israel Live Dub Sound System is a must for anyone who likes it deep and rocksteady. Fri/8, 10pm, $10-$15. Elbo Room, SF. Tickets anymore info here. 
NEON BLACK A rare admission: I slept on this party last time around and boy do I regret it! Smooth synthwave moves from Danny DeLorean and Fact.50 with special guests Smac and Meikee Magnetic — plus retro gaming stations and more tubular goodies. Fri/8, 9:30pm-3am, $5-$8. Cat Club, SF. Tickets and more info here. 
ROSCOE MITCHELL x NUMBER 197 Fridays at the DeYoung are back, at least monthly: "An iconoclastic figure in contemporary music whose work ranges from classical to contemporary, from wild and forceful free jazz to ornate chamber music, Mitchell is an internationally renowned musician, composer, and innovator. Together with a 34-piece orchestra comprised of local musicians, this special performance will pair the orchestral works of Mitchell with Leonardo Drew's site-specific installation 'Number 197' as backdrop, engaging similar ideas of the interplay between structure and improvisation in composition." Fri/8, 5pm-8:30pm, free. DeYoung Museum, SF. More info here. 
MASSIVE ATTACK DJ SET Everybody's favorite politically outspoken, turbulent trip-hop act is back on decks, to slather 1015 with dark hues and subwoofer grooves. Featuring separate rooms curated by some our cutest weirdo parties: Bread, Club Lonely, Candy Rain. Fri/8, 10pm-3am, $45. 1015 Folsom, SF. Tickets and more info here.  
VIVVY'S GRAND OPENING Don't miss Ambrosia Salad, up from LA to host this month! Mindfuck drag at its best and mindfuckingest. Every month, VivvyAnne ForeverMore comes up with something spectacular, be it two drag shows happening simultaneously, a 45-minute journey through a dystopian space colony, a very weird Cats, or a dozen drag queens interpreting the same song. Plus, all-night dancing. Fri/9, 10pm-4am, $10. The Stud, SF. More info here. 
SATURDAY, SEPTEMBER 9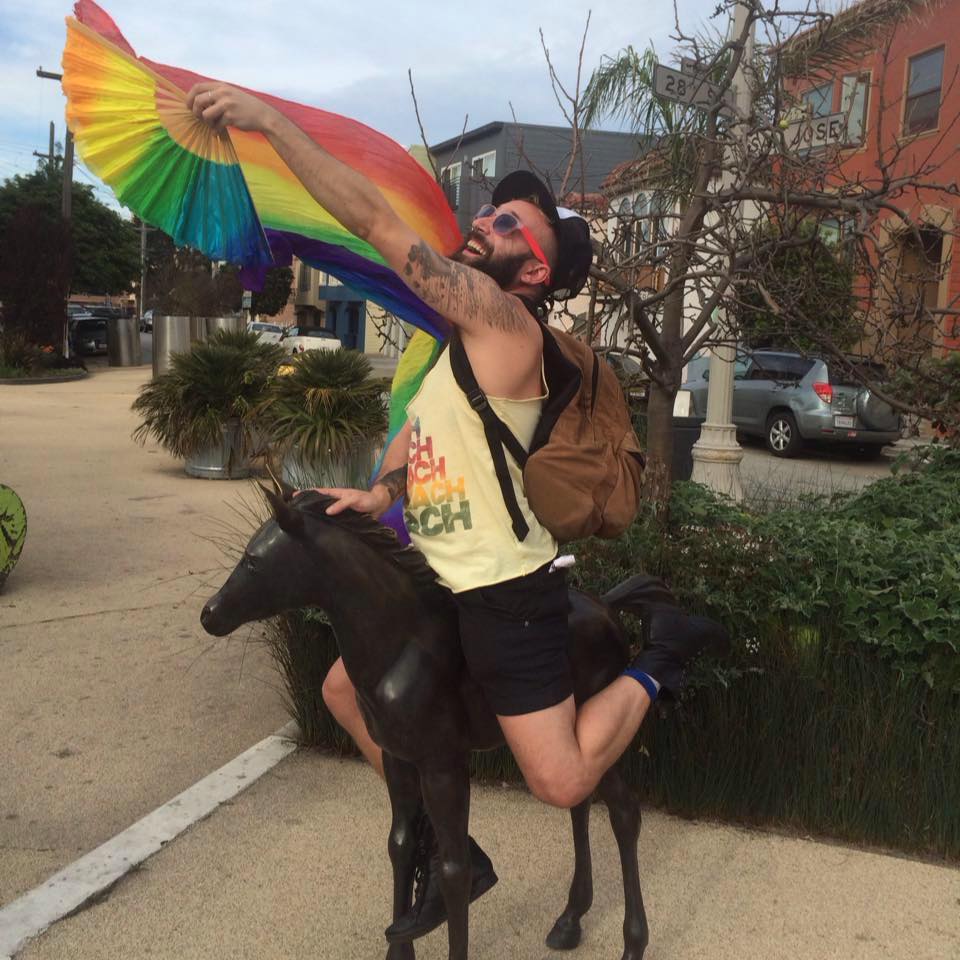 STUDIO 5'4 3-YEAR ANNIVERSARY Longtime for a short party! I jest, but this party for gay men who live their sexy lives closer to the ground and the people who love them is one the the city's sweetest. "Featuring DJ BJ, plus residents Omnibot and Patty Meltdown play their favorite soul, funk, disco, and house tracks. Sexy shorty Go Gos Timmy Roghaar (Pony Seattle) and Walter Ryon (SF) shake it all night. Hosts Ross Fur Trap and John A. Geluso serving looks and shots – just make sure you look down." Sat/9, 9pm-2am, $5. Lone Star Saloon, SF. More info here. 
COME-UNITY: MALACHY'S 50TH BIRTHDAY One of our seminal rave crews is getting some of the band back together — Simon and Jeno will pull out all the acid house and psychedelic techno stops in honor of member Malachy O'Brien. We ravers never age. We just get more, er, psychedelic. Sat/9, 9:30pm-4am, $10. F8, SF. More info here. 
ACID PAULI I love the style of this Bavarian, which can only be described as tribal chill: sprawling grooves full of global vibes. Sure, it's a bit Burning an, but it's a bit of old school ambient as well, and great to dance or chill out to. With fellow Germans Nico Stolen and Britta Unders. Sat/9, 9:30pm-4am, $18-$30. Public Works, SF. Tickets and more info here.
KARIZMA Baltimore house legend Karizma comes in hard and funky for this special edition of the Salted parties, thrown by our own sunny house heavyweight Miguel Migs and Julius Papp. Don't be salty now. Sat/9, 10pm-4am, $10-$15. Great Northern, SF. Tickets and more info here. 
POUND PUPPY Arooooo! The monthly pup-themed dance party is back, this time featuring that ultimate dog dish, Ambrosia Salad, on the decks. Chow, bella! Sat/9, 10pm, $10. Eagle, SF. More info here. 
> Need a car to get there? Rent one in your neighborhood on Getaround. Sign up today, and enjoy $50 off your first trip: http://get.co/48h. [Sponsored]