PARTY RADAR I've already listed the plethora of leather affairs this week for Folsom Street Fair, but there's a deluge of great parties that aren't exactly affiliated — although the crossover of crowds this week should be terrific. So below I'm listing some more joint to reserve room for on your dance card. 
GOGO SEESEE GOGO PENGUIN Before we launch into this week's debauchery, let's take a calming moment with a UK jazz trio named GoGo Penguin that takes as much inspiration from ambient electronic moodiness and indie chill as it does rigorous tradition. Like Cinematic Orchestra and the Esbjörn Svennson Trio, the meandering, ruminative lines jump from background wallpaper to surprisingly bob-able floor-fillers. They're at SF Jazz Wed/19 and Thu/20, for performances sure to be full of bobbing heads. More info here.
GET THE INTEL Woah, the second anniversary of Intelligent Dance Party is a full on festival of intelligent music-makers! September 22-23 at Hyde Street Studios sees IDPalooza with Romulo Del Castillo , Abandoned Footwear, Captain Marmalade, Bleie, KnobGoblin, Terminal 11, Jonah Sharp and Its Own Infinite Flower, David Last, bioMecanico, and more — phew! More info here. 
Need a car to get there? Rent one in your neighborhood on Getaround. Sign up today, and enjoy $50 off your first trip: http://get.co/48h. [Sponsored]
THURSDAY, SEPTEMBER 21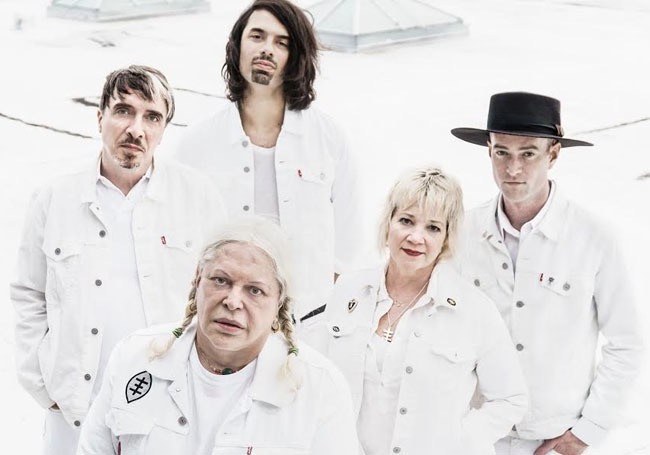 PSYCHIC TV Ultimate head trip time, as legendary Genesis P. Orridge and crew vroom into SF to take you on a psychedelic rock journey. With Moira Scar. Thu/21, 8pm, $22. Independent, SF. Tickets and more info here.  
RUBIDIUM Wonderfully driving, cavernous, and often wiggy techno from this Oakland DJ, aka Rachel Bisagni. With Sean Ocean and Nate Manic at the free DTE Inner Orbit party that showcases local performers. Thu/21, 10pm, free. F8, SF. More info here.
FRIDAY, SEPTEMBER 22  
THE MOLE From the As You Like It crew HQ: "The emphasis of the *Bloom* series is to provide intimate environments for San Francisco debuts of established or up-and-coming artists. For the second installment, we're honored to debut Vancouver, B.C.-born and Berlin-based artist, The Mole. This will mark the California debut of a cult artist that those who have seen or heard him perform have been clamoring for for years." With Dave Aju and Woozy. Fri/22, 9:30pm-3am, $15. Monarch, SF. Tickets and more info here.   
SANGO The Seattle-based producer leads a stellar Mega Baile Funk" night with Mikos Da Gawd, Antonio Guedes, Kush Arora, and tons more. Get down the Brazilian way. Fri/22, 10pm-3am, $25. 1015 Folsom, SF. Tickets and more info here. 
WHATEVER FOREVER A party (or a platform? It's one of those music meets tech thingies) that brings on the moody, moody future electro-soul sounds with special guests Andre Power, Iamnobodi, and Sasha Marie. Fri/22, 9pm-2am, $20. Mezzanine, SF. Tickets and more info here.  
LOS RAKAS My babes! Love this East Bay Panamanian rap duo  — welp, they're back and looking and sounding as fine an party-ready as ever. Fri/22, 8pm-midnight, $20-$25.  Slim's, SF. Tickets and more info here.    
        SATURDAY, SEPTEMBER 23
AUSCULTATION A little dreamy, heady, handmade electronic-ness to guide us into fall wouldn't be so bad, ad this 100% Silk label stalwart comes to the Outpost party with Maria Minerva (live), Michael Claus and CM-4. Sat/23, 10pm, $5-$10. Elbo Room, SF. Tickets and more info here. 
PUBLIC WORKS 7 YEAR ANNIVERSARY Really already seven years at my second home?I jest, but not really: It's one of my favorite spots and sometimes I sleep there, or just outside. This seven-year blowout brings together favorites DJ Scumfrog, Kerala Dus, Rachel Torro, Romania's Petre Inspirescu, and more for a lively celebration. Sat/23, 9pm-late, $17. Public Works, SF. Tickets and more info here. 
MAC & CHEESE Do you like future beats and psychedelic trap? Do you like free mac and cheese? Would you like these things served up by a wildly fun crew at Pop's bar? This is the party for you, Krafty. With DJs Yoavs, tree money, Funkoscope, Hooded Youth, and more. Sat/23, 9pm, free with RSVP to www.macandcheese.world/rsvp. Pop's Bar, SF. More info here. 
FUNDRAISER FOR OAXACA, CHIAPAS, AND MEXIO CITY This was planned before Tuesday's quake in Mexico City, and now it's more urgent than ever. Live music from Mario Esteva, Dj B from Queer Qumbia and DJ Carnitas from Hard French, plus poetry, a silent auction, and drop-off point for donations (they need tents!). Sat/23, 3pm-5pm, donate! Galleria de la Raza, SF. More info here. 
&ME The boppy young German has a lovely, well-tuned ear for energetic techno that isn't afraid to delve into oddities or go for popular, but not played-out, material. At the Green Gorilla Lounge party. Sat/23, 9:30pm-3am, $10-$20. Monarch, SF. Tickets and more info here.  
SUNDAY, SEPTEMBER 24
MOODYMANN There really isn't much difference, sonically, between this Detroit house legend's freaky-sexy music and the Folsom Street Fair — either way, the man otherwise known as Kenny Dixon, Jr. is your daddy. He'll be presiding over a patio and pool party at the Phoenix Hotel. Sun/24, noon-6pm, $25-$30. Phoenix Hotel, SF. Tickets and more info here. 
PERMISSION TO LAND "Music, drinks and food in the only outdoor space you can be LOUD, The Midway SF Patio." With Atish, Tara Brooks, Tim Engelhardt, and Chuwee. Sun/24, 2pm-9pm, $15-$17.50. The Midway, SF. Tickets and more info here. 
Need a car to get there? Rent one in your neighborhood on Getaround. Sign up today, and enjoy $50 off your first trip: http://get.co/48h. [Sponsored]