A standing ovation to Mattilda Bernstein Sycamore, whose novel Sketchtasy, which follows a group of friends navigating Boston nightlife and LGBTQ assimilation, has been called "an instant classic of queer literature" by NPR Books.
Heady stuff, but well deserved. The Bay long ago lost the literary heroine to the mists of Seattle, but Sycamore is coming back this week for a round of Sketchtasy promo, starting with an appearance at City Lights on Wed/23.
In her grace, Sycamore reeled off some answers to a few scattershot questions from 48 Hills to commemorate the occasion. Go check out her reading, and then journey on to the passel of arts and culture that await you in San Francisco this week — this, your Arts Forecast.
48 HILLS How did you transition into working on this book, which is about your time in Boston, after completing The End of San Francisco? Was there something about the last project that got you thinking about your East Coast moments?
MATTILDA BERNSTEIN SYCAMORE I've always told these stories about living in Boston in 1995, after coming of age in San Francisco, and this time comes up briefly in The End of San Francisco, where I'm circling around my moments of formation, and their undoing, but I wasn't sure if there was a reason to write these Boston stories down. Then I was in between projects, so I just started to write, which is how I always write a book — I don't necessarily have a specific intention, I just start writing. And initially these were my own memories of the time, but what happened really fast was that the trauma came through — the trauma of living in a city rabidly afraid of difference, in a gay club culture that offers pageantry but also mimics some of the worst aspects of straight hypocrisy, and the trauma of growing up with [the threat of] AIDS suffusing your desires, and no possibility of imagining a way out. So it became a generational story — over the top and flamboyant and scathing, and also a story about being trapped without a narrative to pull you through. And in a way, this is very specific to Boston, a city obsessed with its image as the cradle of liberalism while also reveling in the most vicious forms of brutality, but doesn't that sound familiar? I think it was also crucial for me to get 1995 right, because there's so much nostalgia for the '90s now, but this just packages everything into a shiny consumer product ready for mass consumption and do we really need any more of that? I think the opposite of nostalgia is truth, and I'm hoping to show a little bit of that here.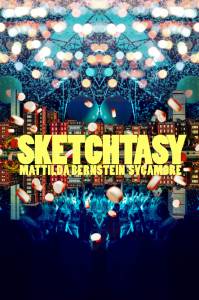 48 HILLS How/is it possible to fight back against the over-assimilation of queer culture?
MATTILDA BERNSTEIN SYCAMORE This is the question of my whole life, right? I mean San Francisco is the place where I learned how to create culture on my own terms, and how to challenge the violence of straight and gay normalcy in order to create something else, ways of living with and lusting for and taking care of one another that are not predicated on the violence that all of us grow up with—but then these same worlds that start as radical alternatives end up continuing the violence. And this is what breaks my heart, over and over. So I think the way to fight back is always to crave accountability, to try to make this possible, no matter the costs.
48 HILLS I hear you are working on a project that has to do with Baltimore. Can you give us any hints on what's in store?
MATTILDA BERNSTEIN SYCAMORE I actually have two new books coming up after Sketchtasy. First I have a book called The Freezer Door, which is about desire and its impossibility — and, through that lens, it's about gentrification, the stranglehold of the suburban imagination over city life, the hypocritical allure of gay male sexual culture, queer as a dream that always fails to actualize its potential, Seattle, our current moment, and me. That book is done, and maybe I will have publication news soon…
And, I'm currently working on a book called Touching the Art, about my relationship with my grandmother, who was a visual artist from Baltimore. As a child, spending time in her studio was the one time when I could dream in the actual world, and imagine a creative life because I was living it. As an adult, she tried to take all that back to get me to follow the narrow path of upward mobility that was everything that would destroy me. To her, my work became vulgar — why are you wasting your talent, she would ask me, over and over. So the book is circling around these contradictions, and also investigating my grandmother's life, her art, Modernism, Baltimore, the creative impulse, trauma, and what art can and cannot do. That book is in the early stages — but, I actually spent seven months living in Baltimore, to see what would come through, so after I finish my book tour for Sketchtasy, and I'm back in Seattle, where I allegedly still live, I'll be immersed in that project, for sure. I write in order to keep on living, so I have to keep writing!
MATTILDA BERNSTEIN SYCAMORE: SKETCHTASY
Wed/23 7pm, free 
City Lights Books, SF  
More info here.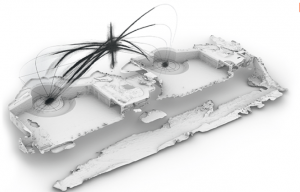 EDGE OF SEE: TWILIGHT ENGINES ART Vishal K. Dar went deep into the coastal terrain of the Headlands to design these tumbling, spinning light sculptures that interact and reflect the environment around them. Head to the Headlands' main building to check the indoor exhibition, then use a special app to explore the open-air battery pieces. Through March 3, free. Headlands Center for the Arts, Sausalito. More info here.
NEAVE TRIO MUSIC A downtown lunchtime escape — head to the pews of St. Mary's to take in this strings-piano combo performing Debussy's "Piano Trio in G Major" and Piazzolla's "Las Cuatros Estaciones Portenas (Four Seasons of Buenos Aires)". Tue/22 12:30pm, free. Old St. Mary's Cathedral, SF. More info here.
ROAR DANCE In honor of the 15th anniversary of RAWdance, the company performs a trio of works exploring anti-intellectual political posturing, the equal protection clause, and US economic stratification. Thu/24-Sat/26 8pm, $25-40. YBCA Forum, SF. More info here.
SUPER SOUL SOUNDCLASH NIGHTLIFE Dub Mission's DJ Sep links with the Smoked out Soul players for a reggae-soul-bass function. Thu/24 10pm-2am, $5 presale, $10 at the door. Monarch, SF. More info here.
TINY LITTLE GET DOWN NIGHTLIFE A dance party that states unequivocably; thou shall not be cool. Those looking to dodge the posturing of clubland can join tinypistol's Maurya Kerr and little seismic dance company's Katie Faulkner in this joyful flailing of the limbs. Fri/25 7:30-9pm, $5 suggested donation. CounterPulse, SF. More info here.
SF MOVEMENT ARTS FEST DANCE To quote the Facebook event for this fest; "Like going to a Farmer's Market, but instead of produce it's performances." Attend to see Grace Cathedral transformed into a smorgasbord of dance repertoire, from ballet to hip hop, ballroom to modern. Fri/25 6-9pm, $35. Grace Cathedral, SF. More info here.
LOS CENZONTLES MUSIC + FOOD Regional Mexican music takes center stage with local band Los Cenzontles. Check ranchers, corridor, and sones — and snag tacos while you bop with it. Fri/25 7:30-9pm, $15. Los Cenzontles Cultural Arts Academy, San Pablo. More info here.
MUSICAL CROSSROADS MUSIC Kamancha, harps, Youssefian early fiddle, viola da gamba, baroque cello, recorder, lute, harpsichord — oh my! San Francisco's Voices of Music ensemble delivers a curious program of tunes from the 14th to 18th centuries. Sat/26 8-10pm, $47. St. Mark's Lutheran Church, SF. Sun/2 7:30-9:30pm, $47. St. Mary Magdalen Church, SF. More info here.
POLYGLAMOUROUS NIGHTLIFE Portland's Bridge Club party comes to SF to link with this playa-related, queertastic monthly. Sat/26 10pm-4am, $7 presale or before 11pm, $12 after. F8, SF. More info here.
SWAGGER LIKE US NIGHTLIFE Queen of the night Jasmine Infiniti is welcomed back to the Bay Area in style at this queer hip hop throwdown. Sat/26 10pm-4am, $10. The Stud, SF. More info here.
JOSH'S BRAIN IMPROV STAGE Those looking to support the Psychotherapy Institute would do well to attend this one-person play by Josh Kornbluth, which tells the story of his elucidating fellowship at the Global Brain Health Institute. Everything you wanted to know about brain health but didn't know where to ask. Sun/27 3-5pm, $25-60 sliding scale, performance and reception $150-250 sliding scale. Northbrae Community Church, Berk. More info here. 
MOZART BIRTHDAY CELEBRATION CONCERT MUSIC Celebrate the Austrian maestro's day of birth with a vigorous Sunday evening showcase, including performances of "Duo in G", "String Quartet No. 21 in D Major", and more. Sun/27 7:30-9pm, free. San Francisco Conservatory of Music. More info here.
CLUB CHAI VINYL DREAMS POP-UP MUSIC East Bay nightlife wouldn't be the same without Club Chai. Today co-founders 8ULENTINA and FOOZOOL make the trip across the bridge for an afternoon hang out at the Haight Street music store. Sun/27 3-9pm, free. Vinyl Dreams, SF. More info here.
THE HISTORY OF PRISONS IN CALIFORNIA TALK Attorney Jared Rudolph works at the SF public defender's office and founded Prisoner Reentry Network in support of societal reintegration for incarcerated individuals. Check his talk today on the past, present, and future of California's unjust prison system. Sun/27 5-7pm, free. Manny's, SF. More info here.
GAY MEN'S CHORUS NORCAL FIRE BENEFIT MUSIC 100 percent of this show's profits will go to the North Valley Community Foundation and the music department of Paradise High School, in the hopes of alleviating the burden that has fallen on victims of the recent, devastating forest fires. Sun/27 5pm, minimum $25 donation suggested. 170 Valencia, SF. More info here.