Are we possibly on the verge of a progressive wave in the East Bay?
According to Gabriel Haaland, SEIU Local 1021 political organizer in the East Bay, on Tuesday night there were "huge victories with likely newly elected progressive community leaders like Oakland's Carroll Fife and Richmond's Claudia Jimenez." Should the current results hold, in cities like Berkeley, Richmond, and Oakland, the elections are a repudiation of corporate, realtor, and market-rate developer interests that attempted to knock out some key progressive players in the region — despite the backdrop of a pandemic that made it harder for progressives to campaign.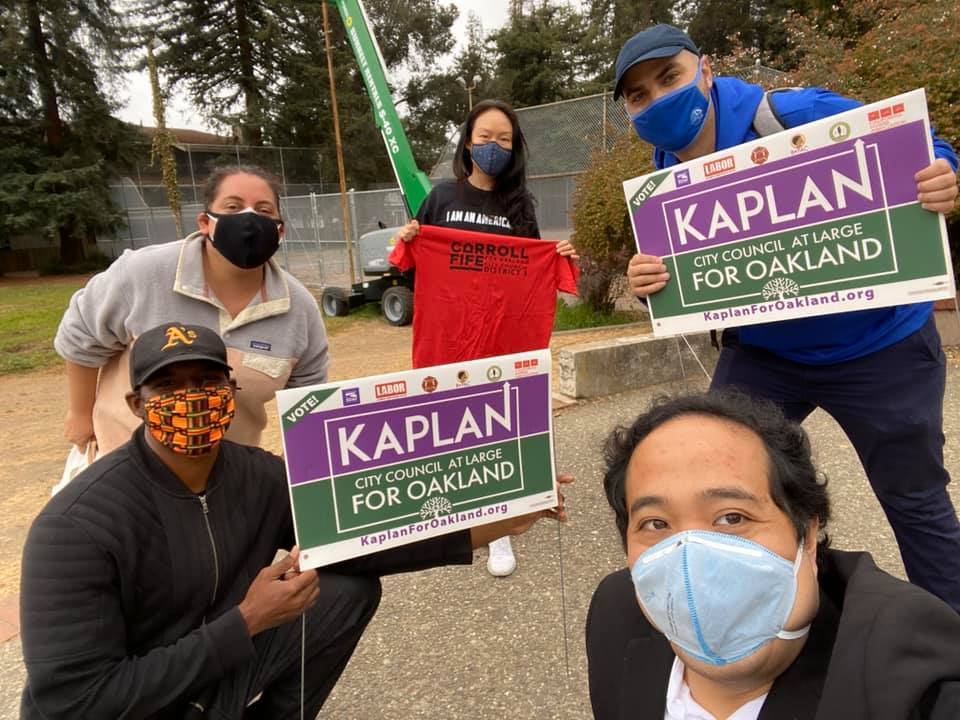 Oakland At Large Councilmember Rebecca Kaplan said she believes "this election will show the growing strength of the progressive movement on the local level and that voters are rejecting corporate and billionaire influence and are demanding progressive outcomes that lift up the working class in the region."
In the biggest story of the cycle, tenant-rights activist Carroll Fife, known for her work with the Moms for Housing movement, which famously took over a vacant home in West Oakland owned by Wedgewood Corporation to house Black homeless moms, is in the lead with 50.8 percent of the vote against the Chamber-of-Commerce supported incumbent, Lynette Mcelhaney, for the Oakland District 3 City Council seat.
Carroll had more than 700 volunteers on her campaign, including many members of Democratic Socialists of America, and her team enacted an aggressive field campaign that involved phone banking and safe door knocking.
The Alameda Labor Council and Local 1021 prioritized this campaign as did the community-based Oakland Rising Action. While money was spent against her by the Chamber, Carroll was a triple threat: She had a groundswell of volunteers, very strong fundraising, and overall a message that resonated with voters.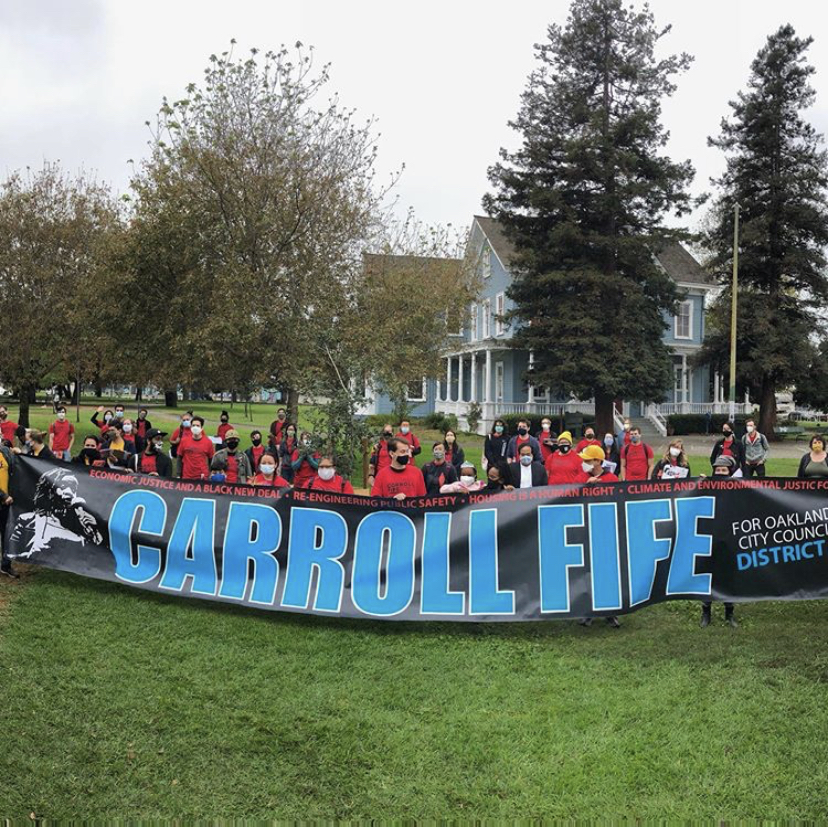 "I couldn't be more proud of the movement we've built or more excited for the victories to come," said Fife. "Together our people's movement is going to build an Oakland where everyone can thrive, not just the powerful and privileged."
For the Oakland at large City Council race, it's still a nail biter, with corporate interests like Lyft, Ron Conway, William Witte, and real-estate lawyers Rueben and Junius funnelling money against progressive incumbent Rebecca Kaplan through PACs to the tune of an estimated $475,000. This was all likely all at the behest of Mayor Libby Schaaf, who has a notoriously sour relationship with Kaplan. Kaplan now has 52.7 percent of the vote in the RCV algorithm.
I believe Kaplan will ultimately win this race, although it was too close for comfort — especially with an opponent who misled the voters and was sued successfully by his employees for violation of basic workers' rights. On a troubling note, during this race, Mayor Schaaf's administration initially put forward a proposal to make Motivate, a subsidiary of Lyft, the benefactor of a sole-source contract for bike shares in Oakland — which makes for odd timing as Lyft sunk an estimated $375,000 against the progressive incumbent.
Many thought the Oakland District 1 race would be a nail biter as well, but incumbent Dan Kalb, who received support from both the progs and the mods and is respected for his work on tenant rights, is up with 54.94 percent of the vote against a more moderate candidate and realtor, Steph Walton, who backed by East Bay For Everyone (the Easy Bay Yimbys). Walton only received about 31.03 percent of first place votes.
Pundits who predicted Walton would win underestimated how hard Kalb works and also how progressive District 1 is, despite it being a "wealthier" District.
In Oakland's District 7, Treva Reid is thus far up with 60.5 against a pastor, Bishop Bob Jackson, who hosted a re-open rally with a major figure of the anti-LGBT Christian right, Jim Domen.
For the Oakland school board, progressives are poised to take three out of four seats, despite an estimated $840,026 from billionaires Michael Bloomberg, oil heiress Stacy Schusterman and Silicon Valley investor Arthur Rock to support pro-privatization candidates. The winning campaigns of Sam Davis (D1), Vancedric Williams (D3), and Mike Hutchinson (D5) all had a serious ground game with a tremendous amount of support from the teachers' union whose membership phone-banked and text-banked throughout the pandemic.
Vancedric, who has 61.86 percent of the vote right now and is a public-school teacher in San Francisco, tackled each part of the district tirelessnessly with his volunteer team dropping his literature. Reflecting on the experience, Vancedric said, "This was about defeating the billionaires, special interests, privatizers and folks who never speak with our most marginalized and vulnerable families. The voters rejected Bloomberg, and his corporate and special interests money candidates and instead chose to vote for community voice, end school closures, budget transparency, accountability and culturally relevant curriculum including ethnic studies."
My neighbor, Sam Davis, an Oakland parent and PTA member, found himself running against a charter-school candidate who benefited from glossy mailers from former Governor Jerry Brown and Mayor Schaaf. Despite the huge infusion of cash and big names in the District 1 election for school board, Sam is also winning with 61.24 percent.
The back story is none of this would have been possible without two things — teacher organizing galvanized from the teacher strike, and parent networks strengthened from protesting school closures of district schools in District 1 that translated into electoral power. I live in this district and our community experienced devastating closures including my son's local elementary campus. I believe frustrated parents catapulted Sam into victory. Sam himself stated he had about "100 volunteers."
In Richmond, the Richmond Progressive Alliance's endorsed candidates of Melvin Willis, Gayle McLaughlin, and Claudia Jimenez are set to sweep the election. The RPA is a model to emulate throughout the Bay Area, molded as a people-powered and corporate-free organization that year after year builds its base on running issues like rent control while recruiting a bench of candidates rooted in the community.
Gayle Mclaughlin and Melvin Willis both had a strong record in Richmond as former and current council members while newcomer Claudia Jimenez is known in the community as an organizer. While sophisticated, there was something truly grassroots about their operation, as the campaign was run out of a garage, where Claudia organized her campaign lit with the help of her manager and young children. Their message was forthrightly about immigrant rights, healthy communities, and a corporate free campaign.
BK Williams, chair of the RPA issued a statement saying that "These electoral victories belong to everyone who shares and collectively worked towards a progressive vision for our city—a healthy, inclusive Richmond where everyone thrives."
Berkeley has an elected a Rent Board that has been on the cutting edge of supporting and proposing pro-tenant legislation. This year, the National Association of Realtors Fund spent over $137,000 to install a pro-homeowner slate, but so far the pro-tenant "Right To Housing" is safely prevailing with tenant rights attorney Leah Simon-Weisberg in the lead along with climate change/Democratic Party activist Andy Kelley, tenant- rights advocate Xavier Johnson, Dominque Walker of the Moms for Housing Movement, and Mari Mendonca of Friends of Adeline.
Said Leah Simon-Weisberg, "Berkeley said loud and clear that it supports the right to housing, rent control, and will not be tricked by dark money."
Simon-Weisberg also noted that the Right to Housing Slate came out of an extensive community process at the Berkeley Tenant Convention.
Progressives Ben Bartlett and Mayor Jesse Arreguin retained their seats although progressive firebrand and incumbent District 2 councilmember Cheryl Davila is currently losing. The California Real Estate Independent Expenditure Committee and the National Association of Realtors spent over $20,000 to defeat her. The realtor candidate, Alex Sharenko, did not win either. Terry Taplin, who has a commanding lead, is likely to continue to champion these issues as well, and campaigned as a bridge from urbanism to socialism.
In Antioch, Lamar Thorpe is winning his election for mayor despite attacks by the police officers association, as is Councilmember Monica Wilson. One progressive, Tamisha Walker, up by 12 votes, although another, Nicole Gardener, is currently trailing in their races in Antioch.
In the City of Alameda, progressives are likely to lose a seat to the former mayor, Trish Spencer, who is considered anti-renter and anti-homeless. The City of Alameda has had hotly contested battles over housing and homelessness that have defined the elections. In Hayward, a group of progressive challengers, Elisha Crader, Lacei Amodei, and Nestor Castillo are currently trailing the incumbents. Hayward, however, is in the process of building a progressive infrastructure and I can't imagine these emerging voices going away.
In Richmond, Measure U, which creates a more progressive business tax structure, is set to pass. In Berkeley and Oakland, both police reform measures are winning with more than 80 percent of the vote. In Berkeley, Measure GG, the tax on TNCs is up at 60.2 percent, and Measure MM, tenant eviction protection during an emergency, is also up 54.4 percent.
However an attempt in Berkeley to create a progressive utility tax is at 47 percent.
In Oakland, allowing youth to vote in school board elections is up at 67 percent. In what was the largest heartbreak, Measure Z out of the City of Alameda taking on exclusionary zoning in the historically suburban Alameda by removing a prohibition on multi-family housing is at 40 percent. While phone banking, it was clear that the anti-growth sentiment on the island of Alameda is strong.
Overall, we are seeing a progressive wave in East Bay cities.