If you read the San Francisco Chronicle story about the UCSF expansion plans today, you might get the impression that the school has gone to great lengths to offer affordable housing, transportation money, and open space to the community – and that everyone thinks this is a fine idea:
[Vice Chancellor Brian] Newman said the project has widespread support and UCSF is committed to the area.

"We've been at Parnassus for 140 years. We want to be a vital part of the area for the next 140 years," he said. "To do that, we need to invest. We need to invest in our aging facilities, our obsolete facilities."
That's not exactly accurate.
In fact, the deal that will come before the City Planning Commission Thursday/7 has considerable opposition, from neighborhood groups, affordable housing leaders, and the Sierra Club.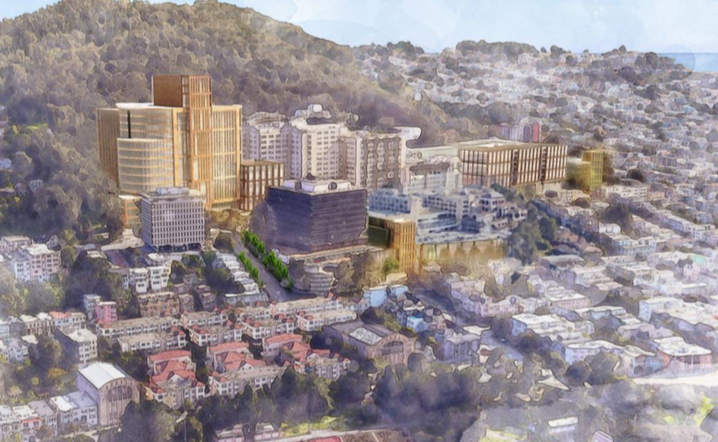 The "widespread support" that the chancellor described, and the Chron linked to, is almost entirely elected officials who favor more growth (State Sen. Scott Wiener) or don't represent the district (Rep. Jackie Speier and Assemblymember Kevin Mullin, both from the Peninsula), or pro-development groups like SPUR and the Chamber of Commerce, or Yimbys. Check out the list.
The problems with the project are pretty clear: It will create far more jobs than housing, and much of the housing won't be built until well after those new workers arrive. It will put a massive transit burden on the neighborhood, and will likely add 3,000 cars a day to an area where traffic and parking are already a critical problem. The new 30-story hospital will cast shadows on Golden Gate Park and the surrounding neighborhoods.
And it's a direct violation of the deal that that the UC Board of Regents has had with the city and the neighbors since 1976 – and a legally binding MOU the city and UCSF entered into in 1987.
"It's just too much in too little space," Dennis Antenore, a former Planning Commission member who has been part of the UCSF Community Advisory Group since 1991, told me.
In 1976, after neighbors sued over UCSF expansion plans, the regents agreed to a settlement that included this statement:
"The total structures within the campus boundaries shall not exceed 3.55 million gross square feet (not including space committed to residential use…) and this limit shall be permanent."
Relying on the resolution, the neighbors withdrew the lawsuit.
Ten years later, Mayor Dianne Feinstein and Planning Director Dean Macris – who were both strong advocates of growth – were concerned enough about UCSF expansion that they worked with the regents on an MOU that required the school to meet with the city on a regular basis and give ongoing updates on any expansion plans.
In 1996, UCSF repeated its commitment to the space cap at Parnassus Heights, and said future growth would be at Mission Bay.
As recently as 2014, the regents said that their plans for the future would include "decompression of space at Parnassus Heights."
UCSF developed the current plan, which proposes to increase space on the campus by more than 50 percent – an additional 2 million square feet of space, anchored by a massive new hospital – essentially in secret without any consultation with or input from the city. "Until I brought it up to the Planning Commission, they didn't seem to even know that the 1987 MOU existed," Antenore told me.
The San Francisco Chapter of the Sierra Club, in a Jan. 4 letter to city planners, notes:
The project will bring approximately 4,100 new staff and students to the UCSF campus on Parnassus by 2030. However, only 134 units of housing will be developed by 2030. By 2050, another 1,000 jobs will be created and some additional housing units are planned, but only a fraction of what is needed. In addition, there is no housing planned for the workforce that will be needed to support the additional faculty and staff. It is likely that the result will be the further gentrification of the housing surrounding the UCSF campus as well as the loss of affordable housing for those living nearby through evictions, raised rents, or other pressures.
More:
A three-hundred-foot building is completely out of scale with this residential neighborhood.  Because it is being placed on the side of a hill, the top of the building will be over 400 feet above the level of Golden Gate Park.  This building will have considerable impacts in terms of shadows and wind.
The Sierra Club recognizes the importance of open space in urban areas.  Parks are a vital resource not only for public health and recreation but also as necessary habitat for wildlife.  Wildlife is struggling everywhere, and our cities are becoming one of the areas where they can eke out survival.  As isolated parkland surrounded on three sides by urban development, Golden Gate Park is easily impacted by any negative changes in its environment.  Even limited shadowing will have an impact on the health of the plant life and on the wildlife habitat as well as detract from the park experience for people, who use the park at all hours of the day.
The EIR illustrates shadowing in Golden Gate Park, including the Park nursery, an area that would be especially sensitive to the need for steady sunlight.  In addition, two schools (including school yards open for the public as part of the City's shared Schoolyard Project) and an additional park and a playground, as well as part of the Reserve will be in shadow part of the time with the new project.  The Sierra Club opposes any shadowing of our parks, and asks that this plan be modified so that the new buildings will not shadow our parks and have a limited shadow impact on other outdoor space in the neighborhood, such as backyards, which also provide habitat.
Build Affordable Faster California, a group of affordable housing advocates, in a Jan. 4 letter to planners, notes that
The DEIR projects that 60% of new workers/students will live in San Francisco, a increase of 3000 City residents that will need housing. According to previous San Francisco Planning Department EIR's, this will generate a demand for 1,740 net new housing units (58% of the increased population). But the proposed DCP MOU instead calls for only 1,263 new housing units – 29% less than needed in San Francisco alone.
And there is no provision at all for any development of the other 1,060 new housing units that will be needed in other Bay Area cities and counties for 40% of these additional workers/students – in particular Oakland, the closest and most vulnerable to future displacement pressures.
Tes Welborn, a board member of the Haight Ashbury Neighborhood Council, told me that it was encouraging that at least UCSF was willing to discuss mitigations and offer money for transit. As a state agency, the school can simply ignore local land-use rules.
"But they sold us a bill of goods on Mission Bay," she said. "They told us that was supposed to take off the pressure from Parnassus Heights. UCSF was supposed to confer with the city on any plans. But they feel like they can just do anything they want unilaterally."
Build Affordable Faster California offers another solution, which it calls a "win-win." The school could move this future development – and everyone agrees that expanding the UCSF hospital and health-care infrastructure is a good thing – to Candlestick Point.
The site of the former Giants and 49ers stadium was supposed to be a giant shopping mall or a huge office complex that would provide the commercial anchor for 7,200 new housing units, 30 percent of them affordable.
But there's no way even in the post-COVID era that a new regional shopping mall will ever get built. Which means that the critical housing units will never get built.
Unless, the group says, there's a new anchor tenant that can provide the catalyst for that sort of development:
The now almost-finished Mission Bay Project has conclusively proved that a new UCSF campus can be a 'catalyst' project that makes master-planned projects like Candlestick Point financially feasible for development. In particular, associated bio-med commercial development remains potential viable.
Candlestick Point's 7200 planned new housing units are 2.5x all the new housing the UCSF expansion will need, plus 4,400 more units for the City's needs as a whole.

Mitigation for the transportation impacts of development at Candlestick Point have already been planned for. And its close proximity to UCSF Mission Bay offers maximum convenience with minimum new transit demand for UCSF itself.
Very importantly, locating UCSF expansion in the Eastern communities of San Francisco will also provide maximum access for the residents of those neighborhoods to project's proposed Community Benefits – in particular the employment and training programs proposed in the DCP MOU.
Bottom Line: The 21st Century City-Building Question before San Francisco and the University of California is whether UCSF's expansion will realize its unique potential to be a 'catalyst' for the San Francisco we all need – or just one more empire-building complex for a narrow-minded self-centered institution. Now is the time to decide.
The Planning Commission meeting starts at 1pm.
PS: Hours after the original Chron story ran this morning, J.K. Dineen, who is a fair and experienced reporter on real-estate issues, spoke to critics of the projects and the paper published another, much more balanced piece.