This is part one of a series about reimagining nightlife after COVID. Read part two, about the need for more women in nightlife, here.
About a month ago, a very excited email landed in my box, hyping a new club. This part popped my eyebrow:
[This club] cost $1.1 million to make as a result it is REALLY world-class and classy and upscale, and dress code is strictly enforced (most-likely a bunch of millionaires and billionaires and major celebrities will show up on soft grand opening day with Ferraris and Lamborghinis and Tesla stretch limousines, Armani/Versace power suits and power ties and power steering and Rolex watches, and haute couture vs. pret a porter Armani/Versace dresses).
Yikes. I immediately flashed back to Nightlife in the Before Time—not the one we've over-romanticized in our isolation as a utopian wonderland full of ecstatic release and spiritual communion—but the darker side, with its crass commercialism, economic caste system, and hard, cold capitalist exploitation.
Nothing against the miracle of a new club opening in the tailwinds—we hope—of the pandemic, and I'm not going to blame one overenthusiastic hypeman for pulling out all the stops to get press, in this case hitting nowhere near the mark. (The club, which I'm not naming here because hey, it's new, did open in a cozy, well-appointed, socially distanced space, minus the Tesla stretch limousines, perhaps, but with a pricey VIP package. Why immediately segregate your crowd in a pandemic?)
Despite the hilariously blingy '00s-era messaging, the situation did remind me that all was not exactly cuddle puddles and drink-ticket unicorns in nightlife 2020, when the pandemic hit and everything rightly shut down. Besides the pricey inflation and generic feeling that came with living in a tech bubble fueled by tens of thousands of rich people moving here—it's funny to think I wrote a column bemoaning so many big $10 parties in 2010—there were some other real problems, from lack of access and equity to sexual harassment, gender policing, and racial profiling, that demanded addressing.
Luckily, many courageous nightlifers didn't shut down when the dance floors did, and the party pause has been occasion to hold some very necessary conversations, in spots as various as the Bay Area Queer Nightlife Coalition and SF Queer Nightlife Fund town halls and the Concert Raptors Facebook group. (It's not just queer people talking!) Over the next few weeks, as the city continues to open up, this series of articles that I'm titling "How To Reopen Nightlife" will recap and expand on some of those ongoing convos and concerns, including racial and gender equity, health and safety, the political power of nightlife as a community, reimagining a nightlife "industry" free from over-commercialism, and thinking about bars and clubs in terms of ecology and climate change.
I wanted to put everything we've learned/are learning in one place, in the hopes that club owners, government bodies, and partygoers will take some of these lessons to heart and inform their future decisions. We're still a while from opening nightlife full force, of course. And this won't be some giant academic deep-dive, but at least we'll get some things out there. I welcome your comments and feedback! marke@48hills.org
WE DID SURVIVE First of all, I think one of the main things we need to acknowledge is that while many of our bars and clubs have shuttered and/or have barely made it, the majority so far are still around. I've written about Bay Area nightlife for more than 25 years (here's some of my party background), through club catastrophes from AIDS and GHB through, ugh, Von Dutch trucker caps and Ed Hardy embroidered jeans. And I couldn't be prouder that our nightlife community pulled together as much as it did to follow guidelines and keep patrons safe—and that many venues managed to scrape through, despite late and often confusing assistance from the government.
Yes, there were some bad actors, but the fabulous moxie of many who quickly transformed their operations into online offerings (I was especially impressed with DNA Lounge, F8, and Monarch parties, as well as all the drag queens and DJs who took to Fault Radio and Twitch) brought a tear to my mascara'd eye and kept the music and camaraderie flowing. My own club, The Stud, an experiment in collective ownership, closed rather than pay exorbitant rent—another of those unaddressed pre-pandemic problems that was killing local nightlife—but we kept our community together online as much as we could in hopes of finding a new space when this is over, hopefully in a landscape where the state cares enough about its invaluable arts and small businesses to pass commercial rent control.
But we're still here, dammit, although we've lost so many wonderful people to COVID and other traumas in the past several years. How we remember them, and fight so that things like Ghost Ship and Trump never happen again, will be part of what defines us in the future. But it's totally OK to have hope, and to have fun again as we slowly come back to nightlife.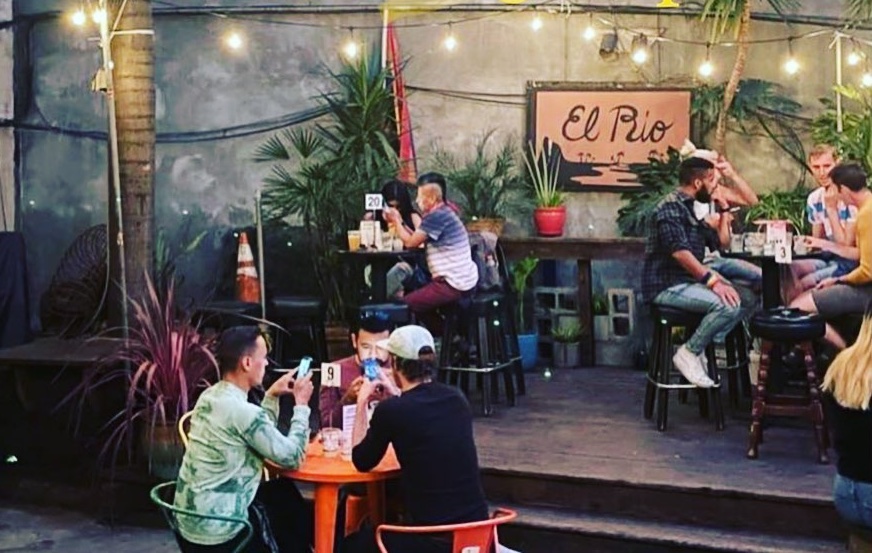 FACING EACH OTHER AGAIN OK so COVID happened and a lot of y'all showed your asses, from basic gays partying in Puerto Vallarta and Atlanta and that Burning Man-derived gathering on Ocean Beach to some of the biggest DJs in the world (and plenty local ones as well) casually flaunting pandemic protocols and playing plague raves—often in poor Black and Brown countries. (Noting here that although I'm being optimistic about COVID waning due to my rich-country vaccine privilege, it's going to be years until billions of other people have the same access and relief.)
It's will be very important for us to examine the toxic ways that nightlife's necessary rebellion against authority and conformity was twisted into a revolt against empathy and science. Money and status under current industry and social-media conditions have a lot to do with this. So does the core-hippie/rave ethos of woo-woo conspiracies and personal freedom. As I told some old COVID-denying ravers online, if wearing a mask makes you feel "controlled," just smear some Vick's VapoRub inside it and pretend you're at an Altern8 show in the '90s—which was literally the style at the time.
And learning to let go of the intense dynamic of shaming people online vs. flaunting guidelines to feel "independent" will be vital when we're all face-to-face in a sweaty black box again. Some people made mistakes. And some have spent time building on their community work, like the BAAAHS Burning Man crew, that has dedicated its resources to providing sound for protests throughout the year, including Black Lives Matter, Peoples' March, and Stop Asian Hate rallies.
I think we can find ways to move on and love each other while holding the more egregious players accountable in some way. I'm not sure what that will look like yet. Is there an International Court for Dickhead DJs in Ibiza?
THE RUSH OF RETURNING Another necessity: moderation. For all that we've been hoping to dive again into mass social situations, when we're finally out in crowds, it may not feel like we expect. It's been a wild 12-months in isolation, and the urge to go nuts will be strong. I personally can't wait to enjoy the impossible luxury of walking out of one bar and into another bar. Wow! But boldly splashing in could quickly turn to drowning in anxiety, and relying on some familiar flotation devices. (I am talking about drugs and alcohol and sex.) We may overindulge at first because, stuck in our tiny apartments, our limits have eroded and our tolerance to all that stimulation is down.
That's a human response, and some of us should take any social situations slowly and soberly. It's OK to pace yourself! You can even do that amazing thing where you suddenly have a zillion options but you just stay home and watch Bojack Horseman again with some vegan mac & cheese instead.
But are the venues truly prepared? We could never be so tacky, yet looking at the pent-up partying being let loose in Florida for Spring Break makes me nervous. Hell, looking at all the table-hopping and congestion on Valencia and Castro right now gives me chills.
We should demand that venues have clear policies and training in place when nightclubs come back online, including Narcan and Fentanyl testing strip availability, clear and posted sexual harassment policies, security de-escalation and harm reduction techniques, and alternative plans to calling the police on patrons. (I'd love to see both a revival of DanceSafe harm reduction locations and a community network of some sort to make sure people get home safely.) Not just for the first rush of reopening, but because this should be standard in all bars and clubs.
We should also expect that venues are equipped with free and available PPE for patrons, since we will most likely not be fully out of the woods yet. "When we open back up I'm going to have so many masks hanging from the bar and so much sanitizer at the door that people will think I'm crazy," one big promoter told me. "You want a mask? Here's three! Take five! And I'll brand the hell out of it all."
I like that attitude. I would go to that party.
To be continued ….