At a time when such elemental concepts as "truth" and "fact" are being challenged—mostly by those who have the most to gain from pushing lies—even forms most blatantly intended to reflect those virtues have been susceptible to escalating corruption. There have always been examples of propaganda masquerading as "documentary," but until the 21st century (and the arrival of quasi-journalists like Dinesh D'Souza) they seldom commanded any kind of popular, let alone commercial, US audience.
Not unlike the "faith-based entertainment" mill, which churns out genre films tailored to evangelical audiences, such dubious non-fiction features have become their own cottage industry. I don't hear about a lot of them (48 Hills is probably not a publicity platform of choice among far-right voices), but when I do, yikes. One recent release that kept begging for coverage case-pled for the notion that because technology has advanced to the point of enabling individuals to 3D-print AK-47 "ghost guns" at home, sans any governmental regulation or registration, not letting citizens do so somehow violates "free speech" and basic "human rights." (Unsurprisingly, this documentary was largely funded by cryptocurrency types, and the main "firebrand advocate" it spotlights eventually got prosecuted for sexual assault of a minor. Proud patriots all, I'm sure.) Um… no thanks.
Fortunately, plenty of documentarians are still in the business of shedding light, as opposed to advancing darkness. They include the contributors to Doc Stories, SFFilm's annual showcase, whose ninth edition runs this Thu/2 through Sun/5 primarily at the Vogue Theater. (There are also a couple screenings at the Presidio's Premier Theater, and select programs are available online during the festival's timespan.)
The ten features and numerous shorts on tap include many of the year's most acclaimed nonfiction titles, most of which either have been or will soon be released to wider audiences, whether theatrically, for broadcast or on streaming platforms. They commence with a free community screening this Thursday at 3 pm of Lisa Cortes' Little Richard: I Am Everything, an appreciation of the singular rock 'n' roll pioneer that we wrote about this spring.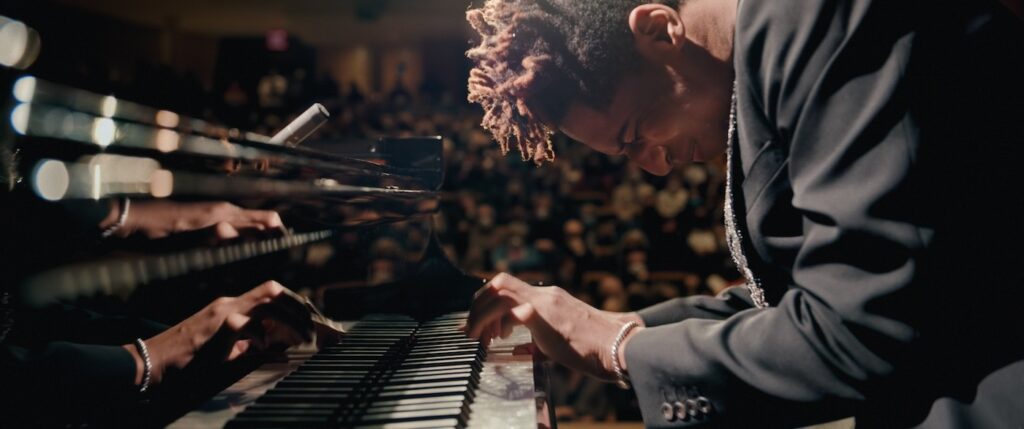 The official opening night selection is another portrait of a trailblazing African-American musical artist. Matthew Heineman's American Symphony follows an eventful year in the life of Jon Batiste, whose short and unclassifiable career to date has sprawled across different genres, and encompassed work from TV bandleader (on Stephen Colbert's Late Show) to scoring a Disney cartoon (Soul) and collaborating with a dizzying array of veteran talents.
This film was originally intended to chart his creation of the titular full-length orchestral work, his first, which premiered at Carnie Hall last fall. But that focus was somewhat waylaid by concurrent other events, including his nomination for a flummoxing array of Grammys (he won Album of the Year, among others), and his wife Suleika Jaouad's resurgence of cancer. This very slick document doesn't offer a lot of insight into Batiste's creative process, preferring to highlight personal drama that can be a little queasy—these people are obviously very, very used to being on camera. But as celebration of a polyglot personality sure to retain prominence for many years to come, it means to ingratiate and does.
Other Doc Stories features run a gamut stylistically and thematically. Irene Lusztig's Richland is a Frederick Wiseman-like verite overview of a small town in eastern Washington state that locals insist is "a wonderful place to live"—even though it has also suffered huge environmental and health consequences from decades of industrial plutonium production. Amanda McBaine and Jesse Moss' The Mission ponders the fate of an evangelical teenager, also from the Pacific Northwest, whose quest to convert a remote island tribe on the other side of the world ended in death.
Caroline Suh and Cara Mones' Sorry/Not Sorry examines ripples of the #MeToo movement, in particular high-profile men like comedian Louis C.K. who at first seem sincerely apologetic when confronted with their own sexist behavior… then angrily retreat into more of the same. Rachel Ramsay and James Erskine's Copa 71 finds flagrant sexism in an era when it was a lot easier to get away with it. Interviewing surviving players a half-century later, it recounts an enormously popular 1971 "Women's World Cup" in Mexico City that somehow got almost entirely erased from sports history—FIFA and other powers of the male football establishment found this incursion onto "their" terrain so threatening, they basically had its like banned for the next two decades.
Kaouther Ben Hania's Four Daughters has a Tunisian family of women recounting how two eldest offspring got radicalized, then ran off to support ISIS—a tale of profound loss unusually depicted by mixing real-life participants and professional actors in reenactments. Two movies here are for book lovers: Roger Ross Williams' Stamped from the Beginning brings Ibram X. Kendi's National Book Award-winning tome to cinematic life, creating a big-picture view of the racist systems and ideas that have kept US Black people "in their place" for centuries; Joanna Rudnick's Story & Pictures By highlights three disparate mid-career creators in an overview of the picture book's long history as a key factor in developing child literacy.
There are also two shorts blocks, one centered on "Ideology vs. Identity" in disparate North American communities, the other showcasing the latest in New York Times Op-Docs, whose geographical sprawl this time particularly highlights refugee flight paths around the world. Sunday afternoon's Tribute to Julia Reichert: A Woman's Work commemorates the Oscar-winning documentarian who passed away last December at age 76. Frequently drawn to activist subjects, her half-century of filmmaking chronicled everything from the Women's Liberation Movement to union politics, workplace culture clashes, and two records of Dave Chappelle performances.
Doc Stories ends on the evening of Sun/5 with one of the remaining year's most eagerly awaited films (at least in my book): Wim Wenders' 3-D portrait of German painter/sculptor Anselm Kiefer, titled simply Anselm. If you saw the same director's same-format prior portrait of choreographer Pina Bausch (called Pina, of course), you know you're in for something special. What's more, Wenders himself—of Wings of Desire fame—is expected to attend.
For Doc Stories' full schedule, plus more detailed program and ticket information, go here.
That mini-festival is not, however, the only game in town as far as nonfiction cinema is concerned. Mention should also be made of Joshua Tickell and Rebecca Harrell Tickell's Common Ground, which continues at the Roxie (more info here) through Thu/2 and at Oakland's New Parkway starting Fri/3. It proposes as a salvation for mankind's soon-to-be-pressing climate and resource woes a program of "soil health" whose regenerative agriculture could stabilize food production (among other things) for generations to come. Heavily leaning on celebrity presences including Jason Momoa, Laura Dern, Rosario Dawson, Donald Glover, Woody Harrelson and others, it's a particularly glossy, infomercial-y approach to activist documentary filmmaking that isn't exactly my thing. But the message is good, and the means may very well appeal to some viewers who'd otherwise be disinterested.
The Roxie is also as of this Sat/4 (more info here) playing Toby Amies' In the Court of the Crimson King, which chronicles a reunion tour for members of cult prog-rock band King Crimson—at least the ones that Robert Fripp can stand—after half a century of ever-shifting lineups and styles. The crusty (if also humorous) personality of the man who's been its one constant over that span explains much about that personnel turbulence: He calls the experience "incredibly wretched" from 1969 to "say, 2013." Even the current personnel who presumably meet with his greater approval are only an improvement "in potential." (Another member even more bluntly claims the original KC "contained a bunch of cunts.") This mix of archival, interview, and latterday concert footage is perhaps not the best introduction for newbies, but serious fans will be in heaven.
Creativity seems a much more serene pursuit for the subject of Robert Irwin: A Desert of Pure Feeling, which was recently released to digital platforms by Greenwich Entertainment. Jennifer Lane's documentary provides an appreciation of the SoCal artist who passed away just two weeks ago, at age 95. Even among the Ferus Gallery crowd of exploratory postwar painters whose influential work was at first little understood by the East Coast art establishment, his ideas were considered so elusive as to be incomprehensible. (It didn't help that early on he refused to have his pieces photographed, insisting they be seen in person.)
Even more so when at a certain point "he decided to stop making objects," abandoning his studio for an itinerant site-specific path that played a huge role in generating the "Light and Space" movement—art whose purpose is to "exhibit awareness of the perception of space itself." Or as he puts it, "An empty room is simply not empty…space itself is palpable." The subtle but transformative effects wrought, often using shifting sunlight and shadow, or near-invisible scrims, eventually brought him to such leading institutions as the Guggenheim. He also played a key role in designing new ones, notably the Getty Center. There's a kind of philosophical as well as physical rapture to his work that this tribute's competent if somewhat pedestrian craftsmanship nods to without quite capturing. Still, it's a valuable document.
Likewise the very different Beyond Utopia, which opens at the Roxie Fri/3 (more info here). Madeleine Gavin's two-hour film is kind of screen companion piece to the 2009 book Nothing to Envy by journalist Barbara Demick, who's among the experts interviewed here. Although while her tome (subtitled Ordinary Lives in North Korea) used testimony by successful escapees to gruesomely detail the last several decades' conditions in the world's most oppressive state, this documentary is focused primarily on the extreme hazards risked by those who continue to attempt defection.
Since hardly any North Koreans are free to travel outside the country, the only means of escape is by crossing the Yalu River to mainland China. That would be dangerous enough if militlary guards were not rewarded for killing those caught fleeing; if Chinese citizens weren't also bribed to turn in any desperate strangers seeking food or shelter; if traffickers didn't frequently sell younger female escapees into prostitution or forced marriage; if managing to make it through the allied countries of Laos, Vietnam and Myanmar to South Korean sanctuary weren't equally perilous; etc., etc. The price of repatriation is usually exile to some remote region within North Korea, or a work camp, or flat-out execution—all fatal options, sooner or later. Those who do successfully commence new lives abroad can be sure that any relatives left behind will be punished for their transgression.
Why would anyone even try to leave, given those odds? Well, an already hard existence became much harder after the fall of the Soviet Union, whose subsidizing had propped up its fellow Communist nation. When that ended, up to three million died from famine as a series of "Dear Leaders" prioritized military and nuclear might above citizens' most basic needs. Much of Beyond Utopia is spent amongst refugees for whom running water and electricity seem extraordinary luxuries. Raised with zero access to the outside world, they are stunned to discover that the propaganda they'd been fed as truth—suggesting North Koreans were far better off than the rest of the world—is entirely false, often laughably so. You haven't lived until you've seen the clip here of alarmingly well-drilled toddlers singing and dancing their way through a song about the horrors of American "bastard imperialists."
But there's not a lot of yoks in Beyond Utopia, which like most rare glimpses behind this particular iron curtain, is pretty damn bleak. We also see families (from a child to an 80-year-old grandmother) struggle with the physical challenges of their surreptitious trek to freedom, which at any point might end in disaster. We see some smuggled-out footage of a failed escapee being tortured by military police. This is a tough but necessary watch.