Mexican muxes, Indian desire, drunk guidance counselors, Tab Hunter, Yes Men, and a straight-again James Franco at the world's largest LGBT film fest.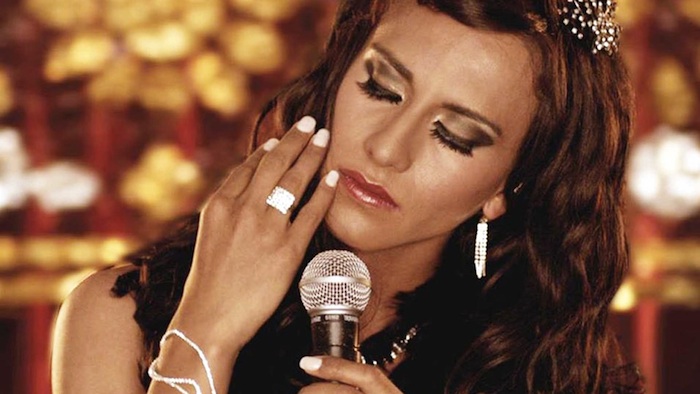 By Dennis Harvey
SCREEN GRABS Always an important SF cultural institution—as well as the oldest and largest LGBT film festival in the world—Frameline (June 18-28, various locations) has changed considerably over its 39 years, reflecting changes in the gay community itself. In early years there were often sharp divisions between gay male and lesbian audiences; now the atmosphere is more of one big happy family.
Patrons used to be notoriously, and literally, hissy when a film offended their politics. (God forbid that a heterosexual scene should sully the screen.) Now all kinds of diverse depictions are welcome. In the festival's 39th year, you need look no farther than opening night to confirm that: Justin Kelly's partly SF-set drama I Am Michael is, of all things, a sympathetic if questioning portrait of a gay activist (the ever-queer-friendly James Franco) who after some crises "comes out"—as a Christian evangelical and "ex-gay." As the Frameline program cautiously notes, this fact-based story "is sure to provoke discussion."
Of course with some 180 movies from all around the world (including such not-quite gay hotspots as Kenya and Bosnia-Herzegovina) unspooling over eleven days at three SF and two East Bay venues, you can find just about anything at Frameline—envelope-pushing or otherwise. Here's a look at some previewed highlights in this year's program. (See Marke B.'s picks for the festival here.)
In Rigoberto Perezcano's leisurely Mexican mystery drama, Mabel (Jose Pecina) is an elegant trans woman who fled her native Juchitan for a love that went wrong. Many years later, she's drawn back by news that her even more glamorous muxe (transwoman) and fellow club performer friend Daniela has been brutally killed. Mabel gets a warm welcome from some old acquaintances, and strikes sparks with a handsome cab driver (Luis Alberti). But her primary concern is investigating just what happened to Daniela, as the police seem to have no leads. With its lyrical touches and decidedly non-camp approach, this is a distinctive film, though opinions are likely to be sharply divided about its narrative finish. Fri/19, 9:30pm, Roxie Theatre
>> GUIDANCE


David Gold (Pat Mills) has just about completed the full slide from child TV star to adult train wreck. He's estranged from his family, facing eviction, and just lost his last, feeble acting job; cocktail hour is a 24/7 affair, and nobody but David believes his protests that he's not gay ("I just have a gentle voice"). The final straw: A diagnosis of Stage 3 skin cancer. Taking denial over a whole new cliffside, he decides he "wants to help teenagers," and actually gets a job as a guidance counselor at a high school where the principal is too harried to actually check his credentials. David's methods are unconventional, to say the least — he's not above buying tequila for or smoking a joint with his young charges — but he actually does experience a certain amount of redemption… albeit not before really, really hitting bottom. This Canadian first feature by writer-director Mills (who really was a child TV actor) is kind of like Half Nelson as a bad-taste comedy that nonetheless has a surprisingly sweet center. It's as hilarious as its anti-hero is hapless. Tue/23, 9:30pm, Castro Theatre
>>HOW TO WIN AT CHECKERS (EVERY TIME)

Homosexuality is for the most part casually accepted, but economic inequality and corruption prove insurmountable barriers in U.S.-born Josh Kim's Thai drama. Their parents having passed away, Ek (Thira Chutikul) has done his best to provide for 11-year-old brother Oat (Ingkarat Damrongsakkul), as well as a little sister and spinster aunt. But they're barely scraping along in a town dominated by black marketeers. When they turn 21, Ek and his boyfriend since high school Jai (Arthur Navarat) are both eligible — along with a transgender friend — for the military draft. But while Jai's family can afford to bribe his way out of lottery-drawn conscription, Ek has no such luck. Oat's desperate attempts to keep his brother at home only make things worse. Not as bleak as that description may sound, this engaging tale drawn from Rattawut Lapcharoensap's short story collection Sightseeing takes an agreeably low-key, sympathetic approach to some potentially melodramatic injustices. Sat/20, 7pm, Castro Theatre
Laila (Kalki Koechlin) is a young Delhi native whose freedom of movement and clarity of speech are compromised by cerebral palsy. But she has an adventurous spirit that's been encouraged by her loving middle-class family, and in many respects lives the life of any ordinary, outgoing, popular college student. When a romantic hope is crushed, however, she impulsively decides to flee — winning a scholarship to study writing in Manhattan, where she sparks with both her very cute male English study partner (William Mosely) and an assertive, blind woman who's also an Indian emigre (Sayani Gupta). Shonali Bose's feature is one of the least hand-wringing ever made about a character with significant disabilities; it treats her sexual desires without fuss, and balances humor and drama to create an ultimately quite wonderful, surprising narrative journey. While the subject may not automatically appeal, this is easily one of the best movies you'll see at Frameline this year. Tue/23, 9:30pm, Landmark Piedmont and Sat/27, 6:30pm, Roxie Theatre
>>QUERELLE/FASSBINDER: TO LOVE WITHOUT DEMANDS 
Rainer Werner Fassbinder made some 40 feature films, TV movies and miniseries in a hurricane of activity over just thirteen years—at which point he just dropped dead, a 37-year-old exhausted by overwork and rampant bodily abuse. He went out on a high note: 1982's Jean Genet-based Querelle, while more notorious than acclaimed at the time, is now considered a classic of sumptuous craft and scorching homoeroticism. In conjunction with this revival, Frameline is also screening Christian Braad Thomsen's new documentary about his late friend, whom he frequently shot (never-before-seen) interview and behind-the-scenes footage of. It's an unusually intimate portrait of an artist who by many accounts was impossible, but also an overwhelming, charismatic force of nature. Querelle: Wed/24, 1pm, Castro Theatre. Fassbinder: Tue/23, 4pm, Castro Theatre
Onetime Frameline co-director Jenni Olson's second feature bears considerable resemblace to her first, 2005's The Joy of Life, and there's nothing wrong with that. It's another quiet yet thematically sweeping film essay mixing impressive landscape photography (by Sophie Constantinou) with a range of voiceover musings that encompass everything from personal romantic reminiscences to the colonialist history of California itself. There's also meditation on some of Hollywood's most memorable representations of SF and Los Angeles, a guest appearance by Tony Kushner, and more. These elements shouldn't mix so seamlessly, but the combination of confessional, poetical, intellectual and historical-analytical somehow feels effortless as well as curiously poignant. Fri/19, 11am, Castro Theatre and Mon/22, 7pm, Rialto Elmwood. 
>>TAB HUNTER CONFIDENTIAL

Tab was a hunk of All-American blond manhood who made bobbysoxers swoon in the 1950s. But being considered a sort of punchline of male pulchritude rendered his Hollywood vogue short-lived, despite the talent he showed when (rarely) given more demanding roles—resulting in years of B-movie and dinner-theater slogging until John Waters had the genius idea of making him Divine's love interest in Polyester (1981). It didn't hurt that by then he was well out of the closet, and good-humored about his days as a heterosexual pinup. Like the print autobiography it's based on, Jeffrey Schwarz's documentary includes plenty of juicy gossip (one of Hunter's lovers was Anthony Perkins) and relevant name-dropping, but its primary appeal is that of the subject's own voice: He's charming, unpretentious, and still pretty hunky. Schwarz (Vito, I Am Divine) will be accepting this year's Frameline Award for his body of work. Sat/20, 4pm, Castro Theatre. 

The titular duo of Andy Bichlbaum and Mike Bonanno are back with another documentary showcasing their often ingenious pranks, which use fake press conferences and such to ridicule the misdeeds of various corrupt corporate, political and other institutions. This time, however, things get a little more personal, as the hitherto inseparable pair suffer various forms of midlife crisis: While trying to continue doing hoaxes and actions from Uganda to the Arctic circle, straight Bonanno moves with his family to Scotland, and gay Bichlbaum has to face his perpetually failing love life. Their most successful relationship is the platonic one they share, but in the face of overwhelming official indifference to climate change and other pressing issues, can The Yes Men still make any impact at all? Though weighty issues are raised, Revolting shares with its predecessors the quality of making social activism look like a whole lot of fun. Fri/19, 7pm, Roxie Theatre.