Hardly Strictly Bluegrass, Castro Street Fair, Veg Fest, Art Night, Sharktoberfest, Algiers, John Carpenter tribute, more essential events this week.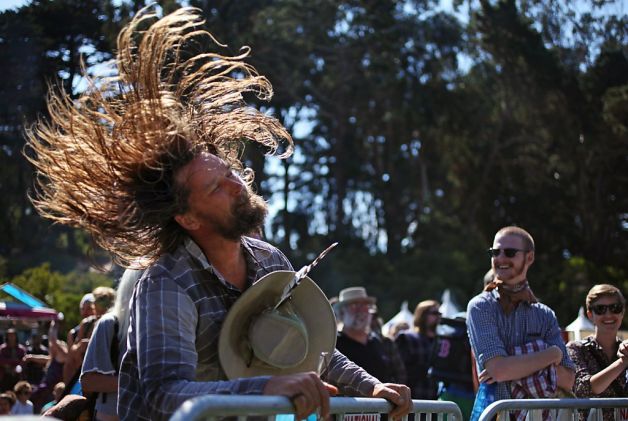 By Marke B. 
BIG WEEK As the story usually goes, one of our richest men was also one of our great patrons of the arts. But unlike, say, the staid-if-contemporary Eli Broad (whose new LA Museum seems a little too candy-coated), Warren Hellman really wanted something for all people to enjoy. His journey from prominent investment banker to progressive supporter is truly San Franciscan, culminating in his creation of the enormous and wonderful annual, free Hardly Strictly Bluegrass festival (Oct 2-4, free, Golden Gate Park, SF).
This year's fest has some heavy hitters, including Emmylou Harris, Ry Cooder, Steve Earle, Boz Scaggs, and Los Lobos, but there's also tons of new names, experimental get-togethers (a tribute to Big Star's 3rd album), and folksy family fun (Conor Oberst's takeover of one stage with his friends). It really does put many of our other, over-programmed, hella-expensive festivals in a generic light.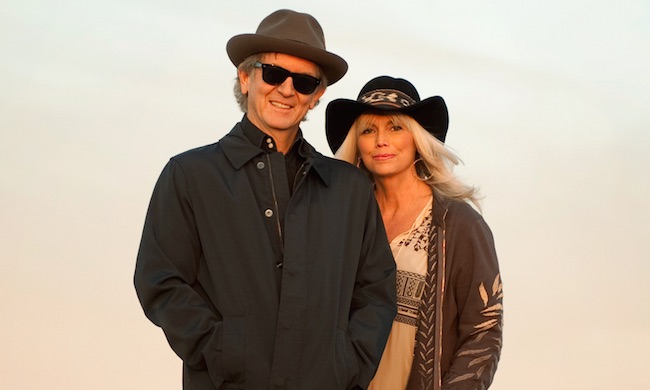 A particularly cool highlight of the fest: Tons and tons of Bay Area school kids will attend on Friday morning as part of Daniel Pearl Day, celebrating the murdered journalist's love of music and helping "to help spread a message of hope and unity." Let the fiddles fiddle and the banjos ring!

>>>>> WEDNESDAY, SEPT 30, 2015 <<<<<
>>> ALGIERS Next level psychedelic blues rock from this Atlanta outfit, which has been making waves from NPR to indie concert halls. Wed/30, 7:30pm, $15. The Independent, SF. Tickets and more info here. 
>>> NEW SLOW CITY Author William Powers lived his dream of holing up in a 12×12 cabin off the grid in North Carolina — but what happens when he moves back to New York City with his wife, and tries to apply his unplugged ethos? He'll read from his new book. Wed/30, 7pm, free. Green Apple Books and Music, SF. More info here. 
>>>>> THURSDAY, OCTOBER 1, 2015 <<<<<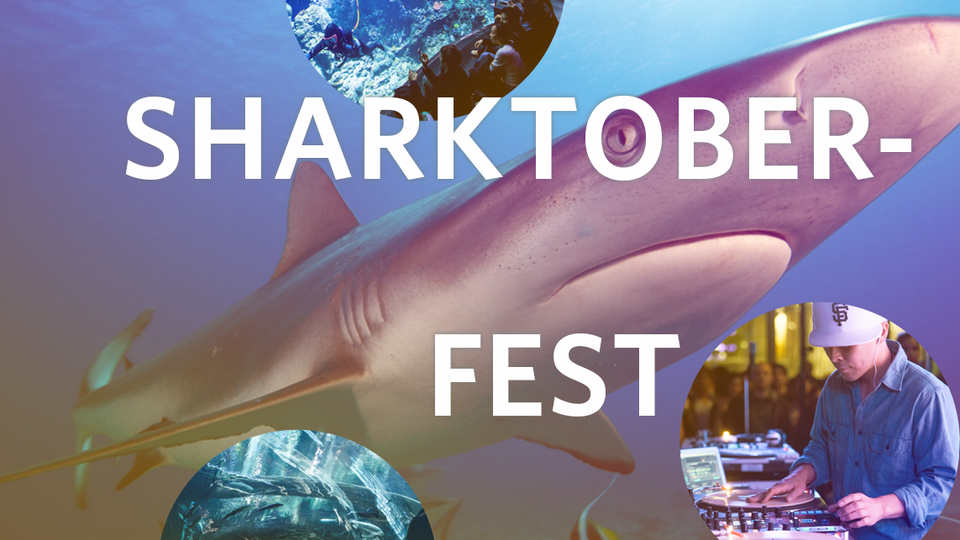 >>>SHARKTOBERFEST NIGHTLIFE An innocent question? What of all those beer-drunk yahoos in lederhosen flooding the streets for Oktoberfest were … eaten by sharks? I would totally get cable just to watch that for a week. Kidding! I love beer, I love people pretending to be German, and I also love sharks. The Cal Academy of Sciences' weekly evening event brings it all together, with a pop-up beer garden, tons of shark-themed exhibits, Berlin-style ping-pong from American Tripps, and music from one of my favorite monthly parties, Push the Feeling. Thu/1, 6pm-10pm, $12. Cal Academy of Sciences, SF. Tickets and more info here. 
>>> MUSIC FOR PEOPLE AND THINGAMAJIGS FESTIVAL Inventive, creative, experimental, 18th annual music festival that brings together a dozen musical instrument inventors and composers for four days of new sounds. Very cool! Free opening reception Thu/1, continues through Sun/4, $10-$15 per day, various times. Center for New Music, SF. Tickets and more info here. 
>>> ART NIGHT SF It's First Thursday, and that means tons of gallery openings downtown. But this unique UN Plaza experiment brings together tons of galleries and artists — including Luggage Store, Root Division, The Lab, even the SF public Library — to show their wares outdoors, for free. Also: music, cocktails, food. Thu/1, 5pm-9pm, Free. UN Plaza, SF. More info here.
>>>>> FRIDAY, OCTOBER 2, 2015 <<<<<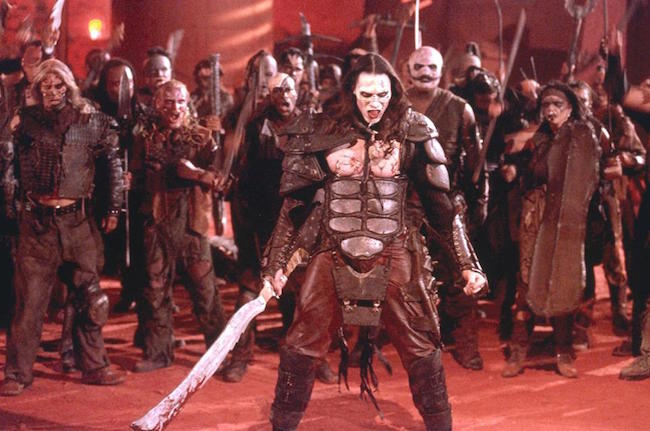 >>> KILL 'EM ALL: A GENUINE TRIBUTE TO JOHN CARPENTER Our resident film maniac Jesse Hawthorne Ficks, of the awesome Midnites for Maniacs cult series, brings John Carpenter classics They Live (RIP Rowdy Roddy Piper) and Assault on Precinct 13 together for an evening of unequaled suspense, courtesy of a movie master. Plus: a complete 35mm trailer reel of John Carpenter's feature length career! Fri/2, 7:20pm, $12. Castro Theater, SF. Tickets and more info here.     
>>> OAKLAND ART MURMUR Oakland's biggest monthly event: Every first Friday the streets come alive as more than 30 galleries and organizations join forces for this vibrant celebration of local art, food, music, and primo people-watching. Fri/2, 6pm-9pm, free. Downtown Oakland. More info here. 
>>> CRANE A new lay by JC Lee: "When Sadako stumbles into a cabin in the mountains in the dead of winter, she meets Bradley, a young, hermitic artist who once created a great work of art but has since descended into mediocrity. After taking in this mysterious woman, Bradley discovers that Sadako has her own secret talent that could potentially save him. But at what cost?" Fri/2 (continues through Sun/11), 8pm, $15-$35. Theatre of Ygen/Noh Space, SF. Tickets and more info here.
>>>>> SATURDAY, OCTOBER 3, 2015 <<<<<
>>> JO KREITER: "NEEDLES TO THREAD" Join choreographer Kreiter and Co as they perform suspended above the Tenderloin's Continuum Alley. This will be the third in a trilogy of site-specific aerial dances about urban poverty — and a spectacle to behold. Sat/3 (also Thu/1), 8pm and 9pm, free. Continuum Alley, SF. More info here.
>>> "TAKE BACK SAN FRANCISCO! VISIONS LAUNCH PARTY AND ELECTION FORUM" VisionSF is "a new citywide movement to reclaim San Francisco as a sustainable, diverse and creative city for all of us, not just the wealthy few." Join the movement (comprising a ton of the city's Progressive movers and shakers) as it kicks off with this extravaganza, featuring singer-songwriter Thomas Heyman, Colin O'Leary and friends from Pangea Futbol Club, comedian Mike Evans, San Francisco Poet Laureate Alejandro Murguia, a preview of the film "The Last Black Man in San Francisco," and more. Sat/3, 2:30pm-4:30pm, free. Brava Theater, SF. More info here. 
>>> 16TH ANNUAL WORLD VEG FESTIVAL Come "veg out" for "two days of fun live entertainment, urban gardening, healthy food demos, vegan cuisine, eco-friendly products, outstanding speakers on the cutting edge of vegetarian living!" Sat/3 and Sun4, 10am-6pm, $10. SF County Fair Building. More info here.  
>>> PEACHES: THE RUB TOUR The ever-provocative performance artist/ rock star returns for what promises to be another XXX-rated, hilarious concert. Rub is her first new album in more than five years, and she's got a book of erotic photography out now, too, called What Else Is In The Teaches Of Peaches. Get ready. Sat/3, 9pm, $22-$25. Mezzanine, SF. Ticket and more info here.
>>>>> SUNDAY, OCTOBER 4, 2015 <<<<<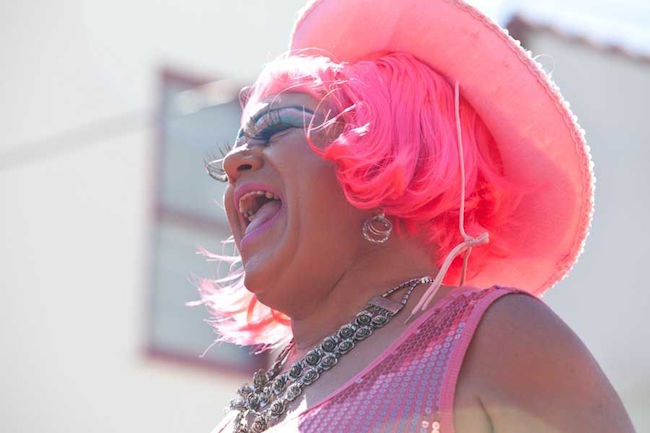 >>> CASTRO STREET FAIR This year's giant affair is dedicated to the memory of drag hostess Cookie Dough, who tragically passed away earlier this year. Besides a huge drag tribute, the sprawling fair offers a colorful, laid-back taste of the castro neighborhood, including tons of booths, music, good, and funny gay art (yes, rainbow windsocks!). Pro Tip: so not miss the Sundance Saloon country line-dance stage behind the castro Theatre. It's a boot-strompin' hoot. Sun/4, 11am-6pm, free. Castro between Market and 19th Street, SF. More info here.
>>> UGNAYAN LAHI: FILIPINO AMERICAN HISTORY MONTH CELEBRATION  "Learn from longtime Filipino American community leaders, meet rising artists, dance to traditional and contemporary music and enjoy Filipino treats in the Asian Art Museum Cafe." Plus: martial arts demonstrations, local Filipino music videos, an a cappella choir, and tons more. All free! Sun/4, 10:30am-4pm, free. Asian Art Museum, SF. More info here. 
>>>>> MONDAY, OCTOBER 5, 2015 <<<<<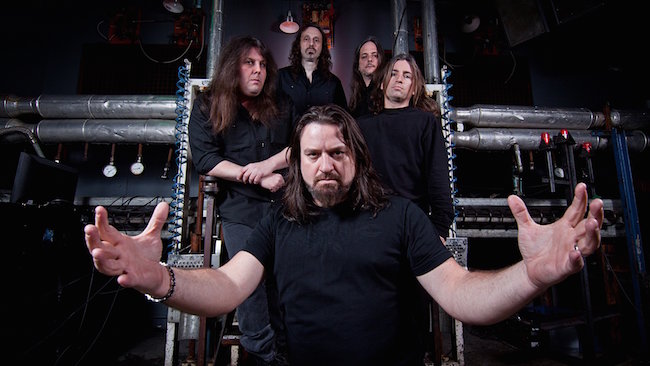 >>> SYMPHONY X "From the skies, 'cross the Sea of Lies, to the Dungeons of the Damned … " YES! Classic progressive metal/doomish metal band Symphony X will cover the Regency Ballroom with the cries of the cursed. Mon/5, 7pm, $30-$32, all ages. Regency Ballroom, SF. Tickets and more info here. 
>>>>> TUESDAY, OCTOBER 6, 2015 <<<<<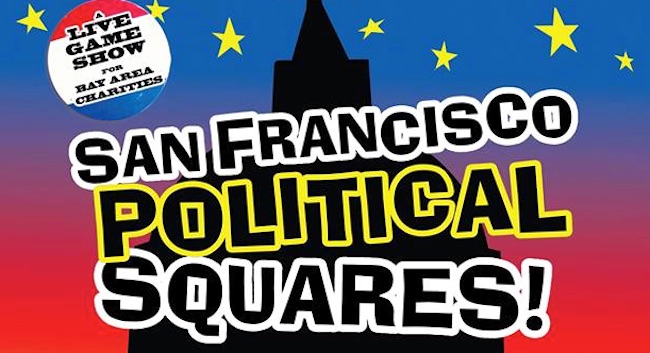 >>> SAN FRANCISCO POLITICAL SQUARES All the bawdy humor of "Hollywood Squares," all the tawdry humor of "San Francisco politics." Join me (Marke B.) and an all-star cast — including Heklina as the center square (duh), Sister Roma, Marga Gomez, Tom Ammiano, Tom Temprano,  and more as we test contestants' knowledge of the city for charity! Brought to us by the creative, slightly crazy folks behind "Under the Golden Gate." Tue/6, 7pm-10pm, $15/$20. Oasis, SF. Tickets and more info here.  
>>> BULLDOG BATHS MURALS: CLOSING CELEBRATION For the past four months, The GLBT History Museum has exhibited some of the unique and beautiful — and highly explicit — murals that were part of San Francisco's famed gay bathhouse, the Bulldog Baths. This closing reception for the exhibit features music, wine, cheese, and members of the leather community. Tue/6, 7pm-9pm, donation requested. GLBT History Museum, SF. More info here. 
**Like this article? Support 48 Hills and help keep independent journalism alive.**