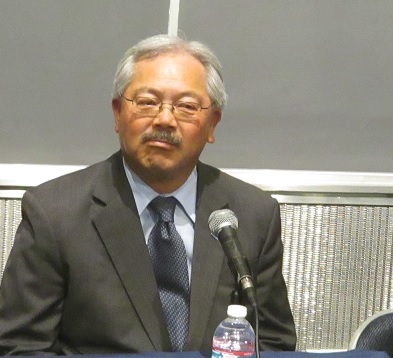 Mayor Ed Lee two weeks ago launched a new effort to bring about "affordable" housing opportunities for San Franciscans by proposing, as he did 18 months ago, that market-rate developers be given a density bonus if they provide housing that can be affordable by folks earning up to 150% of median ($113,000 for a single person, $162,000 for a household of four).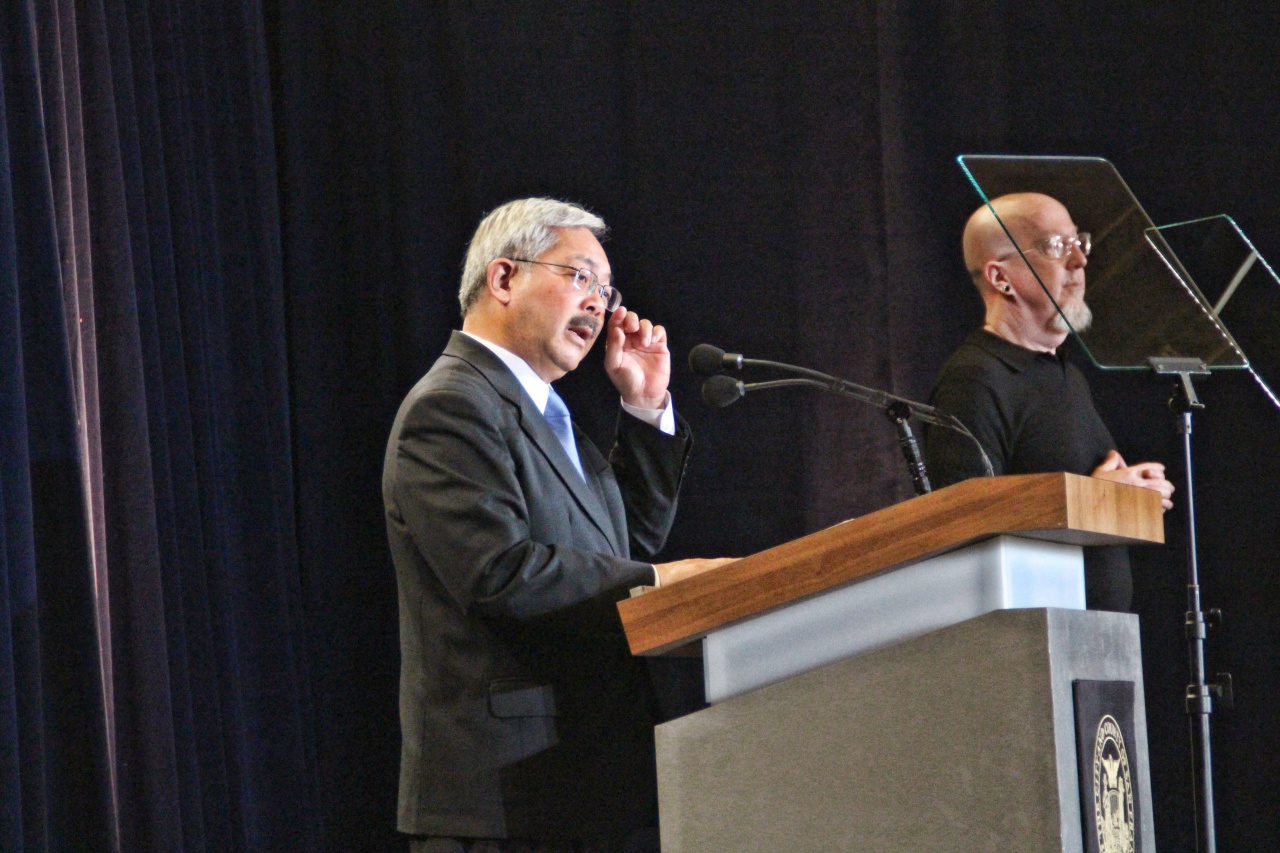 Lee also proposed raising the average affordability level from its current $65,000 (single person income) to $90,000 and from $90,000 to $130,000 for a four-person household for the city's inclusionary housing program and rolling these numbers into the density bonus plan. Give developers a density bonus AND lower their affordability requirements and we will get "middle income" housing. He is selling this as a "family housing" plan.
This new plan came hard on the heels of Lee cutting an existing rental subsidy program for families at risk of becoming homeless. It seems that in Ed Lee's San Francisco, only families able to be served by market-rate developers are worthy of support. Poor folks are simply shown the door.
While the legislative language of the new program — named HOME SF by the spinners in Room 200 — is yet to be released and details remain to be seen, this is, in broad brush, the way both Sacramento and the mayor prefer to deal with falling incomes and rising housing prices: increase the profitability of market rate housing development in hot markets like San Francisco. At its heart, it confers public value — increase in density — on private developers for a reduced level of affordability. This is at the very heart of the Trump "art of the deal" model of urban development. It is Trumpism without Trump and it is being pushed from Van Ness Avenue to Sacramento by Democrats claiming to be fighting Trumpism.
We need to remember that Trump did not win in November — Clinton lost, a distinction with a very big difference. Jerry Brown, Scott Wiener and Ed Lee all belonged to the Clinton wing of the party and rode her wagon to national defeat in no small measure because of elite-based urban policies such as community-busting density bonus giveaways that lowered urban turnout in the Philadelphia, Cleveland, and Milwaukie as working and middle income residents saw no difference between Clinton and Trump and simply did not bother to vote.
That such an absurd position could be touted by Democrats and championed in the media, shows just how far "alternative facts" have superseded actual objective evidence concerning housing production and costs, income inequality, and the actual nature of the assault on the urban working middle class.
The "alternative facts" that create a "narrative" (that is then reported — "fake news") for a density bonus are depressingly familiar and go something like this:
Since the 1970's misguided (or, alternatively, incredibly prescient profit seeking) progressives, seeking the political support of Nimbys, have, through zoning and land-use planning requirements, blocked housing production here in San Francisco. At the same time misguided environmentalists forced on the state the California Environmental Quality Act and have used it, or worse, allied with racists Nimby homeowners seeking to enhance their profit, to block housing development, especially in coastal California, statewide.
These two groups, progressives and environmentalists, are the reason both San Francisco and California suffer from high housing costs. Only by removing local planning controls and limiting CEQA can the "market" be allowed to function and, by the simple "law of supply and demand," produce housing at affordable price levels. Only by mandating increased density with no local opposition allowed can the historic imbalance of supply be reversed and prices actually reduced.
It must be made clear that by "alternate facts" I do not mean mere differences in preferences or theory. People may differ about the aesthetics of a tall building, the benefits of urban bike lanes, or if native plants make a better urban park. By "alternate facts" I mean something of what Colbert means with his term "truthiness:" something that sounds true because it advances an argument or a feeling, not because of evidence or actual examination. An "alternate fact" is something that is demonstratively un-true and is used as true evidence for a policy change.
The "Alternate Facts" in the Density bonus Argument
"Alternative Fact:" San Francisco has "under built" housing since the 1970's
FACT: According to the US Census, between 1960 and 2010 San Francisco's population increased by 64,561, from 740,316 to 805,235. During that same period, we built 91,933 net new housing units, or 1.4 new housing units for each new resident.
"Alternative Fact:" San Francisco Progressives and Nimbys, using local zoning and planning laws, have kept critically needed housing from being approved.
FACT: According the San Francisco Planning Department, between 1996 and 2015 some 50,904 units were approved for construction, of which some 16,000 were approved in the last five years.
Alternative Fact:" San Francisco needs more market-rate housing than it is building to meet the needs of new workers, otherwise they will "outbid" existing residents for too few existing apartments and force out existing residents.
FACT: According to the Planning Department, by the third quarter of 2016 San Francisco had approved 181% of the estimated number of market rate units it needed by 2022, while meeting only 16% of its low income need. Even during the Great Recession, San Francisco continued to overproduce market-rate housing. According to the Association of Bay Area Governments, between 2007 and 2014 San Francisco approved 109% of its need of market rate housing while meeting only 27% of its low income housing need.
"Alternative Fact:" High-rise, high-density development produces cheaper rents because more units can be built per acre of land. These cheaper rents drive down rents in general where high density development is allowed.
FACT: While it may be the case that building more units on a site may reduce per unit cost to the developer, unless required by the density bonus legislation to pass that savings on as lower rents, that cost reduction simply results in higher profits if rented at the prevailing rent levels. According to Zumper, the web based rent tracking webpage, in the Fall of 2016 the San Francisco neighborhoods with the highest rents were Soma, Mission Bay/ Dogpatch and South Beach, the three neighborhoods at the heart of the high-rise, high density building boom. The neighborhoods with the lowest rents were Mission/Excelsior, Outer Sunset and Bayview, neighborhoods with nearly no new construction and the fewest high-density buildings in the City.
"Alternative Fact:" Nimbys use of the California Environmental Quality Act has materially reduced housing development in California and significantly added cost to the states housing development. Allowable use of CEQA to stop housing development must be banned.
FACT: First, residents have little ability to require CEQA review of a project since the initial and presumptive evaluation is done by the city. The vast majority of housing development in San Francisco is done in currently residentially zoned areas and is categorically exempt from environmental review. One of the most comprehensive studies of the use of CEQA "CEQA in the 21st Century," found that from 2013 to 2015, a period that saw some 10,000 housing units approved in San Francisco, a total of 14 EIRs were required of developers of all types of projects (not just residential), with fewer than 29% of projects subject to environmental evaluation, indicating little evidence of overuse of CEQA.
"Alternative Fact:" San Francisco has the urban infrastructure necessary to support high-density residential development, especially public transit. High density housing can be built in "anticipation of the construction of future transit improvements."
FACT: So called "transit oriented development" requires major investments in transit to keep pace with residential development. San Francisco has fallen dramatically behind in making those investments. In 2015, SFMTA identified a need for some $10 billion in transit investments to be made by 2030 and $11 billion more by 2035, for a total of $21 billion. Ed Lee's loss of Prop K this last November knocked a $3.5 billion hole in that projection for 2035. Indeed, only $500 million of that budget has been secured with the passage of a street repair bond two years ago. When a city falls behind in transit investments and continues to allow high density market rate residential development, the result is the recent report that San Francisco is the most congested city in the world during peak morning and evening commute times as the wealthy residents of the market rate high rises continue to rely on their private cars for transportation. while Lee continues to underfund Muni.
Alternative Fact:" Local zoning laws have been historically used to keep people of color out of certain neighborhoods and need to be overridden by state or national policies to allow for high density residential development.
FACT: Since the 1970s in San Francisco, community-initiated rezoning in Chinatown, the Mission, the South of Market and the Tenderloin have protected low-income communities of color from displacement by private developers. In the 1960s community-based law suits had to be used in the Western Addition and the South of Market to protect low income residents from being displaced by redevelopment. Federal and state programs and policies have been used to displace communities of color in San Francisco while local, neighborhood and community based actions have preserved those communities. The current debate over a state mandated "density bonus" is simply the latest example of state laws over riding local controls – the way redevelopment and freeway building did in the 1960s — that will result in the displacement of thousands of existing residents as medium-density buildings are demolished to allow high-density luxury development.