ARTS FORECAST It's Litquake time again (October 11-20), when the enormous literary festival takes over the city's venues—and, for Litcrawl on October 20, basically any available space on Valencia Street—filling the city with glorious words, words, words. (And perhaps a timely reminder that it's OK, necessary, life-affirming, to love books.)
First I want to mention the naughty side: 48 Hills is pairing with Litquake to present a pretty outrageous tribute to homosexual erotic artist Tom of Finland, celebrating his 50th year of publication in the US: Beefcake, Wednesday, October 17, 7pm-10pm, at the SF Eagle. Taschen Books editor (and famous pornography publisher) Dian Hanson will be on hand, as will DJ Bus Station John, Jon Ginoli of Pansy Division playing live, emcee Honey Mahogany of RuPaul's Drag Race and the Stud Collective, and tons more. Come out and support! (It's a fundraiser.) All are welcome!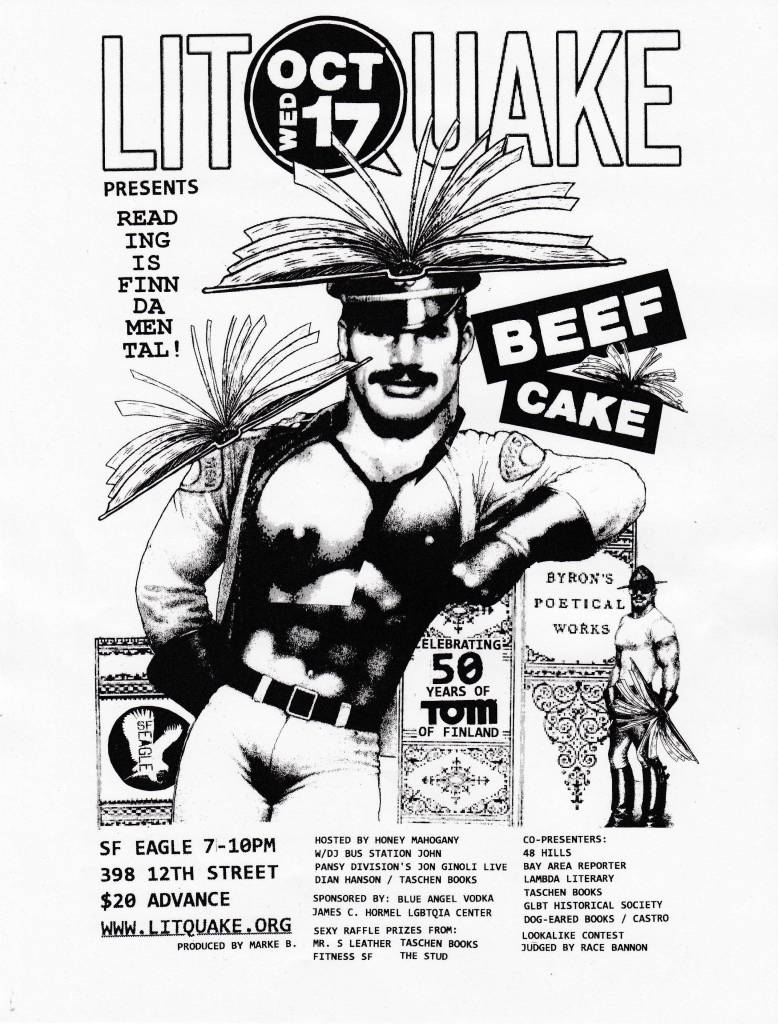 Beyond that, there is waaaaaaay much going on, including the World Series of Poetry, Literary Death Match, a "Poetry Nap" in Berkeley, an Ursula K. LeGuin tribute, "Bad Poetry & Bad Stories," "The Secret History of Silicon Valley," "Zombies in Nature," North Beach Beat Walking Tour, "New Native Voices," Bay Area Pun-Off, Rebecca Solnit, The Residents, Michael Imperioli, Akwaeke Emezi, and tons more. Just look at this schedule and try not to shiver with anticipation.
See you there, peering over my hot pink piece-nez and scribbling in my tiny Moleskine, inscribed "Patty Cakes."    
MORE ARTS HAPPENINGS
THU/11-OCTOBER 20 STAGE GIRL Monique Jenkinson, aka drag performance artist and dancer Fauxnique, presents a very timely work, an evening-length collaboration between contemporary choreographer herself and electronic composer Marc Kate. "Speaking to the feminine in everyone, 'Girl' asks: 'Who is the girl in you?, What could you tell her?' The work draws on the 'final girl' heroine in horror, and her will to survive amidst misogyny, rage and violence through to redemption." Joe Goode Annex, SF. More info here.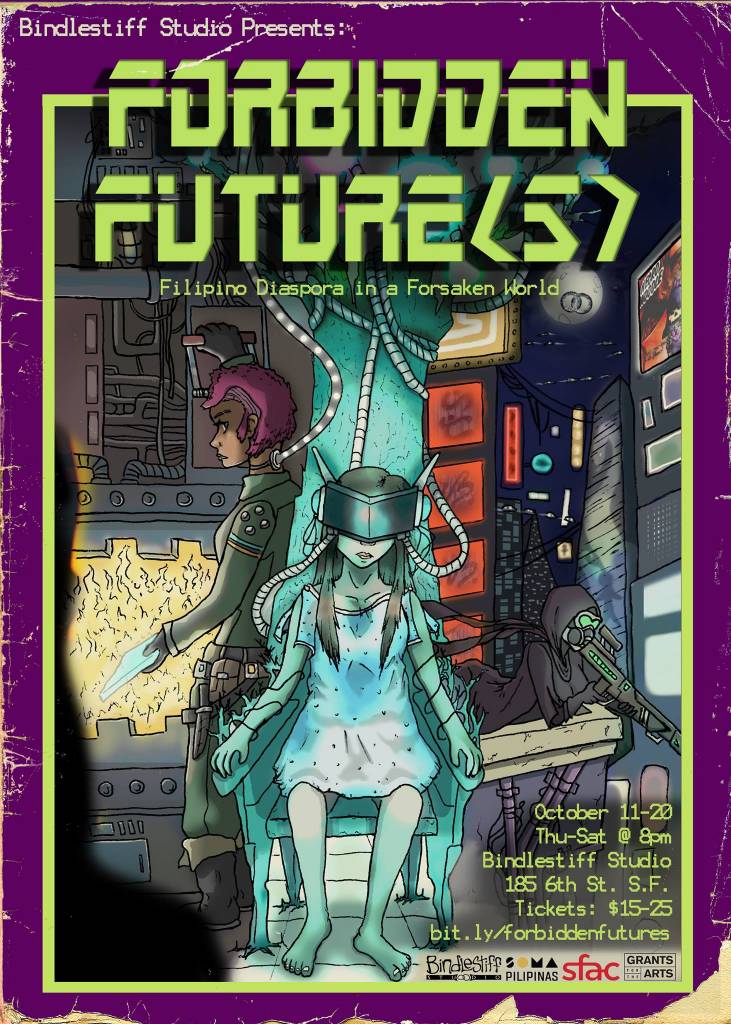 THU/11-OCTOBER 20 STAGE FORBIDDEN FUTURES Bindlestiff, the groundbreaking all-Filipino theater company, presents "Three original short plays that dare to explore Filipino Diaspora in a brutal, dystopian future. The Earth is a third world planet. Technology has advanced, but society has deteriorated. When we immigrate into the stars, it's nearly impossible to remember we were once Island People, but something deep within us refuses to forget. A meditation on diluted identity vs. ancestral memory, wrapped in a love letter to sci-fi pulp fiction, cyberpunk/post apocalyptic media, and Heavy Metal Magazine." Bindlestiff Studio, SF. More info here.  
FRI/12 MUSIC EARTH The Olympian pioneers of drone metal—wonderfully labeled by one writer as "the inevitable result of the damage done by downers to perception of time"—buzz in for a heady blast, performing their classic, psychedelic 2008 album "The Bees Made Honey In The Lion's Skull." (Oof was that a decade ago?) Doors 8pm, $20/$25. The Chapel, SF. More info here.   
FRI/12-SUN/14 LIT/FESTIVAL IRISH ARTS AND WRITERS FESTIVAL Some giants in town for this, including poet Paul Muldoon and critic Fintan O'Toole, plus programs on "Frederick Douglass's visit to Ireland,"  "Irish Eyes on Trump's America," "Bullets into Bells," "Lifeboat: New Voices in Irish Poetry," and much more. Various venues throughout the Bay Area. More info here.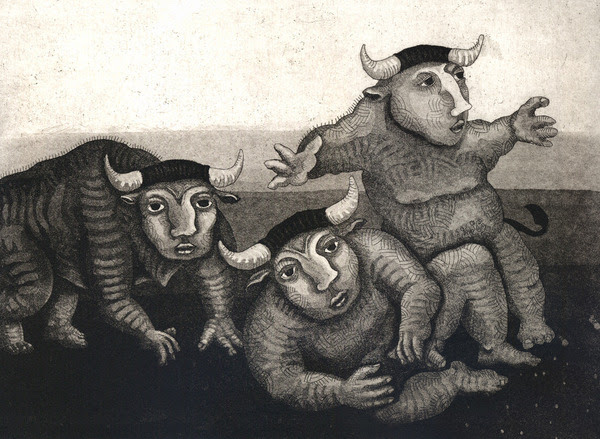 SAT/13-SUN/14 VISUAL ART OPEN STUDIOS KICK-OFF WEEKEND "More intimate than a gallery and certainly less imposing than a museum, more than 800 painters, photographers, sculptors, furniture designers & makers, and those working with glass, jewelry and other materials will throw open the doors to their studios throughout the city, so the general public can enjoy firsthand what they do and how they do it, all as the gorgeous autumn weather finds its footing." And of course there's a fabulous launch party to kick five weekends of studio visits off (Sat/13, 6:30pm-11pm, at SOMArts). All over San Francisco. More info here.  
SAT/13-SUN/14 MUSIC TREASURE ISLAND MUSIC FESTIVAL Now moved to Middle Harbor Shoreline Park in Oakland due to Treasure Island's massive development project, the little cousin to Outside Lands boasts plenty of hipster credibility after 11 years. Headliners Tame Impala and A$AP Rocky provide broad appeal, with live gems like Jungle, Hiatus Kaiyote, Soccer Mommy, and Serpentwithfeet giing you offbeat indie sounds. More info here.   
SAT/13 LIT BIKES TO BOOKS Five-year anniversary ride, with special surprises! And it's free! "Combining San Francisco history, art, literature, cycling, and urban exploration, Bikes to Books began as an homage to the 1988 street-naming project spearheaded by City Lights founder and former San Francisco Poet Laureate, Lawrence Ferlinghetti, in which 12 San Francisco streets were renamed for famous artists and authors who had once made San Francisco their home. The resulting 7.1-mile tour is a diverting and unique way to celebrate both the literary and the adventurous spirit of San Francisco." Meet on the north side of Jack London in South Park at 12:45, SF. More info here. 
SAT/13-SUN/14 LIT/FESTIVAL SF MOBY DICK MARATHON A whale of a time (Sorry! I don't get to use that often!) "Food trucks and abundant coffee at Aquatic Park will fuel the audience and over 100 voices who plan to participate in the marathon weekend reading of "Moby Dick," Melville's magnificent tale of a whale, fate, destiny, race and racism, not to mention madness and obsession." Aquatic Park, SF. More info here. 
SAT/13 EAT/FESTIVAL SF STREET FOOD FESTIVAL Last year's edition of this incredible fest was a bit of a disaster: Popularity outran ticket sales, and there were hours-long waits at the gate. It was the first time the festival was at its new location, the Potrero Power Plant, after outgrowing its charming Folsom Street in the Mission roots (with a dip into Pier 70, before development concerns turned everyone out). I bet they've figured it out this year—and what a testament to the power of La Cocina, our superheroine food-business incubator, to draw dozens of awesome restaurants and start-up vendors together for this massive benefit. 11am-7pm. Potrero Power Plant, SF. More info here.