ARTS FORECAST Hey, hey! Maybe you have heard that we released a little thing called Best of the Bay last week, with a whole section dedicated to Arts and Entertainment? Please check it out if you haven't (I worked really hard on it!), and also please support the local arts and entertainment scene. Go see a show, dangit. We need your cute butt in the seats! 
GALERIA DE LA RAZA UPDATE The 48-year-old Mission arts mainstay—which was issued a three-day eviction notice by a shady landlord last week—took their fight to remain in their space right to the landlord's house in Nob Hill this weekend. Check out Mission Local's excellent write-up, and stay tuned for more updates on the story. Meanwhile, the Galeria is still asking for people to call or write the property management company and request they withdraw the notice. More info on that here. 
UPCOMING EVENTS 
WED/7 HOLIDAY ICEBREAKER CEREMONY AT UNION SQUARE RINK A beloved seal, a drag queen, an Olympian skater, and a state senator meet on an ice rink. No, this isn't the set-up to an international thriller (but somebody please get on that), it's the roster of talent coming to help open the Safeway Holiday Ice Rink in Union Square for this celebration. Guess which is which: Donna Sachet, David Chiu, Brian Boitano, and the San Francisco Giants' Lou. A little holiday cheer on ice right after the elections (you can grab an adult beverage nearby) sounds just right! 9:30-10am, rink admission is $18 and $13 for children eight years old and under. Union Square, SF. More info here. 
WED/7-SUN/11 FILM/FESTIVAL 43RD ANNUAL AMERICAN INDIAN FILM FESTIVAL "Our festival is an annual forum, which brings artists, filmmakers, musicians, talent and the general local public together to celebrate, support and experience work produced by native and non-native peoples while advocating for authentic representation of native people in the media." With an astounding number of films over several days of programming. Various times and prices. Brava Theatre, SF. More info here.  
THU/8-DEC 1 STAGE ABSOLUTELY FABULOUS LIVE! This is a bit of drag Inception: It's hard to watch British comedy classic "Absolutely Fabulous" without imagining drag queens in the plum roles of Patsy and Edina. So seeing them and the rest of the cast embodied by some of our premiere drag performers—Peggy L'Eggs, Raza Light, D'Arcy Drolinger—will be a dizzyingly hilarious trip. Various times, $27.50-$50. SF Oasis. More info here. 
THU/8 FILM/MUSIC CRIME 1978 A new documentary about legendary local punk outfit Crime ("San Francisco Is Doomed") by director Jon Bastian, including some primo footage from Mabuhay Gardens screens at Balboa Theatre—alongside the world premiere of Michael Lucas's Go Baby Go!…Or Go To Hell (1992) starring Bay Area surf band The Trashwomen, a sneek-peek at the upcoming Mummies movie, and more musical mayhem on film. 7pm, $10-$12.50. Balboa Theatre, SF. More info here. 
THU/8 MUSIC EVERYTHING ECSTATIC PRESENTS NRVS LVRS + MRCH With the demise of the Hemlock, we're really on the dwindling end of independent venues that host live shows, which sucks. Fortunately, we still have the Amnesia bar, which takes chances on new sounds, new voices, new scenes. Music outlet Everything Ecstatic is presenting a night there featuring local band NRVS LVRS headlining alongside MRCH (Phoenix) and Fringe Class (Portland). "Bands skew to dark, but shimmering electro rock, and all bands are fronted by bad ass women" exclaims promoter and local music writer great Adrian Spinelli, "plus Amnesia has the best beer list of any music venue in the city!" 8:30-11:30, $8. Amnesia, SF. More info here. 
FRI/9-SAT/10 PERFORMANCE BOOTY CALL A pirate-themed circus evening for adults, ahoy. "Featuring the best of Bay Area circus talent, The Circus Center Cabaret distills humor, elegance, and grandeur into a circus fête hosted in a uniquely intimate venue. Underscored with live music performed by Cabaret Chanteuse Madame Leanne Borghesi and the Roger Glenn Trio." $15-$75. Circus Center, SF. More info here. 
FRI/9-SUN/11 DANCE AURA FISHBECK DANCE: DUSK "A dance for the time when the light is fading to mark the company's 10th year anniversary. Featuring performances by Arletta Anderson, Aura Fischbeck, Karla Quintero and Phoenicia Pettyjohn, and an original sound score by Alex Lough. The dance, sound and real time quality of changing and ultimately fading light of each day will coexist as an experience of transformation from dusk to dark." 4:30pm, $10-$20. Joe Goode Annex, SF. More info here. 
FRI/9-SUN/11 PERFORMANCE ROMANTIC SONGS OF THE PATRIARCHY Ragnar Kjartansson, a "multidisciplinary artist known for his humor, irony, and pathos" bings this three-day durational performance to the Women's Building. "'Romantic Songs of the Patriarchy,' curated by Tom Eccles, will be a three-day durational musical performance on view November 9-11 at the Women's Building in San Francisco's Mission District. The work will feature musicians performing familiar and what at first appear to be innocuous love songs on repeat. When listened to more carefully, however, the songs reveal more complex and often more disturbing attitudes towards women, exposing the way the intentions these songs convey are deeply embedded in even the most frivolous aspects of our culture." Free with registration, Women's Building, SF. More info here.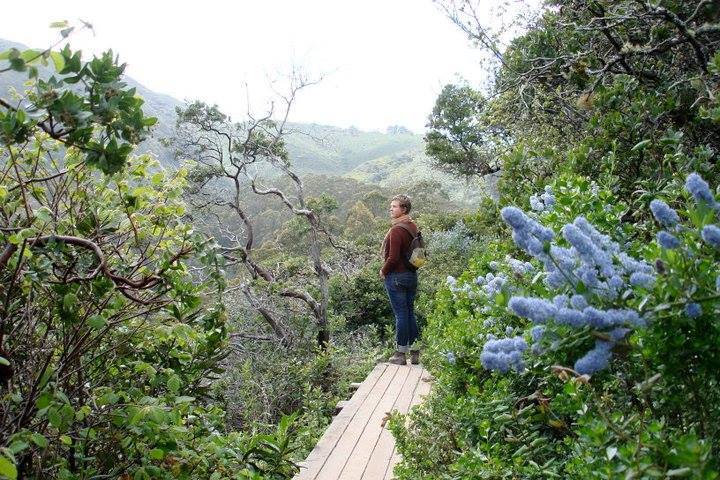 SAT/10 TOUR EDIBLE & MEDICINAL PLANTS OF THE BAY AREA: SEASONAL HERB WALK "From the mist shrouded sea cliffs to the sun-baked arid expanse of its eastern most regions, the San Francisco Bay area provides us with a chance to view a large variety of botanical specimens all within a relatively small geographical range. Join us as we discover together the diverse array of both edible and medicinal plants found growing within these contrasting yet closely interconnected micro-climates." 10am-4pm, $50. More info here. 
SAT/10-SUN/11 SHOPPING RENEGADE CRAFT FAIR The ninth year of this cute SF tradition. "Shop emerging and established makers' goods, discover rarities and remixes from local DJs, get creative while workshopping, eat from exceptional food trucks, and end the day with a cocktail." Really what more is there? 11am-5pm, free. Fort Mason, SF. More info here. 
SUN/11 MUSIC BEAUX CHEVAUX What happens when two powerhouse performers with all-female rock tribute bands come together to form a super duo? Surprise—the answer is wistfully catchy dream pop, full of sunny melodies and beachy vibes. Zepparella's Clementine and "Angus" aka Adrian Conner play songs from their new album, headlining the Ivy Room with local band Louda. 4:30pm, $10. Ivy Room, Albany. More info here.   
SUN/11 SHOPPING/MUSIC THIRD ANNUAL PUNK-METAL FLEA MARKET Tons of bands, including Blind Illusion, Pablo Escobar, Hemorage, and Thought Vomit plus records, comic books, zines, DIY arts and crafts from oodles of local vendors. All this and DJ Katon? TURN IT UP! 1pm-9pm, free. Oakland Metro Opera House. More info here.